The size of your new Ruger LCP .380 caliber pistol is ideal for carrying concealed. It's about as big as your palm and slides easily into most pants pockets. So, what's the next step, you ask? You'll need a holster for the Ruger LCP 380 or some other way to carry this little pistol so it's always ready in case you need it.
Check this out! There are many carry options available for your Ruger LCP.
These run the gamut from pocket holsters to ankle rigs. Because holsters aren't one-size-fits-all. not every holster will work for every carrier, let's take a look at some of the holster types in general.
This may help you narrow down which style might work best for you.
Get Great Guns and Ammo Deals!
---
Preferred Carry Ruger LCP Holster Options
This list of holster types might give you a broader range to choose your best. Based on your own lifestyle and purpose, choose this wisely for your LCP 380.
Belly Bands

Belt Holsters

Pocket Holsters

Ankle Holsters

Concealed Carry Fanny Packs

Semi-Permanent Pistol-Mounted Clips
So, your options may vary according to your lifestyle and what you do on an average day. Do you wear a suit or coat to work?
Are you often in your car or at a desk? If you're a woman, do you wear skirts, shorts, or skinny jeans? The answers to these questions will help you understand what you require in an everyday carry (EDC) holster.
Also, you must take into consideration your dominant side: do you want to carry on your strong side, allow for cross draw, or carry at the small of your back.
Many holsters are only one-sided, so when ordering one, make sure you check that you're getting the correct right- or left-handed holster.
If you have additional accessories on your LCP, such as the laser sight, you'll have to carefully read the product descriptions to see if the holster will properly fit the pistol, as the laser adds to the firearm's stock dimensions.
Belly Bands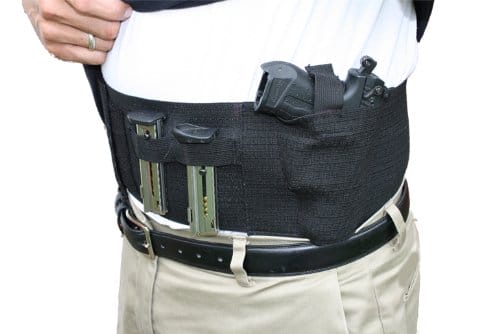 This style of holster is made from strong neoprene, like what knee or ankle braces are made of.
It attaches with velcro and is worn around the belly, though some styles can be worn inside the waistband (IWB) as up higher near the underarms.
An elastic holster is stitched to the neoprene, usually with an elastic retaining strap, and often comes with a spare magazine holder.
Use caution when ordering one; make sure it's made of neoprene, and measure your abdomen, usually at the belly button, to ensure you get one that will fit you.
Belt Holsters
These can be made of nylon, polymer, or leather, and feature a belt clip and/or slide slots to allow for use on a belt.
However, a clip can be used with or without a belt, simply by clipping it to the waistband.
These holsters are not ambidextrous, so make sure you get the correct side for your dominant hand.
One disadvantage is that these are designed to be worn outside your waistband (OWB), so make sure your clothing will properly cover the handgun when you're out and about.
Some holsters may be form-fitting to your specific model, and some may have a retaining strap or other method of keeping the firearm secure to the holster.
Pocket Holsters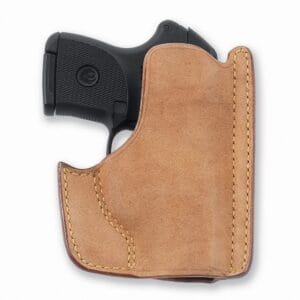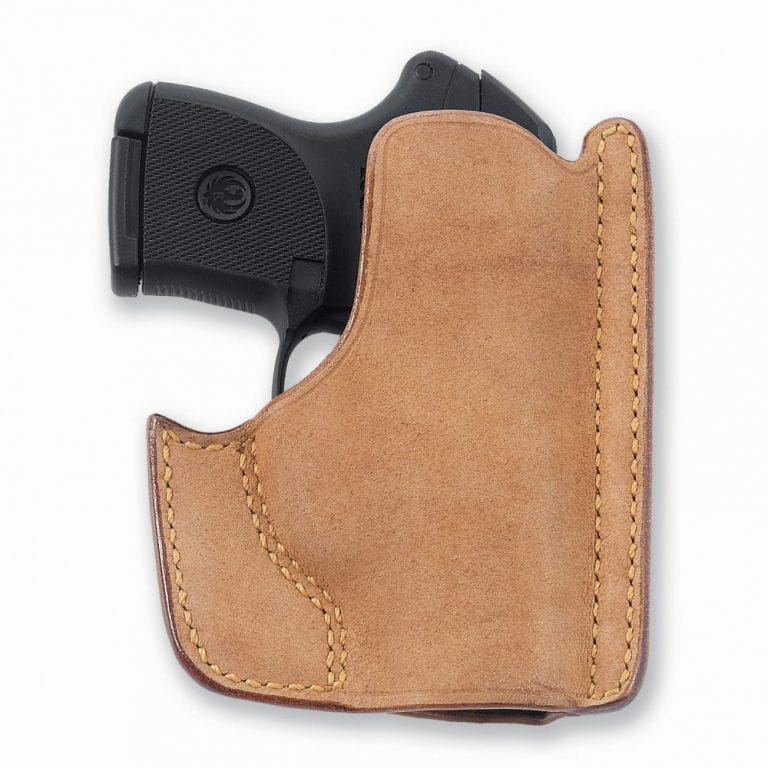 These are designed to slip into a deep pants pocket, and the shape prevents the outlines of the pistol from being easily noticed.
They can be made of leather or nylon, with outside material designed to keep the holster in place yet allow for a smooth draw.
Some even have a wallet-shaped side to even more effectively blend the lines of the firearm when in your pocket.
Many of these are either-handed, but wallet types are usually designed for either right or left hands.
However, these won't work well for women who wear jeans, as the front pocket of many styles of women's jeans is unfortunately small.
Also, unless you get a wallet-style pocket holster to wear in a back pocket, this holster may not work with skinny jeans.
Ankle Holsters
These are meant to be worn around the ankle, and are often made of neoprene.
Some have retaining straps, so you'll have to decide if you can draw from the ankle quickly and smoothly.
These won't work if you wear skinny jeans, but in slack or bootleg pants, it might be a good option.
However, if you wear boots, it might ride too high to get to in a hurry. Ankle rigs are one-sided, so be careful when ordering to ensure you get the right side for you.
Concealed Carry Fanny Packs
These are designed to look just like a fanny pack you might wear to keep your phone, car keys, and wallet in while hiking or sightseeing on vacation.
They can be made of nylon or leather, and feature a zippered pouch and an adjustable strap to wear around your hips.
Fanny packs are usually ambidextrous.
Some of them are not one-size-fits-all, so make sure to check the measurements of the holster against yours.
A disadvantage of a fanny pack is that, like a purse or other bag, it can be lost or pulled off you.
Semi-Permanent Pistol-Mounted Clips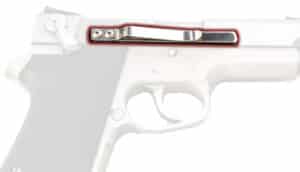 These are metal clips that securely mount to your pistol, in the case of the LCP, to a removable pin on the butt just under the back end of the slide.
They instantly transform your gun to clip anywhere, any time.
This is ideal for wearing IWB or clipping to a deep pocket, depending on the structure of the pants.
It could also be clipped into a purse or other bag, keeping in mind that a bag could be stolen from you.
However, these are not ambidextrous; a right-hand clip won't work for a left-hand draw. They are available for both side draws, so if you shoot left-handed, make sure you get the right one.
---
My Favorite Holsters for the Ruger LCP.380
Now that you know more about the styles of holsters available to carry your LCP, let's take a closer look at some specific brands of holsters, and learn about the different features offered.
This is a neat combination holster that can be worn inside a pocket or in the waistband via a removable, low-profile metal clip.
It's a sturdy nylon holster with a foam core to break up the lines of the pistol.
It's not ambidextrous, but both sides are available, and the left-hand model also works for right-handed small of the back (SOB) carry.
You've just seen the features and pitfalls of some specific brands, so you probably have a good idea of what might work well for your style of carry.
Use caution when ordering holsters to make sure you get the proper right- or left-handed holster.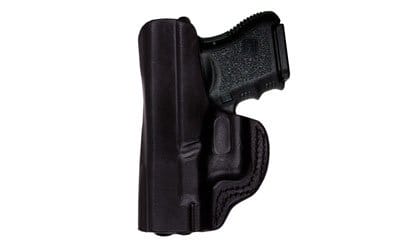 This IWB holster is made of leather and is designed to accommodate an LCP with laser sight.
Like some leather holsters, the fit might be a bit tight at first.
Simply run hot water over the holster inside and out, wrap your pistol in a plastic bag, and insert it in the holster overnight to aid in forming.
It has a sturdy clip and a high piece of leather to go between your skin the the pistol. It's for right-hand carry; if you are a leftie, you'll have to make sure to order one for your dominant hand.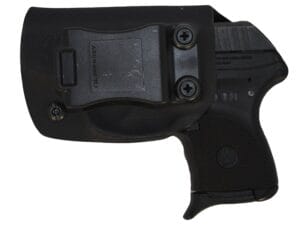 This is a molded holster made of Kydex to form-fit specific models.
It features an adjustable retention screw so ensure a good fit with your pistol.
It's durable and lightweight, a plus if you intend to carry everyday.
However, it does not offer an adjustable cant (carry angle). Some gun enthusiasts don't particularly care for Kydex holsters; this polymer is a bit more abrasive than other types, and may scratch the finish on your pistol.
It's directional, so make sure you order one for your dominant side.
This is a soft suede leather holster designed for inside the waistband (IWB) carry.
The rig includes a sturdy clip to secure the holster to your waistband.
Backed by Relentless Tactical's lifetime warranty, this might be an excellent option if you carry your LCP on a daily basis.
It's not ambidextrous, though, so make sure to order the correct side for you. And this holster may not fit an LCP with laser holster; you can always question the seller to find out.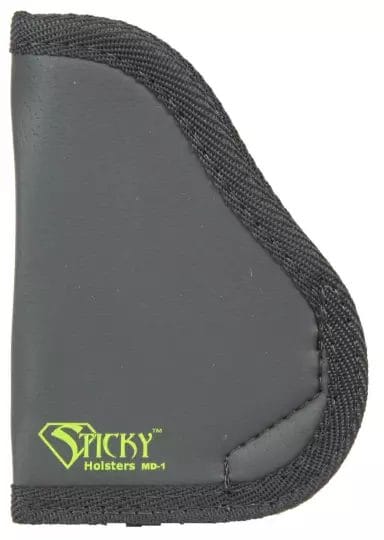 This is a pocket holster intended to be placed into a deep pocket.
Friction keeps the holster securely in your pocket and a smooth lining allows for an easy draw.
This holster is ambidextrous and can also be worn in the waistband.
There are no clips or straps to this holster, and it's extremely lightweight. You can insert it in your pocket in a way that makes drawing quick and easy.
However, it won't work well if you don't have deep pockets or if you're wearing skinny jeans; the pistol might 'print', revealing its lines.
---
Ruger LCP 380 Holster – Best Pick
For price, versatility, and materials, I would pick the Combination Pocket/IWB holster by DTOM.
The removable clip makes it an easy conversion. From a pocket holster to a waistband carry for nearly every type of 380, perfect for someone who may have smaller than average pocket sizes or who carry other things in their pockets.
The flat profile would make the pistol virtually unseen when worn in the pants, and would likely be comfortable against the skin.
Recommended Reading
Top Five Holsters For Ruger LCR
Pocket Holsters For Ruger LC9S
Concealed Carry Holsters For Ruger 1911
Best Concealed Carry Holster For Ruger P345