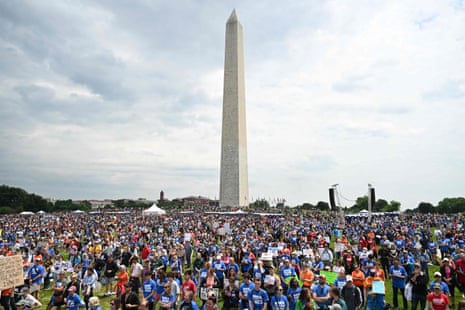 'Stick with the fight': gun control youth activists respond to Maine shootings
US response to mass shootings is 'extremely frustrating', but David Hogg and Trevon Bosley call on youth voices to effect change
Following 2023's deadliest mass shooting in the US that occurred in Lewiston, Maine, earlier this week, young gun control activists are once again speaking up against the failures of lawmakers amid an all too familiar tragedy.
On Wednesday night, a gunman opened fire at a bowling alley and a restaurant in Maine's second most populous city, killing 18 people including a 14-year-old boy.
The shootings have prompted widespread outcry from young activists including David Hogg and Trevon Bosley, co-founder and board chair of the March for Our Lives organization.
As members of the youth-led gun control movement born out of the country's deadliest high school mass shooting – the 2018 shooting in which 17 people were killed in Parkland, Florida – Hogg and Bosley represent thousands of young Americans demanding change.
"What's happened is obviously heartbreaking, but at the same time, extremely frustrating," 23-year-old Hogg said. In 2018, Hogg survived the Parkland shooting and went on to co-lead the pro-gun control March for Our Lives rally, one of the largest youth-led demonstrations since the Vietnam war.
"We had one person, a couple decades ago, try to bomb a plane with a shoe bomb and ever since, we've had to take our shoes off," said Hogg, referring to Richard Reid, the 2001 "shoe bomber". "We've had thousands of people die of gun violence and we've basically done nothing at the federal level to substantially address it," he said.
Responding to Maine's Democratic congressman Jared Golden, who reversed his opposition to assault rifle bans after the shooting, Hogg said: "Far too often, we see politicians after these shootings on the left and right only come around to actually caring or saying 'I should have done more' after members of their own community have been killed."
"What happened in Maine is horrible, but what happened in Maine in the form of individual shootings happens every day in this country and even more with the total number of people that were killed," said Hogg.
"There are other Democrats out there who are in a similar position right now. I would urge that representative to go and push those other Democrats to be better on the issue before this happens in their community," he added.
Bosley, a March for Our Lives board chair from Chicago who lost his brother to gun violence in 2006, echoed similar sentiments.
"I think [for] a lot of our elected officials as well as the media, when you can't necessarily feel the violence yourself, you tend to have a certain idea about it or you tend to not care. And for most people, they don't feel it until it's at their doorstep, which is the sad reality of it," the 25-year-old said.
Yet for Bosley, the pain from the Lewiston shootings is a familiar one.
"I've been around this type of loss for the majority of my life … and it always – it still hurts. It still has an effect on me," he said.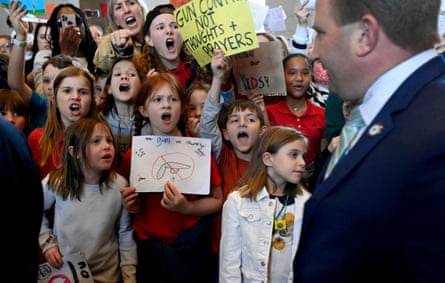 Despite the pain, activists like Hogg and Bosley know that the campaign for gun control must continue. "Stick with the fight and continue to keep up the action because we can't afford not to," said Bosley. He went on to call for high-capacity magazine bans, stringent background checks and increased funding for violence-prevention programs on the federal level.
Hogg wants to see Republicans "actually do something" about the country's mental health care system, "instead of talk[ing] over and over again about how much they care about mental health".
"If there is a bill that is out there that comprehensively … funds our mental health care system to actually care for people and addresses … the mental health crisis for people of all ages … I'm willing to meet and talk with Republicans," he said.
"But let's not stigmatize mental health more and make people think just because somebody has depression that they're potentially going to be a mass shooter when that's just not the case, statistically speaking," Hogg added.
According to the US's Substance Abuse and Mental Health Services Administration, only 3% to 5% of violent acts can be attributed to individuals living with a serious mental illness. Moreover, those with severe mental illnesses are over 10 times more likely to be victims of a violent crime than the general population, the agency reports.
In addition, Hogg is calling for increased funding for gun violence research, citing a 2017 study that found that gun violence killed about as many individuals as sepsis across the US yet funding for gun violence research was about 0.7% of that for sepsis.
Both Hogg and Bosley are also calling for changes in leadership to include more youth voices.
"When it comes to different officials who haven't listened in the past, many of us are at that age where we can take their position," said Bosley, adding: "We are going to continue to do work … and if your position and your ideas don't align with what we want to happen and what will save our lives, we will make sure you are unemployed."
"For our generation, we need people in office who understand the anxiety of what it's like to go through a school shooter drill because … that will hopefully have a way of transcending partisanship," said Hogg.
"It's not to say that we don't need older people in office … We need people of all eligible ages in office to have a truly representative democracy … We need to not hide from groups like the National Rifle Association or the gun lobby that pose a political threat," he added.
Explore more on these topics