The damages in Donald Trump's fraud trial will be determined not by a jury, but by one man: supreme court judge Arthur Engoron.
As the Guardian's Hugo Lowell reports, that appears to be because the former president's attorneys did not pay too close of attention to their paperwork:
The White House press secretary, Karine Jean-Pierre, was asked about Matt Gaetz's comments on the House floor accusing Speaker Kevin McCarthy of making a secret side deal on Ukraine aid with Joe Biden.
Speaking to reporters, she replied:
What we know is that there is bipartisan support for this deal. Speaker McCarthy was on the air multiple times yesterday saying that he wants to continue support for Ukraine, to get the weapons that they need. So we are going to hold him to that.
As we reported earlier, Donald Trump's civil fraud case is being tried without a jury reportedly because the former president's attorneys seemingly did not pay too close of attention to their paperwork.
"Nobody asked for" a jury trial, Judge Arthur Engoron noted during Monday's trial. According to the Messenger:
Earlier this year, New York Attorney Letitia James filed a form with a checkmark next to the field: "Trial without a jury."

Trump's legal team didn't file a corresponding form, and the former president may have regretted his lawyer's inaction ever since.
In brief remarks as he arrived at the courthouse, Donald Trump claimed his financial statements were "phenomenal", even though a judge last week determined he and his family had committed fraud over the course of a decade.
Here's a clip:
The damages phase of Donald Trump's civil fraud trial opened in New York City, which the former president attended in person. Though he blasted the case as politically motivated and insisted that his financial statements were "phenomenal", despite already being found liable for fraud, he and his children are facing severe financial consequences, and could lose control of properties such as Trump Tower. Meanwhile, in Washington DC, Republican insurgent leader Matt Gaetz held off on formally attempting to remove Kevin McCarthy as speaker of the House. Gaetz demanded answers from his fellow Republican, accusing him of cutting a side deal with Joe Biden. We'll see if he gets them.
Here's what else has happened today so far:
Gaetz said he delayed formally introducing his motion to vacate because not enough lawmakers were in town yet.

Trump's legal team did not ask for a jury to determine damages in the ex-president's civil fraud trial, meaning the decision will be left to judge Arthur Engoron.

New York attorney general Letitia James said "no one is above the law" just before Trump's fraud trial was about to get under way.
The long-running feud between Republican House speaker Kevin McCarthy and rightwing insurgents from his own party, particularly congressman Matt Gaetz, hit a new peak on Sunday, when Gaetz announced he would move to hold a vote on whether McCarthy could keep his job. From the Guardian's Richard Luscombe, here's a look at how the two men came to be at loggerheads, and whether Democrats will come to the speaker's rescue:
Simmering hostility between Republicans over the bipartisan deal that averted a government shutdown descended into open political warfare on Sunday, a rightwing congressman saying he would move to oust Kevin McCarthy and the embattled House speaker insisting he would survive.
"We need to rip off the Bandaid. We need to move on with new leadership that can be trustworthy," the Florida representative Matt Gaetz told CNN's State of the Union, saying he would file a "motion to vacate" in the next few days.
McCarthy, Gaetz said, lied about "a secret deal" struck with Democrats to later pass money for Ukraine that was left out of the compromise agreement, and misled Republicans about working with the opposition at all.
The bill keeping the government funded for 47 days passed the House on Saturday night 335-91, 209 Democrats joining 126 Republicans in support. It cleared the Senate 88-9 and was signed by Joe Biden.
In remarks at the White House on Sunday, Biden said the measure extending funding until 17 November, and including $16bn in disaster aid, prevented "a needless crisis".
But, Biden said: "The truth is we shouldn't be here in the first place. It's time to end governing by crisis and keep your word when you give it in the Congress. I fully expect the speaker to keep his commitment to secure the passage of support needed to help Ukraine as they defend themselves against aggression."
Asked if he expected McCarthy to stand up to extremists, Biden replied: "I hope this experience for the speaker has been one of personal revelation."
Asked by reporters why he did not formally introduce his motion to vacate Kevin McCarthy from the speaker of the House's chair, Matt Gaetz said it was because not enough lawmakers were in town yet:
A day after announcing that he will propose removing Kevin McCarthy from his post as speaker of the House, Matt Gaetz, a leader of the far-right block of Republican insurgents in the chamber, demanded answers from the speaker but held off on formally introducing the motion.
In a speech on the House floor, Gaetz accused McCarthy of making a secret side deal on Ukraine aid with Joe Biden, the Democratic president who far-right Republicans have warned the speaker against working with.
"Mr. Speaker, just tell us … what was in the secret Ukraine side deal, what commitments were made to president Biden to continue the spending of president Biden, in exchange for doing things for president Biden," Gaetz said. "It is becoming increasingly clear who the speaker of the House already works for, and it's not the Republican conference."
While Gaetz had announced yesterday he would make a motion to vacate the speaker's chair, he did not formally do so in his speech today, rather forecasting that he would do so in the coming days, if McCarthy did not answer his questions:
Mr. Speaker, I would ask that these questions be answered soon. Because there may be other votes coming today, or later this week, that could be implicated by the answers to these questions. Members of the Republican Party might vote differently on a motion to vacate if they heard what the speaker had to share with us about his secret side deal with Joe Biden on Ukraine. I'll be listening. Stay tuned.
From the Guardian's Lauren Aratani, here's a recap of everything we know about Donald Trump's fraud trial in New York, and the potentially sizable damages he could be forced to pay:
The future of Donald Trump's New York real estate business will be decided in a Manhattan court case that starts on Monday.
The New York attorney general, Letitia James, is taking Trump to court after a three-year investigation found that he and others within the Trump Organization repeatedly used false or misleading financial statements to broker deals, obtain favorable loans and bolster the appearance of his net worth.
The judge presiding over the trial, the New York supreme court justice Arthur Engoron, already found Trump guilty of financial fraud in a pre-trial judgment. The trial will be dedicated to determining whether, and how much, Trump will have to pay for the verdict.
James has argued that the Trump Organization should owe at least $250m for profiting off loans that were awarded based on false and misleading financial statements. Trump's lawyers have appealed the judgment, though it is unlikely to affect the trial's proceedings.
Here's what we know about Trump's upcoming fraud trial.
Letitia James is the latest legal adversary to win in court against Donald Trump, and attract the former president's ire. Here's the Guardian's Edward Helmore with a look at the New York attorney general's path to power, and to suing the Trump family:
New York attorney general Letitia James has never shied away from taking on powerful adversaries – from the National Rifle Association to former New York governor Andrew Cuomo.
On Monday she will take on her biggest case yet: a fraud trial that threatens the very foundation of Donald Trump's New York real estate empire.
Critics have accused the 64-year-old career prosecutor of using her office, with 1,700 staff and over 700 assistant attorneys general, for political purposes. To others, the Democrat is a heroic figure: the first woman elected as New York's attorney general and the first Black person to serve in the role. A fearless prosecutor who has taken on cases others would walk away from.
Like Trump, "Tish" James was born and raised in New York City. It's about the only thing they have in common. Raised with her seven siblings in Brooklyn, James attended public schools in the city before getting her law degree at Howard University in Washington DC.
She started her law career as a public defender before entering New York politics as a council member and then as public advocate, the first Black woman to hold the watchdog role. James' passions were clear from the start – she filed a record number of suits on behalf of tenants, seniors and people with disabilities. James became New York state attorney general in 2018.
From the Guardian's Lauren Aratani, here's a recap of what has happened so far today in Donald Trump's civil fraud trial:
Donald Trump arrived at a New York court just a few miles south of Trump Tower on Monday for the first day of a fraud trial that could see the former president and his family business paying hundreds of millions of dollars in damages and that has already threatened to end his business career in the city where it started.
The New York attorney general, Letitia James, has accused Trump of using false and misleading financial statements from 2011 to 2021 to make himself and his businesses wealthier, helping him broker deals and obtain financing. Based on her office's three-year investigation, James is arguing that Trump owes at least $250m for committing fraud.
"This is a continuation of the single greatest witch-hunt of all time," Trump said as he headed into court. He said his financial statements were "phenomenal," called James, who is Black, a "racist" and a "horror show" and said the case was being overseen by a "rogue judge".
"My message is simple: No matter how powerful you are, no matter how much money you think you may have, no one is above the law," James said outside the court.
During the three-year investigation, James found that Trump had exaggerated the value of 23 of his properties and assets to the tune of hundreds of millions or even billions of dollars. Trump used these financial statements to obtain favorable loans and make his net worth appear higher than it actually was.
Today, Donald Trump is in a New York City courtroom, but yesterday, he was having what can only be described as a weird one, the Guardian's Michael Sainato reports:
Faced with a litany of criminal charges, Donald Trump on Sunday told a campaign rally in Iowa that he would prefer to die by electrocution rather than be eaten by a shark if he ever found himself on a rapidly sinking, electrically powered boat.
The former president and frontrunner for the 2024 Republican presidential nomination delivered the bizarre remarks during a speech in the community of Ottuma. He was pontificating over batteries for electric powered boats while recounting a conversation he claimed to have with a boat manufacturer in South Carolina.
"If I'm sitting down and that boat is going down and I'm on top of a battery and the water starts flooding in, I'm getting concerned, but then I look 10 yards to my left and there's a shark over there, so I have a choice of electrocution and a shark, you know what I'm going to take? Electrocution," Trump said. "I will take electrocution every single time, do we agree?"
Trump then continued criticizing the prospect of any other sustainable energy technologies and claiming he would repeal the Joe Biden White House's electric vehicle mandate.
"These people are crazy," Trump said.
Donald Trump started off his day by attacking Arthur Engoron, the New York supreme court judge who will begin determining damages after finding last week that the former president and his family committed fraud.
Engoron is now set to be the latest character in Trump's many legal dramas, and the Associated Press has a good profile of the 74-year-old judge:
He's driven a taxi cab, played in a band and protested the Vietnam War. As a New York City judge, Arthur Engoron has resolved hundreds of disputes, deciding everything from zoning and free speech issues to a custody fight over a dog named "Stevie."

Now, in the twilight of a distinguished two-decade career on the bench, the erudite, Ivy League-educated judge is presiding over his biggest case yet: deciding the future of former President Donald Trump's real estate empire.

Last week, Engoron ruled that Trump committed years of fraud by exaggerating his wealth and the value of assets on financial statements he used to get loans and make deals. As punishment, the judge said he would dissolve some of Trump's companies — a decision that could cause him to lose control of marquee New York properties, like Trump Tower.

Starting Monday, Engoron will preside over a non-jury trial in Manhattan to resolve remaining claims in New York Attorney General Letitia James' lawsuit against Trump, his company and top executives. He will also decide on monetary damages. James' office is seeking $250 million.

Trump, who is listed as a potential witness and could end up face-to-face with Engoron in court, called the judge's fraud ruling "the corporate death penalty." He referred to Engoron as a "political hack" and said his would appeal.

"I have a Deranged, Trump Hating Judge, who RAILROADED this FAKE CASE through a NYS Court at a speed never before seen," the 2024 Republican frontrunner wrote on his Truth Social platform.

Through a court spokesperson, Engoron has declined to comment on Trump's barbs. He is barred from commenting to the news media about the case.
Here's Donald Trump in court for the opening of the damages phase of his civil fraud trial: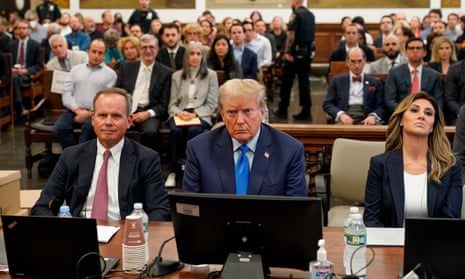 The damages in Donald Trump's fraud trial will be determined not by a jury, but by one man: supreme court judge Arthur Engoron.
As the Guardian's Hugo Lowell reports, that appears to be because the former president's attorneys did not pay too close of attention to their paperwork: