Florida Governor Ron DeSantis' lack of charm and inability to get out of former President Donald Trump's shadow during Wednesday night's GOP primary debate once again hindered his White House ambitions, analysts say.
DeSantis was one of seven 2024 Republican presidential hopefuls who took the stage in Simi Valley, California, in the second televised debate of the campaign. Similarly to the first primary debate in Wisconsin, the former president refused to take part.
Also like the debate in August, DeSantis delivered a solid, if unremarkable, performance on Wednesday in what must be considered another failed opportunity to give his floundering presidential campaign a much-needed boost.
"DeSantis leads the pack, and while he didn't have any obvious moments of weakness, he also isn't doing anything more than treading water," Sean Freeder, an assistant professor of political science at the University of North Florida, told Newsweek. "That's not acceptable in the world of campaigns—if you're not building momentum, you're going to lose it to someone else eventually."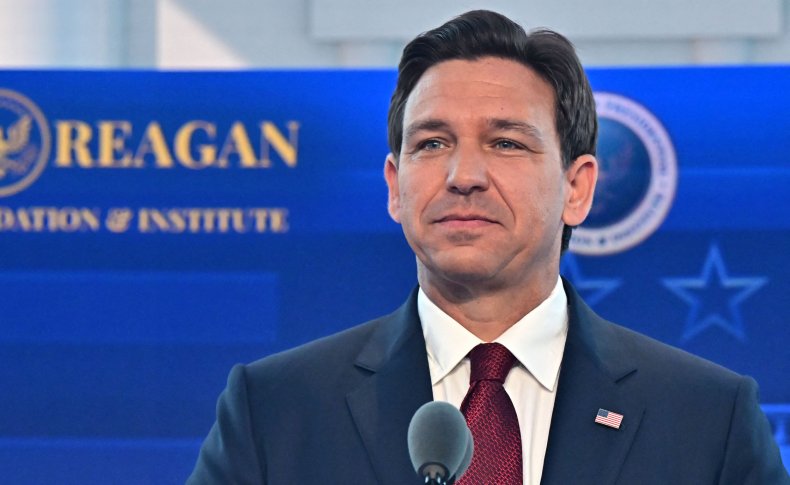 DeSantis, who has been considered Trump's main rival in the GOP presidential primary though he is massively behind him in the polls, was able to cite his achievements and hard-line policies as governor in Florida, where he is a popular Republican figure, to suggest to voters he could replicate these achievements in the White House.
Tom Preston, a professor of communication at the University of North Georgia, questioned whether DeSantis was able to actually convince enough voters to back him over Trump, even in the former president's absence.
"In the fray, DeSantis, taking advantage of his central position on stage, was able to best focus on past achievements in areas such as crime and education in Florida, which he suggested as beneficial to the United States," Preston told Newsweek. "However, possibly not well enough to challenge Trump, who can counter to the GOP core his years of experience as president."
Freeder added that Wednesday's debate showed that DeSantis has still not been able to shake off criticism that has followed him throughout his campaign, i.e. that he does not have the charisma needed to engage voters on a personal level, and that he struggles with the vital retail campaigning side of a presidential bid.
"DeSantis's clear weakness is his personal presentation and ability to connect with voters, and he still struck me as robotic and insincere throughout the debate," Freeder said.
DeSantis did receive plenty of praise from Republican figures for his performance during Wednesday's debate.
"DeSantis won this debate tonight," Dana Loesch, a conservative radio host and former spokesperson for the National Rifle Association, posted on X, formerly Twitter.
"He shot down bad faith arguments without seeming unpleasant and hit back with a record of achievements while rejecting clown show overtures. Everyone else on that stage is auditioning for VP, cable news, or a publisher."
Iowa state Rep. Taylor Collins said: "The difference between DeSantis and the rest of the candidates on the stage tonight is he doesn't just talk about what he's going to do, he actually does it."
Trump's absence was the elephant in the room Wednesday night as it still appears nothing—even facing 91 criminal charges across four separate cases—can diminish the former president's standing among potential GOP primary voters. Trump has denied wrongdoing in all four cases.
"Ron DeSantis had a better debate than the first but probably did little to chip away at Trump's lead in the polls," David B. Cohen, a professor of political science at the University of Akron in Ohio, told Newsweek.
"In the end this is just kabuki theater—Trump has built a largely insurmountable lead. Absent something crazy happening, he will easily win the nomination."