First of all, congratulations on purchasing the Kahr P380 – one of the most popular, high-performance pocket guns on today's market. There are a number of quality options for the Kahr P380 holster out there. Hopefully, this review will help guide you in the right direction.
It's important to remember, what works for some won't work for everybody. If you're serious about gun ownership, you will probably want to try out a number of holsters over time.
In order to make your selection easier, it's a good idea to narrow things down by considering what you will be using the gun for and what you are looking for in a holster.
Get Great Guns and Ammo Deals!
---
What are my Kahr P380 Holster options?
The best holster type for you will depend largely on your personal needs and lifestyle choices. What kind of clothes do you like to wear? Do you wear shorts or tight jeans? Are you often seated at work? Or driving?
With recent changes in carrying laws, concealment has become a pivotal issue for a lot of gun owners. One of the biggest advantages of owning the Kahr P380 is that it is very easy to conceal. It also makes a good choice as a backup weapon.
Below are just some of the main holster choices. Of course, there are a lot of additional options to consider. I won't touch upon all of them in this review, but this website is worth a read, if you want to find out more.
Pocket Holsters
The Kahr P380 is smaller than a lot of people's first cellphones, and the beauty of this firearm is that it can it can be carried easily in most pockets. There's a huge range of pocket holsters available for subcompact guns like the Kahr P380.
Pocket holsters are great for concealment – most people won't give a slightly bulging pocket a second glance. They might not be the fastest draw, but with a pocket holster you can often get a good grip on your weapon with your hand still placed casually in your pocket.
Using a pocket holster can allow you to wear shorts in hot weather. Also, they reduce the need to wear a belt. You should reserve your carrying pocket for your gun – don't put other things in the same pocket! Whilst you lose the use of that pocket for keys and such, pocket carry can expand your wardrobe options.
IWB Holsters
As the name suggests, inside the waistband holsters are made to fit inside the waistband of your pants. This type of holster is great for concealment. They generally come in leather, nylon, or kydex.
One possible disadvantage of using an IWB holster is that you will struggle to get away with wearing tight-fitting pants. They also tend to be made of tougher material that can rub against your skin, and will require wearing some form of undershirt to prevent that. Also, if you plan on buying one of these holsters, be aware that they are typically either right-handed or left-handed.
Ankle Holsters
Ankle holsters can be very comfortable, or near unbearable. This often depends on the wearer. For me, I haven't had much success finding an ankle holster that feels right. Something to do with having skinny legs, perhaps?
Comfort also varies with the amount of padding they have, and how tightly the rig is strapped on. Again, it often boils down to personal preference. I don't like them, but other people swear by ankle holsters as a decent alternative to carrying on the waist.
An obvious drawback to the ankle holster is that it may limit how fast you can draw the weapon, if and when the need arose. You will need to practice leaning down to hitch up your pants and getting your gun out.
Nevertheless, if worn with a smaller gun, it's basically impossible to see you're carrying with the combination of an ankle holster and the right pants.
Bellybands
Bellyband holsters are usually made of a large elastic band that wraps around your waist and is secured with Velcro. They often have extra pockets for stowing spare magazines, cellphones, and even an additional sidearm.
Bellyband holsters provide a practical and secure way to carry your gun. You can jog with one on and not have to worry about the gun slipping out. They're also great for concealment, as they stick tightly to the midriff and don't 'print' easily through a shirt.
There are a whole bunch of different bellyband holsters out there to choose from. So, if you're interested in getting one, shop around to find the one that suits you.
---
A closer look at Kahr P380 holster options
The US-made Desantis Nemesis is a great, low-cost holster that is designed to sit in a deep pocket.
The exterior of the holster is made from a sticky material that clings to clothes, whilst the inside is made from a smooth nylon that allows for a fast draw.
If, for whatever reason, the Nemesis doesn't pique your interest, there is also the similar but newer Desantis Super Fly, which is worth checking out.
| Pros | Cons |
| --- | --- |
| As well as the 'sticky' outside surface, it also features an extended stability flap, which helps it to stay in your pocket when you draw – this way you won't end up drawing a holstered pistol. | The Desantis Nemesis is one of my most used and loved holsters, and I really struggle to find fault with it. One thing I will say is that it works best in deeper pockets – it's simply a bit too big for tighter pants. |
| It's made with a thick foam padding that helps to break up the 'print' of the gun in your pocket – even for a discerning eye, it will be hard to tell you are carrying. | |
| Due to the clingy material on the outside of the holster, it can double up as an occasional IWB holster. However, I wouldn't recommend going on extended hikes with it tucked in your waistband – think more of a quick walk around the house, or if you need to go and get something out of your car. | |
This is an innovative, lightweight holster that can be placed either in a deep pocket or worn in the waistband.
No prizes for guessing where this holster gets its name from: like the Desantis Nemesis, this holster is made out of a sticky material that will cling very well to clothes.
It's ambidextrous, and can be worn basically anyway you want it as it has no clips. When worn as an IWB, the gun is closer to your body and more concealed than other holsters. However, the butt of your firearm can rub against your skin, so you might want to think about wearing an undershirt.
| Pros | Cons |
| --- | --- |
| It's a versatile holster that can be combined with an ankle rig, if for whatever reason you don't want to wear on the waist or elsewhere. It also works OK placed in a back pocket. | If you don't have deep pockets or you are wearing tight pants, it may still 'print'. The grip can look particularly obvious. |
| This holster is one of the best on the market for sheer comfort. If you're struggling to find a holster that fits snugly and doesn't get on your nerves, you might want to try out a Sticky. | You can't reholster without using your free hand, and it's recommended that you pull the holster out of your pocket or waistband to return your gun. |
| It's closed design means no lint or debris will get into the barrel and mess up your gun. | |
Made from neoprene, this stretchable holster can fit almost all sizes. Unlike a lot of similar products, it attaches with a clip rather than Velcro.
This holster can accommodate a number of different-sized guns. So if you own more than one handgun, you can put this bellyband to good use.
It's available in both left-handed and right-handed options, so make sure you don't order the wrong one.
It's also worth checking your waist is the right size for this specific product. It can stretch to fit up to a 44" waist – larger waists might feel uncomfortable.
| Pros | Cons |
| --- | --- |
| With this holster type you don't need to wear a belt, which means more wardrobe options. If you're in the habit of wearing loose pants or shorts, this might win you over. | The material isn't very breathable. As you can imagine, it can get a bit sweaty wearing this in warm weather. |
| It's a versatile holster that can be adjusted to be worn at your back, on your side, and so on. Some people prefer to wear it tucked in at the waist. | The clip for the restraining strap is fidgety and requires some practice to get used to. Of course, you can remove it altogether, but you'll risk losing retention without it. |
| It has an extra pouch for carrying a spare magazine, which can also be used as somewhere to keep an ID, cellphone, or similar. | |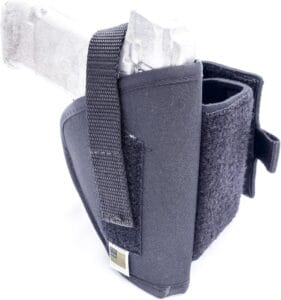 This holster is meant to be worn on the ankle. It is also made in the USA.
It is a nylon holster with neoprene straps that attach around the ankle by Velcro. All in all, it's a tough yet comfortable holster that should last through years of use.
There's a version for left and right-handers, so don't go ordering the wrong one.
| Pros | Cons |
| --- | --- |
| The safety strap can be adjusted to suit the user and holds securely. | It isn't great for skinny legs. If you're as skinny as I am, it might feel a bit loose around your leg. In fact, the strap may seem overly long for even the average- sized leg. |
| It's also suitable for using with a number of firearms. So, enjoy trying it out with your weapon collection. | |
| It can be mounted on either leg depending on your preferred drawing method. | |
---
Best Kahr P380 Holster – Final Word
So we've had a look at a few different holsters for the Kahr P380, and you should by now have a pretty good idea of what you're into.
My number one holster for the Kahr P380 would have to be the Desantis Nemesis. In my view, no other holster can match the quality and durability of the Desantis Nemesis, whilst representing such great value for money.
It's a top holster for concealment and suits a wide range of different outfits. One of the only drawbacks is that you might need to wear clothing with slightly deeper pockets.
Drawing is easy, and you won't end up pulling the holster out with your gun.
Of course, it's your decision, but if you're looking for a decent pocket holster then the Desantis Nemesis is well worth checking out!
Recommended Reading
Best Iwb Left-handed Holster For Kahr PM9
Best Pocket Holsters For Kahr CW 380
Leather Holsters For The Kahr CW45