DeSantis is a homegrown American company, founded by Gene DeSantis. This gentleman started his company while sitting at his kitchen table, making the first DeSantis gun holster. But now best known for the DeSantis Nemesis Pocket Holster
Since then, the DeSantis name has become known worldwide for their quality holsters and superior craftsmanship. From law enforcement to civilian personal protection enhancement, DeSantis may be the optimal choice for those who are interested in top-tier holsters, especially the pocket variety.
DeSantis offers a unique line of pocket holsters, deemed the Nemesis line. All of the Nemesis pocket holsters are designed to be ambidextrous, making them a viable option for lefties seeking a quality pocket holster.
After carefully reviewing each DeSantis Nemesis pocket holster based on quality, versatility, and available extra options, our top pick is the Cargo Nemesis pocket holster. This holster provides gun owners with a versatile storage attachment as well as a sheathing ability for a large number of guns.
Get Great Guns and Ammo Deals!
---
What Should you Consider in a DeSantis Nemesis Pocket Holster
When Size Matters
The DeSantis Cargo Nemesis  Pocket Holster took everything we love about the Nemesis Pocket holster, enhanced it, and added storage space. Total dimensions without anything inside this pocket holster, make this sheath 6.25 x 5-inches. By making the Cargo holster the largest of the Nemesis line, DeSantis was able to make a versatile holster that can fit in almost any type of pocket.
Optimal Concealment
Regardless of what material you are wearing, unless it is skin tight or fragile cotton, the DeSantis Cargo Nemesis Pocket Holster will keep your weapon concealed. If you are carrying your piece and ammo, virtually no bulge will be noticeable.
You may wear this pocket holster comfortably on your thigh, leg, or ankle pocket while maintaining the hidden element that the DeSantis brand is known for.
Showing What it's Made of
The DeSantis Cargo Nemesis Pocket Holster has the exceptional rubbery and sticky fabric exterior that this brand is known for. This material is great for keeping your piece stationary while it is in your pocket.
The shift-free grip may be most optimal in thigh pockets, however, it is known to work well in all pocket types due to its length. The Cargo Nemesis has solid reinforcement material weaved inside of the fabric, that enhance the safety and concealment factor of this holster.
Excellent stitching on the outside make the look of this holster accurately display its high-quality interior. Inside the holster is a smooth and slick cloth that is designed to prevent wear and tear of the cosmetic appearance of your firearm. This soft material also offers gun owners a virtually frictionless draw that is very fluid without any unnecessary steps.
Safety Concerns
This pocket holster offers reliable trigger protection. The solid exterior is reinforced to make sure that other pocket items do not accidentally set the gun off.
Gun owners may confidently slip their weapon into the DeSantis Cargo Nemesis and then into their pocket on the go. When an emergency situation arises, this holster keeps your firearm in an upright position for reduction of unnecessary draw steps.
Why You May Want to Buy This Holster
For those of you who would like to purchase a stylish holster that possesses the look and feel of the original Nemesis, the Cargo Nemesis pocket holster may be the one for you.
This holster offers gun owners clip and magazine storage in its tail compartment. Ambidextrous or left hand dominate gun owners may appreciate this well-engineered and pocketable holster for its convenient design.
https://www.youtube.com/watch?v=zUb1S9CZAC0
---
Nemesis Pocket Holsters Reviews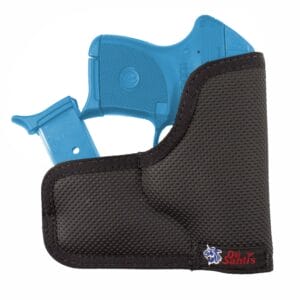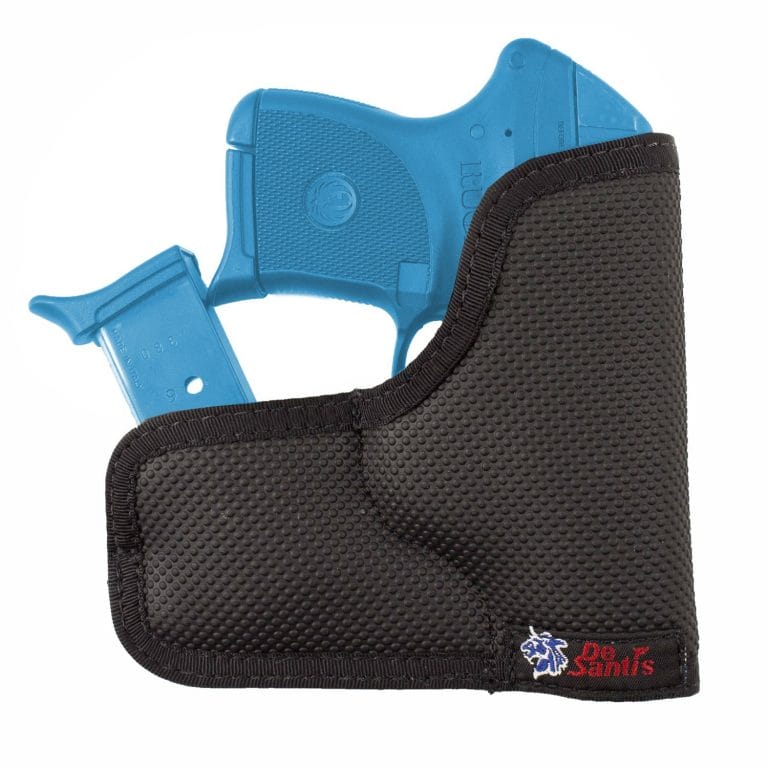 The Ammo Nemesis® is similar to the Cargo Nemesis, however, it is smaller. This pocket holster utilizes the patent Nemesis® synthetic material that makes this holster remain as stationary as possible within your pocket.
The Ammo Nemesis® has the capacity to hold an ammo strip that is located below the gun area. There is even enough room for the spare magazine of a small automatic.
Works With
Features:
Ambidextrous

Sticky Synthetic Material

Smooth Draw
| Pros | Cons |
| --- | --- |
| Allows for Reload Without Gun Removal | Will Not Aptly Fill Standard Cargo Pocket |
| May Carry an Extra Clip | Only Available in Black |
| Ammo Pocket Fits a Semi-Automatic Magazine | Magazine Holder May Add Bulk |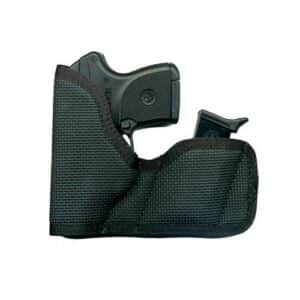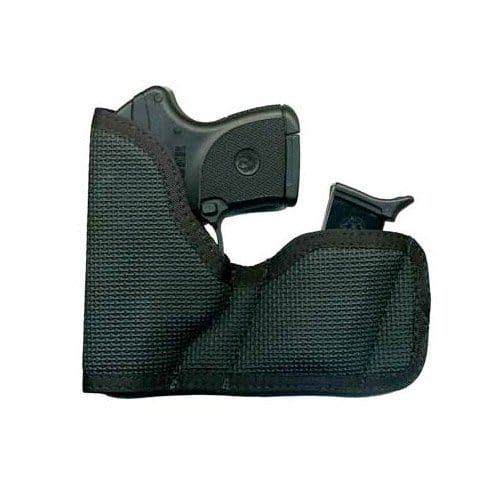 This pocket holster may be the best out of the Nemesis line. The Cargo Nemesis pocket holster is ambidextrous and usually may be worn the preferred pocket of your choice. The overall feel of this pocket holster is smooth and top-tier, thanks to the ingenious design on DeSantis' engineering.
The rubber outside material provides the right amount of 'stick' when inside any pocket, cotton, jean or otherwise. When this is firmly positioned in your pocket, you may be able to confidently run, jog, or jump without necessarily having to worry about the holster leaving your pocket.
DeSantis designed this pocket holster to be reinforced in the right areas, to prevent excess bending or other potentially damaging "giving" motions. The Cargo Nemesis® may be your best choice to purchase for your firearm, due to its ability to keep your gun out of sight. We highly recommend this pocket holster if you are in the market for a durable and dependable sheath for your gun.
Works With
Glock 26, 27, 43

Smith & Wesson M&P, CPT, SHIELD 9/40, Sigma P238 w/ LG-492, P938

Kel-Tec P11/P40

Heckler & Koch P2000/SK S/A

EMP 9/40

WALTHER PPS, PK380

TAURUS 709, SLIM, PT111/140, G2 MIL

TASER X26

Beretta Nano, Pico, Nano

Springfield Armory XDS .45SCCY CPX-1, CPX-2

BOBERG XR9-S, XR9-L

Remington R51, RM380

Rohrbaugh R9
Features:
Ambidextrous

Nylon

Damage-Resistant

Effectively Roomy

low friction draw

6 1/4″ W x 5″ H
| Pros | Cons |
| --- | --- |
| Properly Fills Standard Cargo Pants | May be uncomfortable to wear |
| Works as a Strongside or Crossdraw | Only Available in Black |
| Will Not Leap Out of Pocket | |
| Made of High-Quality Viscous Material | |
| Reinforced in All the Right Areas | |
| Interior is Made With a Frictionless Cloth | |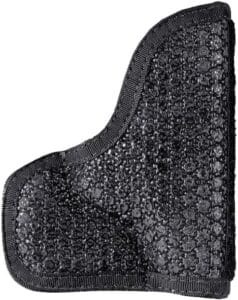 DeSantis wanted to offer their customers with a superb upgrade to their Nemesis, so they invented the Super Fly. This pocket holster comes with a removable and reversible flap that is padded for extra concealment.
With or without this flap, the exterior of this pocket holster offers gun owners with a rubbery and somewhat sticky material that helps to keep this holster stationary. Gun enthusiasts may notice that this external material feels more viscous than the original Nemesis®.
Inside of this pocket holster, gun owners may appreciate the somewhat slick packing cloth that is virtually frictionless on the draw. DeSantis engineered this holster to be reinforced with added polymer in all of the right places. This helps the holsters ability to prevent unnecessary wear on your piece.
Works With
RUGER SR9

Smith & Wesson 99, 990L 9/40, Sigma P220, Carry Sigma P: 225, 228, 229, 239

WALTHER P99
Features:
Ambidextrous

2.4 ounces

6 x 5 x 2 inches

sticky rubberized fabric

reversible outer flap

low friction draw

reinforced with added polymer

Back or front pocket design
| Pros | Cons |
| --- | --- |
| Fits weapon snugly | Flap tends to add a draw step |
| Surface helps holster remain stationary in pocket | Magazine release may be pushed unintentionally |
| Prevents shape of gun from being revealed | |
| Comfortable to carry | |
| Great concealment | |
| Removeable flap | |
| May be worn in front or back pocket | |
DeSantis' original Nemesis pocket holster has stood the test of time. This revolutionary holster remains a top-tier product for many people around the world. The exterior material is rubbery and viscous, for a dependable experience while carrying.
Fear not if you are a runner, jogger, or avid jumper, this pocket holster will help you maintain your gun's concealment well. The original Nemesis offers gun owners with a somewhat frictionless draw and cushiony foam core for optimal concealment that will help maintain the cosmetic features of your firearm.
Works With
GLOCK 17, 19, 22, 23, 36

RUGER SR9, SR40

Smith & Wesson 99, 990L, 9/40, Sigma P220, Carry P: 225, 228, 229,239
Features:
Ambidextrous

low friction draw

Padded to conceal weapon

5.4 x 8.7 x 1 inches

1.6 ounces
| Pros | Cons |
| --- | --- |
| Adds minimal bulge | No storage option |
| Remains stationary | Wide color options not available |
| Easy draw | |
| Quality stitching | |
---
Putting the DeSantis Nemesis Pocket Holster Into Perspective
DeSantis' Nemesis line may be the high quality pocket holster you are looking for. From the Ammo Nemesis, to the original, the DeSantis brand has a lot to offer with their product's rubbery and sticky holster.
With the Super Fly and the Original Nemesis being so similar without the Super Fly's flap, many of you may be wondering whether or not testing this product is worth a try. The following video may be very useful for those of you who would prefer to go without the extra storage compartment.
For those who prefer to have a cargo compartment on your pocket holster, we recommend the Cargo Nemesis Pocket Holster. This may be the most optimal for those who have a semi-automatic weapon or multiple guns that need to be holstered.
The Cargo Nemesis Pocket Holster offers gun owners with a snug pocket fit that works well with many different size pockets. From jeans to cargo pants, giving this pocket holster a try may be the best gun related selection you make.
After a test wear, this pocket holster may easily become your go-to pocket holster. Regardless of which Nemesis Pocket Holster you decide on, rest assured that DeSantis is capable of producing dependable, high-quality firearm sheaths.
Recommended Reading
Pocket Holsters For Beretta Pico Pistol
Best Pocket Holsters For Kahr CW 380
Best Pocket Holster For Glock 43
Pocket Magazine Holster For Concealed Carry
Pocket Concealed Carry Holster For The Ruger LCP 380