The CZ-82 is excellent for concealed carry and self defense, as you're aware. Having once been used by the Czech police and military, it's now one of the hottest, and least-expensive, secondary-market guns in America. Being a little on the heavier side for its small stature, though, you're no doubt looking for a reliable CZ 82 Holster. While there are a few options out there to choose from, it can be difficult to find a perfect fit for this type of firearm.
While there are multiple options, I've found after much searching that the Hybrid Kydex Inside Waistband IWB Concealed Carry Holster for the CZ-82 is perfect. It's not only a quality holster, but it's also meant for this model.
However, that does not mean there aren't other options available. That's why I'd like to show you a few of my top picks specifically for the CZ-82.
First, however, let's talk a bit about how exactly you plan to use your firearm in order to figure out the best holster option for you.
Get Great Guns and Ammo Deals!
---
What To Look For in a CZ 82 Holster
As was mentioned above, and as I'm sure you know, the CZ-82 is a compact weapon, making it a perfect choice for concealed carry. It is known for its surprising blowback action and interesting European history. With this, however, comes a few ounces of extra weight.
While you may be searching for a sturdy holster that can handle its excess weight and ultimately leave it undetectable, there are other details to consider before you settle.
CZ 82 Holster Gun Belts
If you plan to buy a holster that will rest at your hip, you won't want your sidearm to tug your trousers down. If you end up choosing a belt clip or slide holster, chances are your everyday belt won't do the trick.
A sturdy gun belt will aid your holster, making it seem as if your firearm is weightless. There are a variety of types of gun belts, ranging in style such as leather and tactical.
While most are size-adjustable, you'll want to make sure you pick one that will fit snug enough to keep your gun and holster secure, as well as consider whether this will be for concealed or open carry.
Concealed Carry isn't Always Comfortable
If you plan to use your CZ-82 for concealed carry, and especially if this is your first time carrying, one thing to consider is that it won't be comfortable right of the bat.
While gear and accessories, such as holsters, are manufactured to be as convenient as possible, your firearm is not without unusual curves that aren't so natural.
Your Wardrobe
Right along with a good holster, your wardrobe plays another important part in the concealment of your weapon. If all you have are tight-fitting muscle T's, chances are you might need to get a few new garments.
For most concealed carriers, an IWB holster is ideal since it rests on the inside of a waistband. This does not mean you are free of wardrobe complications, though, and should still consider your outfit accordingly.
Retention
When buying a holster, retention is a very important component. You want just the right balance of retention, or you won't be satisfied.
Having too much of it will prevent you from having quick-access to your gun, while having too little will leave it insecure and accessible to anyone around you.
What is the level of retention and reaction for the holster you're looking at? Is it passive, or is it active? You'll want to keep these in mind when choosing.
CZ 82 Holster Right or Left Carry
Before you pick your holster, depending on the style you've chosen, you'll want to make sure you've picked the correct draw side.
Typically, IWB holsters are side-specific. If you're looking at one of these, be careful to pay close attention when purchasing!
Men vs. Women Holsters
It's a known fact that men and women have different forms, garments, and needs. Depending on whether you're male or female, there are a variety of holster types made specifically to suit you.
While there are types that are made for a specific gender, they are also manufactured for targeted functionality. For the woman going out for a night, they have belly bands and flashbangs, both of which are meant to conceal a firearm beneath less-conspicuous clothing.
CZ 82 Holster Price and Quality
Last, though certainly not least, you'll want to consider the price and quality of what you're buying. You don't have to spend a lot to be guaranteed a good holster, but you should be willing to consider the difference between a chunk of plastic and quality materials.
Three components go into a bargain deal, and those are price, quality, and speed. While real leather might look nice, it'll cost you a fortune more. Synthetic materials have come a long way, making it easier to buy good-quality products while not having to spend too much.
Speed, of course, is about the ability to draw your weapon. By settling for something poorer than desired, you might also be compromising the functionality of your holster.
---
Top Holsters for the CZ-82
Now, having talked about some of the various things to consider when buying a holster, let's take a look at a few different options for the CZ-82.
While there are many choices available out there, these are some of the top ones I was able to come up with. Let's look at the features of each of them.
This holster is for under the waistband, and is made of vegetable-tanned cowhide so it won't damage your guns finish. It is made for quick draw, and the back of it is smooth in order to provide comfort for resting against your skin. In fact, they manufactured it so specifically for comfort, it's supposed to seem as if it's not even there.
IWB Leather Holster for CZ 82 – Features
Vegetable-tanned cowhide

Smooth-finished back

Quick Draw

Comfortable fit

Thicker .080 Kydex for protection/durability

Lifetime warranty

Stainless Steel adjustment screws

Multiple adjustment holes
| Pros | Cons |
| --- | --- |
| Molded well to CZ-82 | Leather must be broken in |
| Long-lasting quality | Adjustment screws can irritate skin if too tight |
| Tuckable holster for tucked-in shirt | |
| Comfortable against bare skin | |
This L Style holster is made with a clip to allow it to function as either open or concealed carry. The clip is removable, and the inner lining is gentle and soft. It's also made for quick and easy draw.
OUTBAGS USA Nylon IWB Conceal Carry Holster for CZ 82 – Features
600 denier nylon

Soft inner lining

In and outside waistband fit

Steel belt clip

Thumb break
| Pros | Cons |
| --- | --- |
| Inner lining doesn't wear down finish | Clip hard to secure on belt/tears stitching |
| Firm clip keeps weapon secure | perspiration seeps through lining |
| Convertible to left or right | |
This holster offers innovative clips with your purchase. These clips are suited for a diverse amount of needs, and along with this feature you're getting convertible carry and quick-draw ability.
Comp-Tac International Holster for CZ 82 , 1.5″ Belt Width – Features
IWB/OWB convertible

Three sets of clips

Adjustable ride depth, cant, and retention

Durable/flexible plastic holster

Quick Draw
| Pros | Cons |
| --- | --- |
| Clips allow for diverse usage | Sits high |
| Molded to pistol shape | Doesn't always fit to body |
| Easily adjusted | No flexible angle adjustment |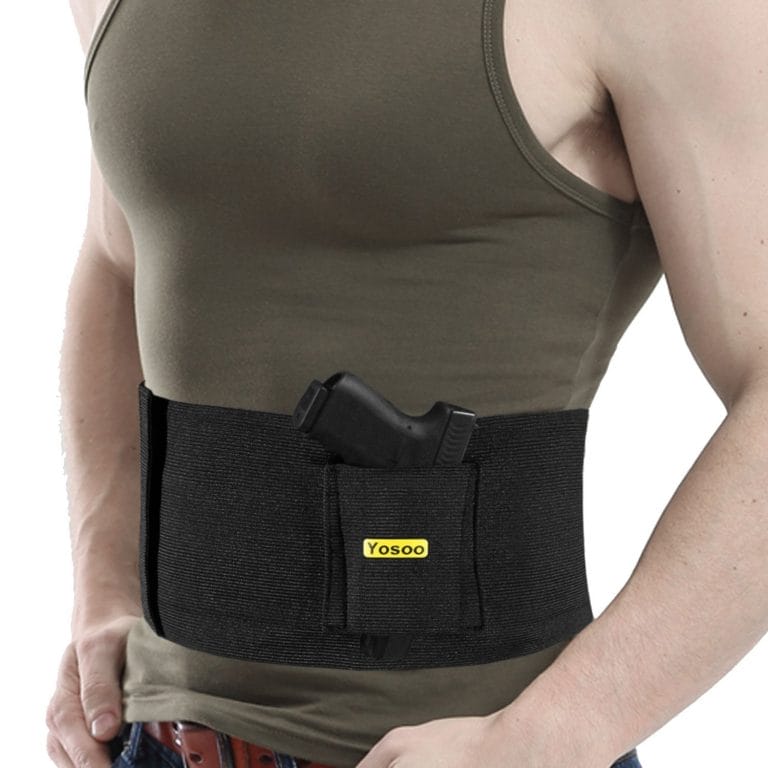 The Belly Band is one of the most versatile and comfortable concealed carry holsters. This innovative piece is great for under a variety of garments, all the while retaining comfort.
Features
Lightweight, ventilated elastic material

Strong stick straps

Elastic mag pouch

pocket for important papers, cash, credit cards, and cellphone.

Ambidextrous
| Pros | Cons |
| --- | --- |
| Adjustable for cross draw | No smaller/larger sizes available |
| Elastic material for comfort | Stitching may come loose |
| conceals well | |
---
Our Top CZ 82 Holster Pick
Due to how difficult it is find a holster for the CZ-82, the Hybrid Kydex Inside Waistband IWB Concealed Carry Holster for CZ 82 is the best fit in my opinion.
It is molded well to the shape of the gun, made for durability and comfort, and it comes at a decent price.
Whether it's hot or cold out, the material won't irritate your skin, and it looks appealing as well. Though it may take a week or two to break in the leather, it's worth it for the practically unnoticeable comfort it gives once the material has molded to your body.
For a decent price, you're getting exactly what you need in a reliable IWB that will last your entire life, and has a lifetime warranty that is an added bonus.
We hope this provided you with valuable information, and helped you to come to a conclusion on the right holster for your CZ-82. Leave us a comment to tell us what you think, or to let us know of any other holsters you might find reliable for this firearm!
Recommended Reading
CZ Scorpion EVO 3 S1 Carbine Rifle
Right-handed Holsters For The CZ P07
The World's Most Copied Pistol: CZ75