Donald Trump admitted Monday his legal battles are limiting his ability to campaign for the presidential nomination.
Trump has now been indicted in three separate cases and faces the possibility of a fourth. Grand juries have indicted him in two Department of Justice (DOJ) probes, one concerning his handling of classified documents removed from the White House and the other centered on his actions to overturn the results of the 2020 election, culminating in the January 6, 2021, riot at the U.S. Capitol.
In April, Manhattan District Attorney Alvin Bragg's indictment charged him with falsifying business records in connection with an alleged hush money payment to an adult film actress shortly before the 2016 election. Later this month, Trump could be indicted in a Georgia investigation into his efforts to overturn the 2020 election results in that state.
Trump has maintained his innocence in all of these cases, accusing prosecutors of investigating him for political purposes and trying to weaken his candidacy in the 2024 presidential race. After his federal indictment last week in the DOJ special counsel's case concerning the 2020 election's aftermath, the former president ramped up his attacks against federal prosecutors. In several posts to his social media platform, Truth Social, he accused them of political bias.
In a Monday afternoon post, Trump wrote that his legal problems are affecting his ability to campaign for the presidency.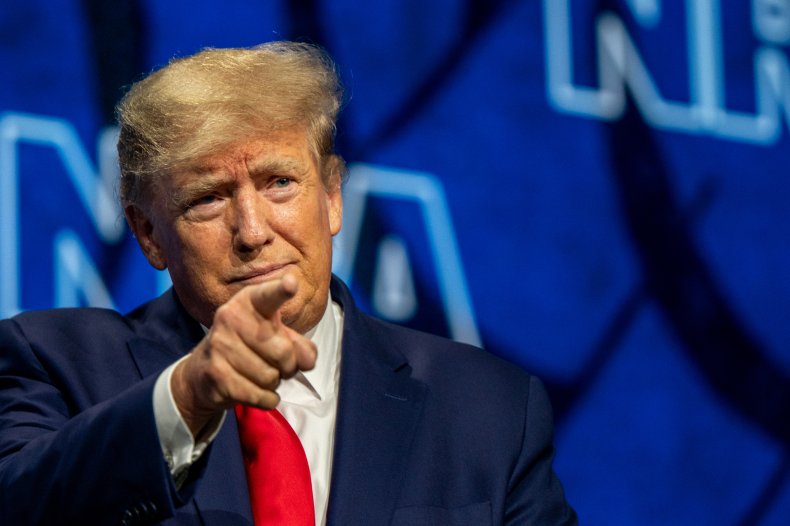 "HOW CAN MY CORRUPT POLITICAL OPPONENT PUT ME ON TRIAL(S) DURING A CAMPAIGN THAT I AM WINNING (BY A LOT!), BUT FORCING ME TO SPEND TIME AND MONEY AWAY FROM THE "CAMPAIGN TRAIL" IN ORDER TO FIGHT BOGUS ACCUSATIONS & CHARGES?" he wrote.
Trump also questioned why he was not charged "2.5 years ago" and said the cases against him are "all about election interference" rather than the rule of law.
While Trump and his allies have sought to portray the cases as politically motivated, some of his Republican rivals for the nomination have said the allegations in the indictments should be taken seriously, regardless of whether Trump is running for office.
Newsweek reached out to Trump's campaign for comment via email.
His latest Truth Social post comes amid a potential legal dispute over what Trump is allowed to say on social media about the federal case on the 2020 election and the Capitol riot. Following that indictment, Trump posted to Truth Social: "IF YOU GO AFTER ME, I'M COMING AFTER YOU!"
The message prompted the DOJ to ask U.S. District Court Judge Tanya Chutkan, who is overseeing the case, to issue a protective order that would limit the information Trump is allowed to share about the case. The Truth Social post was included as part of the DOJ's submission to the court. Trump's legal team has until 5 p.m. Monday to file a response to the motion.