You're so excited! You've just picked up your new Smith & Wesson 686, and you're ready to start carrying this .357 Magnum or .38 S&W. Before deciding on a holster for your Smith & Wesson 686, though, you need to think about how you want to carry the 686 and what you're going to do with it.
Are you a competition shooter, in the market for a speed holster? Do you plan to carry it on duty? Concealed? Is it a secondary firearm for hunting, or a means of protection while hiking or camping?
The answers to these questions will point you in the right direction so you find a Smith & Wesson 686 holster just right for you.
My pick would likely be the Pancake holster by Azula. It might fit my body type better than any of the others, and I like the secure fit provided by these types of holsters.
[table "146" not found /]
Get Great Guns and Ammo Deals!
---
What Are My Smith & Wesson 686 Holster Options?
Well, if you plan to carry this while hunting, hiking, or for home defense, you'll want a simple yet durable holster that allows you to draw quickly and smoothly.
If you're into speed competitions, you'll want a specially designed quick draw holster. And, if you're planning to carry concealed, you'll need to find the most inconspicuous holster you can get.
Also, some holsters that say they'll fit the S&W 686 may also fit other pistols with different length barrels. So, consider your gun's barrel length when browsing holsters.
Gun holsters are often one-sided; consider your dominant hand when looking to purchase one. First decide if you're going to carry on your strong side or crossdraw.
Belt Clip or IWB
So if you're planning to carry around the house or yard, you might decide on a simple belt clip/slide or an in-the-waistband holster.
These will either clip to your pants or belt, slide on over a belt, or clip to the inside of your waistband, and will probably work fine for an everyday carry.
These come in nylon, polymer, or leather, and can range in price depending on the materials used.
Shoulder Holster
Tactical shoulder holsters can also be used while hunting, especially if you're carrying other gear on your belt and want to carry a backup to your shotgun or rifle.
These holsters make an ideal concealed carry rig if you wear a suit coat or sport jacket regularly.
They often come with magazine pouches and can usually be worn cross-draw and switched from left to right sides of the harness.
A similar option is a cross-chest harness, which allows you to keep your backup easily accessible yet keeps your hands free for your rifle. However, a chest holster would not be ideal for most women to carry.
Speed Holster
A lightning-quick speed holster is a must if you're into competition target shooting or other quick-draw situations.
These holsters often come with different user-adjustable settings, so you can find the exact positioning that's right for you.
If you'd like to learn a little bit more about speed holsters.
I know I did, having never seen one before – they're actually kind of cool. Check out this You Tube video by Mad Bad Voodoo
Pancake or OWB Holster
Pancake holsters are similar to a belt slide, but designed to be smaller and flatter to facilitate concealed carry.
These are usually made of leather or nylon, and slide securely onto a belt.
They'll be less noticeable than standard nylon belt clip type holsters.
However, many of them are open at the barrel end, exposing your barrel to potential contaminants like dirt, and possibly hanging up on tall sights when drawing.
Flap Over Holster
These holsters are kind of designed with the rugged, outdoor type in mind. They're made of leather or nylon.
They have an additional leather piece that folds over the top of the firearm and snaps to the outside of the holster.
This type of holster offers excellent retention as well as extra protection from the elements, if you happen to be out for long periods of time in rain or snow. But, they might make for a slower draw in an emergency situation.
---
The 5 Best Smith & Wesson 686 Holsters
We've talked in general about some different styles of holsters, and you probably have a good idea now of what you're specifically looking for.
Keep in mind the size of your gun barrel and whether you need a right-, left-, or cross-draw holster.
Now, let's take a more in-depth look at some specific makes and models of holsters for the S&W 686.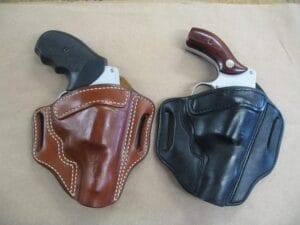 This is a pouch-like holster of leather with two large slots to slide your belt through.
It's intended to be worn outside the waistband (OWB), and Azula even offers matching gun belts.
Their design has a tall rise on the inside of the holster to give the wearer extra comfort.
The bottom of the holster is closed so your sight doesn't hang out and potentially get caught while drawing the weapon. It's handmade and comes with a lifetime guarantee.
I've used a couple holsters like this, and found them comfortable and easy to use.
Galco's Wheelgunner holster is made of heavy saddle leather and is available for both single- and double-action revolvers.
Retention is guaranteed with a combination of molding and an adjustable hammer thong. To draw, simply release the thong and slide the pistol from the holster.
The holster has a belt-slide system, allowing the user to easily change position of carry, and is ambidextrous.
This Galco holster fits belts up to 1 ¾ inches.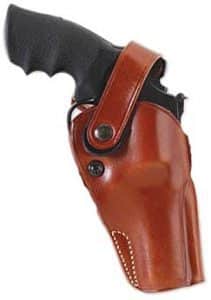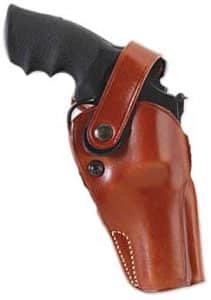 This could be a great holster for revolvers with longer barrel lengths.
It has a rugged yet simple look, and the retention strap has a bit of polymer around the snap to allow for easier use even if you're wearing gloves.
Made from top saddle leather, it's molded to fit your pistol. There is an adjustable retention screw to give you the perfect amount of tension.
It's also available in both right- and left-hand models.
This molded polymer holster is meant to wear outside your waistband, and is lightweight and tough.
It boasts an adjustable cant angle (straight drop, muzzle forward, or muzzle back) and has tension screws to adjust the retention to match your exact firearm.
It's available in both right- or left-hand models. The polymer material is durable and should last a long time.
I carried a polymer holster for years on duty, and found it to be super strong to take the abuse of daily use. My pistol never fell out and I was confident of retention.
This style of holster is also often available as a paddle, which slides into the pants and sits comfortably against the hip.
This inexpensive nylon holster comes standard with ammo loops on the front of the holster.
The thumb break allows for easy drawing, and this holster can be worn with either a belt clip or directly on the belt via a belt slide.
The spine stays open to make holstering your pistol a breeze. This model is available for both right- and left-hand draw.
However, nylon isn't as durable as leather or polymer; if you want to keep your pistol for a long time, you might want to pass on this holster.
This model is available to fit both revolvers and semi-automatics, so when you order, be sure you're getting the right one for your S&W 686.
---
Final Thoughts – Which Smith & Wesson 686 Holster is the Best?
By now you probably have a good idea of what kind of holster will work for you. We've talked about holsters in a wide range of prices, so you have an idea of what you want to spend.
Holsters come in a variety of materials, from nylon to polymer to leather, and each has its pros and cons. Nylon is inexpensive yet more fragile; polymer and leather are more durable yet cost a bit more. Consider what you need in a holster before making a choice.
My pick would likely be the Pancake holster by Azula – it might fit my body type better than any of the others, and I like the secure fit provided by these types of holsters.
Because the holster has a high rise on the 'skin' side, it would be comfortable to wear, and the sealed end protects both your barrel and sights.
I would probably use a similar holster when horseback riding in the woods, in case I came across any dangerous critters. The versatility of this 686 holster appeals to me the most.
Recommended Reading
Holsters For Smith & Wesson 642
Glock 43 Vs. Smith And Wesson M&p Shield
Concealed Carry Holsters For The S&W SD9 VE
Smith & Wesson SW22 Victory Pistol
Smith & Wesson Governor Holster