Many law-abiding citizens in the US, and all around the world use concealed carry pistols for personal defense. Recently, the concealed carry pistol market has seen a lot of invasions and there are many really good options in the market, however, there is something about the simplicity and practical performance of the Glock platform that makes it the go-to self-defense and concealed carry pistol for many citizens. We'll review options for the best glock for conceal carry.
Why Use a Glock for Concealed Carry?
Glocks have a reputation for being some of the most reliable pistols out there, and reliability is the most important factor in a self-defense or concealed carry gun. Glock gives you the confidence that whenever you are going to draw them, they are going to shoot, without any malfunctions. Glocks are used by law enforcement agencies all over the world, which on its own is a testament to the performance and reliability of the pistol.
Glocks also have comfortable ergonomics, high capacity, and are easy to shoot, however, the thing that really sets Glocks apart from the competition is their aftermarket support. You can make all kinds of customizations on your Glock to make it more effective, fun to shoot, or simply look cool.
So, here is a list of the best Glocks for personal defense and concealed carry.
Glock 48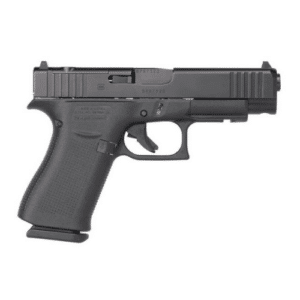 First off, we have the Glock 48, which was Glock's response to the Sig P365 and offered a lot of similar features with the Glock ergonomics and controls that we all know and love.
The Glock 48 comes with a 4.17-inch barrel,  has an overall length of 7.28 inches, and an overall width of 5.04 inches, while only being slightly over 1 inch in width. Now, in terms of length, it is longer than some of the other competitors in the micro 9mm market, however, the extra length, with the concealable frame, allows the gun to sit closer to your body inside the waistband, and offer better concealability in some cases.
In terms of magazine capacity, the Glock 48 comes with a standard 10 round flush fit magazine, so you have a total capacity of 10+1 rounds, however, there are aftermarket magazines for the Glock 48, made by shield arms, that can extend its capacity to 15 rounds.
The controls on the Glock 48 are like most Glocks, with a reversible magazine release, and a slide stop/release on the left side of the frame. With Gen 5 versions, the frames also have ambidextrous slide stop/release. The standard Glock trigger is smooth and crisp, and you get a set of factory Glock plastic sights; however, there are many really good aftermarket options for night sights and fiber optic sights.
Glock 19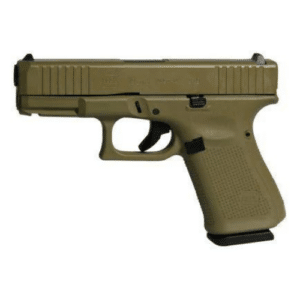 Glock is one of the best polymer frame pistol manufacturers in the market, and when it comes to reliable and effective concealed carry pistols, there are few options better than the Glock 19.
The Glock 19, like most other Glocks, has the same polymer frame, steel slide design. It is a striker-fired, semi-automatic pistol, with a true double-stack magazine. In terms of height, it is the same as a Glock 48, but the 19 is longer and thicker, with an overall length of 7.36 inches, and a thickness of 1.26 inches.
Though the thickness can affect concealability to some extent, it does allow for a larger capacity magazine. The Glock 19 feeds from a 9mm double-stack magazine that holds 15 rounds, for a total capacity of 15+1, which is very good for concealed carry and self-defense.
With its slightly bigger size, the Glock 19 falls in a very comfortable middle ground, where it isn't too big to be unconcealable, but also isn't so small that it becomes difficult for people with larger hands to shoot.
In terms of controls, the Glock 19 has a convertible magazine release and a slide release on the left side of the frame. The trigger is smooth, and also features trigger safety. The sights are the same as every other stock Glock. The plastic white dot sights aren't the best in the market, but they are more than capable of a self-defense weapon, and you can also replace the slide or add an option to your pistol if you like.
Overall, the Glock 19 is very ergonomic and lightweight with rugged reliability and high magazine capacity, and is perfect for self-defense and Glock concealed carry.
Glock 45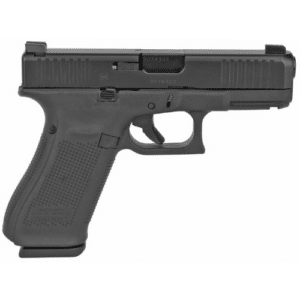 The Glock 45 is one of the best pistols in the Glock catalog, and though the name confuses some people, it isn't chambered in 45 ACP. The G45 is a 9mm pistol, and 45 is just the patent number for this Glock design.
Now, to understand the specific demand of the Glock 45, and its creation, you need to know about the Glock 19x, which is a modular pistol and was a part of the US military trials for their new sidearm. Though the Glock 19x did not win the trials, it was very popular because of its full-size Glock 17 frame, and Glock 19 size slide and barrel.
Law enforcement agencies were interested in the Glock 19, but being a military trial pistol it came only in desert tan, and law enforcement agencies needed a black version. So, Glock released the G45, which had the same dimensions as the G19, and had some additional features as well.
The G45 is 7.44 inches long, 5.47 inches tall, and 1.34 inches wide. It is what many might consider a service-size pistol, but is still quite concealable, especially with the right holster. The G45 has a 17 round magazine, for a total capacity of 17+1.
The gen 5 Glock 45 features MOS (Modular optic system), a reversible magazine release, an ambidextrous slide release, cocking serrations on the front of the slide, and the smother gen 5 trigger, with a trigger safety. Overall, it is a really well-balanced, modern pistol that is an excellent option for self-defense and concealed carry.
Glock 43/43X. for Concealed Carry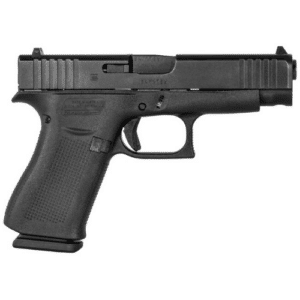 Released in 2015, the Glock 43 was a little late to the party of single stack 9mm pistols, however, it did bring the sought-after Glock brand name.
The G43 is a very compact, and concealable pistol with an overall length of 6.26 inches and a height of 4.25 inches. Moreover, being a single stack, the pistol is very slim and has a width of only 1.06 inches. So, you can holster the G43 or carry it in your pocket, without worrying about printing.
However, the concealability of the G43 comes at a cost, in terms of magazine capacity, the G43 only holds 6+1 rounds, which is less than some competitors. Moreover, because of the small frame, and heavy trigger, the G43 can be difficult to shoot very accurately. Still, considering the purpose it is built for, it is a very capable self-defense pistol
In terms of controls, it is very similar to every other Glock. The grip is improved, to fit better in the shooter's hand, which is a huge plus considering the size of the pistol. Overall, if you are looking for an ultra concealable 9mm Glock at an affordable price, the Glock 43 is a good option.
The Glock 43x is a slightly bigger version of the G43, with a longer grip, which also has a much larger magazine capacity of 10 rounds. The Glock 43x is very similar to the Glock 48 and has a similar frame, but a smaller slide.
Glock 26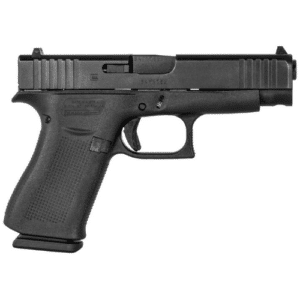 Next up, we have the original baby Glock, and perhaps one of the most reliable and innovative concealed carry pistols of its time. The Glock 26 is an ultra concealable and compact pistol, with a double-stack magazine. In terms of length and height, it is the smallest Glock on this list, however, being a double-stack, it is as thick as a standard Glock.
The G26 is 6.5 inches long with a 4.17-inch barrel, and 4.17 inches tall, with a flush-fitting magazine. It is also 1.26 inches wide, for an overall, super concealable package. The standard double-stack magazine on the G26 holds 10 rounds, however, the best thing about it is that it takes all standard Glock mags, which means you can even use it with a 17 round G17 magazine, or a Glock extended mag. This allows you to carry the G26 with a standard 10 round mag, and have a higher capacity backup magazine, which adds to your firepower, without affecting concealability.
In terms of controls, the Glock 26 is similar to most Glocks. The magazine release is reversible, and the slide release is on the left side. You have standard trigger safety and standard plastic Glock sights. The G26 is very comfortable to carry inside the waistband, and is super concealable as well, however, in terms of shooting it can be a little uncomfortable because of the small grip, still, you can get extended mags for it, which feature a pinky extension for better grip.
Glock 27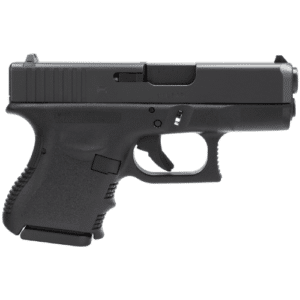 Up Till now, all the pistols we have talked about are chambered in 9mm, however, if you feel like you want something that packs a little more punch for self-defense, the Glock 27 chambered in 40 Smith & Wesson is a really good option.
In terms of size and controls, the Glock 27 is very similar to the Glock 26, however, it is chambered in 40 s&w, and has a standard 9 round magazine. The double-stack magazine is also interchangeable with Glock 22 15 round magazine, so, if you can carry a lot of firepowers, with this ultra concealable pistol.
The Glock 27 is 6.5 inches long, and 4.17 inches high, the same as the Glock 26. It is a very capable self-defense and concealed carry pistol, however, as it is with pistols this small, it can be a little difficult to shoot, especially for people with larger hands. Still, the G27 is a very comfortable concealed carry pistol.
Best Glock for Concealed Carry – Final Thoughts
Glock is a very reliable and trusted brand all over the world, and they have a wide range of pistols. When it comes to concealed carry, Glock has a lot of reliable options, which we have mentioned in this post. So, if you are looking to get a concealed carry Glock, we hope that this post helps you out.