The Supreme Court appears inclined to uphold a federal law banning guns from those subject to domestic violence restraining orders (DVROs), in the first major test of the Second Amendment at the high court this term. 
In oral argument Tuesday, justices on both sides of the ideological spectrum seemed to agree with the Biden administration that there was a history and tradition of keeping firearms from dangerous people, despite the lack of any specific ban that may have been in place when the Constitution was enacted in the 1790.
The court's ruling in the case, U.S. v. Rahimi, could have major implications for several gun rights measures working their way through the legal system, and in state legislatures. 
It could also affect current cases dealing with whether current and former drug users can similarly be denied gun ownership – like that of Hunter Biden. The president's son plans to challenge a pending federal indictment after allegedly lying on a federal registration form in 2018 about his drug addiction when buying a firearm. 
SUPREME COURT AGREES TO HEAR CHALLENGES TO BUMP STOCK BAN, NEW YORK'S FINANCIAL 'BLACKLISTING' OF NRA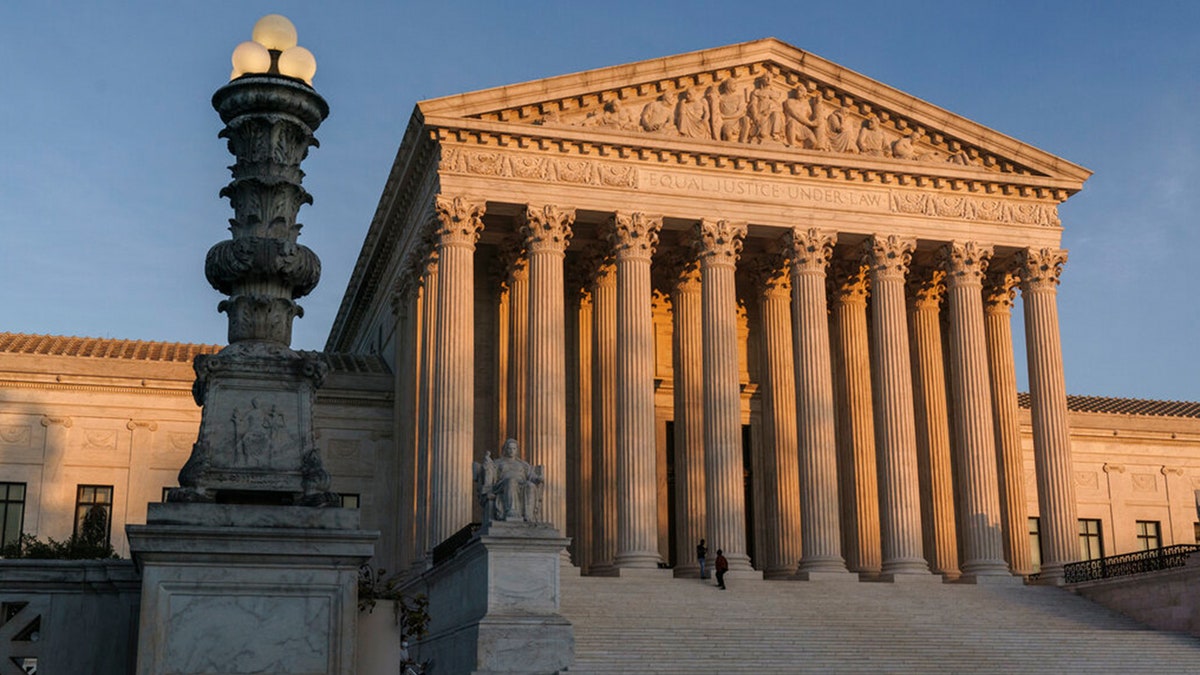 The case before the court stems from a lawsuit involving a Texas man, Zackey Rahimi, who – under a DVRO – argued he still had a right to keep a gun for self-protection. Rahimi was charged with separate state offenses that began with the 2019 physical assault of his ex-girlfriend, and later another woman by use of firearms.
Despite some concerns about its application, a majority of justices appear to be convinced by large parts of the federal government's argument. 
"It's so obvious that people who have guns pose a great danger to others, and you don't give guns to people who have the kind of history of domestic violence that your client has or to the mentally ill," Justice Elena Kagan told the lawyer for the Texas defendant. "I'm asking you to clarify your argument because you seem to be running away from it because you can't stand what the consequences of it are."
But Chief Justice John Roberts worried that disarming people deemed "irresponsible" could deprive some law-abiding citizens of their rights. 
"It seems to me that the problem with 'responsibility' is that it's extremely broad, and what seems irresponsible to some people might seem like, well, that's not a big deal to others."
A Texas court in a civil proceeding found Rahimi had "committed family violence," then granted his former girlfriend a protective order that included suspension of Rahimi's gun license. Court records show he was warned gun possession under the protective order would be a federal offense.
GOP AG HOPEFUL SUPREME COURT WILL BLOCK BIDEN ADMIN FROM 'WORST FIRST AMENDMENT' BREACHES IN HISTORY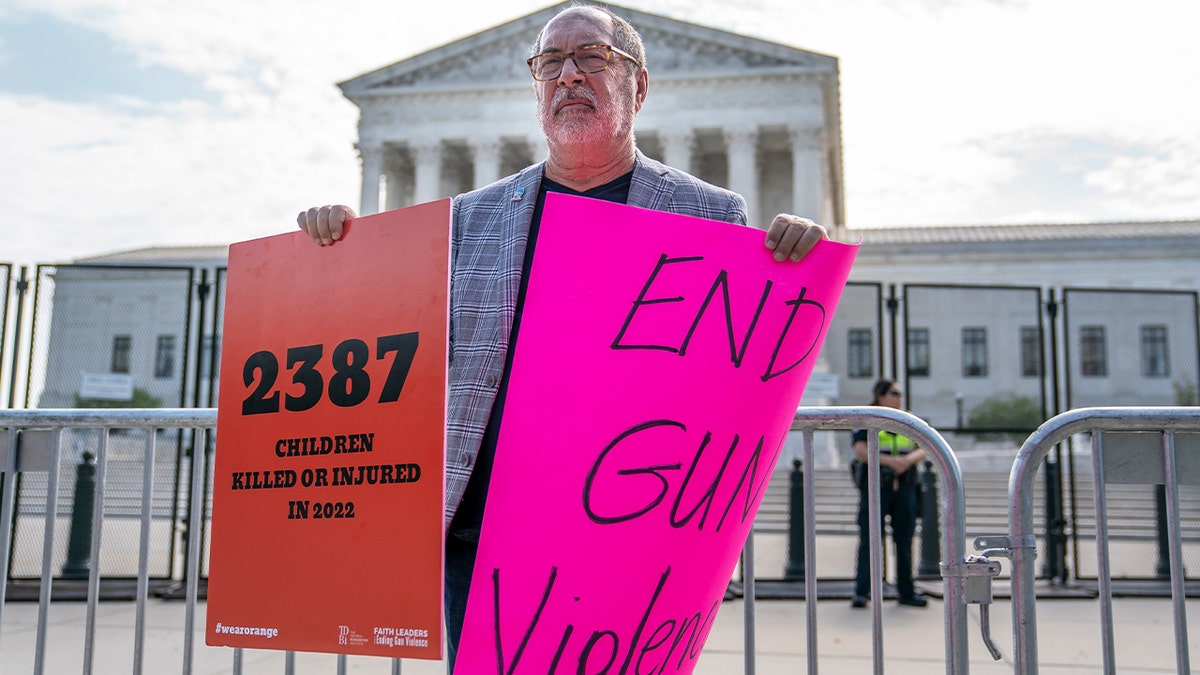 After Rahimi repeatedly violated the order, including approaching the victim and threatening her, he was also accused of firing a gun in public in five different locations within a span of weeks. Police then searched his residence and found handgun, rifle and ammunition.
While contesting some of the allegations against him, he pleaded guilty to a violation of federal law for later possessing a handgun despite an earlier restraining order, but then appealed.
The 5th Circuit U.S Court of Appeals ruled for Rahimi, saying the federal restriction was unconstitutional since there was no historical analog justifying the burden on individual self-defense rights.
But even the conservative Roberts expressed concern over Rahimi's record. 
"Well, to the extent that's pertinent, you don't have any doubt that your client's a dangerous person, do you?" Roberts asked Rahimi's lawyer. When Matthew Wright demurred, Roberts jumped in.
"Well, it means someone who's shooting at people. That's a good start" he said to nervous laughter in the court.
Outside the court Tuesday morning, hundreds of demonstrators gathered, most supporting tighter guns restrictions.
This case comes to the justices less than two weeks after the deadliest mass shooting in the United States this year. Eighteen innocents were killed, 13 others wounded in Lewiston, Maine, by a lone gunman.
During almost 100 minutes of tense oral arguments, Solicitor General Elizabeth Prelogar said a woman who lives in a house with a domestic abuser is five times more likely to be murdered if the abuser has access to a gun.
SUPREME COURT SIDES WITH BIDEN, BLOCKS JUDGE'S ORDER ALLOWING 'GHOST GUN' SALES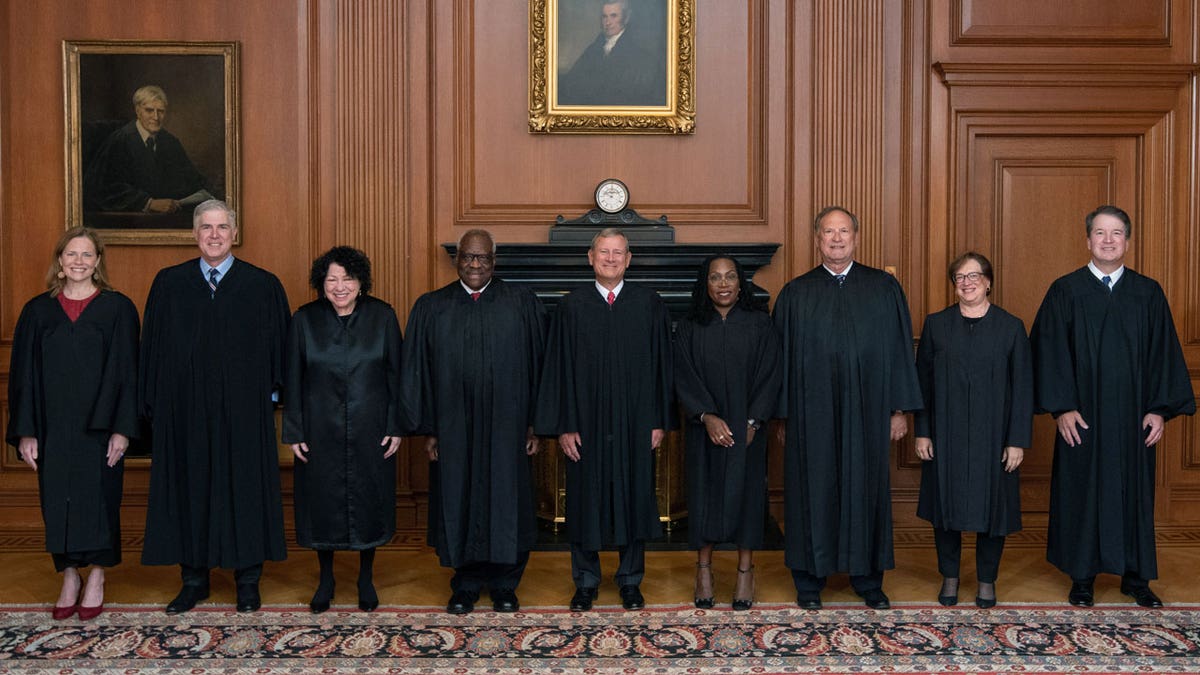 "As this court has said, all too often the only difference between a battered woman and a dead woman is the presence of a gun," said Prelogar. "Throughout our nation's history, legislatures have disarmed those who have committed serious criminal conduct or whose access to guns poses a danger."
Justice Clarence Thomas – the author of last year's landmark ruling expanding gun rights outside the home – suggested it may be too easy for state courts to deny a gun to someone in a civil proceeding, absent a criminal conviction. But the issue before the high court was the federal prohibition on gun ownership for restraining order violators.
"We're assuming dangerousness or irresponsibility. Take your pick," said Thomas. "And we are – we have a very thin record, and I'm trying to get a sense of what actually happened in this case."
A major question was whether there was a precise analog now to the 18th-century legal concept of domestic violence and gun rights – that would give modern-day legislatures and courts the discretion to limit gun possession for those deemed dangerous or irresponsible.
"I guess I'm a little troubled by having a history and traditions test that also requires some sort of culling of the history so that only certain people's history counts," Justice Ketanji Brown Jackson said. "So what do we do with that? Isn't that a flaw with respect to the test" established in the high court's recent precedent.
"I'm so confused, because I thought your argument was that there was no history or tradition" to deprive Rahimi of a gun, said Justice Amy Coney Barrett. "But now it kind of sounds like your objection is just to the process."
Barrett also questioned why Rahimi was challenging his disarmament judgment in the DVRO, but not the fact his handgun license was also suspended.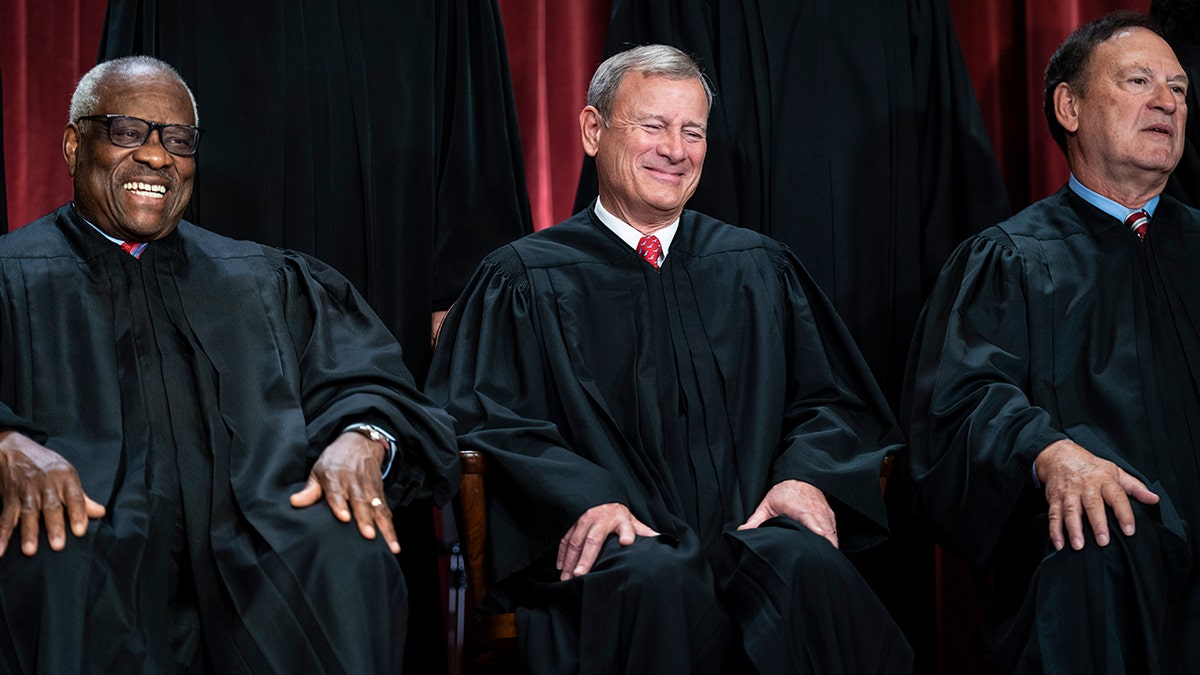 A decision in the DVRO case is expected to be narrow in scope, focusing only on whether the Second Amendment protects those considered a danger to society.
That could do little to aid lower federal courts, which have struggled to develop a framework for deciding a range of legal challenges in the wake of the 2022 high court precedent, New York State Rifle & Pistol Association, Inc. v. Bruen.
CLICK HERE TO GET THE FOX NEWS APP
"There seems to be a fair bit of division and a fair bit of confusion about what 'Bruen' means and what 'Bruen' requires in the lower courts," said Kagan.
The high court is already prepared for more such disputes, agreeing last week to decide the constitutionality of another federal gun regulation – a Trump-era ban on gun attachments known as "bump stocks" that make semi-automatic weapons fire like machine guns.
A decision in U.S. v. Rahimi is expected by next summer.