Are you looking for the right AR-15 barrel for your rifle? If so, you've come to the right place. The first AR models appeared in the late 1950's, and to some gun owners, the barrel is considered the most important part of the AR rifle.
Essentially, it doesn't matter if you're purchasing a new AR-15 rifle or a cheaper used model, your choice of a barrel will have a major impact on the rifle's performance and accuracy. The AR-15 is preferred by many gun enthusiasts as the rifle of choice for hunting and target shooting — mainly because of its highly modular nature.
A great feature about the AR-15 is that it can also be customized to your preference — there are lots of AR 15 barrel options available for you to create one exactly as you like. But before you dive into your AR-15 barrel project, be sure to take a look at these essential functions to aid you in your research.
Get Great Guns and Ammo Deals!
Breaking Down The AR-15
Basically, the AR-15 consists of the upper and lower receiver. The lower receiver contains the serial number and is also equipped with firing mechanisms: the trigger group, trigger, and magazine.
Next, we have the upper receiver. It houses the bolt and barrel of the firearm and is associated with the bolt carrier group, barrel extension, charging handle, and rail system.
AR 15  BARREL  LENGTH
The barrel length has a blunt impact on your accuracy. Available in lengths ranging from 7 inches to 24 inches, the 16-inch AR-15 is the most common. Moreover, rifle barrel lengths of 16 inches or greater do not require a Class Three tax stamp from the Bureau of Alcohol, Tobacco, Firearms and Explosives.
If you need to use your rifle for shooting at longer distances, a barrel that is longer is your best bet. It offers increased accuracy and sufficient pressure to enable peak ammunition acceleration.
A shorter, lighter barrel is a superior decision for moving in restricted zones or protecting your property from intruders. But, if you need to use your weapon for self defense or other reasons, a shorter barrel length will be your best option. Your rifle will be much more portable.
PROFILE or AR 15 BARREL WEIGHT
The profile refers to the barrel's weight. It can be narrowed down to three requirements: lightness, heavyweight and for government use. The lightweight barrel is commonly called a pencil-type barrel, for obvious reasons and it's perfect if you're traveling long distances as it's portable and easy to carry.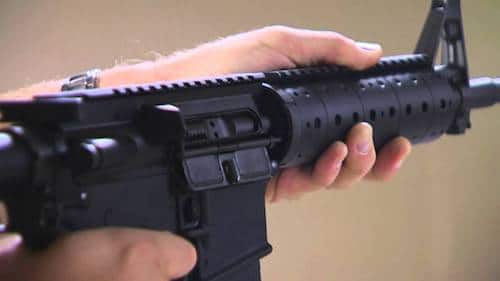 The heavier the barrel, the greater the resistance it provides to the buildup of heat when firing the weapon. The M4 carbine version is the most popular profile option. It offers an acceptable compromise for many AR-15 owners who prefer alternating between heavier and lighter barrels.
The government barrel is a bit like the M4, but it happens to be heavier due to the handguard area. Finally, there's the heavy barrel. The heavier barrel provides awesome resilience to heat that may occur in the rifle as the gun is fired.
CONSTRUCTION MATERIAL: STAINLESS-STEEL OR CHROME LINING?
All gun owners most likely agree that a AR 15 barrel should be of the highest quality. Why? Since it deals with much weight and heat each time the shot is discharged from the muzzle. AR-15 barrel construction styles include the cold-hammer forged, melonite, stainless steel and chrome-lined style.
The cold-hammer-forged process results in a tougher barrel with incredible resistance to wear and tear. However, they are quite expensive compared to the other types of barrels. Traditional chrome-lined barrels provide longer service life and good accuracy. Mil-spec AR-15 barrels generally include a lining made of chrome-polymer steel — mainly for longevity and cleanliness.
Most importantly, the chrome lining is useful for military purpose in high-dampness and saltwater situations because of the exceptional resistance to corrosion. The chrome will also protect the barrel against heat and friction — significantly helping to increase its lifespan. In addition, a chrome barrel is also easier to clean than a stainless-steel barrel.
The stainless steel barrel has no chrome lining, which is perfect for providing greater accuracy at longer distances. A stainless-steel barrel usually doesn't contain a chrome lining, therefore it provides increased accuracy at longer ranges.
AR 15 BARREL TWIST RATE
What's the best twist rate for your AR 15 rifle? To clarify, the definition of a twist rate is the ratio of how tight the spirals are in the rifle's barrel. For example, a barrel with a 1:7 twist ratio enables a bullet to spin faster than one with a 1:9 or 1:12 ratio.
RECOMMENDED TWIST RATIO-AMMUNITION WEIGHT-GRAIN COMBINATIONS:
1:12-1:14 = 35 to 50 grain
1:9-1:10 = 45 to 70 grain
1:7-1:8 = 69 to 90 grain
---
Best AR 15 Barrels
Now we will look at some specific AR 15 Barrel options we recommend.
The Criterion Ultralight Contour Barrel weighs over 1.5 pounds and is designed ideally for the competition enthusiast. It offers a light barrel and enhanced maneuverability, all without sacrificing on balance.
The Criterion Ultralight Contour Barrel features a divot at the other end of the port which is crucial to ensure the gas blocks don't move when a shot goes off. The preciseness of your shot is greatly improved as a result.
In addition, the Criterion Ultralight Contour Barrel has a 1:8" twist ratio for improved accuracy.
Criterion Ultralight Contour AR 15 Barrel – FEATURES
Optimized gas ports

Barrel Weight: 1.75 lbs

Cartridge: 223 Wylde

Contour: Lightweight

Finish: Chrome Lined

Length: 18 inches

Twist: 1-8

Made in the USA
---
The Faxon 6.5 Grendel Gunner Profile AR Barrel bypasses the original model due to its smaller configuration. In addition, the Grendel Gunner includes a coated barrel extension and black nitride coating on the inside and outside of the barrel.
These coatings will ensure significant rust resistant factors and guarantee the utmost accuracy ranging from flimsy rounds to heavyweight loads.
Faxon 6.5 Grendel Gunner Profile AR Barrel – FEATURES
Available in 16-inch or 18-inch length

Requires mid-length gas tube

NP3-coated barrel extension and black QPQ nitride coating on the barrel

5/8″-24 threaded muzzle

Stainless steel

Thin profile

Easy to clean
---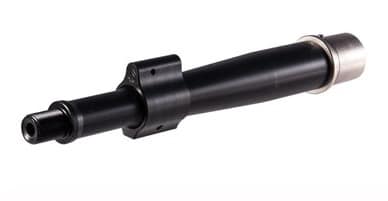 The Ballistic Advantage Barrel Hanson Profile is a lightweight AR 15 barrel with the benefits of a heavy target barrel. Because who needs added weight?
Developed by Ballistic Advantage barrel guru, Clint Hanson, this unique profile eliminates sharp shoulders and smooths tapers to symmetrically limit barrel "whip" caused by vibrations and flexing during prolonged shooting.
The Hanson Profile controls barrel harmonics, whereby the barrel is able to return promptly to its original position after every shot you fire. The Ballistic Advantage offers a barrel extension with an M4 feed ramp in order to maintain an easy elimination.
Ballistic Advantage Barrel Hanson Profile AR 15 Barrel – FEATURES
Durable, matte black corrosion-resistant exterior finish

Generous muzzle threads give you a vast array of options for brakes, comps and hiders

1/2"-28 tpi muzzle threads

Hanson contour

5.56 NATO chamber– accepts both military-type ammo & .223 Remington
---
The Criterion AR-15 Fluted Barrel offers you best in concentration features along with precise measurements. This barrel is shiny to retain its sharp features appearance and as far as construction, it comes complete with a barrel extension.
As far as length, the Criterion Fluted Barrel is available in 18- and 20-inch sizes. This AR barrel not only looks smart, its performance is a class act.
Criterion Fluted AR 15 Barrel – FEATURES
Barrel weight: 2.15 lbs

Finish: stainless steel

Gas system length: rifle

Length: 18 or 20 inches

Twist: 1-8
---

The Faxon Firearms AR-15 Flame-Fluted Match Barrel gives AR-15 owners a uniquely fluted barrel that promotes cooling while giving their rifles a polished look. The Match Flame Fluted Profile boasts its barrels with a unique outer edge and profile.
More specifically, this product consists of a variable-depth flame fluted match barrel. It's great for giving your rifle an overall clean and better look.
On the interior and exterior, it's coated with the QPQ black nitride finish to guarantee excellent corrosion resistance in the long run. Moreover, it's available in lengths 16, 18, and 20-inch. Overall, the Faxon AR-15 Match Flame Fluted Profile is superbly made and a solid choice indeed.
Faxon AR-15 Match Flame Fluted Profile Barrel – FEATURES
QPQ black nitride finish

1/2-28 TPI threaded muzzle

Available in mid-length and rifle-length gas systems

Also available in 16-inch, 18-inch and 20-inch barrels
---
For those looking for a AR 9MM Barrel, the MIKE-9 ULTRALIGHT 9MM AR BARREL is a great option. Each of Foxtrot Mike Products' MIKE-9 9mm Ultralight Barrels are machined from 41V50 chrome-moly vanadium steel and are finished to provide match-grade accuracy and precision.
Each barrel is machined with 1/2-36 TPI muzzle threads, designed for compatibility with most of today's muzzle devices and suppressors. Foxtrot Mike Products MIKE-9 9mm Ultralight Barrels are built to work with all Colt- and Glock-style 9mm upper receivers and are machined with integrated feed ramps.
AR-15 MIKE-9 ULTRALIGHT 9MM AR BARREL  – Features
All-black finish

Barrel length: 16, 8.5 or 7 inches

Features 1/2-36 TPI threaded muzzle

Salt bath nitrided QPQ/Melonite finish
---
Best AR 15 Barrel – Final Thoughts
Overall, the thing to remember before you purchase an AR-15 barrel is simply, why do you need it? What is your purpose? When you decipher your ultimate goal, you can make the wisest AR barrel decision for your needs.
So, when it really comes down to it, your choice of an AR-15 barrel correlates with the reasons for owning and using an AR-15 in the first place. For example, if you purchase an AR-15 for the sole purpose of protecting your family or property from intruders, or for occasional target shooting, a standard-issue mil-spec barrel is basically all you need.
However, if you're a competitive shooter or someone who needs maximum accuracy at long distances, a stainless-steel barrel without lining is the best choice for you. In conclusion, we certainly hope this review has helped you to make the best possible choice!
Recommended Reading
Best AR-15 Calibers And Cartridges