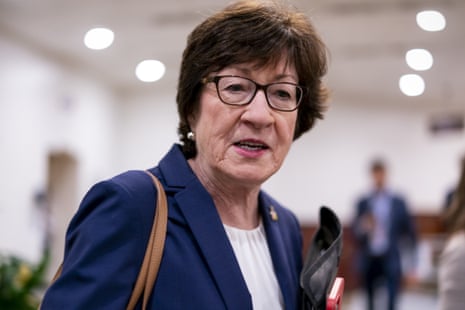 Maine shootings highlight Republican senator's voting record on gun control
As her state mourns 18 dead in latest shooting spree, Susan Collins is now facing criticism for her votes against gun control laws
The Republican senator Susan Collins is facing sharp criticism for her previous voting record on gun control after a mass shooting in her home state of Maine that killed 18 people and injured more than a dozen.
Collins, a US senator for Maine since 1997, received backlash to a statement she posted after a mass shooting on Wednesday in Lewiston, in the south of Maine. The attack happened when a gunman opened fire at a local bowling alley and restaurant.
In statement after the shooting, Collins thanked those showing support, including Joe Biden. "As our state mourns this horrific mass shooting, we appreciate the support we've received from across the country, including the call I received from President Biden offering assistance," Collins said.
But many on social media criticized Collins for her previous stances on gun control and her votes that have helped prevent stronger laws from being put in place around firearms.
"You helped make this happen," wrote one user on X, formerly known as Twitter.
"Vote for sensible gun laws," another commenter said.
In her 26-year career as senator, Collins has voted down several Senate amendments on gun control, according to data from Vote Smart, a nonpartisan non-profit that collects data on candidates' voting records.
In 2013, Collins rejected two Senate amendments that would have banned the sale of assault rifles and limited access to firearm magazine capacity.
Collins has also supported allowing loaded guns in state parks and the concealed carrying of firearms across state lines, two Senate amendments she voted for in 2009.
More recently, Collins was one of 15 Republicans who voted for the 2022 bipartisan gun bill, which ended nearly three decades of congressional inaction on the issue.
The legislation expanded background checks for gun owners under the age of 21 and toughened laws against gun trafficking, among other initiatives.
Collins had a "B" rating with the National Rifle Association (NRA) as of May 2022, the New York Times reported. She has received $18,000 in funding from the gun rights advocacy group.
A representative of Collins could not be reached by the Guardian.
Explore more on these topics