If you're not familiar with the Glock 43 handgun, it's a very popular weapon for police and military personnel, and for everyday gun owners as well. The 43 is an ideal weapon due to its small size, ease of use, accuracy, and quality construction. Once you've made the decision to buy your Glock 43, you'll most likely be in the market for a holster to go with it. This review focuses on the shoulder holster for Glock 43 on the market.
After testing the top-rated shoulder holsters for the Glock 43, my top choice is the Galco Classic Lite Shoulder Holster System. While a little more expensive than the other holsters tested, the Galco is still the best overall combination of features, durability, and comfort. And as a bonus, you get to carry the pleasant aroma of leather around with you every time you wear it.
Get Great Guns and Ammo Deals!
---
Shoulder Holsters, Briefly
In case you're not familiar with shoulder holsters, they have a pair of straps that suspend the firearm below your right or left arm. Most models have a carrier for spare magazines on the side opposite the holster. While these holsters aren't as popular as other holster types, they are often used by hunters and fisherman who want to carry other gear on their belt.
Shoulder holsters also make a good concealed carry rig if you wear suits or sports coats most of the time. These holsters are typically worn cross-draw, and most can be switched to the right or left depending on your dominant hand.
Some Advantages of a Shoulder Holster for a Glock 43
There are a number of reasons that shoulder holsters work well with a Glock 43, which are listed below.
Good weight distribution. Because of the dual straps, shoulder holsters distribute the weight of your gun more readily than a hip or paddle holster. This makes these holsters better than hip mounted holsters for heavy handguns. Even the heaviest guns can be carried for long periods of time without back or leg discomfort.
Perfect for sitting. Which makes these holsters a great option if you spend long periods of time sitting in a car, and you want to be able to draw your weapon quickly. They're also good if you're going to be spending time crawling around or wedged into tight corners, where drawing from your waist could be a problem.
Ideal for long-barreled guns. If you own a long-barreled firearm, this holster is about your only option for concealed carry. And who can forget Clint Eastwood drawing his 44. Magnum out of his shoulder holster in the Dirty Harry movies.
More storage and versatility. A shoulder holster allows you to keep your Glock and several ammo clips of within easy reach, which is ideal if you find yourself in an emergency situation.
Some Drawbacks of Shoulder Holsters
Safety can be a concern. While drawing your firearm out of a shoulder holster, it's very easy to point your gun at various parts of your body. An accidental discharge at that moment would be disastrous for obvious reasons. Shooters are encouraged to practice a lot before wearing a shoulder holster in the field.
Shoulder holsters can be awkward in social situations. Say you're at a dinner party and everyone else removes their covering garment. Then what do you do? One option is to retire to the bathroom and remove your holster, but then there's the problem of what to do with it through dinner. A better option is to make an excuse and go out to your car and take off the holster there.
They can be uncomfortable to wear. A lot of firearm carriers avoid shoulder holsters for this reason, although many find that these systems become more comfortable after extended use. It's just a matter of getting used to having your gun and ammo dangling beneath your armpits for hours at a time. Also, many women find these holsters almost impossible to wear because of their female anatomy.
Not concealable if you don't wear jackets or open shirts. For obvious reasons. If you live in a warm climate, or you wear polo shirts all the time, you'd be better off with an IWB conceal carry holster instead.

Not the best option if you work with arms or hands. If you have a physical job where you're raising your arms and doing things with your hands, you're probably better off with a waist holster instead.
---
How To Wear Shoulder Holsters
Some gun owners complain that their shoulder holster doesn't feel comfortable, but that's often because they don't have the holster adjusted correctly. In order not to compromise concealment or drawing speed, you need to have your Glock 43 holster system fitted to your needs. However, if you want something more comfortable, check out this article about the best ankle holster out there.
Start by putting on the holster. Put it on so that your Glock is opposite your dominant shooting hand. For most people, that would be under the left arm. Some shoulder holsters are made to carry two guns, with one of them under each arm.
Next you'll want to adjust cross straps on the back of your holster. Ideally, you'll want to have the cross of the straps centered high on your back, just above your shoulder blades. If your holster has pads, they should be up by your neck, not down close to your shoulders.
Now adjust the holster itself. Your Glock should be held almost horizontally, with the muzzle pointed toward your back. With your arms down, the grip of your gun shouldn't stick out more than a couple of inches. Otherwise a bulge will show through the outline of your jacket.
And finally, practice using your shoulder holster. This is especially important with a leather holster, where the leather will need a break-in period before the gun will slip in and out of the holster smoothly.
---
Glock 43 Shoulder Holster Reviews – Our Top Picks
Please Note – at time of this writing, there are only a few different shoulder holsters being made specifically for the Glock 43. Another option is to consider a holster that's made for the Glock 26.
Users report that the two guns are nearly interchangeable with a few minor adjustments. Check out this thread for more information. Another option is the universal fit shoulder holsters that are available as well.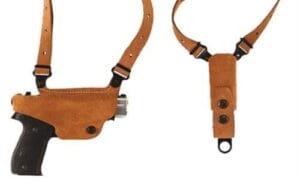 The Galco is made from center-cut Steerhide, and should almost last a lifetime with proper care and use. Some of the other features and benefits of this holster include:
| Pros | Cons |
| --- | --- |
| Vertical ammo holder with retention flap. Great for those emergency situations when one clip isn't enough. | Be aware that your Galco holster is likely to be a tight fit out of the box. The owner's manual has instructions for breaking in the leather, which involves drawing and holstering your unloaded weapon dozens – or even hundreds – of times. Eventually it will loosen up, and over time your holster will fit your Glock 43 like a comfortable glove. |
| A swiveling Flexalon backplate that's medium-width and comfortable to wear. | |
| The holster also accepts accessories like tie-downs, flashlights, and small cases. | |
| Holster gives a balanced load that's a comfortable wear even after long hours of use. | |
| Good retention of your Glock 43. You won't have to worry about your gun slipping out if you bend over or crawl around on the ground. | |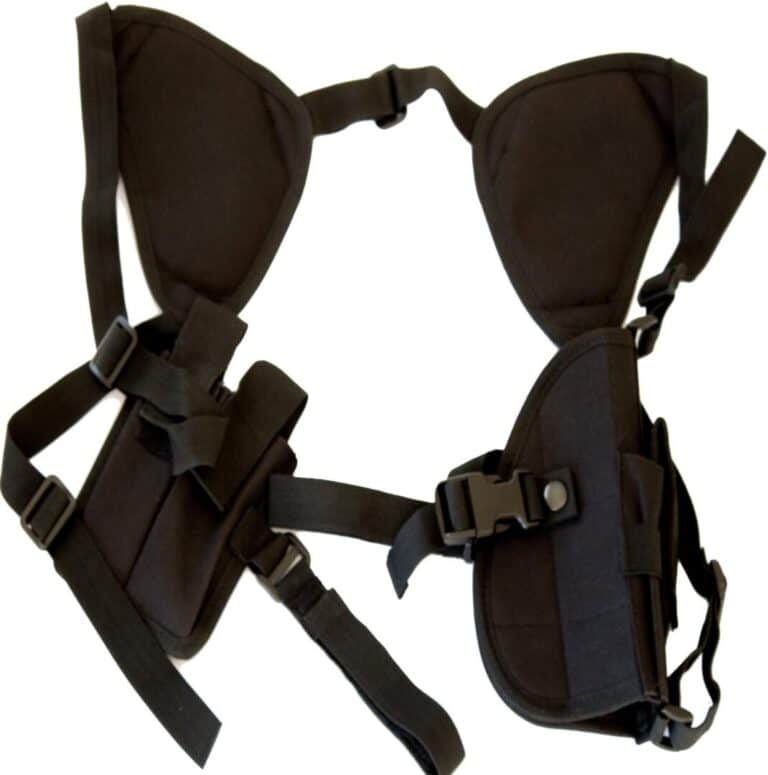 This universal fit tactical shoulder holster from Under Control is lightweight and made from quality materials, and it's a good choice for conceal carry. The holster is made to accommodate a wide range of firearms, including the Glock 43, and it's adjustable and a good buy for the money.
| Pros | Cons |
| --- | --- |
| This universal fit holster will handle a wide range of revolvers and handguns without being too bulky or uncomfortable to wear. | Because if its design, this holster isn't a quick draw. Retrieving your pistol typically requires both hands – one to remove the strap that secures the grip, and the other hand to draw the weapon. This makes it less than ideal in a life-or-death situation. |
| The Under Control holster is constructed from rugged nylon, and it's waterproof, lightweight, and durable enough for everyday use. | One problem with universal holsters is that it's nearly impossible to make one to fit every gun on the market. The fit of the trigger guard on some guns is an issue with this holster, so you might have to return it if this is a problem with your Glock 43. |
| This tactical holster includes many military features, including adjustable shoulder straps, and dual magazine/flashlight pouches. | |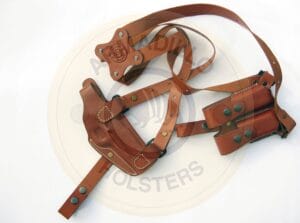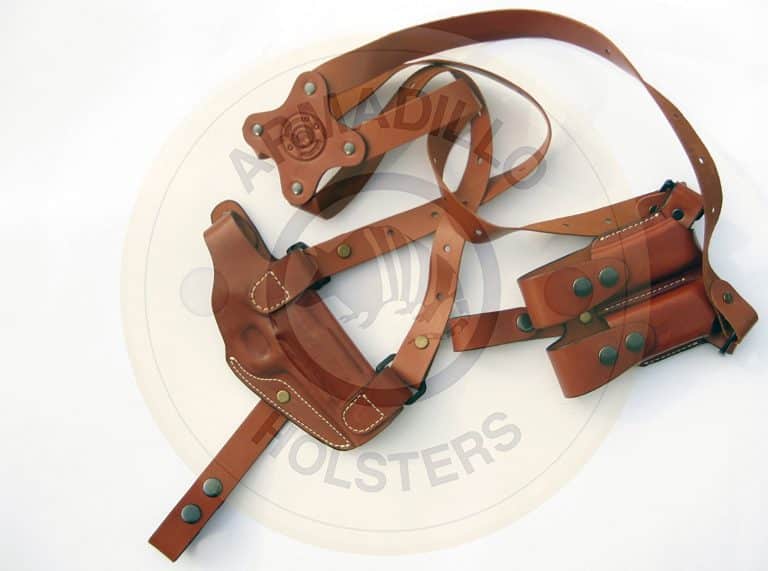 The Armadillo is another leather shoulder holster similar to the Galco. It's a right-hand draw holster, and sells in the same price range as Galco as well. It's not specifically designed for the Glock 43, but it does fit the Glock 26, and as stated earlier the 43 should fit with a minor amount of tightening.
| Pros | Cons |
| --- | --- |
| The Armadillo holster is handcrafted from quality cowhide, and with good care will last for many years. | This is a right-hand draw only holster, not adaptable to left-hand draw shooters. |
| The holster comes with a two-cell ammo pouch with adjustment snaps for large or small magazines. | Because the gun is horizontal carry, the holster is harder to conceal, especially under light clothing. |
| The holster is fully adjustable, and will fit up to a 52" chest. | The thumb break can come undone accidentally, and if your Glock has a selector switch, the thumb break simply won't stay closed. |
---
And the Best Glock 43 Shoulder Holster winner is…
As stated at the beginning of this article, my choice as the best Glock 43 shoulder holster goes to the Galco Classic Lite holster system.
Galco is the highest priced holster on this list. But if you're going to carrying your Glock in a shoulder holster for a long time, and you can fit the Galco into your budget, I think you'll find that it's well worth the extra expense.
Not sure if a shoulder holster is the right choice? Check out our favorite Glock 43 Holsters to see if anything catches your eye. 😉
Recommended Reading
Best Holsters For The Glock 43