Before we talk about the best Rimfire Scopes, let talk about rimfires briefly.
Since rimfire rifles offer a good firearm experience with an affordable entry point and lowered recoil, rimfires will always stay popular in the market. One reason for this is most people learn to shoot with a rimfire and fall in love in the process.
Secondly, because rimfires use less powder and less brass in shell, they are very budget-friendly. Now, when it comes to choosing an optic for a rimfire, most people tend to believe that any riflescope might work however, this simply isn't true.
If you want to choose the best rimfire scope, there are certain factors you need to take into consideration such as magnification, reticle, range, weight.
Along this range of features that make up a good rimfire scope, you might want to check out the Nikon BDC 150. This scope is one of the top sellers and that is no surprise given the company's solid reputation of crafting scopes that have precise adjustment knobs, high quality glass and optics.
The BDC reticle not only helps you get more precise shots, but also expands your shooting range so that you can reach for targets farther off. Let's delve into more details regarding the BDC 150.
Get Great Guns and Ammo Deals!
---
The Primary Arms 6X32 Rifle Scope features the Patented ACSS 22LR reticle that is a perfect addition to your 1022 or other .22 caliber rifle. The ACSS 22LR reticle is a giant leap forward in 22LR reticle design, utilizing BDC correlated with range estimation and wind holds, all in one simple system so you can use it for plinking, hunting, or competition.
The ACSS 22LR reticle increases first hit ratio and decreases time on target and is specifically designed for range clays, cans, bottles, and more. With the included manual, you will be able to fully utilize the ranging features and BDC in no time. This magnified 22 scope is designed to last and continue working along-side your .22 caliber rifle for many years to come.
Primary Arms Classic 6x32mm Rimfire Rifle Scopes – Features
ACSS Reticle – offers shooters unique open circle aiming points 50 to 150 yards

50-yard Parallax Setting – Eliminates parallax for precise shooting

Precise, 1/4 inch @ 50 yd. Tactical Style Hand-turn Adjustments – Positive click reticle adjustments get you zeroed in quicker and maintain your setting; even with heavy recoil

Waterproof/Fogproof – Nitrogen filled and O-ring sealed

Fully Multicoated Optical System – Provides maximum light transmission and maximum brightness from dawn to dusk

Generous, Consistent Eye Relief – Allows maximum precision when changing magnifications

Zero-Reset Turret – Just sight-in as usual, then lift the spring-loaded adjustment knob, rotate to your "zero", and re-engage
Things to look for when buying a rimfire scope
If you need a rimfire optic, the most important thing you need to understand first is exactly how well a particular rimfire optic will perform in diverse circumstances.


A scope's magnification is a highly disputed subject among gun users. Some claim that a powerful scope is better while others advocate that one needs to tailor the magnification suitable to their needs.

With a rimfire rifle, you are probably shooting at 100 yards or less, that is why you do not need a powerful optic to make an accurate shot. Therefore, low magnification levels will be suitable if you are looking forward to get a rimfire scope.
Rimfire Scope Parallax
You need to be cautious of the parallax if you intend on using a rimfire scope. Optics have different parallax settings and some even have a fixed parallax. A fixed parallax of 100 yards is a common thing you would find.

However, it also becomes a problem for hunters who often have to shoot targets at less than 100 yards.

On the other hand, a bull's eye shooter may never encounter a situation where he is to shoot at less than a 100 yards, in which case the 100 yard fixed parallax is going to work perfectly.
However, if you really want a rimfire scope, you must seek an adjustable parallax.This feature allows the shooter to have maximum accuracy while shooting at a variety of ranges whether it be short or long range. The reason why parallax holds so much importance is the target and not the rimfire rifle. Rimfire hunting is all about targets small in size and so, a half inch deviation on a squirrel is probably going to be a clear miss.
1. BDC 150 Reticle
This specifically designed for rimfire and in long distance shooting ranges and situations, it compensates for the bullet drop. Another incredible advantage that this reticle offers for long-range shooting is its unique see-through ballistic circles, yet still allows for one to normally sight at shorter range shots where the crosshair itself is your aiming point.
2. Fully Multicoated Optical System
This scope consists of layers of anti-reflective compounds on every glass surface. This ensures that the vision remains bright and vivid and the light transmission remains unhindered at its optimal level from dawn to dusk.

3. Spring Loaded Instant Zero-Reset Turrets
Nikon has added a nice feature which helps simplify the process of field adjustments. If you want to do a zero-reset, all you have to do is sight-in, lift the spring-loaded adjustment knob then rotate to your zero, and simply re-engage. This makes field adjustments as simple as dialing-in your subsequent ranges.
4. Eye Relief
The Nikon P-RimFire riflescope offers a generous and consistent eye relief. It keeps your brow safe and handles recoil very well. Even if you are using a lightweight rifle in extreme shooting angles and are exposed to heavy recoil, you don't have to worry about it, the eye relief has got you covered.
5. Shock/Fog/Waterproof
This scope is suitable to use in all kinds of situations be it snow, fog or rain. The P-RimFire is nitrogen purged and sealed with an O-ring. It is completely waterproof, fogproof and shockproof.
| Pros | Cons |
| --- | --- |
| The P-RimFire has a default power range of 3-9X, a perfect balance of magnification and the low-end field of vision. This feature allows the scope to be used effectively in every situation, both at long and short range. You will be able to engage at 500 yards without losing the scope's ability to be used up close. | If you want to change the parallax setting without affecting the adjustment turrets, the Nikon P-RimFire might pose some problem. This does not apply to lower ranges though. There haven't been much complaints regarding this however, some technical shooters may find Nikon a bit unaccommodating in this regard. |
| The scope incorporates computer engineered lenses. Using aluminum allows the scope to have good strength without unnecessarily adding to the weight. From an environmental point of view, the scope does not comprise of arsenic and lead which are harmful to the environment. | If you want to use this scope on bigger guns, it won't work and you might be disappointed by the top end of the power range. That much is obvious since the rimfire rifle is mostly a close to mid-range gun. |
| With both lenses fully multi-coated, Nikon's Eco Glass offers a non-reflective lens which makes sure that the loss of light is minimized without using traditional chemical compounds which imitate this effect. | Some online purists have claimed that the scope's BDC calculations are based on 1600 fps ammunition specification. They also point out that it is highly unlikely that .22 bullets hit that speed. This might be true, and may at times hinder your hunting experience. |
| The BDC reticle indicates the bullet drop at 50, 100, and 150 yards. This feature allows you to have good control over standard rimfire range. The drop marks are open circles instead of cross marks, and this help you focus on your target without your field of vision being obscured or obstructed. In addition, this scope is also calibrated to be used with .22 ammo, so you have accurate measurements for the specific cartridge. | |
| The P-RimFire scope by default, is free of parallax up to 50 yards. Beyond this distance, there are two adjustment turrets available for windage and elevation. Adjustments are very easy to make.The turrets are simple to use and they make audible clicks when you make adjustments. Both the reticle and adjustments turrets are linked with Nikon's Spot On app which helps you figure out intricate ballistics calculations without a pen and paper or mental math. | |
Alternative Rimfire Scopes
Leupold scopes haven't significantly changed for the past decade. The VX series is a good alternative to the Primary Arms RimFire Scope.
It rivals the PA in terms of power however, offers a greater field of view. Its impressive build quality backed by remarkable optics make this scope a good competitor for Nikon.
In terms of magnification, its zero focus is highly reliable and overall, the scope offers bright and clear view of the target to its user. The scope is thermal proof because it is Argon purged rather than nitrogen purged.
The VX is an all-purpose scope yet very minimalist, which may be a problem sometimes. For instance, tactical shooters might be disappointed to find out that the reticle does not have mil-dot marking or the bullet drop circles.
This scope comes with fully coated optics that provide resistance to scratching, reflection and glare. The tube is nitrogen filled which is why you don't have to worry about the lens fogging up your vision.
The O-rings further help to keep the scope waterproof. Since this scope is significantly cheaper than the Nikon P-RimFire, it also has certain major drawbacks. The main problem with this scope is that since it is not shockproof (even though it is advertised so), the reticle will come apart after several hundred to several thousand shots.
If you need a temporary scope to fire a few hundred rounds, this one might do the trick since it is not very expensive. However, after a while something just pops loose inside and the reticle comes apart.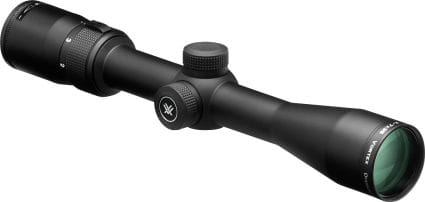 As far as short and medium ranges are concerned, it is hard to beat the Diamondback. The scope's pop-up dials offer easy and precise adjustment to windage and elevation with audible clicks. Regarding optics, the scope boasts high quality optics.
It has a rugged and durable 1" tube made up of 6061 T6 aircraft-grade aluminum. It is Argon purged and therefore is water-, shock-, fog- and thermal proof. The Vortex Diamondback is a good investment to your shooting needs.
It lacks a little bit of versatility when it comes to shooting at range however, this product is built to last and be your loyal friend when in need.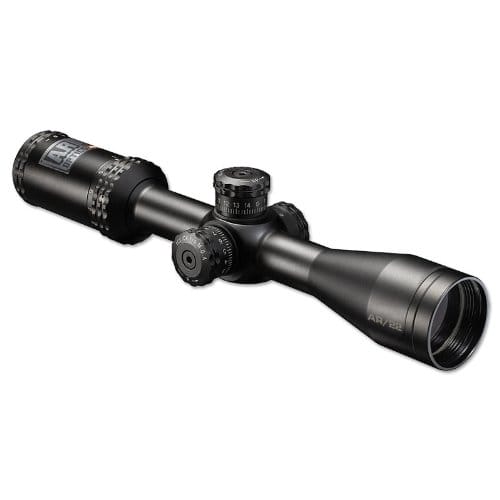 This rimfire riflescope consists of a fully multicoated optical path with a .22 caliber specific reticle in order to create a lightweight optic for the purpose of close range to mid-range for an AR-style rifle or the .22LR. The optics in this scope offer remarkable brightness and impressive optical precision.
Overall, the Bushnell AR Optics Drop Zone-22 BDC Rimfire gives you uncompromising performance with good reliability. Here are some features that make this rimfire scope stand out among its rivals.
The specifically-designed Drop Zone-22LR BDC reticle and ¼ MOA impact correction clicks, coupled with a long 3.7 inches of eye relief, make this scope well-suited to a diverse number of shooting tasks, rendering it quite versatile for daily use.
The scope additionally includes target turrets which help make pinpoint-precise adjustments. Other than that, it also includes caliber-specific reticles in order to deliver every round with uncompromised accuracy.
Best Rimfire Scopes – Final Thoughts
All in all, the Primary Arms Rimfire scopes win the round because of two reasons. First, it is a versatile scope good to use in both short and long range and second, it falls within most people's budget choice.
Its 3-9x power ratio is sufficient to cater to all your needs with a rimfire rifle. Moreover, this scope offers you greater leeway to make adjustments which is why it serves as a very useful scope for people who are learning how to use a rimfire weapon.
In comparison to the PA, the VX-2 has good magnification and power and is better when it comes to being water/fog and shockproof. However, if you are a technical shooter looking forward to make some long range shots, the Leupold may not be the ideal choice for you.
The PA will work for you because it has a fairly wide power range and its BDC reticle works flawlessly with those long range shots. It is also specific to .22 ammo.
On the other hand, the VX-2 scope is better equipped for most shots within the rimfire range since they are precisely engineered and therefore have a higher level of clarity than what you might get with the PA rimfire scopes. However, fixed magnification scopes aren't everyone's liking.
For more scopes reviews visit GND Scopes resource.
Recommended Reading