Whether you're planning on plinking, target shooting, or hunting, you want to get the most out of your 22 and you are thinking of purchasing a rifle scope. You may be asking yourself, what is the best 22 rifle scope? We have done some research and have come up with a few of our favorite 22 rifle scopes.
Our favorite rifle scope for a 22 is the Nikon Prostaff Rimfire 3-9x40mm.
This scope boasts Nikon's fully multicoated optical system and innovative adjustment technologies. This scope has a superior hunting performance that will fit into any hunter's budget.
Get Great Guns and Ammo Deals!
Choosing The Best .22 Rifle Scope
I'm sure you are already aware of this, but there are many things to consider as you are shopping for a scope for your 22. As you think about which gun scope to purchase you need to think about how you will be using it. Not only does your options depend on what type of firearm you will be shooting, it also depends on how you will be shooting.
After you have decided what firearm you will use the scope for and how you will be using it, there are some other things to consider.
Magnification – The first thing to consider is how much magnification power do you need.
Objective Lens Size – After you decide how much magnification power you need then you will have to decide on an objective lens size.
Reticle Style and Shape – After power and lens size, you need to know what your reticle style and shape is.
RIFLE USE
You can purchase a scope for a handgun or a rifle. Since we are looking for the best scope for our 22 rifle we will only consider rifle scopes in our discussion.
There are a lot of different rifles that have different uses. A rifle is typically meant for medium to long range shooting, but can be used for short range shooting. For a 22 rifle used for varmint hunting, consider a rimfire scope with variable power ranges.
BUDGET
After you have a good understanding of scopes and you know what to look for, you are going to have to decide on a budget. Depending on the gun and what you are using it for, scopes can go for a lot of money.
Thankfully, there are good quality scopes that are affordable. Basically, the higher the scope costs the more premium features it should have. Sometimes you may be paying for a brand name. Which isn't necessarily a bad thing all the time. Sometimes paying for the name means the company is reliable and will have some sort of warranty.
Premium features include increased adjustment precision and repeatability, optical clarity, and overall durability. Sometimes you don't need all of these features though, and as I stated before, there are plenty of good quality scopes that are affordable.
BOTTOM LINE
What's the bottom line? Choose appropriately for your circumstances. For your 22 rifle, you don't need a fully tactical scope if you're going to be using it for plinking in the back yard. There is an ideal scope for you and your rifle. I think the biggest takeaway for today is, know what you're hunting for, out in the field and in your scope shopping.
Rifle Scopes 101
Gun scopes have been around for a long time. Since before the Civil War, as a matter of fact. After World War II scope manufacturers started making improvements to scopes to help hunters have more reliable equipment. Now scopes are made for just about everything that shoots, including handgun and bows.
Gun scopes are simply tubes with lenses to help you see a longer distance than the naked eye can see. They use a reticle, or crosshairs, to help you aim more precisely. That is the reason why they are so popular with rifles.
Rifles are known for shooting longer distances. It's pretty common to see a modern rifle no longer has their iron sites anymore because most people put a scope on them.
PROTECT YOUR GLASS
The best way to keep your scope lenses clean and protected is to use the lens cap. If you are hunting, you can keep your lens caps off unless there is constant rain. A lot of quality scopes have flip up caps to give you quick and easy access to your lens.
There are also scopes that have see through caps. You can wipe them off to remove smudges without worrying about scratching the glass lens.
CLEAN YOUR GLASS
To clean your lens, dampen a lens cloth with an eyeglass or lens cleanser, without spraying the solution directly onto the lens. Wipe the lens with soft circular strokes.
TRAVEL WITH A SCOPE
Packing your rifle in a hard case is the best way to travel with a scope. When placing your rifle in the case keep the scope towards the top so the scope is up when picking up the case.
Best .22 Rifle Scope Options
Let's get to our top picks for the best 22 rifle scope.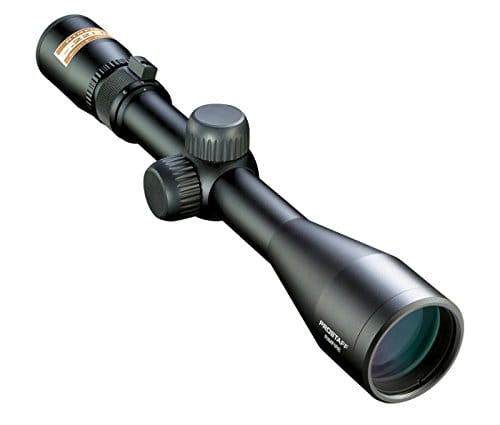 This scope's optical system transmits up to 98% of available light, ensuring maximum brightness from dawn to dusk. Nikon integrated a zero-reset turret into the scope, to ensure easy simple field adjustments.
Nikon Prostaff Rimfire 3-9x40mm .22 Rifle scope – Features
Fully multicoated optics

Up to 98% available light usage

Quick zero reset turrets

Full lifetime warranty

Guaranteed waterproof/fogproof

Quick focus eyepiece
| Pros | Cons |
| --- | --- |
| Feels high quality | Can be a pain to zero in |
| Sturdy | |
| Excellent clarity | |
| Lifetime warranty | |
| Mid to low price | |
| Holds zero | |
This scope features fully coated optics and a complete set of mounting rings. SureGrip adjustments make adjustments easy, even while wearing gloves. The QTA eyepiece delivers a constant 3.5 inches of eye relief through the entire magnification range.
Simmons 9x32mm .22 Rifle Scope – Features
Hydro shield coating ensures a clear sight picture

High quality fully coated optical lens

Parallax correction preset from 50 yards

Rimfire ⅜ inch dovetail mounting rings included

Suregrip rubber surfaces simplify adjustments
| Pros | Cons |
| --- | --- |
| Nice scope for the price | The rings aren't good, you'll need to order different rings |
| Good clarity | Horizontal line may jump up and down |
| Dialing in is easy | Probably wouldn't be great in low light |
| Good lens | |
| Reticle is nice | |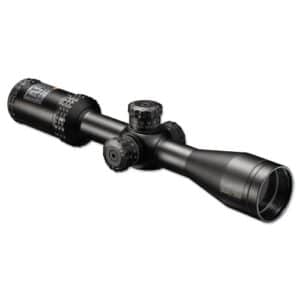 Maximum accuracy and reliability for every tactical scenario. It holds zero and is dead on at all magnifications.
BUSHNELL AR OPTICS . 22 RIFLE SCOPE – Features
Drop zone 22 Rimfire BDC reticle

Target turrets

Fully multicoated optics

Fast focus eyepiece

Side focus parallax adjustment
| Pros | Cons |
| --- | --- |
| Clear optics | Screw on bottom gets in the way for low mounting |
| Has all the controls you want | Heavy |
| Top notch scope | |
| BDC reticle | |
| Ultra sharp | |
| Easy to zero | |
The CVLife 6-24*50 AOE Red and Green Illuminated Rifle Scope is made of high strength aluminum alloy. Completely sealed and 100% nitrogen filled makes it rain and fog proof. Adjustable dual illuminated reticle allows for night or low light use.
CVLIFE HUNTING . 22 RIFLE SCOPE – Features
Magnification 6-24x

Objective diameter: 50mm

Kellner eyepiece allows greater field of view

Scratch resistant coating on outer lenses

Completely sealed

Nitrogen filled to keep it water and fogproof
| Pros | Cons |
| --- | --- |
| Nice quality | May have to refocus after a shot |
| Great value for the money | Adjustments seem stiff |
| Zoom is good | Eye relief is not that great |
| Lights are good | |
This scope is accurate, reliable, versatile and a fine choice for your 22. Perfect for plinking, target shooting and getting rid of varmints.
BSA OPTICS .22 RIFLE SCOPE – Features
Quick change turret system

Specially calibrated for multiple grain weights 22

Affordable
| Pros | Cons |
| --- | --- |
| Good product | Blurry after 10x magnification |
| Works good | Eye relief is not great |
| Accurate | Not great optics |
| Affordable | |
| Fits well | |
---
Best .22 Rifle Scope – Final Thoughts
Rifles are often defined by their optics so it's important to pick a scope that meets your needs. There are many choices available in different budget ranges. I tried to list a few from the mid price range and a few from the low price range for a 22 rifle scope.
At the end of the day, I feel the Nikon is the best out there. It's a high quality, mid priced scope that works great and has some nice features.
You can use this scope for your target practice, plinking, and varmint hunting without having to spend a fortune to get good quality and reliability.
For more gun scopes reviews, visit our Gun Scopes Resource.
Recommended Reading