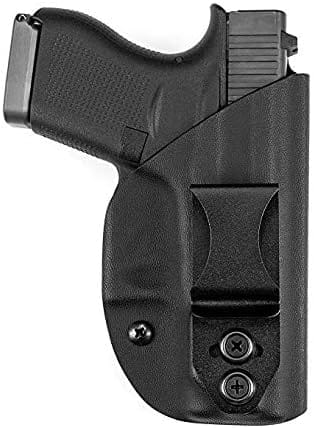 A Sig Sauer M11-A1 is a great compact handgun, and if you own one (or you're thinking of buying one) you may be in the market for a quality holster to go with it. But with so many makes and models on the market, in a variety of price ranges, shopping for a holster can be a confusing exercise.
One way to narrow down your options is to decide exactly how you intend to use your Sig M11 A1. Do you intend to conceal carry, or open carry? Are you comfortable with your weapon tucked inside your waistband, or would you rather wear it outside on your belt, or around your ankle?
Do you want quick access to your firearm, or are you more concerned about concealment? You'll also want to factor in whether or not your right or left handed, as many holsters are made for the shooter's dominant hand.
These are just a few things to consider when shopping for a new hostler. After looking at several Sig Sauer M11-A1 holsters on the market today – all of them well reviewed by satisfied customers – my choice for the best as the best is the CrossBreed Holsters RH SuperTuck Concealed Carry Holster.
I felt this IWB holster offered the best combination of concealability, quality construction, good retention and comfort.
Get Great Guns and Ammo Deals!
---
What Are Your Options in Sig Sauer M11-A1 Holster?
A compact handgun like the Sig M11-A1 allows for a lot of flexibility when it comes to holsters. A small gun is easier to conceal, for obvious reasons, and just about every holster type will work with this firearm, including ankle and pocket holsters.
If you plan to open carry your weapon, then your choices expand even more, and you can consider belt and thigh holsters as well.
Note – The Sig 228 is generally compatible with the M11-A1 as far as holsters are concerned. So if you're having trouble finding a M11-A1 model that you like, you can expand your search to include 228 models as well.
If you'd like more information on the various types of holsters on the market, you might enjoy the following "Holsters 101" video:
---
Some of the Most Popular Holster Types Explained
You might find it helpful to narrow down your choices at the beginning of your search. Here are several common holster types that work well for both concealed carry and open carry:
Pocket Holsters
While not the most popular option, pocket holsters are quite good for concealed carry (as long as you're comfortable carrying your firearm in your pocket). And a compact gun like the M11-A1 works quite well in a pocket holster.
As the name implies, these holsters are made to fit into the shooter's front or back pocket, and they keep the gun clean and in the proper drawing position. Pocket holsters usually have a tacky outer surface that causes them to stay in place inside your pocket.
Just be aware that drawing from these holsters can take some practice, as you don't want your holster sliding out of your pocket with the gun.
Ankle Holsters
You've undoubtedly seen ankle holsters used by detectives and others in movies and on TV. An ankle holster can been a good choice for a backup or secondary weapon, or if you're not comfortable carrying your firearm around your waist.
These holsters are worn around the ankle, and are concealed by the shooter's pant leg (this is a case where you don't want to wear "high-water" pants). Carrying a gun around the ankle can also be a great choice for desk jockeys, or cab drivers. But as with other holster types, you might find these less than comfortable to wear.
Inside-the-Waistband, or IWB Holsters
IWB, or inside-the-waistband are the number one choice for concealed carry. Having your Sig tucked into your waistband keeps it out of sight and ready when you need it. IWB holsters typically clip onto or side onto the belt, and can be worn in every position from the appendix to the small of the back.
They can be made of leather, nylon, or Kydex polymer, which is an increasingly popular choice. One drawback of Kydex and other hard plastics is they can rub and irritate exposed skin, so you'll want to wear a tee shirt if that becomes an issue.
OWB, or Outside-the-Waistband Holster
These are the oldest types of holsters, and they can often be your best today, especially if you open carry. Although many OWB holsters can be concealed beneath a suit or loose clothing.
They clip on to the belt several ways, either by clips or through slots cut into the body of the holster. Like their IWB counterparts, OWB holsters can be worn in a variety of positions, although behind the hip seems to be the most popular.
---
Sig Sauer M11 A1 Holster Reviews
Now that we've examined four of the most popular holster types for the Sig, it's time to review several popular holsters for these handguns. The following holsters can all be bought online, and they all have great reviews a number of M11-A1 owners.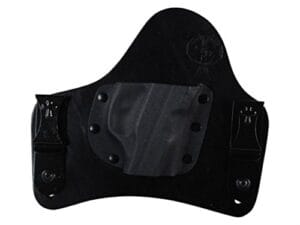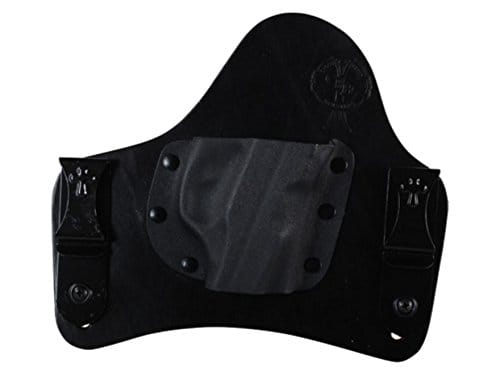 This IWB holster by CrossBreed Holsters is molded specifically for the Sig M11-A1/228 handguns. CrossBreed offers a lifetime warranty on their products, and they are an American, family-owned company.
| Pros | Cons |
| --- | --- |
| The Supertuck holster is made from genuine black cowhide leather, making it more comfortable to wear than many polymer holsters. | There isn't much to find wrong with this holster. Although as will all leather holsters, the Supertuck requires a break-in period before your weapon will draw and re-holster smoothly. |
| A set of clips secure the holster inside the waistband. | |
| The Supertuck is highly concealable, and can be worn with or without your shirt tucked in. | |
| The SnapLok belt clips allow the shooter to adjust both cant and ride height. | |
| Your Sig fits into a Kydex pocket that was custom molded for your gun. | |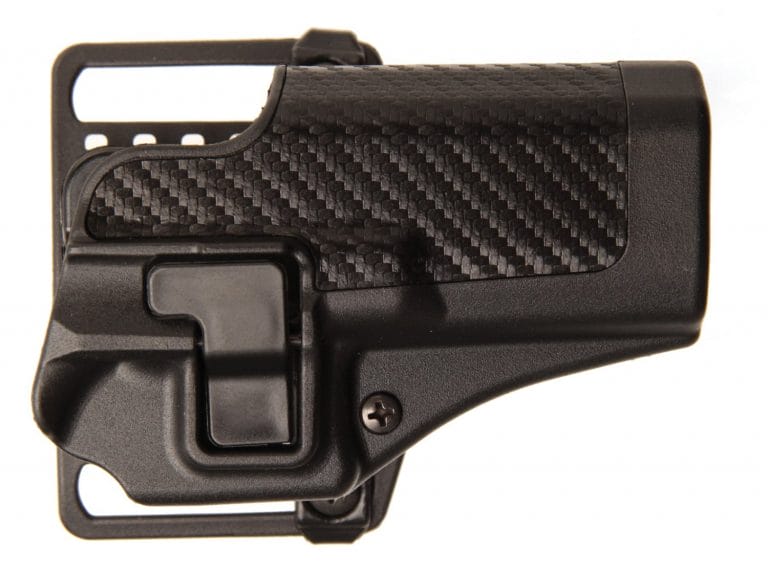 This Serpa OWB paddle holster by Blackhawk! is a good choice for both conceal and open carry gun owners. These holsters are offered in both right and left hand models. The paddle keeps your firearm close to your body, making it easier to conceal beneath a jacket or loose shirt.
| Pros | Cons |
| --- | --- |
| The CQC carbon fiber construction promotes a smooth draw and re-holster. | There weren't many complaints from owners of these holsters, but apparently with some gun models the firearm sits loose in the holster and doesn't want to latch in place. |
| The Serpa comes with both paddle platform and belt loop options. | Although this is a concealment holster, it can have a tendency to ride high and protrude from the hip, especially when sitting down. This may or may not be a problem depending on your body type. |
| The holster has an auto lock release mechanism, and passive retention is fully adjustable. | |
| Holster gives an audible click when your Sig is re-holstered, giving you confidence that your weapon will stay in place. | |
| Comes in carbon fiber or matt finish. | |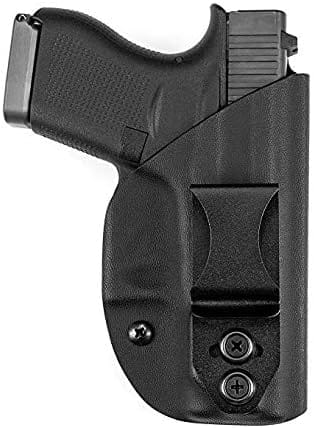 This is another paddle holster, and the Vedder comes with an adjustable ride height, cant angle, and retention, which allows you to carry comfortably and confidently.
| Pros | Cons |
| --- | --- |
| This molded holster is a great choice for both range use and everyday carry. | There have been complaints that the magazine pouch won't always accommodate factory magazines. |
| This is a one-piece paddle holster made from rugged polymer plastic. | |
| Holster offers positive retention which is adjustable for tension. | |
| Holster comes with an "accordion" style multi-purpose pouch that stretches in and out to accommodate a variety of magazines, knives, small flashlights, and other gear. | |
---
Sig Sauer M11 A1 Holster Option – Conclusion
Hopefully this gives you some ideas as you shop for a holster for your Sig Sauer M11-A1 handgun. These compact guns are high quality and reliable, and they deserve to be protected in a good holster.
As for the holsters reviewed, I chose the CrossBreed SuperTuck Concealed Carry Holster as the winner. For me this model offered the best combination of quality and concealment. The leather makes it comfortable to have tucked inside the waistband, and the custom-molded pocket offers good retention and a smooth draw.
Recommended Reading
Best Holster For The Sig Sauer 1911