The Ruger P345 is part of their P-series. The P345 offers a range of advanced settings including the rounded trigger and guard, loaded chamber indicator, and an internal lock. So now you need a holster for your Ruger P345.
This gun fits comfortably in the hand and recoil is easy to manage. For a larger gun it's not too heavy to carry.
Ruger makes a great product, I'm sure you know this. Their reliability was probably one of the factors that played into making the decision to purchase this handgun.
Now you are in the process of looking for a good holster. The first question that comes to mind is, "What is the best holster for Ruger P345?" Well, I'm glad you asked because I have compiled a list of my 4 favorite holsters for the Ruger P345.
The holster that came in as the top pick is the Galco Cop 3 Slot Holster. This holster is sturdy and affordable. It allows for strong side or crossdraw holstering, great retention and you forget you're wearing it.
Before we look at the other holsters that made the top picks let's talk a little about open carry and concealed carry.
Get Great Guns and Ammo Deals!
---
Open Carry Vs Concealed Carry Holster for Your Ruger P345 
I'll be honest here. My son got into an argument with a couple of his friends over this issue. They were sitting around, shooting the breeze, and the subject came up. We live in a state that recognizes our right to open carry but we need a permit for concealed carry.
Of course, topics like our constitutional rights and mass shootings were very heated during their conversation.
It is a controversial subject. All one has to do is voice an opinion and arguments will take place. I'm not sure how they ended their discussion. I do believe they're still friends though.
There are many things to consider when we decide to open carry or to conceal carry. It is a very personal decision. I thought I would list some stats for you to think about as you are considering which type of holster to purchase.
Open Carry
Most proponents of open carry would say that open carry deters crime. Their thoughts are that most criminals are really cowards and if they saw a confident citizen, with a gun on their hip, they would change their mind and walk away from the intended crime.
If a criminal walked into a convenience store with the idea of robbing the place and saw someone with a firearm they would not go through with the crime. The same thought applies when the owner or employee of the convenience store is known to have a gun behind the counter. Criminals usually target different stores.
Researchers, Gary Kleck and Marc Gertz, found that out of 2.5 million defensive uses of a firearm, each year, 92 percent of the users scare off their attackers by brandishing their firearm.
There are groups like, Open Carry Texas, that have a mission to remove any stigma of guns in society. Most children are taught that guns are bad and they are trying to reverse this.
Concealed Carry
The fans of concealed carry believe that they have an upper hand because of the element of surprise. While the open carry proponents say that a criminal seeing your gun on your hip will deter them, the concealed carry proponents say that most people aren't paying attention enough to notice a firearm.
They also feel that having your weapon exposed makes you the first target to take out. If your gun is hidden then you have a chance to surprise them with a defensive maneuver.
Other fans of concealed carry don't like to advertise that they are carrying a sidearm. A lot of folks just like privacy. They feel it's no one's business if and when they have a pistol and if they are carrying it.
Responsibility
You may be a concealed carry only type of person. You may be an open carry only type of person. You may carry both ways, you just carry. The ways to carry will differ from person to person. However, the most important decision is that we decide to carry responsibly. For ourselves, our families and those around us.
The four rules of gun safety should always be observed and can't be stated too many times.
Treat all guns as if they are loaded

Never point a gun at something you are not willing to destroy

Keep your finger off the trigger until you have your target in your sights and have decided to shoot

Be sure of your target and what is behind it
---
Choosing The Holster for a Ruger P345
Now that you have your Ruger P345 and have read a little on open carry vs. concealed carry you are probably at the point that you want to choose a good holster. The most popular way to concealed carry is with an IWB holster.
Holsters vary in size, shape, quality, comfort and price. If it isn't comfortable you won't use it. You may want to invest in a good sturdy belt too.
A quality holster is not something you want to shortchange yourself on. It is not something that just holds your firearm but can be the difference between safe, responsible carry and unsafe carry.
That's a lot to chew on as you are making the decision regarding which way to carry and which holster to purchase.
There are so many options available these days. We decided to put together a list of our top picks, in holsters,  for the Ruger P345 and share it with our readers. We think the one you may like the best will be within our top picks.
---
Best Picks for Ruger 345 Holster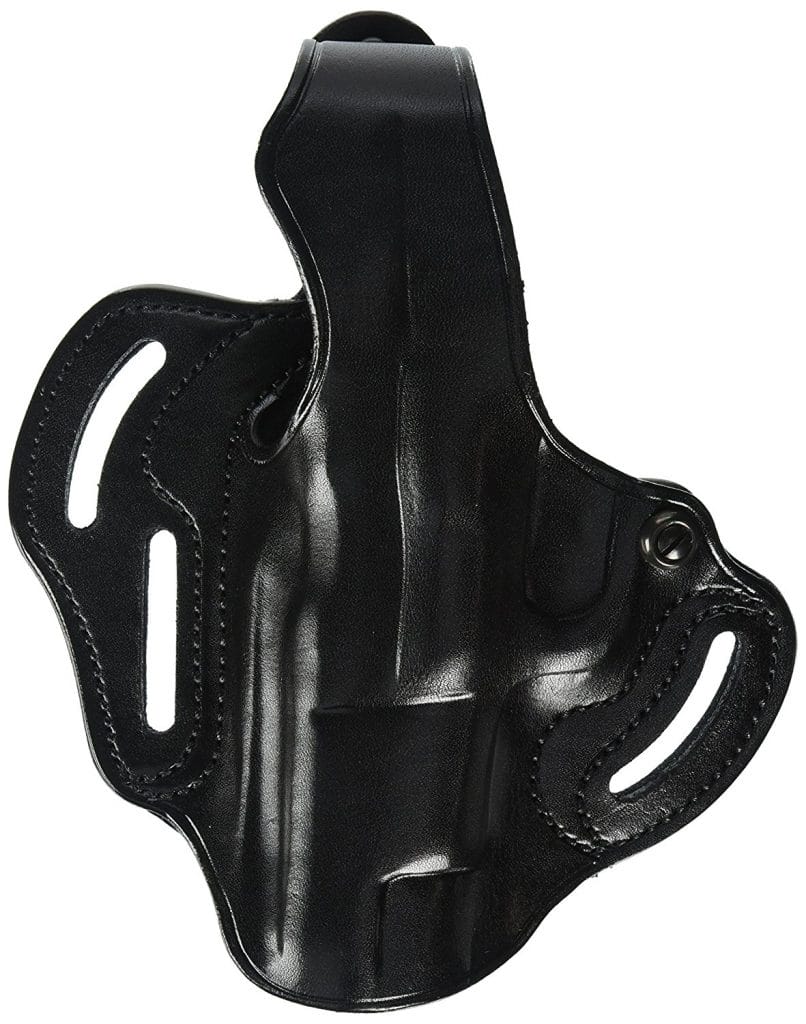 Our top pick is the Galco Cop Three Slot Holster.  This holster proves that quality doesn't have to break the bank.
Galco Cop 3 Slot Holster for Ruger P345 – Features
Precision molded

Low cut design

Fits belts up to 1 ¾"

Right or left handed design

Strongside or crossdraw wear

Made of premium cowhide
| Pros | Cons |
| --- | --- |
| Really comfortable after break in period | Break in period needed |
| Thumb snap pops easily | A strong gun belt is a must |
| Quality materials and construction | Crossdraw is difficult |
| P345 fits perfectly after stretching as instructed | Needs to be stretched |
This holster is a belt and clip combo, for added stability. It's ambidextrous, has a quick access magazine pouch, and is made with fully lined nylon.
Ace Case Ruger P345 Holster – Features
Belt loops on both sides
American made
Ambidextrous
Belt and loop combo
Thumb break is adjustable
| Pros | Cons |
| --- | --- |
| Gun fits secure | Belt loop is a bit low so gun may roll forward |
| Comfortable | Clip is plastic |
| Magazine pouch | |
This holster is maintenance free. Fobus says it can stand up under severe elements and simply be washed with soap and water. No need for oil and it doesn't sweat. It has a faster draw than leather, due to it's unique passive retention system. The only point where your pistol contacts the holster is where the trigger guard meets the frame.
Features
| Pros | Cons |
| --- | --- |
| Smooth draw | Right handed only |
| Holds gun securely | Trigger guard may snag on the holster |
| Made sturdy | Does not conceal as well as IWB holster |
| Rubberized paddle insert for added stability | |
| Easy to put on and take off | |
---
Ruger P345 Holster – Conclusion
The Galco Cop Three slot holster was the clear winner for the Ruger P345. It is a very high quality holster. It seems like it will last forever. I really liked that it is precision molded and has adjustable retention.
Being able to carry on the strongside and the crossdraw is a really nice feature too. It is very comfortable after the initial break in period. I think you will be well pleased if you purchase this holster.
I hope you found some good tidbits in this review. My goal is to share enough valuable information with you to help you feel more confident as you purchase a holster for you Ruger P345.
Recommended Reading
Top Five Holsters For Ruger LCR
Pocket Holsters For Ruger LC9S
Concealed Carry Holsters For Ruger 1911
Concealed Carry Holster For The Ruger LCP 380
Leather Holster For Ruger Alaskan