Updated 8.12.23 When your guns start piling up and you start running out of room to store them, it's time for you to get a gun safe. There are all kinds of quality gun safes out there in every size, shape, and capacity… so how do you choose? We have covered some of the best safes on the market in the past right here on Gun News Daily. We've talked about the best car safes, the best safes for rifles, and how to choose the very best gun safe for your own needs. But if our previous reviews just weren't enough to help you select the right safe, you are in luck because we are back at it again. And this time, we are bringing you a review of our top 3 picks for the best gun safe for under $2000.
Get Great Guns and Ammo Deals!
---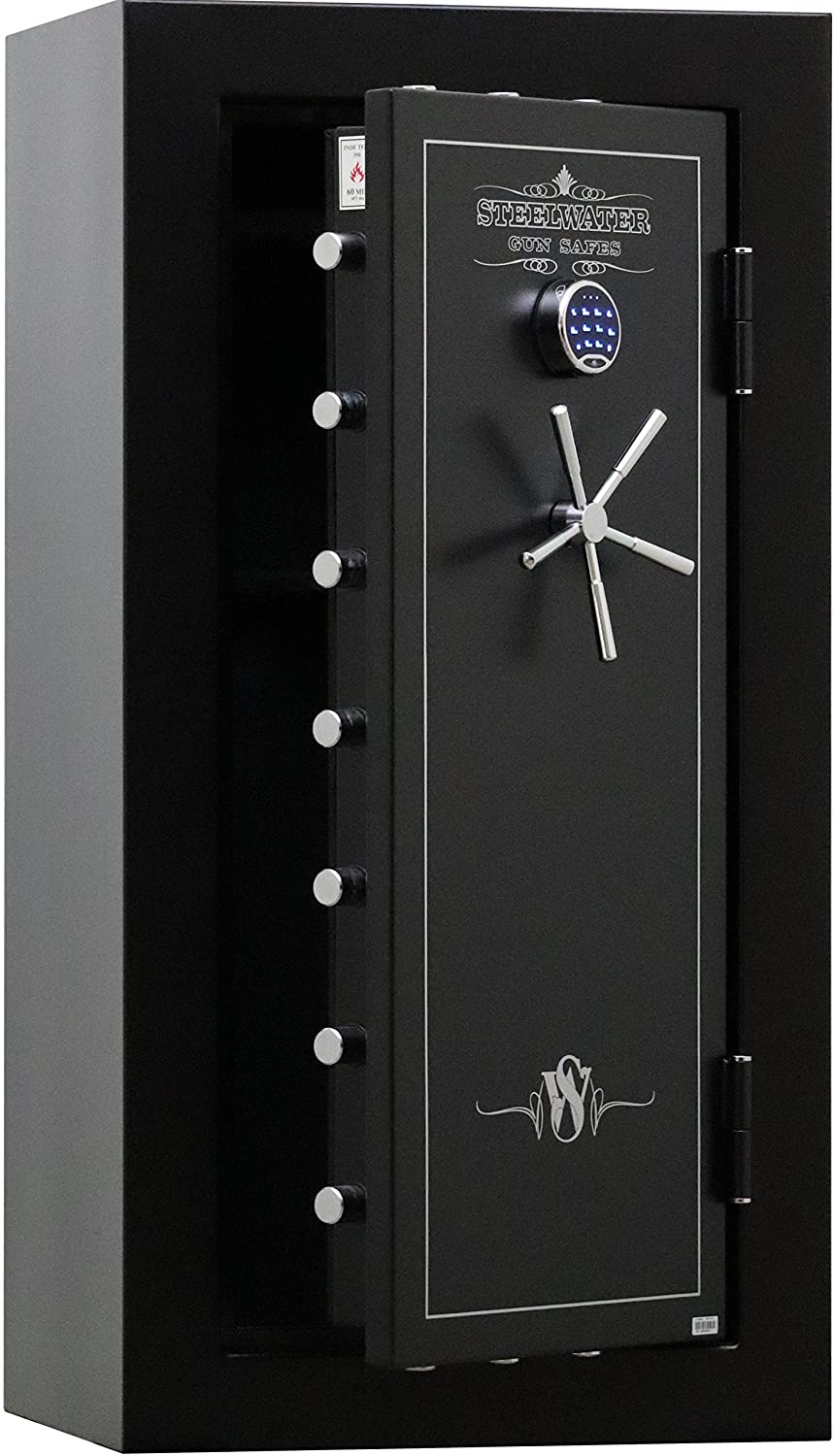 The Steelwater AMLD593024-EMP Heavy Duty Gun Safe has made a great name for itself among most gun enthusiasts. And it's really no surprise as to why its gained so much popularity either. Let's take a closer look.
This safe can provide you with a full 1 hour of fire protection, up to 1,875 degrees. This is all thanks to its solid 12 gauge steel construction and a 5 1/8″ thick composite constructed door. To further improve its fire resistance, the door also contains a total of 3 layers of fireboard.
Speaking of fire-board, the door isn't the only part that uses this fire-resistant material. Within the walls, ceiling, floor, and even the door jams, you will find 2 layers of fire-board throughout.
This safe comes standard with a UL listed group 2 combination dial lock. As an added level of security, there is also an optional X3 Biometric Keypad Biometric, numeric, and bypass key entry.  Access your safe by fingerprint, digital, or mechanical key entry with our all-in-one (X3) lock system. Up to 200 users
Inside the safe, you will find that it is fully upholstered and features a two-section gun rack that can store a maximum of 11 long guns per section.
Overall, this gun safe is our top pick for best gun safe under $2000, and honestly, it contains so many great features, we can only scratch the surface in this short review. Seriously, give this gun safe a look, you won't be disappointed.
| Pros | Cons |
| --- | --- |
| Fire resistant up to 1,875 degrees | Digital keypad drain batteries quickly |
| Fully upholstered interior | |
| Can hold up to 22 long guns | |
---

If gun capacity is one of the features you want the most, you should take a look at the aptly named Woodland 40 from Stack-On. This safe is the perfect find for anyone looking to store a ton of guns or gear as it can hold a total of 40 your long guns and any combination of gear you may want to be stored away securely as well.
Woodland safes are designed around the sole purpose of protecting your valuables from fire, or theft. To ensure that it is up to the challenge, it is rated to be fireproof for up to 30 minutes in temperatures up to 1,400 degrees Fahrenheit.
To keep your guns and gear safe from intruders, the Woodland 40 comes equipped with a 4-way locking door that can be opened via the backlit electronic keypad or with a backup key. The keypad will accept a 3-8 digit combination which makes your key code just that much harder for a thief to simply guess. To add even further security, the lock itself contains a drill-resistant hardened steel plate just behind it. Not even brute force will give access to this safe.
The interior is carpeted and contains fully adjustable shelving so you can make the most of the space that it offers. This includes three-adjustable position barrel rests and a total of five adjustable-position shelves for your other gear and ammo. The factory-installed door organizer with sewn-in gun holsters, zippered pouches, and MOLLE compatible webbing isn't too shabby either!
| Pros | Cons |
| --- | --- |
| Large capacity (can hold up to 40 long guns) | Could use more MOLLE webbing |
| Carpeted interior | Sewn-in gun holsters are a bit small and better suited for compact pistols |
| Adjustable shelving | |
| Fire-rated up to 1,400 degrees | |
---

Last on our list, but certainly not least, we have the MBF 5922e from Mesa Safe Company. If your biggest concern is for your safe to be able to withstand extremely high temperatures, this is the gun safe for you.
Constructed completely from steel and a 5″ thick solid steel door, the MBF 5922e is rated to withstand temperatures up to 1750 degrees for one hour. The door is actually lined with not only a fire-resistant material, but it also contains a heat activated seal that will basically weld the door shut should the temperature exceed the safes fire-rating.
The one major thing to note about this safe is that it is completely electronic. To access your safe, you will be using a digital keypad that is backed by a drill-resistant hardplate. Additionally, the electronic lock is protected by a punch activated spring-loaded relocking device.
The interior is fully upholstered and contains plenty of adjustable shelving so you can pack all your guns and gear securely but also in an organized fashion. There is nothing worse than stumbling around your safe looking for that one piece of gear or that rifle you need.
While this safe is around 500 pounds and probably isn't going to be carried away easily, you also have four anchor holes on the bottom of the safe. With these anchor holes, you can bolt your safe down to the floor or counter-top. This feature is invaluable to anyone using the MBF 5922e in a place of business.
| Pros | Cons |
| --- | --- |
| Heat activated seal if temperature exceeds fire-rating | Extremely heavy |
| Keypad backed by drill-resistant hardplate | Electric plug in back of safe prevents it from sitting flush against a wall |
| Plenty of adjustable shelving | Holes for anchoring are small and difficult to tighten down bolts |
| Can be mounted to floor | |
The Cabela's Classic Series Gun Safe by Liberty Safe® features adjustable shelving for a custom layout and maximum gun storage, as well as an interior door panel for additional handgun and accessory storage. A 3-point chrome handle, coupled with a tool-resistant lock, allows quick and easy access with reliable security.
The Classic Series Gun Safe features a 12-gauge steel body and 11 layers of fireboard, along with a Palusol® heat-expanding door seal to provide dependable fire protection, while heavy-duty, 4-1/4″ locking bars keep thieves and curious minds out for superior protection. Strong, 2-piece body construction. Dimensions listed are the safe footprint, add 3″ for the handle. Lifetime warranty. Made in USA.
| Pros | Cons |
| --- | --- |
| Strong, 2-piece body construction | Stock can be limited in areas |
| 12-gauge steel body | |
| 11 layers of fireboard | |
| Palusol heat-expanding door seal | |
| Electrical port in the back of safe | |
| 4-1/4″ locking bars | |
| Lifetime warranty | |
---
Things To Consider Before Buying A Gun Safe Under $2000
Before you rush over to Amazon, we have a few pointers that may help you make your decision even easier.
While we certainly have selected somewhat we believe to be top picks for best gun safe under $2000, it helps if you know what you are looking for and why. After all, there are a lot of great safes on the market for you to choose from so you may need a little help narrowing it down a bit and this is where we come in.
Gun Safe Size And Weight
Before we dive into why size and weight are important, let's be honest here about one thing… Any decent gun safe is going to be big and heavy.
When choosing which safe you should buy, you should consider where your safe will call home. Is it going to be set off in a small corner? Maybe in a closet? Next to your bed? Do you need to be able to move it around every so often, or will you be bolting it to the floor?
Once you are able to answer those questions, you should have a much easier time making a decision. In general, though, you want your safe to be spacious, heavy enough not to be able to be carried away by a thief and appropriately sized for the space where you plan to keep it.
Follow this simple guideline and you will be one step closer to finding the perfect gun safe for your home or business.
Gun Safe Locking Systems
One of the absolutely biggest key factors in determining the best gun safe is, of course, the locking system or mechanisms that it utilizes to keep your firearms safe. There are four main types of locks that we recommend you familiarize yourself with before making a final decision:
Combination locks

Keyed entry

Digital keypad locks

Biometric locks
Combination locks use a tumbler mechanism to lock and unlock the safe. If you've ever used a standard locker at the gym, you probably are already familiar with this type of lock. Just roll the tumblers to the correct numbers and you're in. It's a simple mechanism but very trusted for good reason.
Keyed entry locks are exactly what they sound like; locks that require a key to get them open. Most safes that have a keyed entry mechanism will come with 2 identical keys just in case you misplace one of them. And even if your safe comes with a digital keypad, you will often receive a backup key just in case the keypad batteries die and you need to get in manually.
Digital keypad locks require you to enter the correct keycode in order to unlock your safe. In general, when you buy a gun safe with a digital keypad, you have the option of setting up your own keycode. As we mentioned before, if the battery dies or you forget your code, all is not lost, simply use your backup key to get in.
Biometric locks are a bit more advanced but are by far the most secure if you can afford the price tag that generally comes with them. This type of lock works by recognizing your fingerprints, handprint, or another biologically identifying method. This is by far one of the most advanced types of locks that you will find on a gun safe. Just as with all other types of locks, the biometric lock systems usually come with a backup key as well, just in case you are ever unable to access your biometric safe.
---
Gun Safes for Under $2000 – Final Thoughts
In this review, we have looked at our top picks for best gun safes under $2,000. While we have tried to give you the best run-down of these as possible, at the end of the day, choosing the best gun safe to buy really depends on personal preference.
So, to recap:
Find a safe that is large enough to hold all your gear and firearms, uses a locking mechanism that is hassle-free, and preferably one that is fire-resistant.
We hope you have enjoyed this review, and as always, if there is a gun safe under $2000 that didn't make this list but you believe should have been included, please let us know about it in the comments section below and let us know why you think it deserves a spot in our review.
Recommended Reading
Bedside Gun Safes For Quick Access