Florida Gov. Ron DeSantis has been criticized for warning any potential looters post-Hurricane Idalia that they risk being shot by property owners.
Speaking at a press conference in the Big Bend town of Perry in the wake of the hurricane that has devastated Florida, DeSantis discussed reports of apparent looting occurring in the town of Steinhatchee on the state's Gulf Coast.
The Republican, who has paused his national 2024 nomination campaign to help deal with the aftermath of Idalia in Florida, told those hoping to commit crimes following the hurricane's destruction that they run the risk of people following up on warnings of "you loot, we shoot."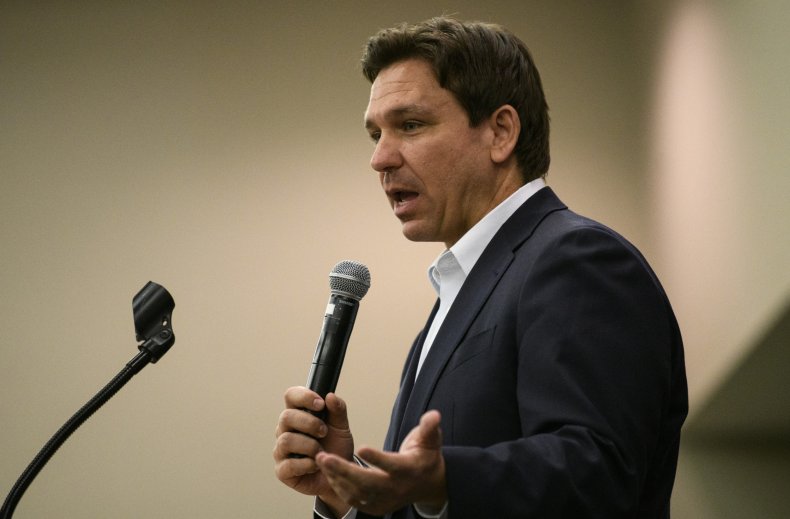 "I'd also just remind potential looters, you never know what you're walking into. People have a right to defend their property," DeSantis said.
"This part of Florida, you got a lot of advocates and some proponents of the Second Amendment, and I've seen signs in different people's yards in the past after these disasters, and I would say it's probably here, 'you loot, we shoot.'
"You never know what's behind that door, if you go break into somebody's house and you're trying to loot, these are people that are going to be able to defend themselves and their families, so I would not do it," DeSantis added.
"We are going to hold you accountable from a law-enforcement perspective at a minimum and it could even be worse than that depending on what's behind that door. So let's all band together and lift people up and not try to take advantage of a difficult situation."
While the comments from the often firebrand governor were praised by conservatives, others condemned DeSantis for the threatening rhetoric.
"Such a weird thing to say when nobody is looting," Bloomberg columnist Matthew Yglesias posted on X, formerly Twitter: "Post-hurricane looting is very rare, but it's like he's hoping for bad stuff to happen so he can be a badass."
Cenk Uygur, creator and host of the liberal news program The Young Turks, added: "Glad to see Ron DeSantis comforting people devastated by a hurricane … by threatening to shoot people. This is the GOP game plan: We won't do anything about climate change that keeps intensifying storms ripping through your neighborhoods, but we can shoot people afterward!"
Former Democratic state Senator Annette Taddeo wrote while sharing a clip of DeSantis' remarks: "If only Ron DeSantis would tell this to the insurance companies robbing us blind."
The Daily Edge, a social media account which describes itself as "calling out GOP lies & corruption," added: "Not sure encouraging Floridians to shoot their neighbors is the best advice immediately after a hurricane."
DeSantis' office has been contacted for comment via email.
The comments from DeSantis, a popular Republican figure in Florida, were praised by others.
Dana Loesch a conservative radio host and former spokesperson for the National Rifle Association, wrote on X: "Don't FA during a hurricane else you'll FO."
Tom Sauer, a former marine and founder of veterans' health organization Miramar Health, said: "DeSantis saying, 'You loot, we shoot' is probably better than just about anything I've heard from him and from nearly every one of his surrogates on Twitter."
DeSantis has previously used the "you loot, we shoot" comments in the wake of the devastating Hurricane Ian which hit Florida in September 2022. Speaking at a press conference at the time, the governor also warned potential looters that he had seen signs in neighborhoods which had the threatening message.
"They boarded up all the businesses, and there are people that wrote on their plywood, 'you loot, we shoot,'" DeSantis said.
"At the end of the day, we are not going to allow lawlessness to take advantage of this situation. We are a law-and-order state, and this is a law-and-order community, so do not think that you're going to go take advantage of people who've suffered misfortune."
At least 28 people were arrested on charges related to looting in Lee County, the Florida county hit hardest by Hurricane Ian, in the wake of the natural disaster, reported the Tampa Bay Times.