The PT111 G2 is one of the most popular handguns. Being a Taurus handgun, users can expect accuracy and ergonomics to enhance the gun's function which is mostly self and home defense. This being a concealable gun, getting the best Taurus PT111 Holster, will enhance the portability of the gun. You will need a holster that will match the quality of the gun, hold its weight, feel comfortable and easy to reach.
After researching on many holsters for PT111 G2, the Alien Gear Holsters Cloak Tuck 3.0 stands out as the best. It is an inside the waistband holster designed with formfitting neoprene.
This is coupled with a flexible base that makes it easy to access the gun in case of an emergency. The spring steel core combined with ballistic nylon flexes enough but does not warp. Put simply, this holster is great for your PT111 and comfortable on you.
Get Great Guns and Ammo Deals!
---
How To Pin Point The Right Holster for Your Taurus PT111 G2
Since the inception of handguns, a host of holsters have been produced with each seeking a safer, more efficient and secure way to carry them. Holsters offer an alternative to stuffing guns into your belt or your waistband. Choosing the right holster should not be a daunting task.
Holster Material
Most handgun holsters are made of either leather or molded plastic. Leather looks great and will match with your clothing. Leather has to be allowed a short break-in period after which it will stretch and mold to the user's body becoming more comfortable.
With the durable nature of leather, most PT111 G2 Millennium gun owners will keep their comfortable old leather holsters for a long time. If your leather holster gets too loose, you will only need to dip it in water overnight.
There are a horde of thermoplastics molded to form holsters; Kydex is the most common. These thermoplastics, as you would expect, are molded with heat. Ergo, they may warp when exposed to the sun for a long period.
Unlike leather materials, the thermoplastics do not need a break-in period; they do not stretch or get more comfortable as they age. With leather holsters, there is not a single part that can flex without breaking. However, plastic holsters grip the gun better and hold it in place with more friction. Both leather and plastic holsters are good for different reasons.
Weapon Retention
It is shameful to drop your gun in public. Ergo, you will need a holster that keeps your gun concealed but still makes it easy for you to access the gun. Again, you do not want someone to grab your gun.
An open-top holster works just fine for most people. However, if you are the kind that likes to do handstands, you should consider a holster with a retention device, for instance, a thumb-break snap.
IWB or OWB Holsters
IWB holsters are a good choice if you want the best in concealability. They are worn at the 1 o'clock and anywhere between 3 and 6 o'clock position; a factor that makes some people view them as uncomfortable.
For this holsters to be comfortable, your trousers need to be two inches bigger at the waist seeing that the holsters are worn inside the trouser. There are, however, some holsters worn outside the trouser and over the belt. The only advantage with IWB holsters is that the gun grip will be rough on your skin and you may need an underskirt.
OWB holsters are worn at the 3 o'clock to the 6 o'clock position but can also be worn at the 9 o'clock to 11 o'clock as crossdraw. These are the most common holsters. They are good for you if you spend most of your days seated and may need to draw the gun from that position. However, the OWB present the gun butt first.
Unlike holsters worn on the strong side, these holsters are slower to access on target. In case the holster is worn on the strong side, it is tilted forward (can position) for concealment; this makes the grip hard to conceal but makes the gun easy to access.
Pocket Carry Holsters
You might consider pocket carry holsters on a hot day when you are on shorts or not wearing a belt. The only disadvantage, you lose that pocket for a wallet or keys. Some pocket carry holsters are offered with a tab that hooks to your pocket preventing them from coming out with the gun.
Holster Positions
Waistband and belt holsters are the most common and for a good reason; the gun is easier to draw at that position. However, this will depend on you, your comfort and your day to day activities. Holster manufacturers have designed holsters for ankles, underarms (with shoulder rigs) and for purses and backpacks.
Ankle holsters may be comfortable or very uncomfortable depending on the padding, their position in relation to your ankle and how tight they are strapped.
Though given the size of the Taurus PT111 Millennium G2, they may not be ideal, a few companies have released ankle holsters for the PT111. Ankle holsters are slow to draw a gun from, and they may be exposed when one is seated.
Shoulder rigs are very comfortable and offer the same advantages as crossdraw holsters. They conceal the gun perfectly especially when you are wearing a big shirt or jacket. Purse and backpack holsters are created simple; just concealing the gun nozzle and the trigger. They can, however, be snatched away by a thief and are not safe if you have imploring kids.
---
Best Alternative Taurus PT111 Holster Options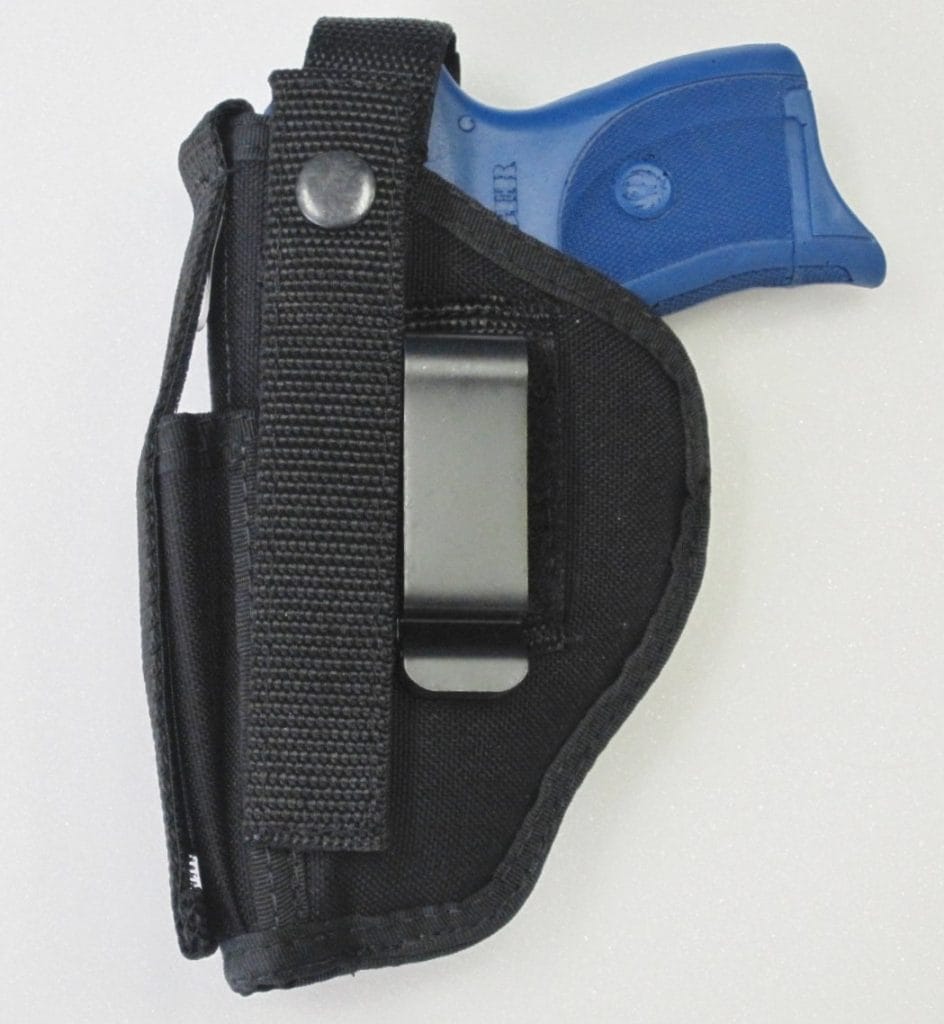 Hip Holster is a great holster if you need the ruggedness and stability of belt holsters but with a clip-on.
It is design lets it mold to the shape of the gun and it comes with 1.5-inch belt loops and a black metal clip made of high carbon; these two offer sturdiness and enhance gun retention. This barrel can be worn to the right or to the left, and it is ideal for men and women.
Features
Belt loops on both sides and a movable clip

Soft nylon interior lining

Reinforced thumb break positioned across hammer for a smooth draw

Extra magazine pouch

Nylon exterior
| Pros | Cons |
| --- | --- |
| Great performance/price ratio | Clip does not close smoothly |
| Compact and lightweight | Nylon material relatively less durable |
| Holster can hold extra magazine | Belt clip located low on the holster making the gun lean from the body |
| Clip-on design keeps the gun from falling out | |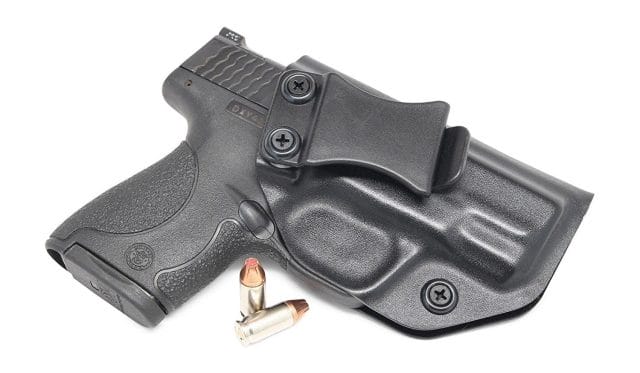 This being a Kydex holster, it is created to fit your gun perfectly and conceal it just the way you would want. The holster is designed to be worn inside the waistband with the shirt un-tucked to properly conceal the weapon.
Like all holsters made of thermoplastic, the Concealment Express IWB Kydex Holster offers a great grip with high gun retention, but it is less durable especially when exposed to harsh conditions such as hot sun. Again, plastic, unlike nylon or leather, is rough on your skin, especially when used on IWB holsters.
Features
Full Sweat-Shield to keep weapon dry

Fully covered holster area for safety

Posi-Click Audible Retention lock with adjustable retention pressure

Adjustable carry angle; from 0 to 15 degrees

Can be carried on appendix, side, back or hip

0.08-inch Kydex material gives gun a weight of 2.5 oz

Lifetime warranty
| Pros | Cons |
| --- | --- |
| Thick but light Kydex material gives the holster a long life | Interior not padded and the holster can scratch your gun |
| Custom fit design makes it a great choice | Hard Kydex material not comfortable when worn inside the waistband |
| Attractive carbon fiber look | The holster could have had more coverage |
| Safe with trigger area closed | |
| Great price in relation to the holster's durability and performance | |
This holster is for those who sometimes need OWB belt slides holsters and sometimes need IWB clip on holsters but do not want to buy both. The dual functionality of the holster makes it an ideal choice for many people.
It is offered in a sleek and slim design with a soft interior to keep the holster light enough and ensure it does not scratch your gun's finish. It is created to efficiently conceal your gun and remain easy on your skin.
Features
Strong tactical nylon exterior and a soft interior

Tempered spring steel belt clip and a belt loop

Body shield to keep gun's grip away from skin for safety and comfort

Dual function; can slide onto belt (OWB) and can clip onto pants (IWB)

Snapping safety strap
| Pros | Cons |
| --- | --- |
| Belt loop and clip ergonomically placed for comfort | For appendix carry, the holster rubs lower stomach and irritates skin |
| Custom fit; gun fits snug | Straps may need to be adjusted to fit right |
| Lightweight and compact; not bulky | It soaks up sweat and may rust the gun |
| Safety straps keep your gun in position | |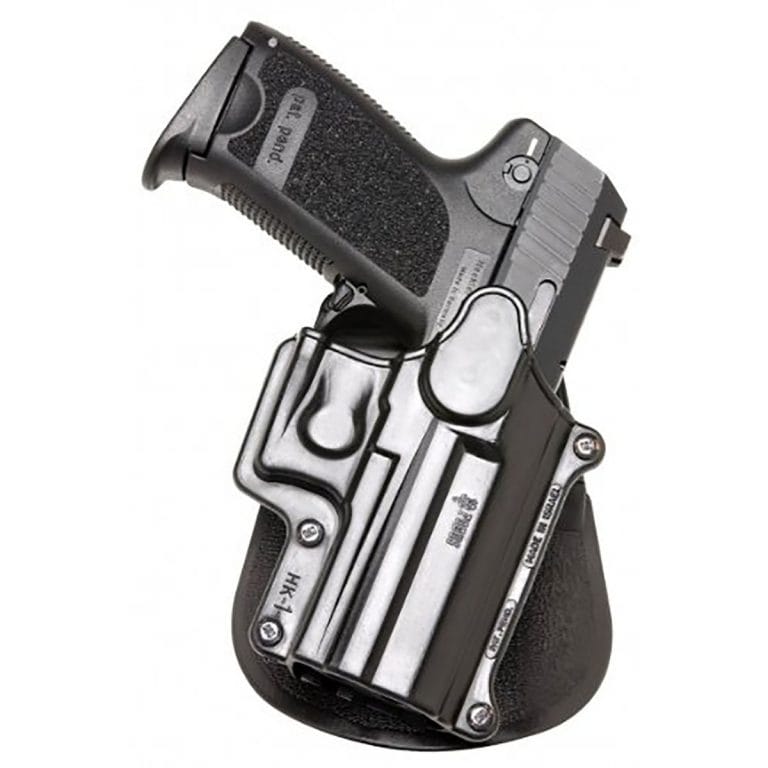 There is nothing special about the Fobus SP11-B, but it comes with all conventional holster features to ensure maximum concealability, fast gun draw, and comfort. It is designed for PT111 Millennium G2 among other Taurus handguns, and as such, you can expect it to offer custom fit. Besides, the gun fitting snug, the holster holds your gun firmly into place.
Features
Mold injected polymer formula material

Passive retention which functions as a spring on gun's trigger guard area

Adjustment screw for gun's retention

Designed for right-hand users
| Pros | Cons |
| --- | --- |
| Great fit with a great grip for improved retention | Relatively less durable |
| Attaches perfectly for OWB carry | Only fit for right-hand users |
| Adjustment feature for correct tension on gun | Low coverage |
---
Taurus PT111 Holster – Conclusion
The right gun holster for you will depend on your needs and your preferences. The Alien Gear Holsters Cloak Tuck 3.0 takes the trophy for best Taurus PT111 Millennium G2 holster. It is designed with a great balance on performance and comfort.
The Alien Gear Holsters Cloak Tuck 3.0 is good as a concealment gun as it is offered with formfitting neoprene coupled with a flexible base; the holster does not need any break-in time. It is firm and durable and still flexible enough to keep your gun safe.
The interior of the holster sports a thermoelastic polymer that is easy on your gun's finish. You can adjust retention, a factor that lets you determine the draw you prefer. It features a universal shell system; this means you can easily swap the cell making it fit for another handgun.
The ergonomic belt clips are adjustable allowing the wearer to set the right carry position for them. Made in America for the world, the holster sports a quality build that lasts as long as your gun. The manufacturer offers lifetime warranty.
Even better, you can test the holster for thirty days. If you are not satisfied with the holster, the manufacturer can buy it back.
Recommended Reading
Full-sized Holsters For The Taurus PT92