As President Biden declared his bid for re-election Tuesday morning, former president and Republican 2024 contender Donald Trump welcomed Biden to the race with a blistering indictment of the current president's record. 
"You could take the five worst presidents in American history, and put them together, and they would not have done the damage Joe Biden has done to our Nation in just a few short years. Not even close," Trump said in a statement. 
Broadly outlining the avenues of attack Republicans may use against Biden, Trump assailed the president's handling of the economy and inflation, rampant illegal immigration, the disastrous withdrawal from Afghanistan, and more, calling Biden "the most corrupt president in American history." 
Trump blamed inflation on Biden's "socialist spending calamity." He called U.S. cities a "dumping ground" for illegal immigrants, and said violent criminals "are being released from jail in mass with no retribution whatsoever, while law enforcement is weaponized against law-abiding conservatives or Republicans." Nodding to the culture wars, Trump said "our children are being indoctrinated and mutilated by left-wing freaks and zealots," while the military has gone "woke."
BIDEN, HARRIS OFFICIALLY ANNOUNCE THEIR 2024 RE-ELECTION CAMPAIGN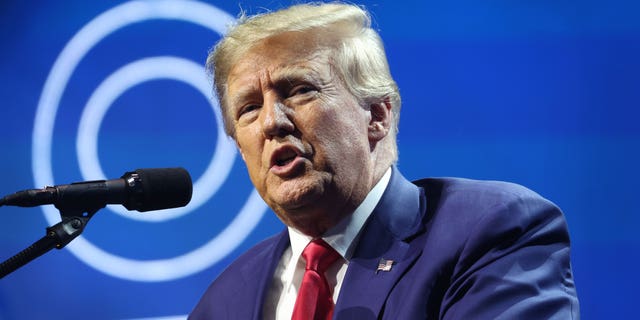 The former president accused his successor of humiliating America on the world stage and claimed the Russian invasion of Ukraine would not have happened were he still in office. "Joe Biden has led us to the very brink of World War III," declared Trump. 
"With such a calamitous and failed presidency, it is almost inconceivable that Biden would even think of running for reelection," Trump said. 
Early Tuesday morning, Biden announced that he and Vice President Kamala Harris will seek re-election in a video titled, "Freedom." 
"Freedom. Personal freedom is fundamental to who we are as Americans. There's nothing more important. Nothing more sacred," Biden, 80, said in the video. "That's been the work of my first term: To fight for our Democracy. This shouldn't be a red or blue issue."
HUGE MAJORITY OF AMERICANS OPPOSE BIDEN RUNNING AGAIN, CITING ONE 'MAJOR' FACTOR: POLL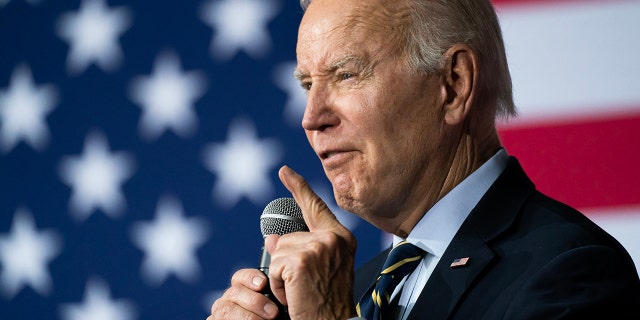 In his video, which opened with footage of the Jan. 6 Capitol riot, Biden framed the 2024 election as a choice between having "more freedom or less freedom, more rights or fewer." His words suggest the Biden campaign will emphasize Democratic opposition to attempts by Republicans to restrict access to abortion, ban transgender medical treatments for minors, and pass election integrity laws, which they have called voter suppression laws. 
Biden also spoke about America being a country of "good and decent people," one that "believes in honesty and respect, and treating each other with dignity." These were themes of the president's successful 2020 campaign, where Biden defeated Trump 306 to 232 in the Electoral College, earning a record high 81 million votes to Trump's 74 million.
WSJ EDITORIAL BOARD SAYS BIDEN SHOULDN'T RUN IN 2024: 'HIS DECLINE IS CLEAR'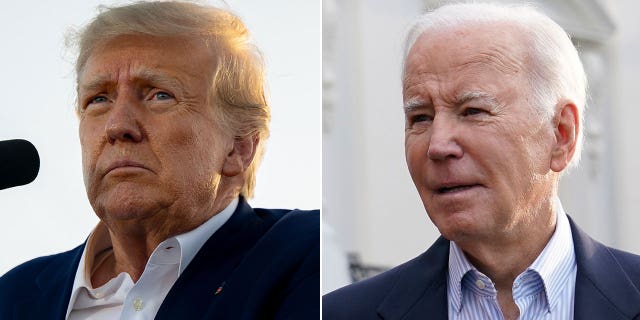 Trump, 76, said he looks forward to meeting Biden on the "debate stage" where the two American presidents would be able to "compare our records." That assumes that both candidates win their party's respective presidential primaries.
Biden faces long-shot opposition from environmental activist and vaccine critic Robert F. Kennedy Jr., as well as self-help author Marianne Williamson in the Democratic Primary. 
CLICK HERE TO GET THE FOX NEWS APP
Trump faces more serious opposition from several established Republican figures, including former U.S. ambassador to the United Nations Nikki Haley and former Arkansas Gov. Asa Hutchinson, as well as expected campaigns from former Vice President Mike Pence and Florida Gov. Ron DeSantis. 
Fox News' Lawrence Richard contributed to this report.