For owners of AR-15 framed firearms in the United States, the amount of modifications and accessories on the market is nearly endless. You can find just about any add-ons you desire, including things like lasers, flashlights, bipods, bayonets, and scopes.
And just in case you really mean business… there are even a few chainsaws mods out there as well!  For the purposes of this article, I will be focusing on a very useful attachment for just about any frame. That's right, I'm talking about the AR 15 foregrips.
For those unfamiliar with this piece of equipment or looking to learn more about their equipment, we will start with a bit of general information and work our way into the best ones that I have had the pleasure of using.
Get Great Guns and Ammo Deals!
---
What is an AR-15 Foregrip?
An AR-15 foregrip is a handle or grip that is located on the front of an AR-15 rifle, typically below the barrel. It is used to provide additional control and stability when holding and firing the rifle. Foregrips can be made of various materials, such as plastic or metal, and can be attached to the rifle in different ways, such as by screws or a rail system. Some foregrips also feature additional features such as a built-in bipod or a storage compartment.
Why Do You Need an AR 15 Foregrip?
When firing an AR-15, most shooters simply cup or grasp the handguard along the bottom of the barrel. And while that style of shooting works fine, you can greatly improve your accuracy and stability with a foregrip. Foregrips can enhance the marksman's overall experience.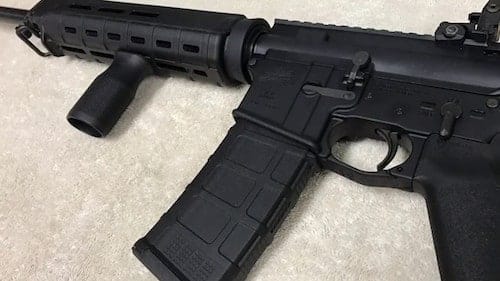 The term foregrip actually describes a broad range of attachments, each that offer their own pros and cons. However, at the core of it, all AR 15 foregrips share a common purpose and general concept. They are a place other than the frame to place your steadying hand and offer better, more centralized control.
---
What Does an AR 15 Foregrip Do?
As I mentioned, foregrips are designed to help with control, specifically recoil control. It's important to note that ARs that fire a .223 or 5.56 don't have much of a kick, and most range shooting is done with time to reset before sending a second shot. Having said this, when they are used in burst or full-auto, the added stability of a solid foregrip allows for more accurate placement of groups.
This is achieved through its very design. When using your hand to clasp the bottom of the handguard you only have control of your grip in two directions. Whereas with a foregrip, you get full control of horizontal as well as vertical stabilization.
It should be said that foregrips can also be used as a makeshift bipod by pressing it against a wall or barricade to further snug the rifle.
Various Types of AR 15 Foregrips
Later in this article, I am going to discuss several subtypes of foregrip, namely the vertical, horizontal, and finally, special. Arguably these are similar enough in function to list them together, but I feel that each is unique enough to deserve their own section, as well.
Horizontal AR 15 foregrips run more parallel to the barrel but still add substantial control and comfort.
Lastly, special grips are a group that is home to some extreme examples of ingenuity to further the quest for complete recoil control and come in far too many forms to give a general description.
---
Vertical AR 15 Foregrips
Grips in a vertical position are fairly common and consist of a peg sticking straight down off the bottom of the frame, thus earning it the nickname "broomstick" in military service all around the world. Here are our picks for the best Vertical AR-15 foregrips.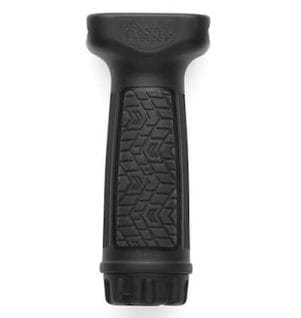 This is the epitome of a vertical grip, made of durable polymer and available in different colors, and is compatible with M-LOK or Keymod. Elegantly designed with rounded edges to fit comfortably in the hand, this grip will feel natural to all but the largest shooters. Measuring 3.25 inches tall and 2 inches wide it provides maximum grip while presenting a sleek profile.
The grip juts out perpendicular to the barrel allowing for a firm hold and more pressure on the shoulder. Pictured below is a variant of the broomstick grip, much like a ¾ grip where the handguard is held, using the grip for rearward force only.
This particular way of holding the AR offers some unique recoil control. Using a grip in this way increases the pressure on the shoulder, which makes reacquiring the desired sight alignment much easier.
Also, it improves the position of the support arm, lowering stress on the wrist when compared to just the handguard.
Magpul's first entry on this list is very similar to the previous but is noticeably more rounded. Made of polymer and available in many colors, this grip mounts directly to the rifle's rail. The location of the grip determines how the rifle can be held. As shown you are restricted to a fist like a grip. However, the position of any grip is only limited by the amount of space your handguard has.
Another thing I noticed about the MVG is that the M-LOK setup seemed to be beefier while costing considerably less. Anyone that chooses to use this older style grip must pay close attention to how you are pulling back making sure that the force is straight into the shoulder, failure to do so can result in sloppy shot placement.
Personally, I enjoy using a vertical foregrip, but I tend to stay away from the old school broomstick style.
Both of the above grips are excellent for those long days at the range if a sling or stand isn't available as they help with weight distribution, and make it easier to carry the rifle while supporting it with both hands.
---
Horizontal or Angled AR 15 Foregrips
The next sub-category of foregrip I am going to discuss is the horizontal grip, also called an angled grip. Designed to fill the same roll, these grips are elongated and flatter while still offering similar results as the vertical grips.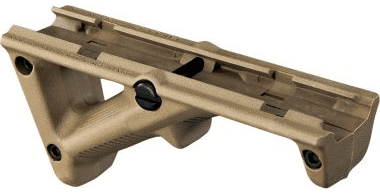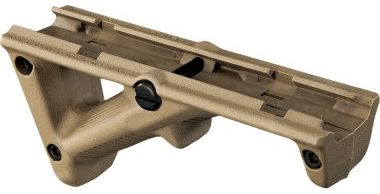 The second showing for Magpul is the AFG, a polymer grip that offers an amazing hold on the firearm. Mimicking a more traditional handguard hold, the subtle angle straightens the wrist. Without as much bend in the wrist, the shock of recoil is absorbed with more ease, reducing impact.
Those that use a thumb-over-bore hold will enjoy the addition of the AFG to their AR. It can also serve as a reference point when drawing as it cups effortlessly into the hand. Pulling straight back on the grip will also increase the pressure at the shoulder, improving recoil control for quick and accurate follow-ups.
The grip can also be jammed into a hard spot to give even more stabilization for rapid re-firing. A great value, this grip is available in several styles and up to five unique colors.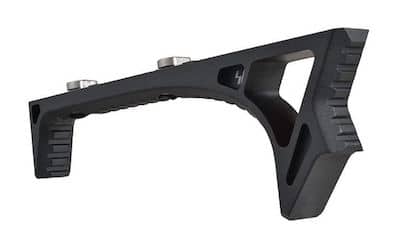 This grip from Strike Industries is perfect for those who prefer more traditional hand placement. The design of the bumpers is such that the hand is cupped snugly for applying pressure back to the stock or pushed forward onto a brace. A notched texture along the length of the grip improves grip.
Strike Industries has a reputation for innovation and this grip lives up to the brands legacy. Built with the integrated LINK system, this accessory is ready to mount to Keymod and M-LOK setups. Being crafted from coated aluminum makes the SI LINK extremely durable and ultra-lightweight.
---
Special AR 15 Foregrips
These grips are truly pushing the envelope of what a foregrip can be, while still providing top shelf performance.
As a light, this dual-purpose grip light is also quite effective. It incorporates a small 400 Lumen Bright LED light on the front. Which can significantly improve your visibility in the dark. The light runs on a pair of CR2 3v batteries and has a run time of 90 Minutes. Using the 4Lux CQ AR 15 Grip Light is very easy. The light activation switch is situated exactly where the index finger of your support hand rests, and this allows you to turn the light on and off instantaneously, giving you a significant tactical advantage over other gun lights. Check out our full review of the Viridian 4Lux AR 15 foregrip with light. 
Mid-Evil Industries must be living some distance in the future because the 360 VFG is straight from the world of science fiction! It mounts to your AR like any other grip, but that is where the similarities end. Twist the bottom section of the grip and suddenly the top will freely rotate.
While loose, the grip can be pushed out, pulled back, or put out to the side. Pivoting on a ball located near the anchors you can customize the position and angle to fit your exact needs. Once it is in the sweet spot, tighten the grip and it will maintain that position.
Measuring in at 3 7/8 inches long and weighing only 5.2 ounces, this aluminum grip will last for years of use. A handy storage spot for batteries has been included, simply unscrew the end of the grip. Coming in four colors it will match most finishes, and can be fitted for Picatinny, M-LOK, and Keymag.
The brainchild of BCM and Travis Haley of Haley Strategic Partners, this Kinesthetic Angled Grip delivers maximum result while barely even being there. It is said that big things come in small packages, and this grip shows how true that can be. The KAG shows aspects from both vertical and horizontal foregrips while staying distinct. Mounting firmly to the bottom of your AR, this grip provides a natural reference point for your hand.
Almost too small to notice upon first glance, once engaged you will immediately notice the comfort and stability the KAG brings to the table. It securely holds the back of your hand in its curved bumper. Furthermore, the slight angle allows the wrist to be in a more natural position that is fairly comfortable.
Although it is small, you will get enough of a grip to have good leverage when snugging the butt of the rifle. When shooting with a traditional grip or with thumb-over, the KAG offers substantial support! You can get this grip in one of its many, many shades of black. Unfortunately, that is the only color available for now.
---
AR 15 ForeGrips – Parting Shots
There are many amazing choices of foregrips on the market that can be mounted to your AR-15. It should be noted that a lot of these modifications came from the needs of service people, the type of people that are toting their equipment for extended amounts of time, people who carry them on patrol, and people who rely on their equipment to do a job and get home safe.
Foregrips were not created for the purpose of looking cool or being macho. Instead, it is an accessory constructed with a mission!
In the end, it is your own personal needs and likes that determine which grip will work best for you. The only way to know for certain is to try several different styles in person. I have been fortunate to have had the opportunity to use all of the products on this list. And what's better is I have found them all to be superb. I am certain that with a bit of testing different foregrips that you too will find your perfect fit.
And remember, once you have that grip that you should train with it regularly. This will help you maintain safe shooting practices and to get the most from your equipment.