Finding the right holster for your Walther P22 can take some time and research. You need to keep in mind that it is just as important to find the right holster as it is to find the right handgun.
Price shouldn't be your only consideration choosing a Walther P22 holster, you should also think about how easy it is to access your gun quickly and how safe the gun is from others who may try to take it from you.
How you plan to carry it is one of the biggest considerations of all since certain holsters are better for different situation, so make sure you consider all these questions as you are choosing the right holster for you and your needs.
Best Walther P22 Holster – Quick Pick
Our top pick is the Fobus Standard Holster Paddle:
The Fobus Standard Holster Paddle WP22 Walther P22 features space-age plastics and injection molding techniques that make you feel like it came straight out of the future. This is durable outside the waistband holster that can withstand the toughest elements, and it uses a rubberized paddle to attach to your clothes.
The Fobus Standard Holster is easy to maintain and is highly concealable when worn high and close to your body. This holster is specifically made for the Walther P22, so it fits snugly and has great pistol retention.
Get Great Guns and Ammo Deals!
---
What is the Walther P22?
The Walther P22 is a semi-automatic pistol that is manufactured by Walther Arms and introduced in 2002. It holds .22 LR rimfire ammunition and features a magazine disconnect that keeps the trigger from working unless you have the magazine inserted and locked into the handgun.
What Size is a Walther P22?
Similar to the Walther P99, the P22 falls into the small to medium size gun category. Since it is on the small side, the Walther P22 can use a wide selection of holsters including ankle holsters, over the waistband holsters, pocket holsters, inside the waistband holsters, and shoulder holsters.
Walther P22 Concealment
Popular with civilians that are interested in learning self-defense, the Walther P22 has become a common choice for those interested in wear a concealed weapon. This is especially true for those that live where the law requires gun owners to wear their weapon concealed at all times.
Walther P22 Use and Function
With a small like the Walther P22, it is easy to conceal using almost any type of holster. Small guns often use ankle holsters to carry them, but this type of holster can slow your draw speed since you need to bend down to retrieve your weapon. If you want a faster draw, look for pocket holsters, IWB holsters, or OWB holsters.
Choosing the Right Walther P22 Holster
The P22 is a pretty popular weapon to carry concealed due to its small size. Most often, the type of popular concealed carry holster that is chosen for this size handgun is an OWB or IWB.
Factors to Consider When Buying a Walther P22
After you have decided to carry a handgun, there are a few other considerations you need to make including:
How long will I be carrying my handgun during the day?

Will I be practicing open carry or concealed carry?

How quickly will I need access to my firearm?

How often will I be in situations where I will need to protect myself?
When you know the answers to these questions, you will have an easier time deciding how you would like to carry your handgun and how you intend on using it.
Type of Holsters for Your Walther P22
Pocket Holsters –
With the increase in popularity of compact handguns, pocket carry holsters became a viable option. Most commonly you use your pocket holsters in your front pants pocket or jacket pocket. It is a convenient way to carry your handgun, but remember that you should never carry your handgun without a proper holster which will secure your gun and protect the trigger for safety reasons.
Standard Belt Holster –
With an adjustable standard belt holster, you will have the best position for your weapon in the event you are in a fast draw situation. Since it is level with your hand, the standard belt holster places your weapon on your thigh for easy access. Standard belt holsters are a popular choice for those that choose open carry and for military and law enforcement officials.
Crossdraw Shoulder Holsters –
This is a holster that you should only consider if you are careful when you draw as you do not want to accidentally fire your handgun when it is pointed behind you as you pull it out. The crossdraw shoulder holster will require some practice time before you are successful at it and you will often find the magazine pouch on the harness' side.
Belt Worn Holsters –
If you want a secure and safe holster, the belt worn holster has a place for you to slide your belt through. You will have quick access to your pistol, and your weapon will be aimed downward until you pull it out of the holster. Even though you do have fast access to your handgun, you may find that it snags on the chair when you sit and, in some cases, you may have to take it off.
Paddle Holsters –
Like a belt worn holster, one of the benefits of a paddle holster is that you can take it off without having to take off part of your belt. If you wear a paddle holster, you will need to make sure your belt is tight enough so that you won't pull your holster and your fun out together when you draw. If you wear a good belt that is wide, that should help avoid that problem.
Inside the Pants Holsters –
Commonly used for concealed weapons, the inside the pants holster can be worn under an untucked shirt or with your jacket. You don't need any belt loop position for this type of holster so you can decide on where you prefer to wear it.
---
Best Walther P22 Holsters
We present 5 of our favorite holsters for a Walther P22. Including IWB P22 holsters, OWB and a holster for a Walther with laser.
With an almost futuristic design, the Fobus Standard Holster is constructed with space age high-density plastics and injection molding making it durable enough to withstand even the most severe elements.
This is a right handed, outside the waistband (OWB) holster that uses a rubberized paddle to attach to your clothes.
This is also a no maintenance holster that doesn't require sweating or breathing. With a unique passive retention system, you are guaranteed a pistol that will be retained in the holster securely and will only come out of the holster when you need it.
It has no sharp edges, so this soft and compliant paddle holster rests very comfortably on your hip. The Fobus Standard Holster is also highly concealable when you wear it high and close to your body.
Snug Fit Walther P22 Holster
The Walther P22 fits snugly into the Fobus Standard Holster since it is designed specifically for this pistol.
It also has great safety features including a completely covered trigger that prevents any accidental discharges, a secure paddle attachment, and strong integral snap slides that attach to your belt that keep attackers from unclipping your holster.
The Fobus also features great pistol retention, because once your handgun is in the holster, it cannot be removed with an angular pull, only you can remove it with a straight up draw. It also has a solid lock, so it will take a little practice before you can remove it safely, quickly, and smoothly.
Pros:
Grips well and works well as a hip holster

Good holster for the price

Stays snug to your body for good concealment
Cons:
Does not come with a safety strap

Some users found it didn't conceal well for them
Made from reinforced saddle leather, the Tagua Gunleather Holster is an inside the waistband (IWB) holster for right handed shooters. With an open muzzle design, the Tagua IWB Holster features a combat grip, great retention, and a high-quality clip that is easy to attach.
If you are looking for an easily concealable holster, this is one of the better concealable Walther P22 holsters on the market. You will feel comfortable wearing it with a t-shirt and shorts, it is that concealable, however, it may dig in a little bit when you sit down which is normal for most IWB designs.
Break it In
The Walther P22 fits this holster well, but it does need a period of time to break in. After it is broken in, it has a smooth and fast draw while still securely retaining your handgun when you aren't using it. This is an affordably priced IWB holster, especially since it is constructed out of leather.
Pros:
Well-made with great retention

For a leather holster, it is a great value

Durable and has a nice finish
Cons:
Not very comfortable when you sit

Really tight when trying to put it in the holster
One of the more compact Walther P22 holsters on the market, the Desantis Mini Scabbard Holster is constructed of leather and has an OWB design with a great grip and retention since it molds perfectly to your pistol.
Not only does this bare essentials holster fits well within your budget, but is comfortable to wear with its minimalistic design, although it does tend to be a little tight when it is new like any leather holster.
The Desantis Mini Scabbard Holster can accommodate up to 1 and a half inches belt slots, and it is one of the more concealable Walther P22 OWB holsters on the market.
You will need to break this holster in like most other leather holsters, but once you have finished you will have unmatched retention with a great adjustable tension device that allows you to reach just the right balance from retention to smooth draw.
Pros:
Good quality and finish

Great for conceal carry

Fits your handgun like a glove
Cons:
A little on the expensive side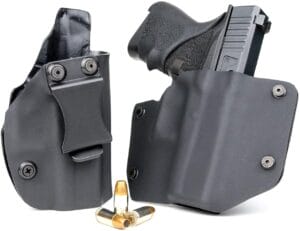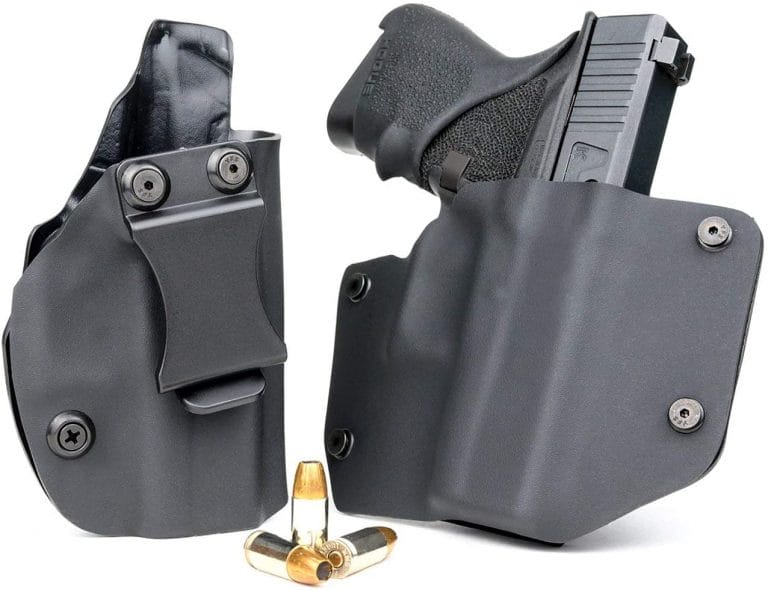 One look at this set of custom-molded Kydex holsters, you'll notice the slim design of the two holsters, one for IWB concealed carry and one for a comfy OWB carry. The custom-molded Kydex construction results in true concealment with no printing for this IWB holster, and a comfortable fit and sit for both the IWB and the OWB carry options.
This R&R holster set is great for tactical situations, with field-tested and weather-proof durability. The Kydex is tough and stiff enough to resist cave-ins, yet is well-designed enough to not cut into your sides in any position. It's also got an open-bottom clip design so you can remove and replace the holster over a belt without removing it.
There are some structural differences between the IWB and the OWB variety, they aren't identical twins. This means you can customize how you want to use each piece. Both have secure metal clip fasteners that don't fall, but only the IWB holster design has an adjustable cant of 1-15 degrees. Despite some tweaks, this set of holsters are perfect for inconspicuous carry, with durable and compact, reliable, construction.
Pros:
Tight fasteners and hardware

Great 2-4-1 value with two holsters

Comfortable fit on left or right

Slim fit, not bulky
Cons:
OWB holster has no adjustable cant and lacks a sweat guard

IWB clip reportedly less secure than OWB model

Might need to sand hard edges for most comfort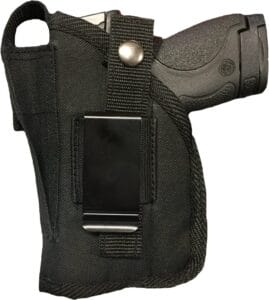 This holster features a very comfortable design, with its flexibility it allows for open or concealed carry. The soft nylon thumb break will not cause discomfort when being worn inside the pants for concealment.
The metal clip can be moved from side to side to meet your specific needs while also allowing for easy mounting to your pants or belt. Built out of quality materials this holster is sure to last!! Fits Walther P-22 3.5″ barrel with laser
---
Walther P22 Holster – Conclusion
Finding the right holster is very important since you want a holster that your firearm will fit securely as well as give you fast access to when you find yourself in a dangerous situation. It is always helpful to read reviews from other owners and do your research so that you can find a holster that will not only fit your handgun but also how you plan to use it.
Recommended Reading