The Glock 23 is one of the most common guns that officers carry. It is optimal for concealed carrying due to its minimum weight while remaining to have a high calibre.  It's durable and reliable, so you'd definitely want the right Glock 23 holster to live up to its standards too.
Glock 23 Holster Quick Pick
Personally, the BlackHawk Serpa Sportster Paddle Holster is my pick as the best Glock 23 holster. It is extremely durable and offers great retention and concealment.
Get Great Guns and Ammo Deals!
---
Different Types of Holsters and Their Traits
Paddle or Pancake Holsters
These are the two primary forms of holsters. Paddle holsters are shells attached to a backing material.
The shells can be made from Kydex or Boltaron and the construction and mounting to the paddle-shaped backing depends on the manufacturers.
Pancake holsters, on the other hand, are two pieces of material that are joined together, forming a pocket in the middle where you will put your gun in.
Leather is the common material for this type of holsters and can be shaped nondescriptly or tailor made for a specific gun.
Hip Holster
Holsters are named for where you wear them on your body and the hip holsters are the most common of all.
You can choose between wearing it inside or outside your waistband (IWB or OWB).
They have been the oldest type of holsters are they are easy to conceal and the easiest to reach (not when you're seated though).
Using a hip holster may mean that you should get a gun belt which is stronger than normal belt to withstand the weight of the holster.
Shoulder Holster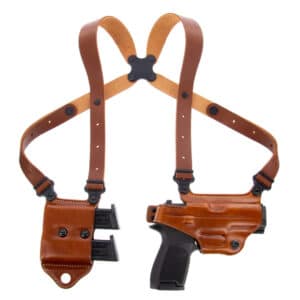 You can wear shoulder holsters horizontally or vertically depending on the type of gun you own.
These are pretty easy to access, but concealment is another problem as these are more visible than hip holsters.
You will have to wear a jacket or an overcoat to successfully conceal these holsters.
Re-holstering is also something that you should take into consideration when choosing the right holster for you. Shoulder holsters can give you a bit of a problem in that area, though.
Leg or Ankle Holsters
Leg holsters are attached to the thigh and are accessible through all sorts of positions.
Concealment would require a closed full length jacket, which can be quite a hassle.
Ankle holsters are some of the most concealable holsters out there, unless you're wearing shorts or a skirt.
The downside to using these is that you can't run properly and your weapon cannot be drawn quickly (unless you're kneeling on the leg opposite where the holster is strapped).
Small firearms are the best for ankle holsters so they're pretty great for backup weapons.
---
Best Glock 23 Holster Options
Here are picks for a holster for Glock 23 owners.  Paddle, Shoulder and Leg Options.

This is made for different models of Glocks, with the Glock 23 being one of them. It has a SERPA Auto-Lock retention system.
The release button is positioned so that your trigger finger will be in position once you draw your gun.
It is made of a strong polymer that is durable. It has an adjustable retention that has an audible lock when you re-holster your weapon.
| Pros | Cons |
| --- | --- |
| The angle and retention are both adjustable for this holster so you can customize it to whatever is more comfortable for you | This holster can only be attached using a paddle platform so if you were looking for a holster that can be attached with a clip, then this may not be the choice for you |
| SERPA Auto-lock system will ensure that your holster's retention works well when you draw and re-holster your Glock 23 | If your hip shakes while walking then there may be some rattling sound from your gun in this holster |
| The retention works well even when you're on the move like running | Re-holstering may take some practice before you can do it efficiently with this holster |
| Serves its purpose very well for concealed carrying | |
| | |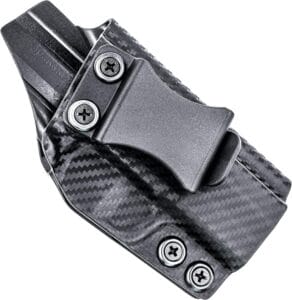 This is an IWB kydex holster made for Glock 19, 32, and 23. It has a minimalist design for better concealment.
The Concealment Express also prevents moisture from getting to your Glock 23 and remains durable despite being lightweight. It remains very concealable inside your waistband no matter how you dress.
| Pros | Cons |
| --- | --- |
| You can choose this holster whether you're left or right handed as they make them both ways | The belt clip is made of plastic. |
| It remains secure to your waistband even when you're moving around like walking, running, or even engaging in physical combat with your assailant | The edges of this holster are not rounded and can be a bit painful when in contact with your skin especially during movement |
| Your Glock 23 will stay in place because of the retention and will remain locked in this holster securely | The screws on the inside of the belt clip can scratch up your Glock 23 |
| The trigger is completely covered so there is no chance that your weapon will accidentally go off even when loaded | The belt clip is quite big so the holster will move around quite a bit on your belt |
| The cant is adjustable for your comfort | |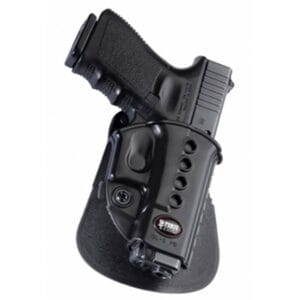 This Fobus holster is made for different Glock models, the Glock 23 included. It is lightweight and is attached by a low profile rubberized paddle. It has great retention and comfortable to use.
The Fobus also has a protective sight channel. It can withstand even the harshest elements and can be cleaned and washed with soap and water.
| Pros | Cons |
| --- | --- |
| It is very easy to attach and detach from your belt so you don't have to worry about any trouble in that area | The Fobus holster can be a bit tight for a Glock 23 even when the tension screw is loosened, which makes drawing and re-holstering quite a problem. The holster can sometimes come off your belt with the gun when you try to draw it |
| It's so secure that your Glock 23 will not fall out when you sit or move around | This is only made for right handed people, there is no mention whether it is also made for lefties |
| The muzzle end of this holster is open, so the length of your Glock 23 should be no problem at all | |
This holster is made from thick .08 kydex material which ensures its strength and durability.
Your trigger and the backside of your gun are fully covered in this holster to prevent any accidents and also to keep your sweat from getting on to your weapon.
The retention can be adjusted to make sure that you are comfortable with the draw and re-holstering.
| Pros | Cons |
| --- | --- |
| This holster can be used for appendix, hip, side, and back carrying | This is an inside the waistband (IWB) holster and has kydex edges that are quite sharp so it can be quite uncomfortable. |
| The cant is also adjustable from 0 to 15 degrees | The design of the belt clip can mean that the holster will come with the gun when you draw it, it can be solved by using a belt tail retainer strap to secure it to your belt |
| This is comfortable to wear and is really affordable for a holster of such high quality | It can scratch up their your Glock 23 |
| You can conceal your Glock 23 well with this holster and you will have a holster that is especially tailor made for your weapon | |
| This holster is made for both right and left handed people | |
The Miami Classic incorporates the swivel back plate and spider harness. This shoulder holster has gained notoriety for being one of the best in terms of long lasting fit and comfort. It's made of 100% full-grain leather and comes with an ammo carrier and a holster.
Galco Miami Classic Shoulder Holster for a Glock 23 – Features
Has a vertical magazine carrier that can hold two mags

Harness has points that pivot independently

Galco's trademarked Flexalon plate

Available in left or right hand draw
| Pros | Cons |
| --- | --- |
| Narrow harness straps are easy to conceal | Small straps and slim design make it difficult to grab a hold of and put on in a hurry. |
| Compatible with a variety of tie ons, cuff cases, flashlight attachments and other accessories | Some owners of wider guns have complained about the holster being a tight fit, but no such complaints have been made about it fitting the 1911 |
| Steerhide leather materials are highly durable | |
| Swiveling back pate keeps the straps from tugging on your attire | |
| Modular design is easy to amend and upgrade | |
| A popular shoulder holster among law enforcement professionals and military personnel | |
| One size can be adjusted to fit anyone | |
| Based on the original shoulder holster system introduced in the 70's | |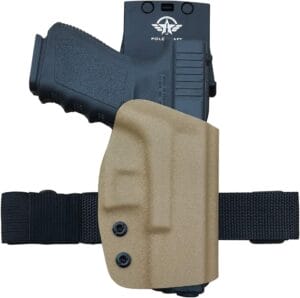 The Polecraft Glock 23 Drop Leg Holster is hand-crafted from a sturdy 0.08″ KYDEX alloy plastic plate. This Glock 23 Holster OWB is very thin and light, less than 100g. It is waterproof, sweat-resistant, and has high strength, high toughness, impact resistance, wear resistance and Anti-aging properties.
It has a Posi-Click Audible Retention Lock system, and the pistol has a crisp "click" sound when it is inserted, so you know that your gun is firmly seated.
---
Glock 23 Holster – Conclusion
My final verdict? Go for the BlackHawk Serpa Sportster Paddle Holster. All in all, it has the most promising qualities among all of the holsters that we looked at in this article.
It's well known for its durability, offers great retention, concealment and does the job well for a reasonable price.
Recommended Reading 
Glock 23 Concealed Carry IWB Holster