The family and estate of Isaac Hayes condemned former President Donald Trump on Twitter for again using one of the late singer's tracks without permission as he announced his 2024 candidacy on Tuesday night.
"Once again, The estate and family of Isaac Hayes DID NOT approve the use of 'Hold on I'm coming' by Sam and Dave by Donald Trump at his 2024 Presidential announcement tonight," Hayes' Twitter account wrote on Tuesday night. "We are exploring multiple legal options to stop this unauthorized use."
The musician's family continued to rail against Trump in a follow-up tweet.
"Stopping a politician from using your music is not always an easy task, but we are dedicated to making sure that Donald Trump does not continue to use 'Hold on I'm Coming' by written by Isaac Hayes and David Porter in further rallies and public appearances," they wrote.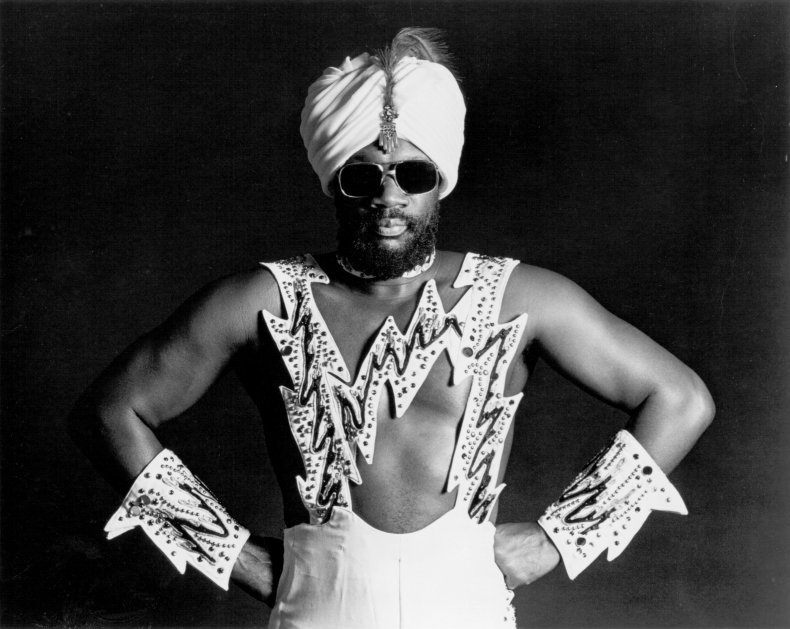 Isaac Lee Hayes Jr. was born in Tennessee in 1942 and died in 2008 at 65. An accomplished songwriter, actor and composer, he was also one of Stax Records' creative forces, a label famous for its distinct flavor of soul and R&B.
He and his musical partner, David Porter were honored in 2005 with an induction into the Songwriters Hall of Fame. Three years earlier, Alicia Keys inducted Hayes into the Rock & Roll Hall of Fame.
Hayes' estate previously slammed Trump for using "Hold On, I'm Coming" during a National Rifle Association convention, which took place days after the mass shooting of an elementary school in Uvalde, Texas. The family tweeted in May that they "DID NOT approve and would NEVER approve" the song being played by Trump at the convention.
Co-writer Porter also condemned the move on Twitter.
"Someone shared with me Donald Trump used the song 'Hold On I'm Coming' for a speaking appearance of his," he wrote at the time. "Hell to the No! I did Not and would NOT approve of them using the song for any of his purposes! I also know Isaac's estate wouldn't approve as well! #Memphis #Music #Grammy."
Hayes' son, Isaac Hayes III, told Newsweek that his family "totally disapproves" of Trump's use of the song.
"We actually own the publishing to this record, and so they did not reach out for us to license the song," he said. "Given that Trump is so divisive, and the rhetoric that he uses in his campaign rallies, we don't want our father's music associated with him or his campaign at all."
When asked how he thought his father would have responded to the news, he said: "He would have definitely in no way, shape or form supported that."
Isaac Hayes III further pushed back against the former president's most recent use of the 1966 single in a Wednesday tweet. Attached to the post was a short video snippet from Trump's presidential announcement. In it, the Republican politician calls for the creation of a law that would bring the death penalty for drug dealers.
"Excuse me what?" he tweeted. "Maaaan…. This was so authoritarian I had to laugh. Kill people who sell drugs? Who wants to tell 'em."
Other artists who have objected to Trump's use of their songs during rallies include Tom Petty, Rihanna, The Beatles, Bruce Springsteen and Adele.
Update 11/16/22, 2:24 p.m. ET: This article was updated with comment from Isaac Hayes III.
Update 11/16/22, 1:40 p.m. ET: This article was updated with additional information and background.
Do you have a tip on an entertainment story that Newsweek should be covering? Let us know via entertainment@newsweek.com.