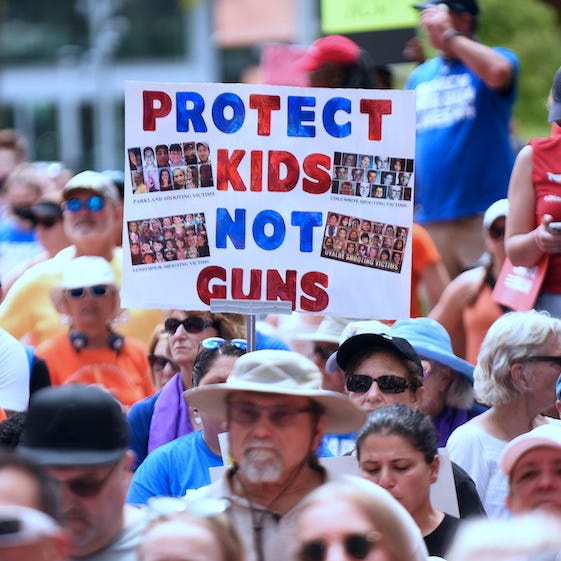 Anadolu AgencyGetty Images
Following a mass school shooting in Texas last month – which claimed the lives of 19 children and two teachers – the US Senate has passed the 'most significant' gun control bill in nearly 30 years.
In a rare move, 15 Republicans joined Democrats in the Senate to approve the bill, which proposes to; impose tougher checks on buyers under 21 years of age; inject $15bn (£12.2bn) in federal funding for mental health programs and school security upgrades; funding to encourage states to remove guns from "red flag" owners who are considered a threat; and closing the so-called "boyfriend loophole" which will prohibit gun sales to those convicted of abusing intimate partners.
Not only is this the first time in decades that such reforms have been put forward, but it is significant in that the bill has a high level of support from both Democrats and Republicans (who have historically blocked efforts to strengthen gun laws in the US).
Before being signed into law by President Joe Biden, the bill needs the endorsement of the lower house (also known as the House of Representatives which shares lawmaking with the upper house, the Senate).
Speaking about the bill, Biden said: "Tonight, after 28 years of inaction, bipartisan members of Congress came together to heed the call of families across the country and passed legislation to address the scourge of gun violence in our communities."
Although Biden has pushed for tougher gun reforms during his time in government – such as a ban on assault weapons, like the one used in the Texas shooting, and an increase in the age at which they can be purchased – he has welcomed the bill currently put forward.
"We know there's A LOT more work to be done to end this epidemic. But a lot of hard work got us to tonight," tweeted gun safety group March For Our Lives, founded by survivors of the 2018 Parkland school shooting in Florida. "We refuse to quit or be silenced. Ending gun violence is the fight of our lifetime."
This content is imported from Twitter. You may be able to find the same content in another format, or you may be able to find more information, at their web site.
Meanwhile, America's National Rifle Association (NRA) opposed the bill, and said that it would not stop violence.
News of the gun reform bill comes just days after the mayor of Uvalde announced plans to demolish Robb Elementary, which was the site of last month's mass shooting. "You can never ask a child to go back, or a teacher to go back in that school ever," Don McLaughlin said.
This content is created and maintained by a third party, and imported onto this page to help users provide their email addresses. You may be able to find more information about this and similar content at piano.io