We all are living in uncertain times and nobody knows what the future holds for us. No one knows exactly how and when this pandemic will end. It has affected every business including the food industry. Fear of food shortage is a major concern of people these days. Everybody is looking for survival options to store as much food as they can in order to survive the curfew situation. In this article we will look specifically at ReadyWise – Emergency Food Kits.
ReadyWise Emergency Food Kits are Here to the Rescue!
Wise Company has made a name for themselves as the makers of some of the best emergency preparedness meals. The company offers a wide variety of grocery products for you to stock up on in emergency situations. For healthy and nutritious pre-packaged meals, ReadyWise is a great choice for survivalists and even for people interested in camping or hiking adventure.
Available Meals
Talking about the food options, it has every food type for different taste buds. You name it, ReadyWise got it. Dried vegetables, Asian-style noodles, meat, rice, and desserts are some of the options.
It also serves lactose and gluten-free items along with vegan meals without meat and eggs, making it convenient for everyone to enjoy their favorite flavors.
Vegan Emergency Food Supply
Coconut Blueberry Multi-Grain Cereal (breakfast), Four Bean and Veggie Soup, Sweet Potato Curry, Mango Sticky Rice, Wild Rice Risotto, and Spicy Asian-Style Noodles.
12, 6, 3, 1 Month Emergency Food Supply
It Includes 18 total buckets and gives supplies for up to 1 year. It also has a 1,3 and 6 month supply kit available.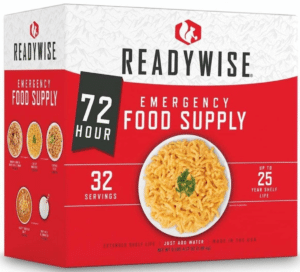 Emergency Food Shelf Life and Packaging
ReadyWise has up to 25 years of shelf life which is quite an interesting thing as you do not have to worry about the expiry date at all. The food is in the dried form with zero water content and you just have to rehydrate the food after opening the seal of the pouch.
ReadyWise put an extra effort into the overall packaging as the kits and pouches are nicely packed and the back of each item consists of a nice readable list of the nutritional facts and ingredients used along with the entertainment section on the top that contains jokes, riddles, and camping hacks.
ReadyWise Health Benefits
Each meal contains somewhere between 180 and 300 calories and has a good balance of protein and carbs. There is also very little added sodium in the meals, something that is a big bonus with Wise Company as it is extremely transparent with all nutritional information that goes into the making of the food.
Final Verdict
Although it may seem pricey at first the quality and meal options you get are worth the price.  Whether you're stocking up a pantry or preparing for an adventure, it's a must-try.
ReadyWise also gives an offer of free samples to its new customers. You can try one of your favorite food items before making an actual purchase.