When you think of self-defense weapons and survival tools, you probably envision stun guns, knives, and concealed carry pistols, right? But what about a tactical pen?
Tactical pens are one of the most overlooked of these tools. These are metal clones are writing pens, but have features that make them useful as a weapon or tactical tool. Some of these features include things like glass breaking tips, flashlights, and pointed ends for jabbing pressure points in self-defense situations.
With so many choices on the market, it can be difficult to decide what tactical pen is going to provide you with the protection and practicality in any unforeseen circumstance.
For this reason, we have rounded up some of our top choices for tactical pens available, and give you a few pointers on what you should be looking for.
Get Great Guns and Ammo Deals!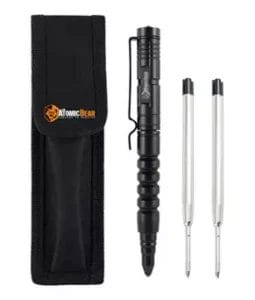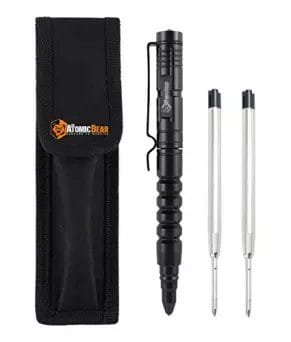 Perfectly balanced and constructed from a lightweight T6063 aircraft aluminum alloy, the SWAT Pen from The Atomic Bear is our choice for the best value tactical pen available.
The body of this pen is 2.1mm thick, making it sturdy and comfortable to hold even in a reverse grip position. On the end of the pen you will find a tungsten carbide tip that can be used as a glass breaker to help make a way for you to escape should you ever find yourself trapped in your car. This is the same material used in making armor-piercing bullets.
On the other end of the pen, you will find a removable pointed and a rather sharp end cap. The best part is that you can remove this cap to reveal a ballpoint that works just like any other writing pen. The ink cartridges are replaceable, and it comes with two by default.
| Pros | Cons |
| --- | --- |
| Lightweight | Default ink cartridges are not very high quality |
| Inexpensive | Caps are extremely stiff and may be hard to remove quickly |
| Functions as a writing pen | |
| Removable pocket clip | |
---
Gerber is a company that gained popularity mainly with their knives, but they also produce a wide variety of self-defense tools. One of these such tools is their Impromptu Tactical Pen.
Created from solid steel, the Impromptu pen is one of the higher end tactical pens out there right now. Despite its full body steel frame, this pen is lightweight and fits comfortably in the palm. It weighs in at just 2.4 ounces. The body of the pen is also coated in Cerakote to help protect it from corrosion.
Like any good tactical pen, the Impromptu also functions as a writing pen. The ink cartridge for this pen is what is known as a "Rite in Rain" cartridge and is designed to work well even in harsh weather conditions.
On the writing side of this pen, you will also find a tempered steel glass breaker built into the tip. Most tactical pens require you to remove or replace a cap on the pen depending on what you need the writing end for.
This isn't the case with the Impromptu. Just click the button on the top of the pen to reveal the ballpoint when you need to write something. Click it again when you are ready to break a glass window.
The overall length of 5.59 inches is the perfect size for a concealable tactical pen. And if you still don't have enough room for it in your pocket, just clip it to the outside of your pocket instead of the stainless steel pocket clip and you are good to go.
| Pros | Cons |
| --- | --- |
| Trusted Brand | Poor style design |
| Functions as a writing pen | No cap for the ballpoint (could be a pro if you prefer this style) |
| Tempered steel glass breaker | |
| Very compact | |
---
If you are looking for a tactical pen that not only functions nice but also looks good doing it, you need the KEPEAK Military Tactical Pen.
Handcrafted with aircraft grade aluminum and steel, this is a very well engineered piece of survival gear.
One end of the KEPEAK Military Tactical Pen works as a glass breaking tool or jabbing weapon to use against the pressure points of your assailant. And thanks to its ergonomic design, you can multiply your force by holding your thumb tight against the beveled side.
Of course, it also functions as a normal writing pen as well. It comes with one pen cartridge and they can be replaced easily when they finally run out. The best part of this pen in terms of its ability to write? It not only can write upside down but even when submerged in water.
| Pros | Cons |
| --- | --- |
| Force multiplier flat cap | Plain design |
| Functions as a writing pen | Feels very heavy |
| Body is titanium coated | Unscrewing the pen cap can become cumbersome |
| Very ergonomic | |
---
Need to find a tactical pen that is easy on the wallet? We've got one even better for you. How about a pen that is inexpensive as well innovative?
If this sounds like something you need in your pocket or bug out bag, you should check out the Sahara Sailor Tactical Pen. It is constructed out of lightweight yet rugged aircraft aluminum and weighs in at only 44 grams.
It has a glass breaking and self-defense tip made from tungsten carbide. When you are ready to start using it as a writing pin, all you have to do is unscrew the tungsten tip to reveal a ballpoint pen tip.
Ready for the truly innovative design element of this pen? Not only can you change the tip out to hold a small bottle opener or bladed tip, but it also comes with a bright LED flashlight on the back end of the pen.
This is one of the longer pens on our list, measuring up to around 6.3 inches in length. While this may be appealing to some, it may also be a little harder to conceal in your pocket. Fortunately, it does have a steel belt clip so you can carry it on the outside of your pocket instead.
| Pros | Cons |
| --- | --- |
| Lightweight | Very long |
| Functions as a writing pen | Batteries for flashlight get drained rather quickly |
| LED flashlight | |
---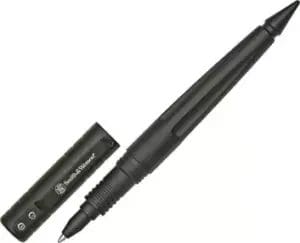 The last tactical pen on our list comes from none other than Smith & Wesson. It combines style with practicality to deliver a tool that is not only effective but also enjoyable to use.
The Smith & Wesson SWPENBK is a sleek looking, lightweight tactical pen manufactured from CNC machined T6061 aircraft aluminum. It is multi-functional and like any good tactical pen, it can be used as a writing utensil with the simple removable of an end cap. That same end cap can be used as a hammer or glass breaking tool, while the opposite end with a hardened aluminum tip can be used as a self-defense tool.
The body of the pen is smooth and has ribbon style grooves to help keep it steady as you write with it… or to give you a little extra hold on it in emergency situations. The ballpoint ink cartridge can be replaced with a Schmidt P900M Parker style cartridge.
The SWPENBK does come with a pocket clip to keep it stabilized whether inside or outside of your pocket. It measures 5.7 inches in length so it is actually perfect to be carried in your pocket anyway.
| Pros | Cons |
| --- | --- |
| Sleek design | Pocket clip screws get loose quickly |
| Lightweight | Feels heavier than it actually is |
| Multi-functional | Cap is tough to remove |
| Works as a writing pen | |
---
Why Buy A Tactical Pen
There are times when a gun or a knife may not be suitable or even suffice. For those times, there is the tactical pen.
The first major advantage that tactical pens have over other forms of self-protection is that they are super easy to conceal. They are usually no longer than about 6 inches and they look exactly like a standard writing pen. When you are carrying one of these tactical pens, no one will assume it is anything other. And some of them even accept an ink cartridge so they can also function as writing pen.
The second advantage that tactical pens have is they are multi-use. Most tactical pens come with a blunt cap, usually made of tungsten carbide or steel, that can be used for breaking out a window in the event you become trapped in a vehicle. The opposite end usually features a pointed end that can be used for self-defense purposes.
Lastly, there may be times when you need a self-defense weapon but can't carry a knife or stun-gun with you, such as inside an airport, school, or another place that prohibits you from carrying your weapon. When that happens, you can rest easy knowing that you till have your tactical pen by your side.
Lightweight, inconspicuous, and practical… The tactical pen is invaluable as a backup self-defense or survival tool.
---
What To Look For When Buying A Tactical Pen
When you are picking out a tactical pen there are a few things to look for to make sure you are getting the right quality for your money.
For the most part, it is going to come down to personal preference. Tactical pens aren't intricately designed tools and they don't require any expensive or materials that are hard to come by. For this reason, even some of the lower end tactical pens are really good.
To help you navigate your choices a little bit better, we've put together a list of some of the features we believe make the biggest difference. Hopefully, this will help you narrow down your choices a bit more.
Weight
As we've discussed before, one major advantage tactical pens have is that they are usually really lightweight. This makes it easy to carry around all day in your pocket and even easier to whip it out quickly when you need it.
On the flipside, you may also want it to have enough weight to help keep it stabilized in your hands. This is useful when you are using the blunt end of your pen to break a window.
Thumb Position
In order to multiply your force when using your tactical pen, the positioning of your thumb is fairly crucial. When your thumb is positioned correctly you are able to better stabilize and guide your pen during use.
Most tactical pens will have one of two places for your thumb. Some pens have dedicated force multiplying plates that usually double as a pocket clip. Others have taken it a step further by providing you with thumb indentations or grooved grips.
Now, things get a little tricky here. When you use a tactical pen for self-defense, you will probably hold it in a reverse grip, similar to holding a knife with the blade positioned to the outside of your hand. This is the grip most commonly used when you are stabbing downward.
Even when held in this position, you need to make sure that your force multiplying plate or grooved grips won't get in the way or otherwise detract from the hold you have on your pen.
Material
The material your tactical pen is constructed from is one of the most important factors to look at.
Most tactical pens will either be made from an aircraft quality aluminum alloy or hardened steel. The tips may be made of different materials (usually harder metals) such as tungsten carbide.
We recommend staying away from any pen that poses as a tactical pen but is made from anything other than a hard metal. We cannot stress this enough, stay away from hard plastics or other materials that could easily crack or break under pressure. You will be using this thing to protect you or help you get out of a bad situation, so the last thing you want to skimp on is the materials.
---
Best Tactical Pen – Final Thoughts
In this review, we took a look at our choices for the 5 best tactical pens on the market for SHTF  and survival purposes. All of them have their own pros and cons, but we believe they all perform relatively on the same level with some minor differences.
We hope that you can make use of this review and our tips to help you pick the right tactical pen for all your self-defense and emergency needs.
If we have left a tactical pen off this list that you believe should have been featured, please feel free to leave us a comment and let us know about it!
Recommended Reading
Essential Items For Survival Kits