Quality gear can make a huge difference when it comes to hunting. And that's definitely the case when it comes to geese, who do their best to elude and escape even the most diligent and skilled of hunters. Successful goose hunting means using quality gear, and using it well. We're here to look at one key part of the puzzle: goose decoys.
So, what qualities should a good goose decoy have? Here are the three main ones:
Durability – Hunting isn't always a fair weather sport, and by the end of the seasons both hunters and their equipment will have endured their fair share of tough conditions. Quality goose decoys will withstand the elements – and keep working well – all winter.
Realism – With this one, we're referring to how realistic a goose decoy appears. Geese are wily creatures, and decoys need to be able to fool them. This means serving as a clever disguise that doesn't stick out. Also, it's not enough to look realistic – it also needs to be durable enough to maintain its disguise despite wear and tear.
Practicality – Hunting doesn't take place in a design studio. It happens out there in the marshes, rivers, and fields. Goose decoys should reflect this reality, and be usable, portable, and practical for a variety of terrains, vehicles, and situations.
With all that in mind: what are the best goose decoys out there today? After searching around and considering all the options, here are our top choices.
Get Great Guns and Ammo Deals!
---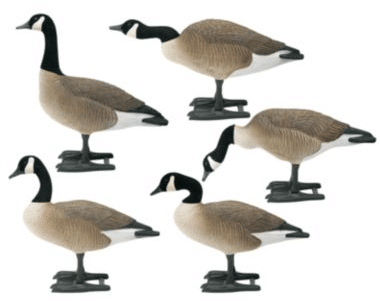 The Big Foot decoys are incredibly realistic – photos of them might fool you into thinking you're looking at a picture of real geese! Big Foot is a great company bringing many years of experience to the table, and their decoys reflect this.
Their full body decoys are molded to include realistic texture and color that doesn't wear off with time, as it's not based in paint. So, Big Foot meets the durability test. Beyond that, the feeding posture is a clever trick designed to fool geese into thinking there's food to be found, an excellent way of luring them down.
The one drawback of Big Foot's feeding geese decoys is their lack of sturdiness against tough winds. Despite that, though, these feeding geese are fantastic decoys proven by experience.
---
Hard Core's decoy series come with a slightly larger price tag, but reflect it in quality and a great set of features that make them practical and effective. For one, the series includes decoys representing a variety of postures and positions, essential for fooling geese (especially wise, end-of-season flocks) unconvinced by groups of identical decoys.
They come with Trumotion bases, excellent for creating realistic bobbing motions when used in water, and have removable heads to provide portability. Plus, armored paint keeps the decoys free from chips and cracks.
Though they're a bit more expensive, the Hard Core Rugged Series combines all the essential elements of quality decoys, and makes for an excellent foundation for a set.
---
Avian-X reigns among goose decoy manufacturers for the sturdiness and realistic appearance of their decoys. Looking at them shows incredibly detailed painting and carving – including a realistic black for the heads that doesn't shimmer, glare, or betray itself in any light or from any angle.
In addition, Avian-X's uses a tough, adhesive paint that doesn't wear, making their decoys practical for use season after season. Another great feature of the Fusion Honkers is the sturdy construction and base.
The paint is tough, as are the bodies as a whole – and so are the heads, which are mounted in the factory. The Fusion Honkers can handle rough rides in the bag of a truck without suffering dents, chipped paint, or other damage that can decrease their utility.
Plus: they're mounted on a base of solid steel, providing them resistance to winds other decoys lack. Seeing as they also offer models in a variety of postures, Avian-X offers a complete package with all the essential qualities needed for great, effective decoys.
---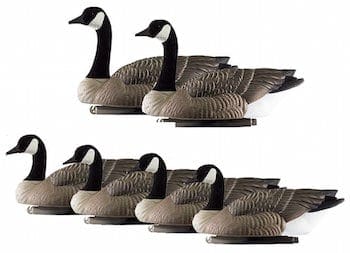 DOA – Dead on Arrival – is the tongue and cheek name of this excellent series of decoys. This company has made a name for itself by placing its focus on carving and producing the most realistic decoys possible. It shows. Put next to a real goose, you can't tell the difference between your DOA and his real-life counterpart.
Coming with excellent carving, non-reflective paint, and a hex-shaped base that allows them to stay upright in tough winds and on a variety of uneven terrains, DOA has succeeded in producing one of the most excellent decoys on the market.
The price reflects this – the DOAs are slightly more expensive than some of their competitors, but given their incredible quality, we think the price is well worth it.
---
Decoys can lose their utility if you use without one key accessory: decoy gloves. There are many options out there, but Glacier Gloves produces a fine pair of decoy gloves perfect for keeping your hands warm – and covert – while moving, replacing, and handling your decoys.
This is especially key on cold mornings in winter, when cold hands can mean losing the dexterity required to take a great shot. The Glacier Gloves are waterproof neoprene, come up to the elbow, and are lined with fleece that retains warmth beautifully.
And as an added bonus, they come in a variety of sizes, an essential for maintaining a smooth, camouflaged appearance out there on water. Our favorite part? They come at a great price considerably below many of the other decoy gloves out there. The Glacier Gloves are an excellent way to round off a decoy set, and make sure it gets the job done.
Recommended Reading