The Aimpoint Pro (Patrol Rifle Optic) is one of the most popular red dot optics on the market, so it's safe to say that our review is long overdue.
The Aimpoint Pro is popular for a reason: it's durable, it works, and it is actively being used by the military, law enforcement units, and the armed citizenry alike.
In this article, we will cover a wide variety of information including the advantage to using a red dot optic in the first place, a brief history of the Aimpoint brand and development of the Pro optic, what you get out of the box, the build quality and features of the Aimpoint Pro, features of the mount that comes with the Pro, and then some specs on the product.
Get Great Guns and Ammo Deals!
---
The Advantage To Using A Red Dot Sight on an AR 15
A red dot sight will be an instant upgrade for virtually any person who owns an AR-15 or similar semi-automatic rifle.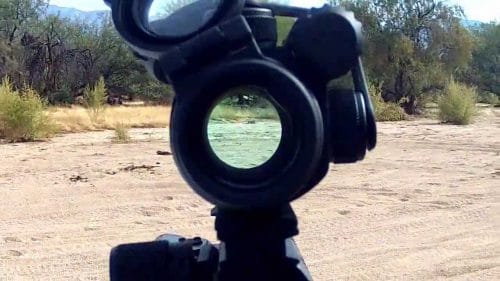 Even though red dot sights may not allow you to magnify to view targets at farther distances, they will allow you to zero in on targets faster. In other words, a red dot sight has the ability to possibly turn you into a more effective shooter.
Here is a list of the primary advantages that come with using a red dot sight:
You can keep both eyes open when aiming and firing your weapon

You can move your eyes and head around and the dot will move with you, enabling you to always be on target

You can use your red dot sight concurrently with irons (some AR-sights can be installed at a 45-degree angle on the side while your red dot will be mounted on the top)
---
A Brief History of Aimpoint Pro
Aimpoint is based in Sweden and is notable for producing the original red dot sight all the way back in 1975. Before they got into producing red dot sights, they made their business in making reflex sights for hunters.
Since then, their products have been in wide use with militaries, special operations forces, and law enforcement units from all over the world. One of the first special operations units in particular to adopt Aimpoint products was the Delta Force in the 1980s.
The reputation that Aimport developed in the military lead to them gaining popularity on the civilian market as well. Today, they offer a wide variety of different products and optics, of which the Pro (Patrol Rifle Optic) is among their most popular.
As was noted above, Aimpoint primarily made reflex sights designed for hunters before they got into producing red dot sights.
Their reflex sights in particular were highly valued among hunters due to their unlimited eye relief. Once Aimpoint began producing red dot scopes, it didn't take long for them to transfer the unlimited eye relief feature to their red dots.
The Pro represents the pinnacle of the Aimpoint red dot optic, being suitable for competition shooters, tactical shooters, military units, special forces units, law enforcement, and civilians alike.
---
What You Get Out Of The Box With The Aimpoint Pro
When you first open up the box of the Aimpoint Pro, in addition to the scope itself, you will also get a manual, a sticker (which goes inside the cap of the front lens, so you are reminded to replace the battery five years later), a set of screws, and a mount (specifically QRP-2).
And yes, that's correct in that the battery only needs to be replaced once every five years. Pretty cool, right?
Build Quality
The Aimpoint Pro is a very light optic (just under twelve ounces in total), and as a result, it may not exactly feel durable.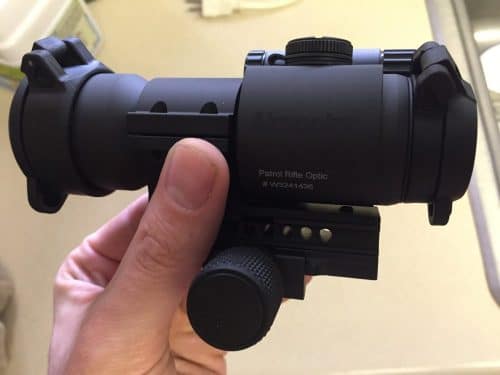 But in reality, Aimpoint constructed the Pro using fiberglass material, which is a very strong and yet lightweight material.
Aimpoint also markets the Pro as being waterproof up to one hundred and fifty feet, and temperature resistant from negative fifty degrees Fahrenheit up to a hundred and sixty degrees Fahrenheit.
So assuming that you're not going to take your Aimpoint Pro scuba diving to extraordinarily deep depths or use it in those kinds of extreme temperatures, it's safe to say that it should function properly in any environment you put it through.
The glass of the Pro is also very clear so the reticle is as crisply visible as possible. The Pro is drop proof, meaning the glass will not crack or break when you drop it over a hardened surface such as concrete.
All in all, as far as build quality is concerned, the Aimpoint Pro deserves a solid A.
But what about the individual features of the Pro? We'll talk about that next.

Features Of The Aimpoint Pro
The Aimpoint Pro is primarily designed to be used on the AR-style of rifle. However, it can also be mounted onto the SIG Sauer 516 rifle, as well as most shotgun models (such as the Mossberg 500 or Remington 870) so long as you remove the spacer that is located under the mount.
The Pro comes equipped with a 1x magnification, meaning it can be effectively used while both eyes are open. Not only is this important to ensure that you can acquire your target quickly, it's also important to have complete peripheral vision so you can be aware of your surrounding environment as well.
Another neat feature of the Aimpoint Pro is the threaded front lens, which will allow you to attach an anti-reflection device, as well as a rear lens cap that is fully transparent and a two minute-of-angle red dot.
As was noted above as well, the battery life of the Aimpoint Pro lasts up to five years before it needs to be replaced. The battery itself is a 3V lithium-ion battery. A power knob on the side allows you to alternate between six different levels of battery life as well.
The Aimpoint Pro ships with a QRP-2 mount that is designed to withstand the exact same kinds of conditions as the optic itself. This is supported by the fact that the optic and the mount are both built out of the same fiberglass materials.
While you might be displeased at the apparent bulkiness of the mount, the truth is it doesn't make holding your rifle any more awkward. The black knob that sticks outward from the mount in particular looks rather awkward but also makes it easier to grab onto.
---
Specs of the Aimpoint Pro
Manufacturer: Aimpoint

Finish: Black (matte)

Eye Relief: unlimited

Magnification: 1x

Weight: 11.6 ounces (including mount)

Length: 5.1 ounces

Lens: multi-coated

Price: $450

Reticle: Red Dot (2 MOA)
---
Aimpoint Pro Review – Conclusion
In conclusion, the Aimpoint Pro is one of the best red dot scopes on the market. It is notable for its durable construction, light weight, and extended battery life. The fact that it ships with a mount is also a major plus since many scopes and optics these days do not.
While price may be up there in the $450 range, you're definitely getting what you pay for. After all, Aimpoint produced the very first red dot optic, and through the various other red dots they have made since then they have definitely learned even more on how to improve their craft.
The Aimpoint Pro is a military-grade red dot optic that will not disappoint you.
Recommended Reading
Essential Guide To Zeiss Rifle Scopes