No other comms system has resiliency like amateur radio. Here's how to find the best ham radio for any task.
Extreme events upend people's lives in numerous ways, but one of the most devastating is the sudden, unexpected loss of cellphone communications. From the wildfires that ravaged Maui, Canada and the Western U.S. to catastrophic flooding, the chaotic climate can easily crush fragile communications networks. It leaves people unable to contact friends, family and emergency services.
One group of people, however, stays on the air "when all else fails": the global network of amateur radio operators. The reason? Each operator is an independent radio station, meaning they have localized redundancy instead of a centralized cellular network. The latter can easily crash because they're all tied together.
If you're considering getting your amateur radio license, here's a quick list of the top 10 best ham radio choices to consider.
The 10 Best Ham Radios:
Yaesu VX-6R: Tri-Band Beast
While many of my ham radios have come and gone, there's one that I will keep until it stops working or the world abruptly ends—the Yaesu VX-6R HT or "handie talkie."
This little handheld from Yaesu sports an outstanding feature set for the emergency communicator or beginning ragchewer.
It's as rugged as a Jeep (JIS7 submersible), and the 1400 mAh Lithium-Ion battery won't putter out after brief transmissions. You can transmit in three amateur radio bands in the VHF/UHF spectrum—144/222/430 MHz in FM, and it can receive wideband AM and aircraft band to monitor what's happening in the air or on the other side of the planet via shortwave.
Its diminutive 5 watts of power might not "cook the groundworms," but is sufficient to hit repeater stations that "hear" faint signals and retransmit them on high power over a much larger area—up to 50 miles with the stock antenna. Of course, that's assuming you have a clear line of sight.
Yaesu radios are Japanese-made and aren't cheap. The VX-6R goes for about $260, but based on reports I've received, the audio quality is excellent in both transmit and receive.
Yaesu has a wide range of accessories for the little radio, but I especially recommend the Handie Talkie Headset (HTH) from Heil Ham Radio (heilhamradio.com) that plugs into the top of the VX-6R and includes a push-to-talk (PTT) button on the cord. It's an ideal bugout bag or hiking/survival backpack setup. yaesu.com.
ICOM IC-706MkIIG
Long discontinued, ICOM's 706MkIIG is a small-form-factor, all-mode, all-band transceiver, and is something that operators lovingly call a "DC to Daylight" rig as it's jam-packed with features. The ham radio, which you can still find on the used market for $600-$700, covers the single sideband (SSB), AM and FM modes.
This mobile powerhouse cranks 100w (SSB) and 50w/35w FM (2m/70cm) and includes a built-in preamp to pluck weak signals from the ionosphere. Digital Noise Reduction (DNR) filtering was way ahead of its time and incredibly effective at clearing up the signals on a noisy band.
FM repeater operation is a cinch with intuitive programming. One time, during a band opening on 6m (50.125 MHz), I worked a Virginia station with my 706 mounted in my vehicle from my driveway in Wisconsin. icomamerica.com.
Baofeng UV-5R
Considered the reigning king of low-cost radios, many new ham radio operators with a Technician license start with the affordable Baofeng UV-5R. While I've never operated one myself, I have spoken to many operators on the air who were using one, and the audio is always excellent.
What makes this Chinese-made dual-band walkie-talkie so appealing is its price tag. At about $20 on Amazon, you get most of the features found on Japanese-made radios like Yaesu, Icom and Kenwood for a fraction of the cost.
Users recommend buying a separate programming cable to connect the UV-5R to a computer for simple and fast repeater station inputs. Note: The third generation of this radio is designated the BF-F8HP, which transmits at a maximum of 8 watts. baofengtech.com.
ICOM IC-7300
While you wouldn't know it based on its popularity on the HF (high-frequency shortwave) bands, Icom considers its IC-7300 an entry-level HF transceiver.
And Icom knocked it out of the park with this puppy. It uses a direct sampling superheterodyne receiver, giving you a real-time spectrum scope that displays signal activity on the band.
The 7300's ultra-sensitive circuitry also provides tight bandpass filtering to tease out weak signals adjacent to strong interference. You can find the IC-7300 on sale for about $1,100, a real value for a transceiver with such a rich feature set. icomamerica.com.
Yaesu FTDX101D/FTDX101MP
That Yaesu's 100w FTDX101D (the FTDX101MP is 200w) HF transceiver is the best ham radio in its class isn't my opinion. Sherwood Engineering Incorporated named it the No. 1 Highest Performing Receiver following its notoriously rigorous tests, which are among the most trusted in the communications industry.
With a price tag of around $4,000, you expect the FTDX101D to be a hot-performing transceiver for contesting (radio sport) or carrying on with friends around the globe, and it is that. Yaesu saw the writing on the wall with Icom's successful IC-7300 SDR radio—the 7300 was hard to ignore with nearly everyone you heard on the HF bands running one—so chose to drop its usual triple down-conversion superheterodyne circuitry in place of a newly designed direct sampling hybrid narrow-band software defined radio (SDR).
With dual receivers, the FTDX101D's live spectrum scope can be displayed in multiple views, showing you enough of the band spectrum to efficiently hunt down and pounce on distance stations calling to make contacts. yaesu.com.
Kenwood TS-2000 HF/VHF/UHF
While many audiophiles know Kenwood for its high-fidelity home and auto stereo systems, the company has long been among the most respected in the ham radio fraternity. Introduced in 2000 and now discontinued, the TS-2000 was considered one of Kenwood's best transceivers.
The TS-2000 could transmit from 160m through 70cm (and the TS-2000X model or optional UT-20 unit would allow 10 watts on the 1.2 GHz or 23cm band). One feature that users always appreciated was that it could transmit a full 100w on FM (50w on 70cm).
Combine that power with Kenwood's legendary broadcast-quality audio, and you have a solid communications tool for hobby or emergency communications.
You can still find good-condition TS-2000s on the used market for $1,200–$2,000. kenwood.com.
Yaesu FT-818ND Portable
Another discontinued radio that is well worth a look on the used market is Yaesu's FT-817/FT-818ND Portable. Known as a "QRP" rig (QRP is radio code-speak for low power), the FT-818ND kicks out a full 6w on HF/VHF/UHF bands in SSB, FM and AM modes (AM max. power is 2w.)
This small radio measures just 6.5×5.31×1.5 inches and weighs 2.6 pounds. With mountaintop operators working special contests like Summits on the Air (SOTA) and Parks on the Air (POTA), the FT-818ND can do it all.
The QRP radio has many aftermarket parts, including protective "wings" to ruggedize it further and protect it from drops. With a simple wire dipole antenna, a ham operator can work the world on multiple bands and modes, and many use portable solar panels for a completely offgrid communications station.
Baffled by Yaesu's discontinuation of such a popular radio, ham radio operators everywhere eagerly await its replacement. yaesu.com.
Elecraft KX2
American company Elecraft began making small-sized, high-end homebrew kits for the portable comm ops community. The smallest of these (which you can now order assembled from the factory for an additional cost) is the KX2.
Weighing just 13 ounces and small enough to fit in any pack, the KX2 is a specialist radio for remote operations way off the grid in the backcountry. The 10w transceiver features a low 135 mA current draw to prolong battery life.
The KX2 covers the 10-80m ham bands in the HF portion of the spectrum and can transmit SSB voice, CW (Morse code) and data modes like Winlink e-mail when integrated with a laptop or tablet.
Perhaps most famous for its best-in-class receiver and digital noise reduction (DNR) capabilities, the KX2 is extremely popular with CW operators who love its ultra-tight notch filtering to decipher Morse signals in a crowded band. elecraft.com.
Lab 599 TX-500
Like the Elecraft KX2 and Yaesu 818ND, Lab 599's TX-500 is a small, low-power transceiver (10w), quickly becoming the leading candidate for best ham radio in the portable category. However, the TX-500 uses SDR circuitry.
The TX-500 is built like a brick, sized at 8.1×3.5×0.8 inches and weighing just 19.4 ounces. It betters the KX2's current draw at 110 mA in receive and transmits from 160m–6m in the amateur HF bands.
Operators appreciate its live spectrum scope to see activity on the band, and the chassis is weatherproofed, making it ideal for portable and hilltop operations.
The TX-500 operates all modes—SSB, CW, digital, AM, FM—and has general receive coverage from 0.5-56.0 MHz. Users give high ratings to the transceiver's digital noise reduction and filtering. The street price new is around $1,150. lab599.com.
LNR Precision Mtr4b V2.3 Mountain Topper
The Mtr4b V2.3 Mountain Topper from LNR Precision is an even more compact ham radio. This little QRP rig measures a scant 5.15x3x1.075 inches and weighs 7.95 ounces.
The Mountain Topper line are 5w transceivers that operate CW (again, that's Morse code) only. The CW mode is ideal for portable operations because of its narrow bandwidth and ability to communicate long distances on low power, even when poor atmospheric propagation conditions exist.
The Mtr4b V2.3 Mountain Topper operates four bands (20m, 30m, 40m and 80m) and there is no external speaker, so you use headphones to hear signals. It features an internal CW keyer, or you can attach your own Morse keyer. The receiver current draw is a mere 27 mA and can run on a 9V battery (or other small external power source). At $369, there's no excuse why you can't communicate worldwide from anywhere. lnrprecision.com.    
---
More On Radios: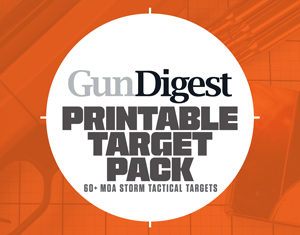 Next Step: Get your FREE Printable Target Pack
Enhance your shooting precision with our 62 MOA Targets, perfect for rifles and handguns. Crafted in collaboration with Storm Tactical for accuracy and versatility.
Subscribe to the Gun Digest email newsletter and get your downloadable target pack sent straight to your inbox. Stay updated with the latest firearms info in the industry.