Faced with spiking antisemitism and flaring tensions following Hamas' attacks on Israel, Jews in Los Angeles are increasingly turning to gun ownership, self-defense classes and armed security for safety, according to a rabbi who has been training Jewish religious leaders for years. 
"Growing up Orthodox, people hating Jews has been a part of my life," Rabbi Yossi Eilfort, a former MMA fighter, told Fox News Digital in a recent phone interview. "A lot of people complain; I want people to act. And so I was trying to inspire people to take some level of action."
Eilfort is the founder of Magen Am USA, the only Jewish, nonprofit organization licensed on the West Coast to provide armed security services.
His nonprofit, which operates in LA and Phoenix, trains volunteers and community members in extensive classes on gun safety, hand-to-hand self-defense, de-escalation, verbal tactics and the use of intermediate weapons such as Tasers or batons. 
ORTHODOX JEWS SUE NEW YORK OVER GUN LAW BANNING CONCEALED CARRY IN HOUSES OF WORSHIP
Eilfort was a full-time rabbi until 2020, when calls to defund the police reverberated across America following the death of George Floyd, igniting social justice protests and riots at a time when the coronavirus and lockdowns upended society.
Eilfort's security teams stepped in and assisted with preventing home invasions as police contended with a local crime wave, he said. By May of that year, he devoted his time completely to Magen Am and helping ensure that schools, synagogues and other Jewish centers were protected from potential attacks and crime.
Since then, he's "100%" seen an increase among Jews in the LA area embracing the Second Amendment, he said.
"Gun stores are calling us saying, 'Please tell your people to calm down,'" he said. "We have relationships with several gun store owners because we've set up discounts for our team members, things like that."
The rabbi stressed that he is not a Second Amendment lobbyist or political advocate and that Magen Am is "apolitical."
ISRAELIS PRESSURE GOVERNMENT TO LOOSEN RESTRICTIVE GUN LAWS AMID HAMAS WAR: IT'S A 'PITY' IT CAME TO THIS
"We believe in prepared Jews. I think that more people with less training with more guns is more dangerous. I think people with more training is more prepared," he explained. 
The rabbi has a long history of valuing self-defense, which he credits to his upbringing and parents, including as a mixed martial arts fighter who won his first amateur MMA fight at the age of 22 in 2014.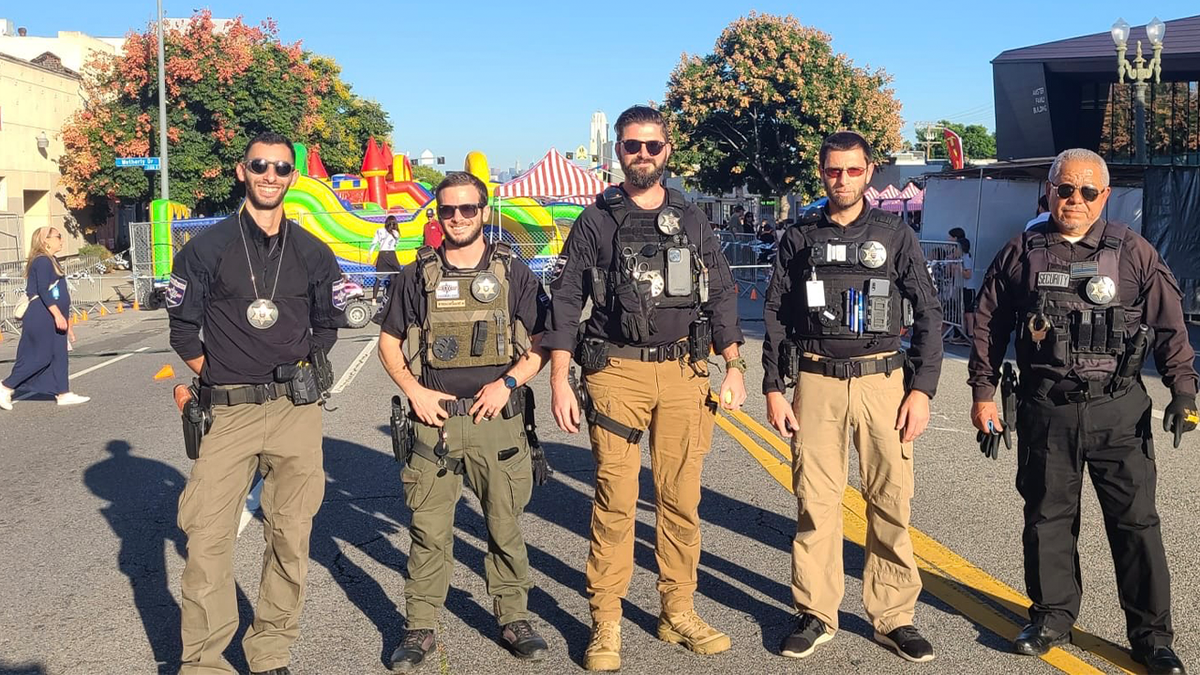 Gun sales across the nation had a banner year in 2020 with an estimated 23 million firearms sold and more than 21 million background checks conducted. The numbers smashed records and notably spiked at the onset of the pandemic in March 2020 before jumping yet again in June of that year as protests and riots spread across the nation in response to the death of Floyd.
Instances of antisemitism in Los Angeles have dramatically spiked in recent years, increasing by 29% from 2020 to 2021, and a staggering 217% from 2017 to 2021, according to data previously compiled by the Anti-Defamation League.
HAMAS' BRUTALITY AGAINST ISRAELI INNOCENTS SHOCKS THE WORLD'S CONSCIENCE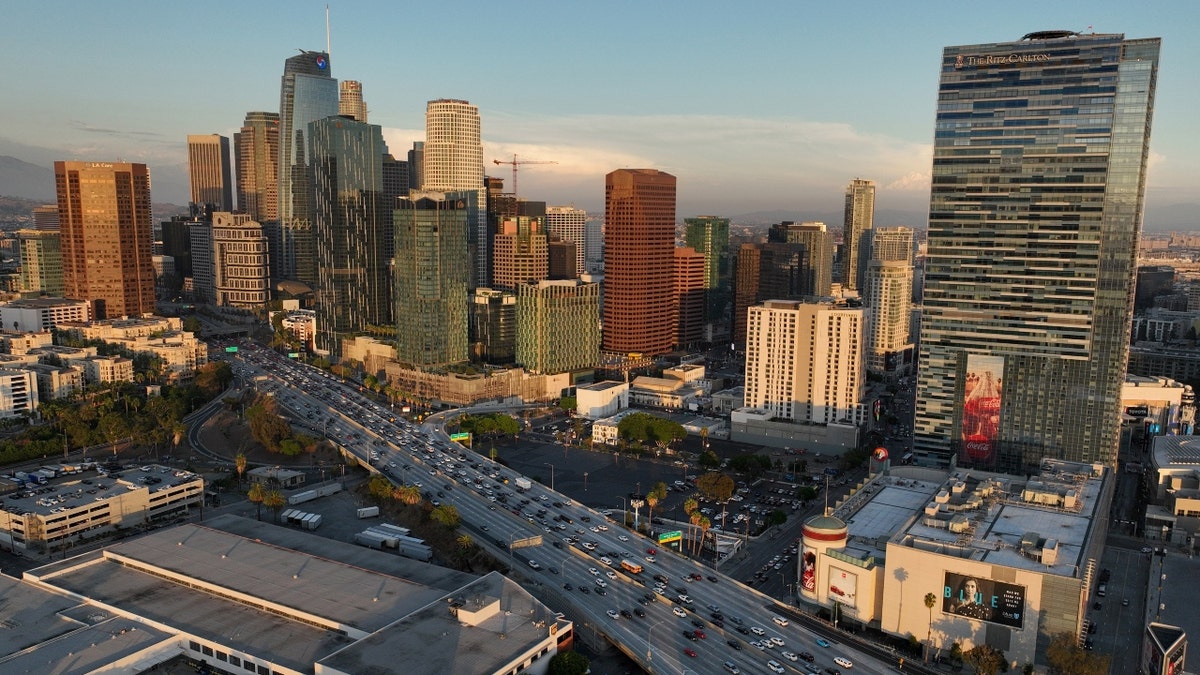 Jews in California increasingly armed themselves and received gun safety training in 2020, according to the rabbi, who said he's seeing another spike in training and gun ownership since the outbreak of war in Israel. 
"Since that spike, this has been the biggest spike. We've been doing consistent training and keeping things going," he said. "In the last two weeks, we've basically told everybody, 'We can't train you today. We've been trying to train you for the last couple years. We can't train you today. But we're putting out a new schedule.'"
PITTSBURGH SYNAGOGUE GUNMAN FOUND GUILTY OF KILLING 11 IN FEDERAL DEATH PENALTY TRIAL
Magen Am's phones have also been ringing off the hook since the outbreak of war in Israel. From Sunday to Thursday during the first week of the war, Magen Am fielded 638 calls for service, compared to nearly 1,000 calls to the offices all of 2022, he said.
The nonprofit's roots stretch back to 2015, when a friend reached out to Eilfort and said he wanted to train rabbis on gun safety and self-defense. Eilfort, also a licensed NRA instructor, jumped at the opportunity to craft the curriculum, he explained, and began training rabbis before the security nonprofit was officially launched in 2017.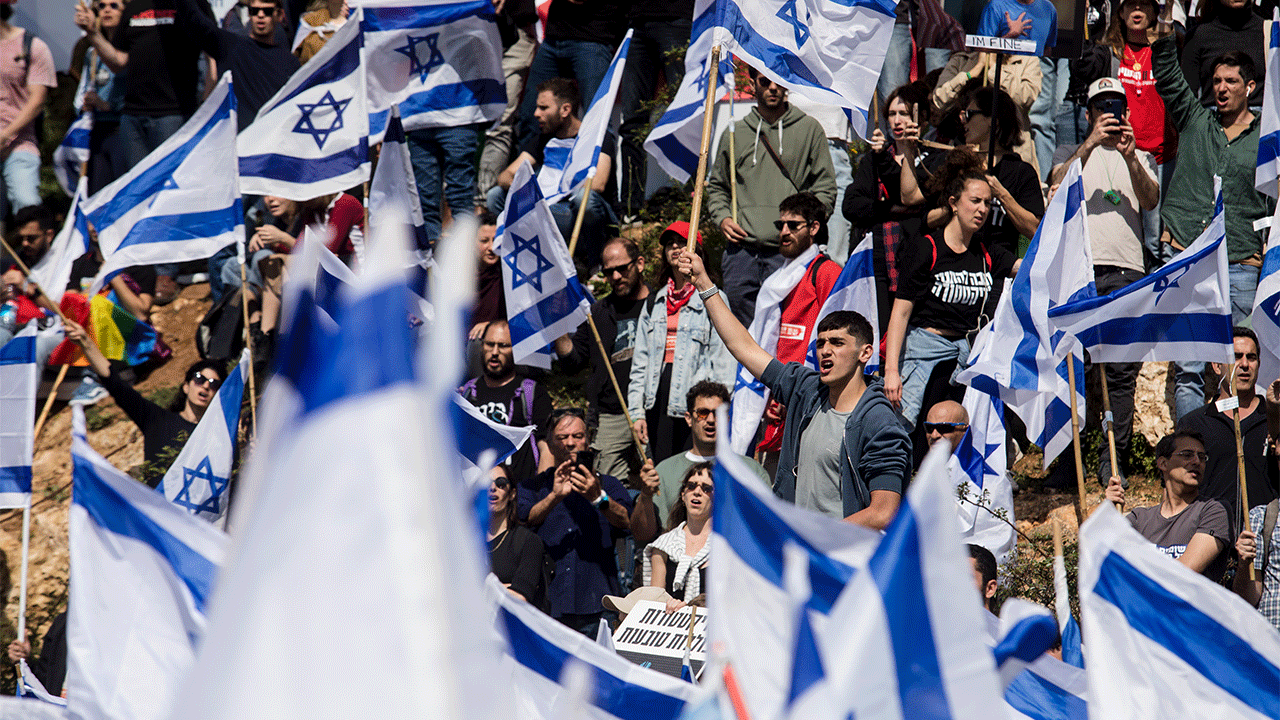 The rabbi said that, after fine-tuning the curriculum "month after month, we became quite good at what we did" and looked at options to best expand and protect communities.
"We realized, 'Hey, this is America. This is California. Knowing how to do it is one thing, having the legal ability to do it, having legal protection if you do it, is another thing. So, how do we make this better?'" Eilfort explained.
TEXAS HOSTAGE STANDOFF: RABBI SAYS HIS SECURITY TRAINING PAID OFF
"I said, 'Let's not figure out a loophole. Let's just do what the government says.' If the government says the best way to protect people, if you want to be armed to protect people in your community, is you open a security company, let's open a security company. And we just became the first nonprofit to do that," he said. 
Magen AM was born. The nonprofit's volunteer and security teams have had hundreds, if not thousands, of interactions while patrolling Jewish centers, and only "one use of force" incident, when a Magen Am member tased a suspect who tried to light an occupied homeless encampment on fire and attacked the security member with a chair, Eilfort said. 
The nonprofit has trained more than 1,000 people, including 47 volunteers who qualify under FBI standards who help patrol community schools and shuls.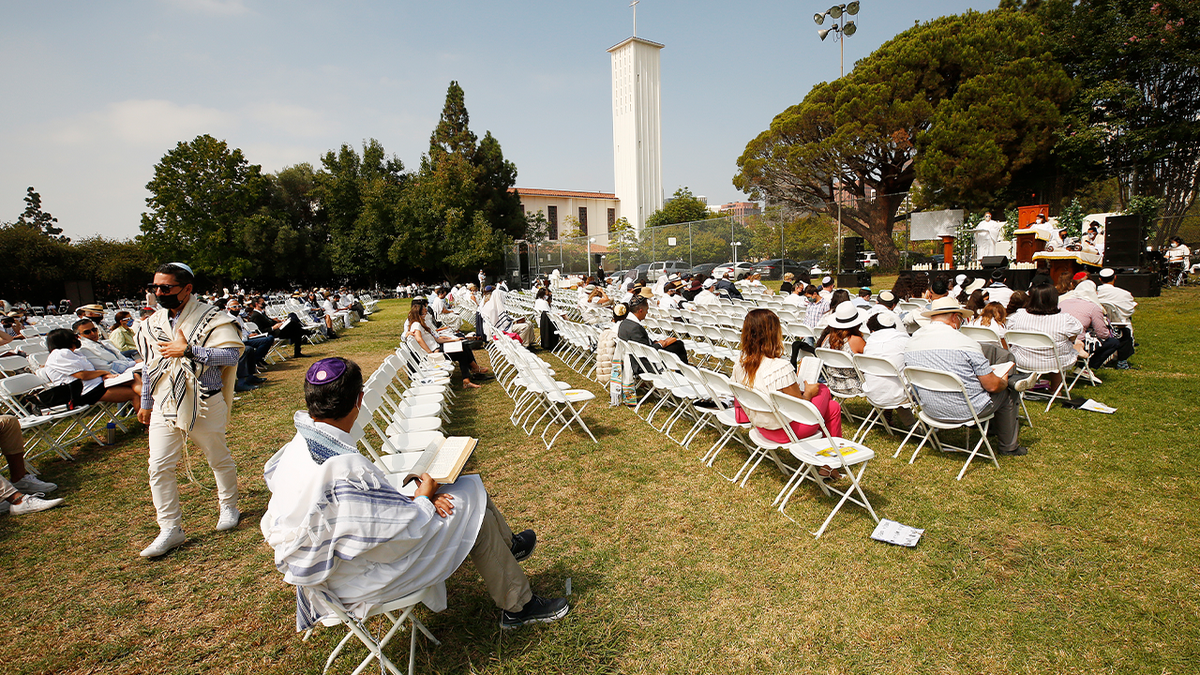 The nonprofit's hired security team includes both U.S. and Israel Defense Forces veterans as guards who dedicated more than 20,000 hours last year to patrol schools, shuls and high-profile Jewish events. This year, the team has been deployed to homes of Jewish celebrities to ensure their safety amid death threats.
"We don't do executive protection just because somebody's got money, and they want help," Eilfort added. He explained the group responds to calls that fit within its mission of both protecting the Jewish community while also training the community to actively protect itself.
COLORADO GUN DEALER OFFERS LOCAL RABBIS FREE AR-15 RIFLE
NRA spokesman Billy McLaughlin applauded Eilfort and Magen Am in a comment to Fox News Digital, saying "Americans refuse to be sitting ducks and be rendered vulnerable.
"The NRA and our 125,000 firearms instructors are committed to training any law-abiding American eager to defend themselves, their communities and their loved ones. We firmly stand alongside the Jewish community, championing their unequivocal right to self-defense and ensuring they are equipped with the skills to protect," McLaughlin said.
The rabbi explained that Jews across the world are faced with hate and dangerous situations, but American Jews have the unique ability to protect themselves under the Second Amendment.
"To me, the Second Amendment gives us an ability that we don't have in other countries. … Jews are being targeted in every country, so they're figuring out ways to become more secure. But the fact that we have this tool, this capability here, is a huge blessing. I think it would be foolish to not take advantage of it in a responsible way," he said.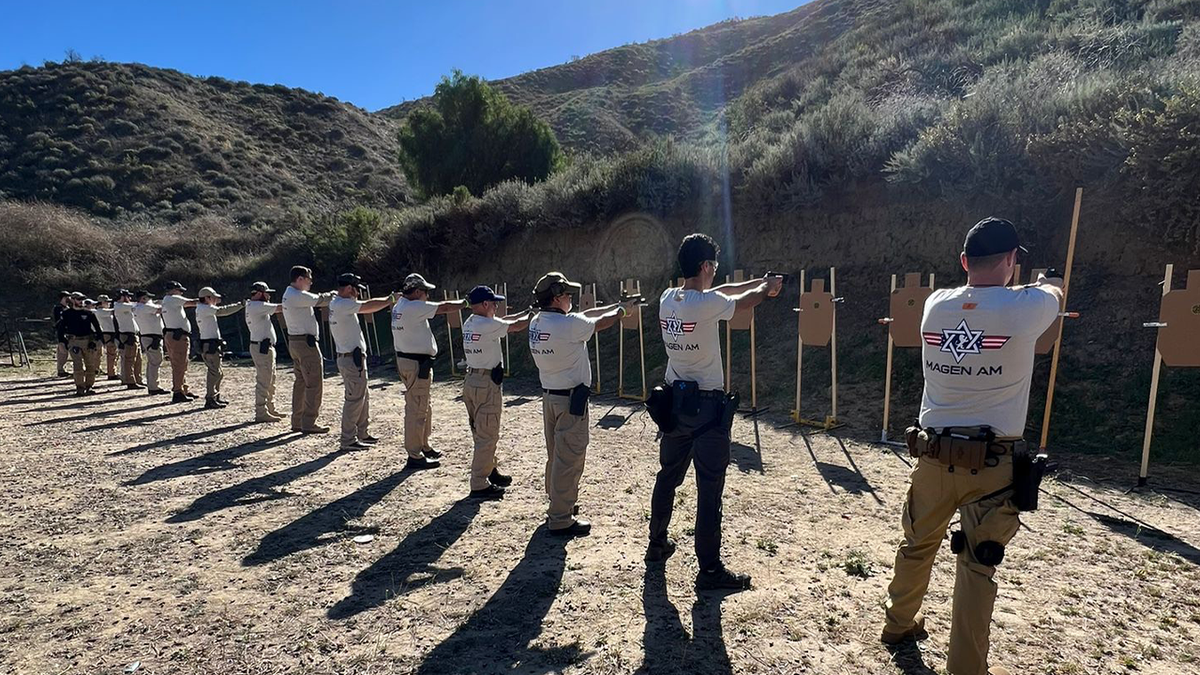 The NRA's McLaughlin added that Hamas' war against Israel serves as a wake-up call to Americans reevaluating their personal safety.
"Americans witnessed the unspeakable atrocities in Israel, where civilians were mercilessly targeted and butchered by Hamas terrorists. This serves as a wake-up call and causes many to evaluate their personal safety. They see crime decimating our nation, with district attorneys who refuse to prosecute criminals and realize when all goes wrong, we're on our own," he said. 
Magen Am is hoping to expand in the future, Eilfort noting the nonprofit is "juggling about 25 balls at the same time." 
CLICK HERE TO GET THE FOX NEWS APP 
"I think our job is to be prepared as best we can," Eilfort said. "And having a firearm, having the legal ability to carry a firearm, makes that job easier for us. So, we are very fortunate that we have that freedom. And I definitely want to reinforce that freedom as much as we can. But my mission is keep more people safe."