Taurus has just released the Judge T.O.R.O., an optics-ready variant of the company's .410/.45 LC revolver.
Taurus was the first kid on the block to offer factory optics-ready revolvers when it released the 605 and Defender 856 T.O.R.O. revolvers earlier this year, but the company has just announced four more to choose from. Called the Judge T.O.R.O., the four guns are all variants of Taurus' line of Judge revolvers chambered for .410 bore/.45 Long Colt.
The four new Judge T.O.R.O. models are really just two, but each is offered with either a matte black or a stainless steel finish. The only other distinction between them is that the standard Judge T.O.R.O. accepts 2.5-inch .410 shotshells while the Judge T.O.R.O. Magnum can accept 3-inch shells. As T.O.R.O. models, all four variants are optics-ready and can mount red dots that feature a Holosun K-series or Shield RMSc footprint.
Caleb Giddings, General Manager of Marketing for Taurus USA said this about the new guns:
What's better than a Judge? A Judge with a dot on it … The Judge is without a doubt our most popular revolver, and adding a red dot to it just enhances its capabilities.
The rest of the revolvers' features are identical to those of their non-optics-ready counterparts. MSRP is $615.99 for the two black models and $679.99 for the stainless versions. They are available now.
For more information, please visit taurususa.com.
---
More On Revolvers: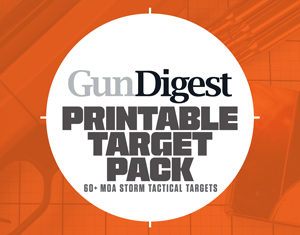 Next Step: Get your FREE Printable Target Pack
Enhance your shooting precision with our 62 MOA Targets, perfect for rifles and handguns. Crafted in collaboration with Storm Tactical for accuracy and versatility.
Subscribe to the Gun Digest email newsletter and get your downloadable target pack sent straight to your inbox. Stay updated with the latest firearms info in the industry.