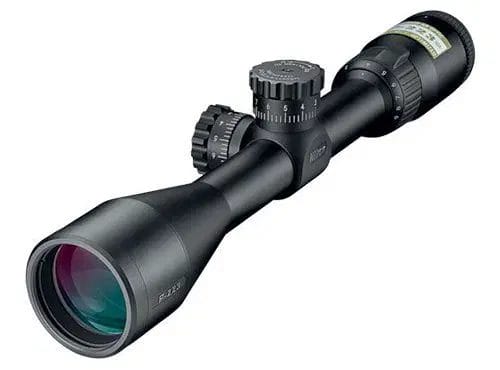 NOTE: Since the writing of this article, Nikon has discontinued their scope lines. We are updating our .22 caliber scope articles.  Our Best Rimfire Scope Article has 4 .22 scopes that are great alternatives to the Nikon .22 Scopes line.
You've got a .22 rifle that you love to use for small game hunting, target shooting on the range, or even plinking around on your own property. Now you're in the market for a scope. You've heard great things about Nikon, or you own a Nikon scope for a different rifle, yet you may be asking yourself, what is the best Nikon .22 scope?
Well, I've done some research for you and have come up with my top picks in Nikon scopes for a .22 rifle. I think just about any of these scopes I've listed would work great for you. The final deciding factor needs to be your determination of what you are going to do with the scope, what kind of features you need and your budget.
My top pick is the Nikon P-223 3-9×40 BDC.
This is a nice scope that is crystal clear. This scope is variable and features a lifetime warranty, generous eye relief, precise ¼ MOA hand turn, tactical style zero reset turrets. The positive click reticle adjustments will get you zeroed in quick and hold zero, even under harsh recoil conditions.
Get Great Guns and Ammo Deals!
---
Small Game Hunting
I can remember growing up with older brothers who loved to hunt and loved to teach me everything they knew. The first thing they taught me was to be safe. Not all hunters are as safe as they can be. States know this so now every state requires a hunting safety course which includes gun safety.
Teaching Youngsters To Hunt
Most beginner hunters come from hunting families, like mine. They will have a Dad or older brothers show them the ropes. This is not always true. Some hunters acquire their desire to hunt even while other family members may not have the same desire.
Sometimes people acquire the desire to hunt later in life, as an adult. They have to go through the learning process, just like the youngsters. No matter the age of the beginner hunter, gun safety needs to be taught and it needs to be practiced for the rest of the hunter's time outdoors.
The National Rifle Association has its Youth Hunter Education Challenge. This program provides a fun environment for kids, under 18, to improve hunting, marksmanship, and gun safety skills.
This course builds on what is learned in a basic hunting safety course that the state requires. You can find out more information through their website.
The First Rifle
Some people may start their new shooters, especially children, with a bb gun. Nothing fancy, just something that will get them used to the mechanics of loading, cocking, aiming, and firing. If you start with a bb gun, it won't take long for the youngster to want to graduate to something bigger.
When you start out with a rifle ( you either bypass the bb gun or have graduated) you want to make sure the rifle doesn't have a lot of recoil. This is true for youngsters, women, and even adult men who are beginners. Too much recoil can scare youngsters or women, and can cause flinching, even in adult males.
A .22 is a perfect rifle to start out with. If you decide to get a shotgun, a 20 gauge is ideal for most beginners. Many manufacturers offer women or youth models.
If you are starting with a small child, there are recoil absorbing devices out there to help them learn confidence in their marksmanship skills while getting used to the feel of shooting a rifle.
Small game
The most popular small game to hunt, at least in North America, is squirrel and rabbit. If you pick a good spot to hunt, you can be pretty sure to get a few rabbits. Because of this success, rabbit hunting is a great way to introduce youngsters (and adult beginners) to the sport.
Rabbits
Rabbit hunting isn't complicated. It can be as simple as walking along a creek with a slingshot or as well planned out as deciding who will hunt where, having a pack of beagles and specialized hunting equipment.
When hunting rabbits with a .22, you have a couple of choices for shots. The .22 is suited for both head shots or chest shots for a rabbit. The best place for a headshot is behind the eye or between the ears. This lends to instant death so there is no suffering for the rabbit.
Squirrel
Hunting squirrel is another way for beginners and youngsters to get a good start at hunting. It may seem simple to hunt for a squirrel, but they move quite a bit, and quite quickly so there is a challenge in the sport.
The .22 is probably the most used caliber for squirrel hunting. The small size prevents overkill and destroying a lot of meat. A scoped .22 let's you be further away from the squirrel than you could with a shotgun or air rifle.
As you are hunting for squirrels, listen for the grinding noise they make as they are chewing on tree bark or nuts. Shooting a squirrel in a tree means shooting up so you want to make sure you take safe shots. You want to aim so that the bullet hits the tree if you miss. You don't want your bullet flying through the air without you knowing where it will stop.
Aiming for the head will kill the squirrel in one shot. As with rabbits, it will lessen any suffering and will preserve meat.
Caring For Small Game
Skinning and dressing rabbits or squirrels should be done soon after the shot. They both have fleas and if they start to cool down the fleas will look for another host, which could be you. Plus, skinning is much easier when they are still warm.
There is a saying, "the fun of the hunt is over when you pull the trigger." In other words, cleaning and packing out your kill is not as fun as the hunt. The chore of preparing the meat for dinner begins in the field.
Top Nikon .22 Scopes
Now that we talked a little about some small game hunting, with a .22, let's get on to the top picks so you can choose a scope and get out there and hunt.
This scope is for shooters who like getting first time shots at longer distances. It features a fast focus eyepiece, multi-coated optics, generous eye relief, water and fog proof, and parallax free setting at 100 yards.
Features
Made from polymer

Generous eye relief

BDC 600 reticle

¼ MOA

100 yard parallax setting

Nitrogen filled

O ring sealed
| Pros | Cons |
| --- | --- |
| Lifetime warranty | Turrets may feel mushy |
| Easy to zero in | Hard to see crosshairs in low light |
| Rugged | |
| Clear glass | |
| Bright | |
| Holds zero | |
This scope is just as good as the other P-223, but gives you an option if you don't need as much magnification power. The entire P line is multi coated for extreme brightness and is optimized for use with Nikon Spot On Ballistic Match Technology.
Features
Generous eye relief

BDC Carbine Reticle

Fully multi coated optics

Precise ½ MOA

Nitrogen filled

O ring sealed
| Pros | Cons |
| --- | --- |
| Very clear | Made in the Philippines |
| 3x setting is useful in close to medium range | Crosshairs are hard to see, especially in low light |
| Holds zero | Turrets are large |
| Lightweight | |
| Built to last | |
| Affordable | |
| Good eye relief | |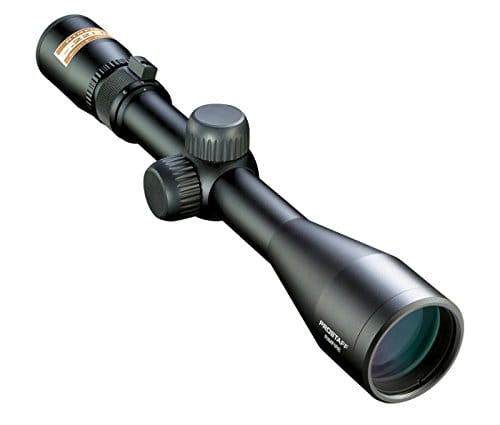 This scope puts the features of a really nice scope into an affordable option that just about any hunter can afford. The optical system transmits up to 98% of light and Nikon has integrated a zero reset turret.
Features
Fully multi coated optics

Quick zero reset

Nitrogen filled

O ring sealed

Lifetime warranty
| Pros | Cons |
| --- | --- |
| Sturdy | Eye relief could be better |
| Very clear | Mounts not included |
| Crosshairs look sharp | Made in the Philippines |
| Lifetime warranty | |
| Affordable | |
| Great value | |
| Holds zero | |
Nikon .22 Scopes – Conclusion
Nikon is a great company and makes great optics. They have choices for any budget. The best way to choose a scope is to determine what you will use it for, determine what features you need and which features you can live without, the decide on your budget.
After you have your game plan I recommend you check out the Nikon P-223 3-9×40 BDC. This was my favorite Nikon scope for a .22 rifle. It is such a nice scope that is crystal clear. Nikon includes a lifetime warranty which is always a big bonus when ordering any accessory.
Check out our Scopes Resource for more scope reviews.
Recommended Reading