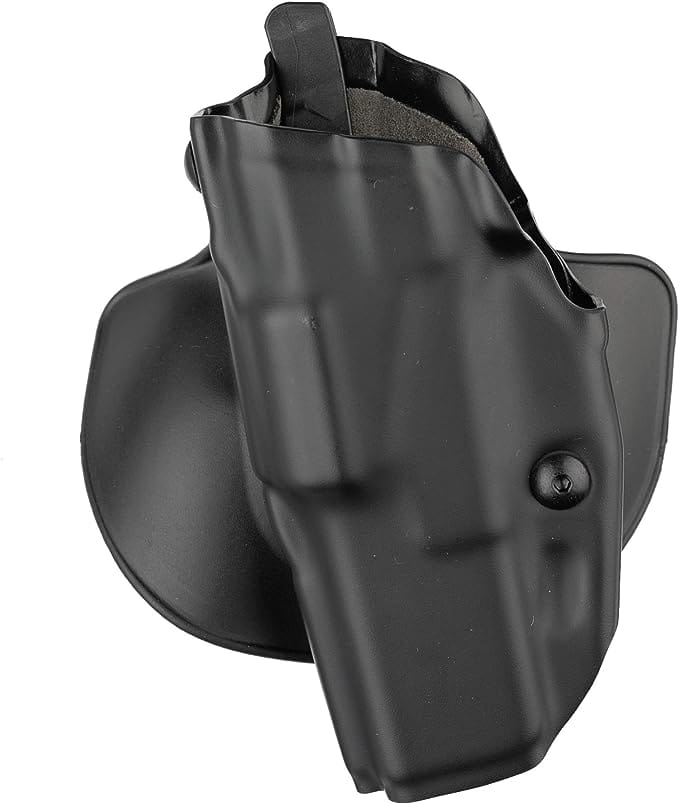 All right, you've got a new M&P 9c handgun that you're really excited about. But now you need a holster. There are a wide variety of types and brands and models of holsters on the market today – at a range of prices – so deciding which one is best will require some thought and research on your part.
If I had to pick a winner in this category – after looking at a number of highly-rated M&P 9c holsters – I'd have to choose the Safariland 6378 ALS Concealment Paddle Holster.
I feel it's the best combination of quality construction, positive retention, comfort, and price. As long as you're okay with and outside-the-waistband holster, it's hard to go wrong with the Safariland.
Get Great Guns and Ammo Deals!
---
So What Are Your M&P 9c Holster Options?
A lot of that depends on how you plan to use and carry your firearm. If you just need a minimalist holster to wear around the house, then your choice would be different from someone who's on a hunting or fishing trip and needs his belt free for other things. And whether or not you'll be open carry or concealed carry will have a big influence on your decision.
Your dominant hand will also be a consideration. Many holsters are made for right or left hand draw only, while others are ambidextrous. You'll also have to decide if want to carry on your dominant side, or cross draw from the other.
If you'd like more information about the different types of holsters, here's a video you may find useful:
Holster Types Explained
While there are many holster types available on the market today, for this review I'm going to focus on the following types: IWB, OWB, belly band, ankle and pocket
1. IWB Holsters
If you're just looking for a simple, everyday carry holster to wear around the house or when you're working in the yard, an inside-the-waistband or IWB holster might be all you need.
These holsters either clip to your belt, clip to the inside of your waistband, or slide on over the outside of your belt. These IWB holsters are a good concealed carry option. Typically, they're made from nylon, leather, or polymer plastic, and they usually range in price depending on the materials used and the quality of the construction.
One variation of the IWB holster is the "Appendix inside-the-waistband holster" or AIWB, which allows the wearer to tuck the holster into the front of his or her pants, which is more comfortable for some gunowners.
2. OWB Holsters
For many gun owners, especially open carry owners, a simple outside-the-waistband or OWB holster is a good option. These versatile holsters come with a belt or waistband clip, or slots to slide your belt through.
One advantage of wearing our holster at your side is the ability to draw quickly in an emergency situation. One advantage of an OWB holster with a clip is you'll be able to wear it with or without a belt.
These holsters can be worn in just about any position from your appendix to the small of your back. One disadvantage with OWB holsters is the fact that you'll have to wear a long shirt or jacket if you intent to conceal carry your weapon.
3. Belly Band Holsters  
A belly band holster is another good option for concealed carry. These holsters are worn around your torso, and are designed to fit tightly to your body and are secured by Velcro fasteners. In addition to being a good concealed carry option, many gun owners find them more comfortable than wearing their firearm around at their waist, or in an ankle holster.
Accessibility can be an issue, however, as your firearm will normally be concealed beneath your shirt. Some owners also report sweating a lot beneath a belly band holster, especially during the summer or in hot climates.
4. Ankle Holsters
Ankle holsters are popular with law enforcement officers, especially officers who are off duty or work out of uniform. They're also good for carrying a backup or secondary firearm. As with all holsters options, some gun owners find ankle holsters comfortable to wear, while others do not.
While these holsters are a good concealed carry option (as long as your pant legs are long enough to cover your weapon), they can be an inconvenient draw in an emergency. And you're usually limited to a small handgun when using an ankle holster.
5. Pocket Holsters
Pocket holsters are another good choice if you conceal carry your gun. As the name implies, these holsters fit into the front or back pocket of your pants or jeans. Instead of just cramming your M&P 9c into your pocket, adding a pocket holster will protect your valuable handgun from dust and wear, and keep it in the proper orientation for drawing.
While drawing from a pocket holster can take some getting used to (you don't want to draw out your holster at the same time), it just takes a little practice and you'll be drawing and re-holstering your gun with ease. As with ankle holsters, pocket holsters are designed with smaller handguns in mind.
---
M&P 9c Holsters Reviewed
Here I've reviewed some popular holsters made for the M&P 9c handgun. They all have their pros and cons, so read the reviews carefully and choose the one that seems right for your situation.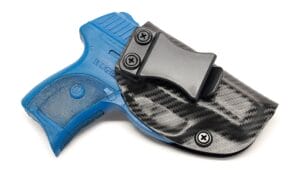 This IWB Kydex holster by Concealment Express is custom molded, has adjustable cant and retention, and is made in the USA, a big plus in my book.
| Pros | Cons |
| --- | --- |
| Due to its thin size and light weight, this is a good holster for concealed carry. | The belt clip doesn't fold around to the back of the belt, causing the holster to occasionally come off with the gun when drawn. |
| The 'Posi-Click' retention lock system, combined with a full sweat shield, keep your M&P 9C securely in place in just about every situation. | The holster is not made for the M&P 9c with the manual safety option. |
| Kydex construction means the holster is very durable, and will hold up well even for everyday carry. | |
| As mentioned earlier, the holster is manufactured in the USA. | |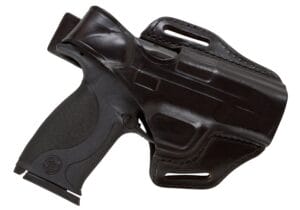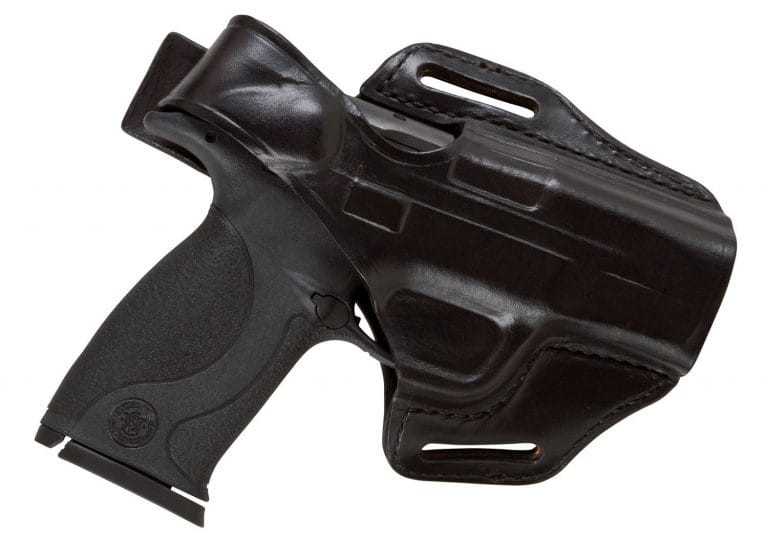 This outside-the-waistband holster threads onto your belt via a pair of 1.5 inch slots. It rides close to the body and high on the clip for good concealment beneath a shirt or light jacket.
| Pros | Cons |
| --- | --- |
| Holster is constructed from high-grade leather, and is molded in the front for good looks and comfort. | The holster has a hard time threading onto some belts, especially wider ones. It can take some adjusting to get the holster in the right position. |
| The Serpent comes with a rectangular, reinforced thumb snap for added security. | The Serpent has a metal piece that appears to be nickel, and it can come in contact with your skin. This might cause your skin to break out if you're sensitive to nickel. |
| Fits both semiautomatics and small-frame revolvers with excellent retention. | |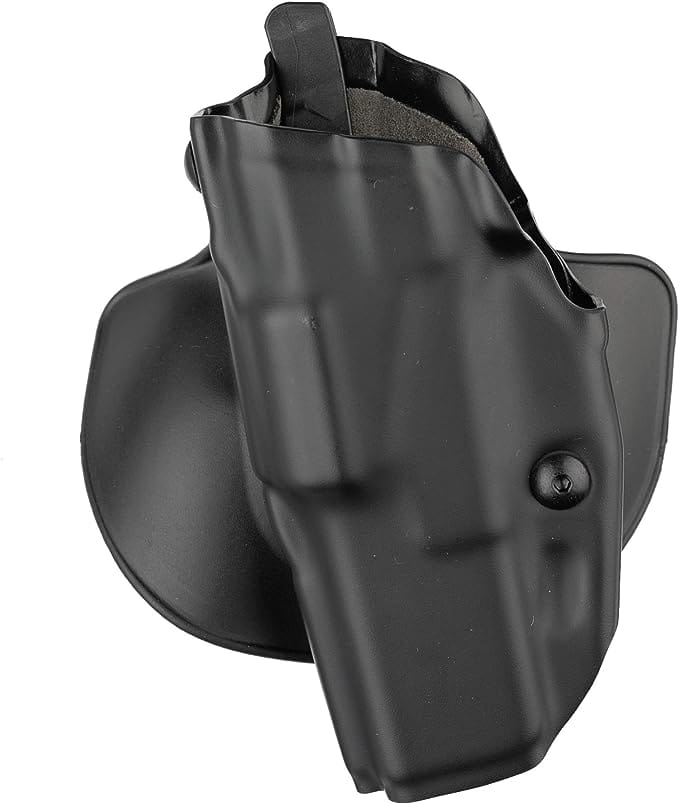 This paddle holster fits outside-the-waistband, and has a slim, low-profile design that is great for open carry, but also allows for good concealment beneath light clothing. It is made to fit 1.5 and 1.75 inch belts.
| Pros | Cons |
| --- | --- |
| Even though The Safariland is an open-top holster, it's automatic locking system (ALS) holds your firearm securely in place. | It would be nice if the paddle had a height and cant adjustment to allow the gun owner to experiment with different positions. |
| Once the ALS is deactivated by the shooter's thumb, the draw is straight-up and smooth, allowing you quick access to your gun in an emergency situation. | Even though the Safariland is generally concealable, it may show beneath your clothing depending on your body type and what you're wearing at the time. |
| The holster's injection-molded paddle design rides close to the body, eliminating any tell-tale bulge beneath your clothing. | |
| The holster has a suede lining that protects your valuable handgun's sights and finish. | |
---
Best Smith and Wesson M&P 9c Holster – The Final Verdict
At this point you should at least have some idea of the type of holster you want for your M&P handgun. Just don't rush out and buy the cheapest holster you can find. In some ways your holster is as important as your gun when it comes to your protection, so don't pinch pennies when it comes to this vital accessory.
Now for my pick for the best M&P 9c holster. As mentioned at the top of this article, my choice is the Safariland 6378 ALS Concealment Paddle Holster.
As long as you're okay with an OWB holster, the Safariland is hard to beat for quality construction that's rugged enough for everyday carry, an innovative locking system that keeps your gun in place, and a molded design that's comfortable and hugs close to your body.
Recommended Reading
Concealed Carry Compact Holster For MP 22
Top Concealed Carry M&P 9c Holster
Glock 43 VS. Smith And Wesson M&P Shield