Paracord bracelets are stylish, cool and can even save your life. As my 12-year-old son said to me, "If you're stuck on a mountain, you can untie it and use it as rope." Great. Sounds awesome, but I don't think I'm going to be on a mountain anytime soon. I will however, wear a paracord bracelet just in case.
Imagine that you're out in the wilderness on a camping trip and realize you left your compass and fire starter at your last stop. It's getting cold and dark, but all of a sudden you spot your paracord bracelet. This is a great thing! You've literally got an entire survival kit wrapped around your wrist!
Get Great Guns and Ammo Deals!
---
Paracords and Paracord Bracelets
Paracords, also known as parachute cords are lightweight and woven of nylon kernmantle rope. Originally used in the suspension lines of parachutes, this cord is extremely useful and is now used as a general purpose utility cord by both military personnel and civilians. Paracords are the ideal choice for outdoor seekers, or those who simply want to be prepared.
The most obvious part of a survival paracord bracelet is, of course, the paracord, from which it gets its name. Paracord, short for "parachute cord," is a very strong, yet thin rope that is designed to hold the weight of a human, and, usually, then some. This can come in handy, allowing you to build shelters, tie up your emergency food, or even tie a tourniquet.
But paracord isn't the only thing to look for in a paracord bracelet. Paracord bracelets are conceivably some of the easiest forms of survival equipment to keep on you at all times. Other necessities require a lot of packing and planning — but a paracord bracelet is simply worn around the wrist.
A paracord bracelets is remarkably ingenious, and you can take it with you wherever you go. Just be careful if you're making your own that you construct it the right way.
---
Why Use a Paracord Bracelet?
If you tend to venture into the outdoors frequently, you may want to consider wearing one of these survival bracelets as a part of the necessities that you carry alongside your backpack.
The standard options that come with a paracord bracelet are great to have, just in case you get lost or have to survive with what's on hand while in the vast outdoors. In addition, paracord bracelets are great to keep in your vehicle, in a first aid kit and even to keep in your emergency bug-out-bag!
Paracord bracelets are incredibly lightweight while at the same time they can accommodate important tools that you may need in case of an emergency. If I had to go with being prepared or unprepared, I think I'd go with the former — better safe than sorry.
---
How Much Paracord Do You Need in Your Bracelet?
Normally, the way that the paracord bracelets are woven, you will receive approximately 10 feet -12 feet of this strong cord. And believe me, it's strong. In fact, it's able to support on average, up to 550 pounds of weight.
But in addition, a paracord is useful for a bunch of things related to survival. You can use it in first aid as a tourniquet, and you can also use it to help build a shelter — if you become stranded in the woods.
More paracord uses include:
Tarp tie down

Clothes line

Fasten and secure gear to backpack

Shoe lace

Fire bow

Knife handle wrap

Lifeline

Dog leashes

And more!
---
Survival Necessities
It isn't just paracord that makes a good paracord bracelet. Typically, these bracelets come with other survival necessities, such as firestarters and compasses.
Fire starters

are a bonus to have in any extreme outdoor environment. After all, it can get cold and a fire can keep you warm and safe as well as cook your food. And how many times have you been camping and forgot matches or a lighter? Additionally, most of today's paracord bracelets come equipped with a firestarter.

Compasses

are often an overlooked item when packing for a camping or hiking trip. But they can also be necessary pieces of equipment and should definitely be included. Having a paracord bracelet with a compass will certainly keep you headed in the right direction.
Along with fire starters and compasses, other items might be included with a paracord bracelet. These include a built-in knife — just what you need to cut the paracord to certain lengths and also emergency whistles.
Things to Keep in Mind When Choosing a Paracord Bracelet
If by now you're convinced that you want or need to purchase a paracord bracelet, here are some of the things you'll want to keep in mind when choosing one:
The size of your wrist. (The usual rule is a ratio of about 1 foot of cord for every 1 inch of knotted bracelet length. So if your bracelet length is 8 inches, you should use a cord that is approximately 8 feet long).

Identify the kind of fit that you want …
Close fit: Also known as the snug fit — it will make the bracelet tight
Loose fit: The bracelet is larger than the wrist
Extra Small bracelets — about 6.5 inches and can fit a small woman's wrist

Small bracelets — about 7 inches and can fit an average woman's wrist

Medium bracelets — about 8 inches and can fit an average man's wrist

Large bracelets — about 9 inches and can fit a large man's wrist
Additionally, paracord bracelets come in many braid styles, colors, and sizes, light reflective and glow in the dark. After careful consideration, here are the top three paracord bracelets available in 2018. Please see below for the review.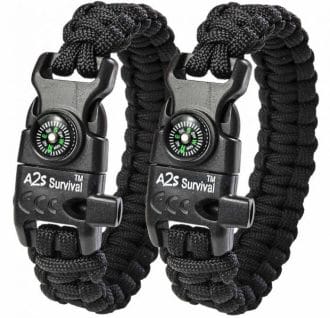 This bracelet is great. It's truly a wise choice for anyone and no matter what the reason is for purchasing an A2S paracord bracelet, it could mean the difference between survival and even death.
This reliable paracord bracelet can also deploy to 12 feet. When you're in a situation where an extremely strong rope or cordage is needed, don't worry — you're good to go.  
The A2S paracord bracelet K2-Peak features a fire starter, which is perfect for keeping warm or signaling for help — and the included scraper doubles as a sharp knife. Simply rub the rod to the to get a spark and fire under any weather conditions.
In addition, the cord itself is pretty useful for chores such as building shelters, fishing, sewing or even first aid.
The compass and whistle on the A2S are sweet touches, because with the compass, you'll never have to worry about being completely lost in the wilderness or wherever you may roam. And the whistle is ridiculously loud — perfect for signaling for help. Anyone searching for you is sure to hear it!
The A2S Paracord Bracelet K2-Peak is an indispensable survival accessory for any camping, fishing, hiking or hunting trip. Try it out!
Features
Five-in-one handy survival tool

Includes high-quality compass, flint fire starter and fire scraper (can be used as emergency knife)

Emergency whistle creates noise levels of up to 100 decibels

Comes in sizes for men, women, teens and kids

Comes in four fixed sizes and one adjustable size

Versatile, fashionable and functional

Constructed of ultra-strong, military-grade 550 parachute cord

Lightweight, comfortable design

Tried and tested to a minimum breaking point of 550 lbs/250kg

Comes with a useful leaflet with instructions, survival tips and more

Check latest price on Amazon
---
The Friendly Swede Company was formed in 2011 and has enjoyed impressive growth in this timespan. Their products are backed by the company's mission of striving for perfection and nothing else.
If you already own a paracord bracelet and find it just isn't large enough or you need something a bit bulkier, consider the Friendly Swede Trilobite Extra Beefy 500 lb. Paracord Bracelet.
Probably the best perk to using this product is the fact that it's much larger than most paracord bracelets — not only in width, but in circumference as well. This bracelet is perfect for those who have larger wrists or simply want a bracelet with more substance.
On the other hand, if you are looking for a paracord bracelet that acts solely as a survival kit, be aware that there is no fire starter available on this product. You'll need to carry your own if needed.
Another negative to this product is that it also does not come with a compass, or an emergency whistle. It's purely a paracord bracelet made for easily transporting lengths of paracord — but it sure looks good while doing just that.
Aside from these negatives, it's a very popular paracord bracelet and it comes with a very attractive price tag.
The Friendly Swede Trilobite Paracord Survival Bracelet – Features
Stylish and useful bracelet for men, women and kids

Constructed of high-quality 550 lb polyester paracord

Extra beefy

Measures: 9.45 inches (24 cm) long and 1.18'' (3 cm) extra broad

Comes in adjustable sizes

Includes a spare pin

Friendly lifetime warranty

Check latest price on Amazon
---
The Survival WRAPS Emergency Paracord Bracelet is your standard paracord bracelet, but it also happens to be multifunctional. This product is for those who seek a better than average paracord bracelet, which makes it a good choice.
Featuring perks such as a fire starter, a scraper that doubles as a knife, and a compass, the only thing missing from the WRAPS paracord bracelet is a whistle. For some, this could be a deal breaker, aswearing a survival bracelet means you have all your bases covered. There could be that one time that you need an emergency whistle and don't have it.
The fire starter that comes with this product is really cool, because instead of the standard flint, this one uses magnesium. Magnesium makes it much easier to get a fire started and will produce sparks even in the toughest weather conditions. This fire starter is also ideal for cold climates.
In addition, the compass on the Survival WRAPS Emergency Paracord Bracelet is made of the highest quality. This compass has been tested and has been found to be extremely reliable via customer reviews on Amazon.
Survival WRAPS Emergency Paracord Bracelet – Features
High-quality survival bracelet

Includes stainless steel sharp eye knife scraper, 12 plus feet of paracord, and a magnesium fire starter rod

Fire starter is weather resistant, cold resistant, and windproof

High-quality compass

Adjustable size for all wrists

Available in four colors

Check latest price on Amazon
---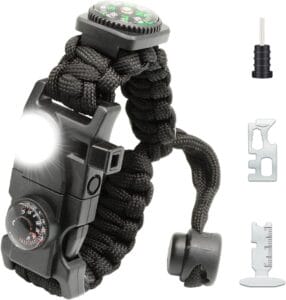 If you're a true explorer and can't be caught dead without everything you need for your adventures, the NVioAsport 20 in 1 Survival Paracord Bracelet with Light has the equipment you'll need in one survival bracelet.
The company prides themselves on their trustworthy offers. For example, when you order one product, you receive not one but two paracord bracelets, along with the standard fire starter, scraper, compass, and survival whistle.
The cord itself is strong as well, and perfectly suited for anything that paracord is generally used for. The X-Plore Gear Emergency Paracord Bracelet is a solid choice for your next expedition.
NVioAsport 20 in 1 Survival Paracord Bracelet with Light – Features
Compact, portable, tactical survival bracelet  

Perfect for camping, hiking, hunting or fishing

Mini personal survival kit

Includes flint fire starter, super loud highly decibel whistle, scraper that can also be used as a knife, and a compass for direction

Choose from a wide array of colors

Available in sizes regular, medium, and kids

Multifunctional product

Affordable price
---
Best Paracord Bracelet – Final Thoughts
Paracord bracelets are unique little items. Worn around the wrist, they are often equipped with tons of handy things you'll need in order to survive — should you wander from your trail or campsite.
In addition, these survival bracelets can make you look really stylish without even trying.
And if your only concern is to have an adventure on your next camping trip, paracord bracelets are still just fun to wear — even if you're not in a dire situation.
So as you can see from this review, there are some great paracord bracelets on the market. Depending on your needs, there's certainly one of these survival gadgets for you, because there's never been a better time to be an outdoor enthusiast!
The next time you're thinking of heading out on the trail, consider purchasing one of these nifty little items. From the A2S Paracord Bracelet K2-Peak, to the X-Plore Gear Emergency Paracord Bracelet, you're sure to be fully equipped with whatever model you choose.
No matter your outdoor whereabouts, having paracord will surely be advantageous. And with it braided around your wrist, you may not realize that you're wearing the very best in survival gear … until you really need it!
Recommended Reading
Essential Items For Survival Kits