The Glock 19 is one of those iconic pistols that are still just as popular today as when they came out back in 1988. They are so iconic in fact, that you might be hard-pressed to find a gun owner who hasn't had one in their collection at one point or another over the years. They are known for being reliable, durable and most importantly… accurate. Except at night, hence we'll discuss the best Glock night sights.
One of the downfalls that most people, myself included, notice about most Glock handguns is that the sights are just not what we want when it comes to low-light conditions. We have this really well-crafted piece of steel in our hand, and we want to love it, but then we look down the stock sight.
There is nothing inherently wrong with the way they design their sights. They work perfectly fine if you are headed to do some practice shooting at the range during the day.
But as it gets later in the day, even with a white dot, you are going to find that it gets drastically harder to use the sight, rendering your day at an end. But what if you want to keep going, shooting long into the night with the need for an extra pistol light or a bulky red dot sight? Well, you need to get your hands on an aftermarket night sight for your Glock 19.
And luckily for you, we have rounded up our top 5 picks for best Glock 19 night sights.
Get Great Guns and Ammo Deals!
---
Benefits Of Equipping A Glock 19 Night Sight
The benefits of equipping any firearm with a night sight are, of course, the ability to shoot at night or in low-light conditions such as an indoor range.
Essentially, a night sight is not much different than the stock sight you are already using to with the exception that it is more visible in darker environments. They achieve this by featuring either bright tritium or phosphor dots or lines on both the back and front sights alike.
As far as installing a night sight; they are typically just as easy to install as any other after-market sight. The majority of them can simply slide onto a Picatinny rail if you have one equipped. Others may require you to tighten a screw or two. Either way, it's pretty much the same process universally and it will take you just a few minutes to do it.
Now that you know the benefits of installing a Glock 19 night sight, let me leave you with something else to consider…
Aside from the fact that a night sight will allow you to better take aim, it isn't going to make you a more precise shooter.
What I mean by this is that your aim isn't going to magically improve simply because you purchase and install a night sight. It is totally up to the shooter to know how to center their shot and when to pull the trigger. No sight can make up for just downright good marksmanship.
So, while a night sight is something that I definitely recommend you add to your Glock 19, it will only benefit you when you couple it with some good old-fashion skill. And that is something that only time and dedication can provide you with.
---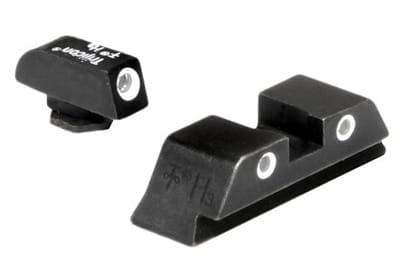 Trijicon is easily one of the most recognizable names in the whole industry when it comes to scopes and other firearm optics. They have been in the game for years and years at this point, each year perfecting on the last.
Most people probably recognize the Trijicon brand due to their production of rifle scopes. A prime example of this would be the ever-popular Trijicon MRO.
Now when it comes to their night sights, Trijicon does one thing differently than a lot of their competitors. While their competition is still busy using fiber optic rods in their night sights, Trijicon makes good use of highly visible tritium-phosphorus tubes. This is exactly what you want in your night sight if you are going to be doing any shooting in areas with no free light.
To further illuminate things, the tritium tube comes with a sapphire jewel over the light intake to both protect the tube as well as distribute the light through its fractals.
Furthermore, Trijicon went to great lengths to make sure the tritium tube is well-protected by including a rubber around the tube in order to protect it by absorbing shock and helping to stabilize it.
| Pros | Cons |
| --- | --- |
| Uses tritium-phosphorus tubes | None that I have noticed |
| Versatile design fits most Glock pistols | |
| Sturdy | |
| Easy to install | |
---
Unlike the previous night sight on our list, the TruGlo Bright-Site uses fiber optics to achieve similar results. But that doesn't mean that the engineers over at TruGlo didn't know the value of both of these approaches. On the contrary, they decided to combine the two, essentially making this a hybrid night sight.
Fiber optic implementations produce a really crisp and bright visible glow that shows up perfectly in both full and low light conditions. And tritium is extremely reliable in terms of making sure your sights glow brightly even in pitch black darkness.
It was this merging that gave birth to the TruGlo Bright-Site Glock Night Sight as we know it.
The body of this sight is a CNC-machined steel construction that is sealed in a fortress finish. It fits most Glock model handguns and standard Glock holsters. Oh, and you never have to worry about catching any of the corners when you make a draw because it is designed specifically to be snag-resistant.
There are a lot of really neat night sights on the market in 2018 but I have to say that this one remains as one of my personal favorites.
| Pros | Cons |
| --- | --- |
| Fiber optic/tritium design | Tritium tube is known to get loose after heavy use |
| Concealed fibers cannot be seen by your target | Not the most durable option on this list |
| Transitions easily through all light conditions | |
---
If you are in the market for a Glock night sight that is going to give you stellar performance but at a fraction of the cost associated with the larger names on the market, check out the Ameriglo Glock Ghost Ring.
This ghost ring set will fit just about any model Glock that you want to slap it on, and it'll go on there with little fuss. No need to buy a new sight for every single one of your Glock pistols when you have the Ameriglo Glock Ghost Ring. This level of functionality and flexibility is what etches out a spot for this sight in this review.
The body of the sight is made from a black polymer that will withstand a fair amount of abuse. But it is nowhere near as durable as something like the Trijicon Glock Night Sight Set.
Regardless, it is an excellent choice for a beginner or anyone looking for a night sight for the occasional weekend trip to the shooting range.
It comes equipped with a two-tritium lamp on the rear sight to help you see a drastic increase in sight acquisition
| Pros | Cons |
| --- | --- |
| Affordable | Not a high-quality build for sporting use |
| Great for beginners | Tritium lamps in this sight seem to dim rather quickly |
| Durable polymer frame | |
---
Glock Night Sights – Final Thoughts
There are many good choices to pick from when it comes time to invest in a night sight (or any other accessory for that matter) but we are confident that we've covered the most popular ones in this review.
No matter which one of these sights you pick, keep in mind that it isn't the sight that makes the shooter. Choose what works best for your shooting style and feels right in your hands when it is resting on top of your gun. Make sure it isn't too heavy, that it is durable, and features a highly visible tritium or phosphorus dot/line system.
Following along with our review and advice you should be to pick the perfect Glock 19 night sight without much trouble. If you're still looking to purchase a handgun, check out our Glock 19 vs. 17 comparison article, as it might help you make the best decision.
Recommended Reading