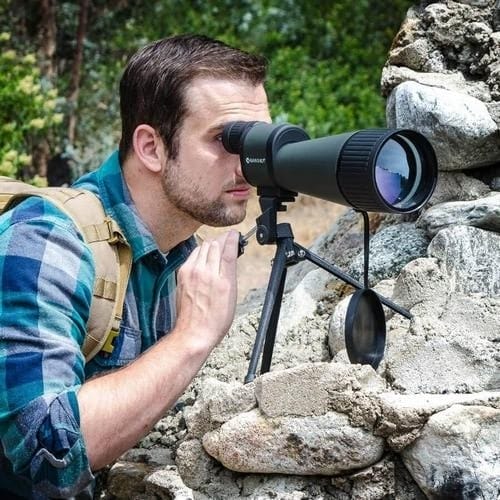 If you're a hunter or bird watcher, you know that a pair of binoculars simply won't do for the best image of your subject. And you are probably aware that a spotting scope will surely yield the best results. Plain and simple, spotting scopes have a higher magnification and larger objective means than an ordinary rifle scope or binoculars. Before we talk specifically about Barska spotting scope options, let talk about them in general.
Spotting Scopes 101
When you absolutely need the long range sighting that a spotting scope delivers, you'll be glad you invested in this handy optic. It's true that quality spotting scopes may be pricey and prone to damage, but if you're a hunter, bird watcher, long distance target shooter, or partake in any activity where enhanced vision is a must, a spotting scope is an absolute necessity.
Designed to be used with a tripod, spotting scopes offer the best magnification and clarity of any other type of sporting optic — they're simply ideal for viewing images and subjects from long distances. But before you purchase a spotting scope, you should consider why you need one.
Besides the obvious reasons, think about durability, versatility, and eye comfort — which is an assessment of how easy the instrument is to look through, whether you struggle to focus or take in the image with eyes wide open.
Get Great Guns and Ammo Deals!
---
The Barska Name – Great Value Spotting Scope Options
While spotting scopes these days are usually priced on the higher end, there's one notable company that is dedicated to providing user-friendly and affordable products to optic users. We're talking about Barska.
The Barska brand is one of the most reputable names in the tactical and hunting optics industry and they've been around for quite some time. The Barska name offers a wide variety of in-stock and fine low budget prices — plus their name stands behind their workmanship. With distribution in over 40 countries, Barska delivers optics for the avid hunter as well as the committed birder.
Besides manufacturing some of the most well-known optics, Barska is also known for their quality and budget-friendly microscopes and telescopes.  And in addition to their tripods, the company produces tactical bags, weapon safes, torches, and lasers.
---
The Barska Spotting Scope Difference
The least expensive optics from Barska have superior multi-coated lenses.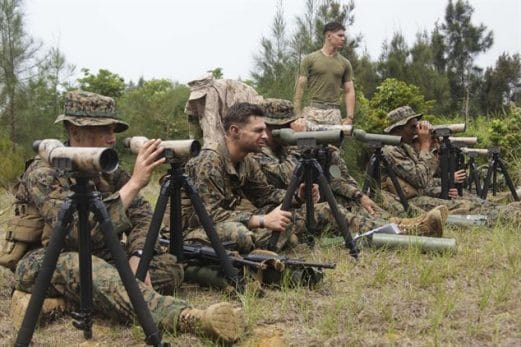 Optic manufacturers understand that spotting scopes come with a risk of damage due to misuse — and Barska is no exception. Many of their products are coated with rubber armor to prevent accidental usage.
An exceptional perk of the Barska optic manufacturer is their bonus gifts of tabletop tripods and carrying cases to their customers. These items are included with most products, which is definitely a perk!
Please continue reading for our Barska spotting scope reviews …
---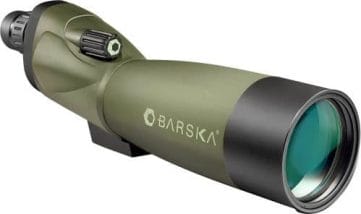 Complete with tough and durable construction, the angled Barska Blackhawk 20-60×60 is an affordable and reliable optic. It's designed to withstand tough outdoor conditions and it's the perfect choice for hunters, competition shooters, and wildlife observers.
The Blackhawk 20 to 60x zoom range features a 60mm objective diameter and multi-coated lenses to provide nice light transmission. The Blackhawk spotting scope also includes a tripod for tabletop use and a hard-shelled case. It's very well-priced and all-around great spotting scope.
| Pros | Cons |
| --- | --- |
| Incredible price | Nothing to mention |
| Weatherproof | |
| Very light | |
| Limited lifetime warranty | |

Barska Blackhawk Spotting Scope – Features
60mm objective diameter

FOV: 91-45 yards

Eye relief: 18-15 mm

Multi-coated optics

Variable zoom magnifications

Shock absorbing armor

Includes tripod and hard carrying case

Includes extendable sunshade

Check the latest price on Amazon
---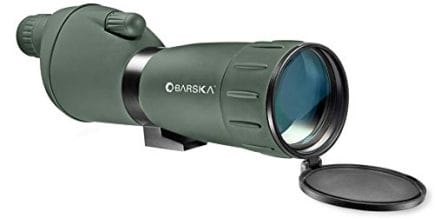 Another great Barska spotting scope is the Barska Zoom Colorado. Coming in at under $200, this spotting scope features a straight body model that has a high magnification range, which is exceptional for this class of spotting scope.
The Barska 20-60×60 Zoom sports fully coated optics, which are capable of passing visuals below the 60x zoom limit. And you can use this scope to sight bullet marks up to over 200 yards for a wide range of bullet calibers, but this applies only to high-contrast targets.
The very affordable Colorado sports optics are housed in a robust, lightweight body with rubber armoring that can withstand bumps and drops in the field. In addition, it's fog proof and waterproof, so weather conditions will not get in the way of your sightseeing or birding.
On the other hand, this scope lacks via a restricted eye relief (13mm maximum), so it may be rather tough for those who wear eyeglasses. The FOV range of 114-50 feet is also pretty generous for the price of this scope.
Because of the budget nature of this scope, there's some complaints about the manufacturing defects. But not to worry — Barska's limited lifetime warranty policy will have your back should something be defective with your spotting scope. The Colorado Zoom is fully waterproof and fogproof, so adverse weather conditions will not impact its performance.
| Pros | Cons |
| --- | --- |
| Extremely budget friendly | Somewhat grainy visuals at 60x zoom setting |
| Lightweight construction and durable | Minimal eye relief |
| Limited lifetime warranty | |
Barska Zoom Colorado Spotting Scope 20 60x60mm – Features
Powerful and precise zoom

20-60x magnification range

60mm objective diameter

13-11 mm eye relief

Lightweight composite body with rubber-armored housing for durability

Includes a soft carrying case as well as a tabletop pan-head tripod for stable viewing

Check the latest price on Amazon
---
The Barska Naturescape features fully multi-coated lenses and a coating to deliver clear images, free from quirks — all at a fantastic price.
Its 60mm objective lens works in partnership with the superb optics to provide flawless light scenarios and contrast even in low light conditions. With a generous FOV and a low body weight, this scope is a tremendous asset to bird watchers or nature observers who move frequently.
The use of the scope's nitrogen makes the scope perfect for use in rain and humid environments. The Barska Naturescape was made for bumps and bruises, it's not only rugged, it's also lightweight to support super easy transportation.
Barska includes a tripod for a table top in addition to a hard-shelled carrying case. With minimal complaints from users, this scope proves to be a solid performer for birdwatchers and hunters alike.
| Pros | Cons |
| --- | --- |
| Superior optics | Minor complaints |
| Rugged and easy to carry | |
| Generous eye relief | |
Barska Naturescape Spotting Scope – Features
60mm objective diameter

FOV: 147-68 yards

Eye relief: 20-18 mm

15 to 45x magnification

BaK4 Porro prisms

Extra low dispersion glass

Waterproof and fogproof

Check the latest price on Amazon
---
The Barska Gladiator Spotting Scope features a terrific zoom range and diameter — it's made for hunters and straight shooters who require a lengthy distance spotting scope at an affordable price.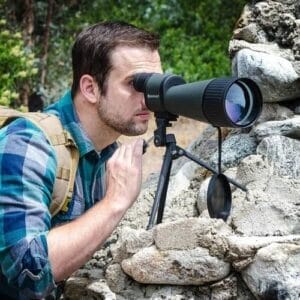 Even though the Gladiator comes at a very reasonable price ($228), it manages to deliver crisp images at very high magnification settings. While this scope is considered a steal for specific range applications, it weighs in at a hefty 6.3 pounds — quite heavy for shifting from one location to another.
A rubber armor protects the body against shocks, seals prevent moisture, and a nitrogen filling protects against fogging, which is always a plus. This price-friendly long-range scope also comes with a tabletop tripod and carrying case.
| Pros | Cons |
| --- | --- |
| Durable construction | Somewhat heavy body |
| Terrific price | Some focusing problems |
Barska 30 90×100 Spotting Scope – Features
Large objective lens absorbs more light for brighter images in low-light conditions

High-quality multi-coated optics reveal specific details of subjects

Crystal clear image quality and vivid color

O-ring sealed for waterproof protection

Nitrogen sealed to prevent fogging

Eye relief: 0.69 inches

30 to 90x magnification

100mm objective lens

Limited lifetime warranty

Check the latest price on Amazon
---
The robust, yet portable Barska Spotter Pro is a bit more pricey than other Barska products, but regardless, it's a good choice for anyone who loves the outdoors. Featuring a crystal clear and large 80mm objective lens, the scope delivers premium viewing at enhanced zoom settings.
Most hunters report that you can use the Barska Spotter Pro to zero in at ranges in excess of 500 yards very easily. In addition, hunters and nature observers will be pleasantly surprised with the tough and durable construction, which can withstand shocks and exposure to wet conditions, yet still, it only weighs 2.18 pounds!
We can't help but praise the Spotter Pro's portability, and with the included tripod and carrying case, you are really getting a great deal. The Barska Spotter Pro is a highly reliable scope with solid reviews. Try one for yourself.
| Pros | Cons |
| --- | --- |
| Good views regardless of lighting | Poor quality tripod |
| Wide field of view | Constricted FOV |

Barska Spotter Spotting Scope – Features
80mm objective lens

22-66X magnification

Porro Prism design

Multi-coated optics

Straight viewing design

O-ring sealed for waterproof protection

Extendable sunshade

Includes micro-adjustable tripod and soft carrying case

Check the latest price on Amazon
---
Barska Spotting Scope – Final Thoughts
With such of a great variety of spotting scopes on the market today in all price ranges, it's best that you understand your overall needs and preferences before you purchase one. As you have read in this article, we have reviewed some really terrific spotting scopes from the Barska line, with the added fact that most of their spotting scopes offer great value for your money.
Before you invest in a spotting scope, take into account a spotter's performance in various weather conditions. Add the price of the spotting scope as well as your specific technique, and you will be able to get the exact features you desire in the ideal spotting scope.
The Barska Naturescape is priced higher than most of their products, but it's actually more budget-friendly than many other spotting scope brands with the same features. In reality, Barska offers high-quality optics that come equipped with a wide field of view, low light strength and excellent illuminated reticles, all at a price that won't break the bank.
Recommended Reading
Vortex Diamondback Spotting Scope