Gun vises are extremely useful pieces of equipment for any gun owner to have on hand. They are built with the purpose of firmly holding your firearm in a prone position so that you can safely clean it or perform some basic maintenance. We review the best gun vise options on the market.
Remember not just any gun vise will do, however. You need a gun vise that is solidly built and is fully-padded to protect your rifle as you work on it. Additionally, it should be large enough to accommodate all of your long guns… it would be pointless to buy a gun vise for each of your rifles after all.
To help get you started off on the right foot, we have rounded up our picks of the top 3 best gun vises on the market in 2018. We will be looking at a few of the gun vises that have been the hottest sellers this year for one reason or another.
So without further ado, let's get to it…
Get Great Guns and Ammo Deals!
---
We have covered this gun vise in a previous article which you can read here, but we felt that it was deserving of a spot on this list as well.
Now, right off the bat let me clear one thing up… the CTK Precision P3 Ultimate Gun Vise is, more or less, a dual-purpose gun vise. Its main purpose is to serve as a gun vise first and foremost, but there is an additional accessory that you can pick up right here that will allow you to turn your gun vise into a pretty nice shooting rest.
The CTK Precision P3 Ultimate Gun Vise is constructed from heavy-duty steel tubing. The weight of this steel tubing is enough to handle fairly heavy recoil. As a matter of fact, it handles a massive amount of recoil every time I drop my Stoeger Condor on it. With the thick tubing it has, you would think that it would be heavier than it actually is. This shooting rest weighs in right at 8.69 pounds.
It features a leveling system that makes it easy and rather convenient to get the height and length fit to your rifle or another long gun. This same three-point system works really well when this base is being used as a shooting rest. All you have to do is turn the oversized knobs at all the points and then tighten down a few locking rings.
Overall, the CTK Precision P3 Ultimate Gun Vise is a solid choice all around.
| Pros | Cons |
| --- | --- |
| Made in the U.S.A. | The only con I can think of is the lack of decent instructions it should come with. Be it is not at all hard to put together. |
| Serves as a vise and a gun rest | |
| Constructed from thick steel tubing | |
| Lightweight design makes transportation easy | |
---
2. MTM Gun Vise – (Best Mid-Grade Gun Vise)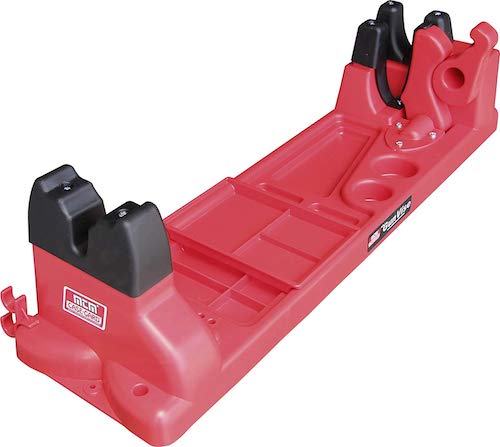 The MTM Gun Vise is the least expensive option on our list, but that doesn't mean that it is the weakest on this list, though.
On the contrary, this vise is actually a steal at the price tag that's attached to it. And at that price point, there are indeed a few takeaways. The biggest would be that this vise is not made of a steel or aluminum frame like you see with some of the more costly vises. Instead, the MTM Gun Vise is made from a very tough and solvent-resistant polypropylene that I have yet been able to break with typical wear and tear.
It makes good use of a quick clamp design and the rests are foam padded to make sure that the base securely grips your firearm without marring it.
The center of the base is made into the form of a tray with enough room to hold all of your brushes, rods, and other tools. As a matter of fact, it holds a total of 21 brushes alongside 11 other various holders for different items like patches, jags, and screwdriver bits.
All of this is firmly mounted on four skid-resistant rubber feet. It is completely free-standing, but it can indeed be bolted down if you prefer.
| Pros | Cons |
| --- | --- |
| Inexpensive | Cannot adjust the length |
| Made of solvent-resistant polypropylene | |
| Non-marring clamp design | |
| Equipped with a tool and bits tray | |
---
Tipton is one of the more popular, or at least widespread, brands out there when it comes to gun cleaning equipment and kits. I absolutely love their carbon fiber cleaning rods, and their universal bore guide. Even US military armorers have asked Tipton to help supply troops with tools that will serve well in rough conditions.
And usually, it is this type of praise that Tipton gets for their quality products…
However, Tipton finds itself at the bottom of this list, and for a couple of reasons. The most glaring of those reasons being that the build quality is just simply not the best that you can find. And secondly, with the price tag it comes with, you would think that they could have done a little bit of a better job.
So let's talk about this…
The build quality is subpar at best. When I reach for my gun vise, I want to feel metal in my hand. Solid steel that I know isn't going to break under my heavy-handedness. I want to be assured that my hard-earned money is actually going to a product that I am going to be able to enjoy for quite some time.
And while I do enjoy this vise for what it is, some people are just not big fans of gun vises that are made of plastic. Granted, this is not a bad vise, it's actually a really decent one if you are looking for an entry-level tool to clean or maintain a few more lightweight rifles.
| Pros | Cons |
| --- | --- |
| Great for entry-level use | Expensive |
| Fits most long guns | Overall build quality could be better |
| Lightweight | |
---
There are a few main uses for a gun vise. You can use them to hold your firearm as you clean it or perform maintenance on it. If you keep your firearms clean, they will last you a lifetime and keep your shots as accurate and true as possible.
But your new gun vise isn't going to just do the job itself. You are going to need some basic cleaning tools to go along with it as well.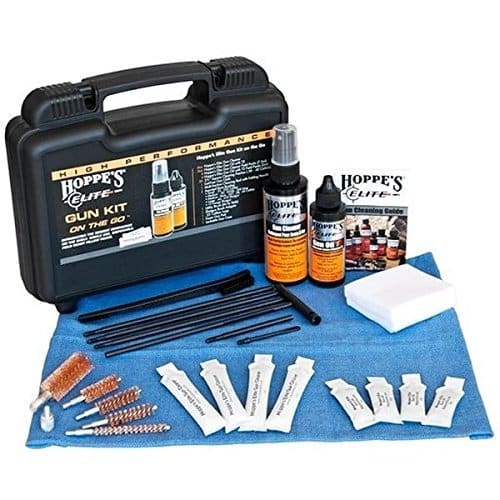 HOPPE'S Elite cleaning kit comes with just about everything you would need to clean any of your guns and keep them maintained.
This gun cleaning kit is probably one of my more favored options for when my budget is tight because it contains so many useful things. I will list all of them here, but I would have to say that my favorite product in this kit is the Hoppe's Elite Gun Cleaner.
This formula is one that I have used on a wide range of rifles mainly and it is amazing. It penetrates right down to the pores to get all the carbon, lead, and some fouling cleaned up. If I had my choice between this stuff and the Hoppe's M-Pro 7 Gun Cleaner, I'd have to say the spray in this kit does relatively the same job… plus you get all the other goodies the kit contains.
In this kit you will find:
One 4-ounce bottle of Hoppe's Elite Gun Cleaner

One 2-ounce bottle of Hoppe's Elite Gun Oil with T3

Four Hoppe's Elite Gun Cleaner field packs

Four Hoppe's Elite Gun Oil with T3 field packs

Fifty 2.5-inch square cleaning patches

One lint-free gun cloth

One multi-section cleaning rod with folding handle

Five bore brushes (0.22 to 0.223 caliber; 0.30, 0.30 to 06, 0.300 Mag; 0.9-millimeter, 0.357, 0.40 caliber; 0.45 caliber, 0.410 shotgun; 12 gauge shotgun)

One M-16-style utility brush

One shotgun brush adapter

One 0.22 caliber loop

One foam gun pad

Lockable gun case
To find out what other gun cleaning kits we recommend, check out this list that we've put together.
---
Best Gun Vise – Final Thoughts
There are many different gin vises on the market to choose from. There are steel gun vises, plastic gun vises, and gun vises that can also transform into shooting rests.
When it comes time to make a decision, you have to have an idea of what guns you will be using it for, where you will be using it, and weigh out your options. Do you want something heavy so that it can't slide around and scuff up your table? Or do you need something light and mobile that you can throw in your range bag for that last minute trip to the shooting range?
I hope this list helps you make the best decision for you and your treasured long guns. Do you use a gun vise that we didn't cover in this list? Drop us a comment below and let us know about it!
Recommended Reading
AR-15 Furniture And Accessories