Clay pigeons are a terrific way for any marksman or duck hunter to hone their moving target skills… and have a bit of fun while doing it! We review some of the best clay pigeon thrower options on the market.
If you do most of your target practice at the range, you probably already have access to a fully-functional range for trap, skeet, and sport clay shooting. Shooting ranges who have areas for these types of shooting practice usually also have their own clay disc throwers.
But what about when the range is closed or you just don't feel like leaving home, but still want to shoot some clay pigeons for fun with a few buddies over a barbeque in your backyard? You can do it!
Today, we will be taking a look at a few of the best clay pigeon throwers on the market to get your clay range up and running in no time. So get out your favorite .22 rifle, and throw on your shooting glasses and let's roll!
Get Great Guns and Ammo Deals!
---
Types of Clay Pigeon Throwers
Before we dive in and start looking at the clay pigeon throwers we believe are the best around, you need to know what types of throwers are available.
Luckily, there are only two that you will need to familiarize yourself with.
Manual Traps (Hand Clay Pigeon Thrower)
Manual clay pigeon throwers are operated just as the name implies; manually.
With a hand clay pigeon thrower, you simply load the clay disc into the end of the thrower and then sling it out into the air with enough force to send it sky high.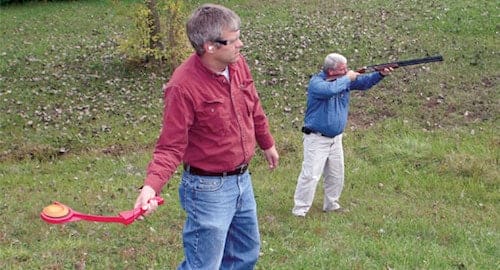 Now, of course, you likely would not be able to throw your own discs and have enough time to grab your firearm and take your shot. This type of thrower is really only useful for someone who will be practicing with a buddy. And yes, your buddy needs to have a strong throwing arm.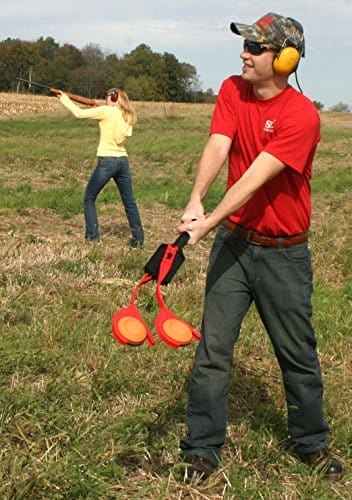 A good example of a simple manual clay pigeon thrower would be the MTM Clay Target Thrower.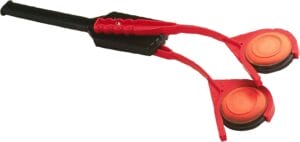 When you are trying to decide on which thrower to buy, keep in mind that they are classified as ¾-cock or full-cock machines. It is this classification will tell you if it is a manual thrower or an automatic thrower. The difference between the two is that with the full-cock system you will have to pull the lever back to its starting position against the tension of the internal spring.
Whereas, the ¾ cock throwers have a clutch mechanism built into them which allows the gears to only be pulled in one direction. The result of this is that you do not have to put much effort into resetting it as the thrower will do most of the work. Not all of the work, but some of it.
Okay, so now that you have a pretty good idea of the main difference between the two types of throwers, let's take a look at some of our choices for best clay pigeon throwers on the market in 2023.
---
If you are looking for an entry-level automatic clay thrower, look no further than the Clayhawk.
This trap is simplistic, easy-to-use, and even comes equipped with a triangular base (not a tripod) that keeps is level. The entire trap is constructed from steel, and the base has built-in spikes to increase ground stabilization while it is in use.
As for the actual operation of the trap, it is pretty straightforward. This is a ¾ cock thrower, meaning that the thrower will automatically reset to three-quarters after each shot. Then you can cock it the rest of the way with relative ease, and load up your next clay disc.
Oh, and the launching power that this thing has is quite impressive for an entry-level thrower. Allowing you to throw discs up to 70-yards in any direction, this is the perfect option for anyone who is trying to save a little money.
| Pros | Cons |
| --- | --- |
| Easy to use | Teeth on the locking mechanism don't always engage properly |
| Solid construction | Distance varies way too much on various factors |
| Can throw 5 targets set as singles or doubles | |
---
For about $20 more, you can easily upgrade from the Clayhawk to the highly popular Trius One Step Trap.
The body of this trap is constructed from steel, assuring you a steady throw every time.
Whereas, the arm is made from aluminum and oil-impregnated bushings to facilitate easy cocking action. As a matter of fact, the way this trap is designed, it allows you to use your foot to cock and trip it with just your foot. Perfect for a little bit of solo target practice.
As if that wasn't good enough, it can also throw singles or doubles.
| Pros | Cons |
| --- | --- |
| Steel constructed body | The release has a tendency to get stuck |
| Throws singles and doubles | Encourages bad shooting form as the foot pedal is high off the ground |
| Can be operated by foot | |
---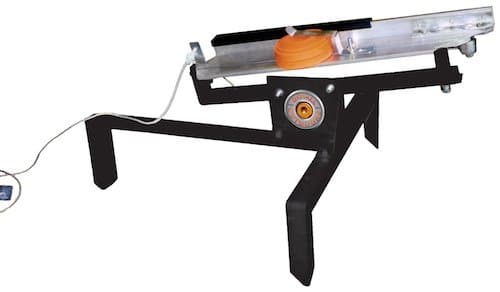 We already covered the ¾ cock trap, so we figured we should probably contrast it with another offering from Do All. This is the Do-All Full Cock Trap and it is the quintessential starter clay thrower.
Sporting sturdy steel and aluminum construction, this full trap is built to last years. To further protect the body, everything has been coated in a weather-resistant finish. And weighing in at only 10 pounds, it is extremely portable.
When you get it to the range or backyard, you can make of the innovative ground mounting system. Simply place it where you want it and use the 3 included 12-inch spikes and anchor holes on the base to hold it securely in position.
With this trap, you can launch singles, doubles, and even stacked or side-by-side discs. And with a total launch range of up to 55 yards, how could you go wrong?
| Pros | Cons |
| --- | --- |
| Sturdy construction | Welded joints are done poorly |
| Great for beginners | Stakes come out of the ground easily |
| Launches singles and doubles | |
---
Automatic Traps – Clay Pigeon Thrower
Manual throwers are fine and all, but sometimes you just don't want to be bothered to do any of the work. Or at least, the bare minimum. After all, you are out there to hone your moving target skills, not to constantly load your trap.
And this is where automatic traps come in handy.
This type of trap is usually powered by a 12-volt battery or other external power source and allow the loading of a large number of clay discs. Some of the best automatic traps on the market will allow you to load up to 50 or more at a time.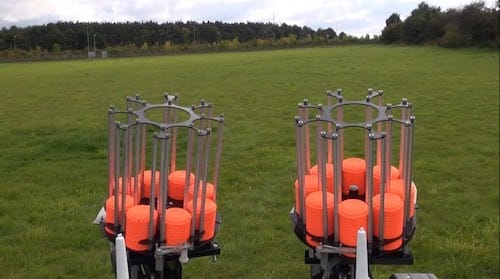 To release the trap and send a disc flying through the air, it is usually as simple as the press of a button. Some automatic traps will have a wired setup, others make the use of a completely wireless set up. The majority of them are designed to be operated by your foot. Just step on the button and take your shot.
One of my personal favorite features of a good automatic trap is the simple fact that most of them can be programmed. This usually includes options such as programming it to release discs at specific intervals, random movements from side-to-side or up and down. This feature allows you to truly hone your skills and challenges you as you will never know what to expect.
4. Champion WheelyBird 2.0 – (Most Feature Packed Clay Pigeon Thrower)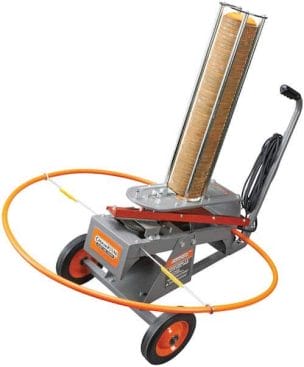 The first automatic disc thrower that we have decided to cover is the WheelyBird 2.0.
This fully automatic trap is a behemoth of a machine. This is the type of thrower that you buy when you are really committed to taking your target shooting skills to the next level.
It features a very sturdy build constructed of steel and aluminum, in addition to a set of wheels that take its mobility factory up a few notches. And they aren't cheap wheels either. Take it from me, those wheels are a huge help when trying to lug this machine around.
The motor that is installed on the WheelyBird 2.0 allows for ultra-fast cycle time. Probably the fastest on our list coming in at around 1.75 seconds between throws. To power this thrower, it comes with a built-in cord that uses a standard outlet. However, you can use a 12v battery instead, if you prefer.
Wrapping it up, the WheelyBird 2.0 features a wireless remote paired with foot pedal designed to make launching disc after disc easy.
| Pros | Cons |
| --- | --- |
| Can use either extension cord or a 12v battery | Bracket support bar is difficult to install |
| Well-built | Cheap remote |
| Wheels makes it easier to move around | |
---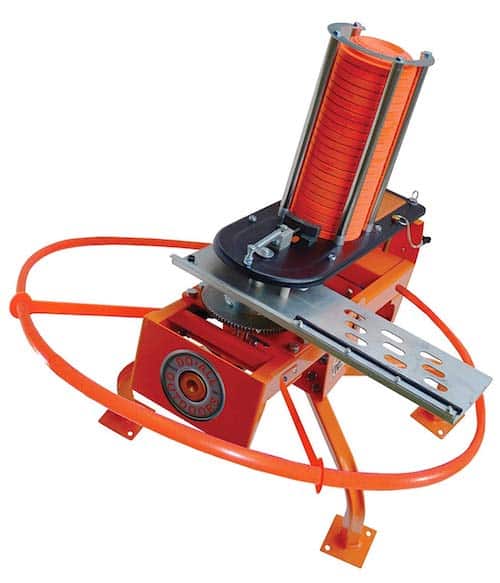 This is by far one of my favorite automatic throwers on the market at the moment.
This thrower is constructed out of tough aircraft grade aluminum. This thing can take a beating, I know because I tried.
The ability to adjust the thrower from 5-35 degrees to get the angle you are looking for is a great thing to have on any trap. Meanwhile, the feeder tray moves your discs smoothly into the throwing arm.
Once the arm is loaded, the thrower can sling clay discs as far as 55 yards. Be aware that it has a 2.5 cycling time between discs so it shuffles pretty quickly. Releasing the discs into the air is as simple as stepping on a foot pedal. By default, this is a wired foot pedal. For those who want something wireless, it is compatible with other Do All Outdoors accessories, which it can also be used with a wireless remote.
To stabilize the thrower, it includes ground spikes to be used with the pre-drilled spike holes on the base of the trap.
Powering the thrower is a 25-foot cord, but can also run off of a 12v deep cycle marine battery (sold separately).
If you are truly ready to step your game up, then we recommend also purchasing the Adjustable Wobbler Kit to go with it. This wobbler allows launching discs from a variety of positions and elevations.
| Pros | Cons |
| --- | --- |
| Well-built | Assembly instructions are hard to follow |
| Launches discs 55 yards+ | Must purchase wobbler for various angles |
| Can run off cord or battery | |
---
Best Clay Pigeon Thrower – Closing Thoughts
Whether you are a sport shooter or just a hobbyist, a clay pigeon thrower can benefit you. Foremost, it can rapidly and immensely increase your moving target skills. And to top it off, depending on where you live, you may be able to use one of these wonderful shooting tools in your own backyard.
When it comes time to choose what kind of clay pigeon thrower you want or need, consider starting with a 3/4–cock thrower. As your targeting skills improve, then you can slowly move up to one of the automatic machines.
The reason I say this is because automatic machines can indeed cost you and arm and a leg, figuratively speaking. In addition to that, when you are just starting out with a thrower, you have no real frame of reference in terms of quality or what you like best. So for these reasons, start small and work your way up.
No matter which clay pigeon thrower you choose to go with, along with dedication to practice and a big back yard, you will be shooting like a pro in no time.
Alternatively, you can always look into a laser training system.
Recommended Reading
Shooting Skills With Paintball
Best Shooting Chronograph Units
Home Defense And Target Shooting