You can count a holster to be a good one when it fits a variety of gun styles. Uncle Mike's Sidekick holster options are great for many types of firearms, but which one of this line of holsters is the best, exactly?
While you may end up preferring something different, our favorite is Uncle Mike's Kodra Nylon Sidekick Hip Holster. This holster will fit a variety of firearms, and even though it is a basic build it is effective in retention and comfort.
Of course, to know what size guns this or any of Uncle Mike's holsters fit, you can visit their website and look at the size charts that correlate with each holster type. They've made it easy to match your firearm to the right holster, which is why their hip holster is my favorite because it is great for so many types.
Get Great Guns and Ammo Deals!
---
Types of Common Holsters
The Sidekick holsters are not just one type of holster, however. Uncle Mike's has made a few different options to meet the needs of all kinds of firearm owners. What are the popular types of holsters out there, though? Why so many different kinds, and what do they do for you?
Let's take a look at the popular holsters out there to get a better understanding of the variety the firearm world has to offer.
Outside the Waistband
Outside the waistband, also referred to as OWB, is often used for open carry. Military and law enforcement use these most commonly, but of course many civilians use them too. While they're generally open carry, they are concealable under longer or looser garments, as they sit high on your person or behind your hip.
While they are a popular choice, they can leave your firearm exposed and easily accessible to outside forces. Without proper retention, there is more of a chance of it falling out.
Inside the Waistband
The inside the waistband holster, also more commonly referred to as IWB, is ideal for concealed carry. It clips to the inside of your pants or skirt and rests against your side or back, depending on the positioning. It is usually clipped to a belt, and different sized clips will fit different sized belts. Tighter or tucked in clothing works for this type of holster, and it is more guaranteed to remain secure from outside forces.
There is also the appendix inside the waistband holster (AIWB), which allows you to wear it inside the front of the pants rather than the side or back.
One downside to these is that, given a poorer quality holster, personal retrieval of the firearm might be hindered, and it might be less comfortable if you aren't wearing the proper undergarments. The right holster and a comfortable undershirt will solve these issues, however.
Shoulder Holster
Shoulder holsters are built with two straps that connect. The actual holster pocket is on either the left or right strap. The gun can be pointed in different directions, and a benefit of this holster is that the weight of your gun is distributed over your shoulders versus one side of your belt bearing the weight.
These are used for open and concealed carry, but work best under a coat or jacket. They might not be the most comfortable option for women so keep that in mind if you are a female in search of the right holster.
Belly Band
Belly bands fit around your lower torso and are usually made of an elastic material. They generally sit just above your belt line or higher. The gun pocket can be in a variety of places on the band, such as in front or beneath your armpit. They're generally a great unisex option as well, and most are adjustable to a certain size.
Due to the necessity for them to be tight in order to be secure, they can be uncomfortable, however they are concealable under different types of clothing. Often you'll find magazine pouches built into them like some IWB/OWB holsters.
Pocket Holster
Pocket holsters, as they are so accurately called, go within the pocket of your jeans, slacks, shorts, or sweats. They slip into the pocket, and usually have a tacky or sticky exterior that keeps them from coming out. Compact guns are generally the best fit, and if you plan to wear sweats or basketball shorts it can be a convenient holster to have on hand.
Because of the lack of clips or straps, these may be loose and not good for running or jogging, as your gun may come out.
Ankle Holsters
Ankle holsters, which are also known as boot holsters, are common among law enforcement as a way to carry a second weapon for backup purposes. They are worn on the opposite leg of your dominant hand, and the gun goes on the inside of your ankle or calf. You can conceal these under loose jeans or pants.
One common complaint is that they tend to move or bounce when jogging or running.
Pancake Holsters
Pancake holsters are usually two pieces put together, like a thin pouch, that allows the gun to sit in between them. They are thin and less bulky than a lot of other belt holsters. These are worn a bit further back from the hip and they are great for concealment as they hold closer to your body.
Without an undershirt, perspiration can wear on gun. If seated, it can dig into your side depending on the holster.
Below waistband
The below the waistband, referred to as BWB, was made popular by Urban Carry Holsters. It sits directly below the waistline for a much deeper concealment than the OWB or IWB. It was created in hopes of fixing some issues that have been noted with IWB and OWB, however it is not without its own flaws.
Two-handed draw is required, and it might not be easy to draw seated. While IWB and OWB are easier to access, with practice it can be easier as well.
---
Uncle Mike's Sidekick Holster Reviews
Let's look a little deeper into Uncle Mike's Sidekick Holsters now that we've looked at the different types of holsters there are. Below are the features, pros, and cons of each Sidekick. These are listed for the benefit of helping you choose which is your preferred holster.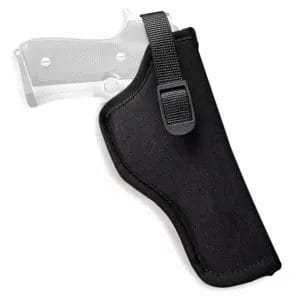 Uncle Mike has had their hand in pioneering nylon holsters. This nylon hip holster in their Sidekick line is a simple but reliable option. With left and right handed options, a variety of sizes available, and a waterproof material, you can't go wrong here.
Uncle Mike's Kodra Nylon Sidekick Hip Holster – Features
| Pros | Cons |
| --- | --- |
| Molded fit is nice | Draw may not be smooth with certain sizes |
| Belt loop strap is secure and simple | May deteriorate over time |
| Solidly built | |
With a waterproof closed-cell foam padding, durable and quality nylon, this ambidextrous hip holster is another one of Uncle Mike's Sidekick holsters.
Uncle Mike's Kodra Nylon Sidekick Ambidextrous Hip Holster – Features
| Pros | Cons |
| --- | --- |
| Quality | May be slightly too tight of a fit |
| Mag loop is nice addition | Adjustments can be a pain |
| Lasts awhile | |
If you are the owner of a large frame gun like the Ruger Alaskan, this holster is built specifically to accommodate the extra mass.
Uncle Mike's Kodra Nylon Large Frame Sidekick Hip Holster – Features
| Pros | Cons |
| --- | --- |
| Durable | A little snug |
| Retention is solid | Snap defective for some |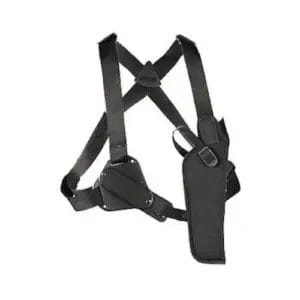 If you are after a shoulder holster, this is one of two options in the Sidekick line. It is a good choice for distributing the weight of your firearm and for good retention.
Uncle Mike's Sidekick Vertical Shoulder Holster – Features
| Pros | Cons |
| --- | --- |
| Fits well | Firearm angle not adjustable |
| Good retention | May deactivate safety while in motion |
| | Adjustment takes time |
Option number two for the Sidekick shoulder holsters, this one is built to suit the needs of law enforcement, though you might like it too if you are a civilian. Please note that sizes are all sold as individual products and this listing does not provide all available options.
Uncle Mike's Sidekick Cross-Harness Shoulder Holster – Features
| Pros | Cons |
| --- | --- |
| Functionality is good | Button snaps hard to close |
| Comfortable | |
---
Uncle Mike's Sidekick Holster – Top Pick
Among the above options, Uncle Mike's Kodra Nylon Sidekick Hip Holster seems to be the best one to me. The others have flaws that can interfere with their functionality, but the flaws of the Kodra Nylon Sidekick are minimal. I love its shape, simplicity, and overall dependability.
Recommended Reading
Best Pocket Concealed Carry Holster
Leather Iwb Holsters For Concealed Carry