A fiery debate between former CNN anchor Don Lemon and Republican presidential candidate hopeful, Vivek Ramaswamy, has resurfaced on X, formerly known as Twitter.
In April this year, Ramaswamy appeared on Lemon's former show, CNN This Morning, where they debated Black history and the experience of Black people today in the U.S.
A video posted to X, formerly known as Twitter, showed the moment the debate became heated with the caption, "Here's a throwback video when Don Lemon got Vivek Ramaswamy ALL THE WAY TOGETHER." The tweet had 258,000 views at the time of publishing.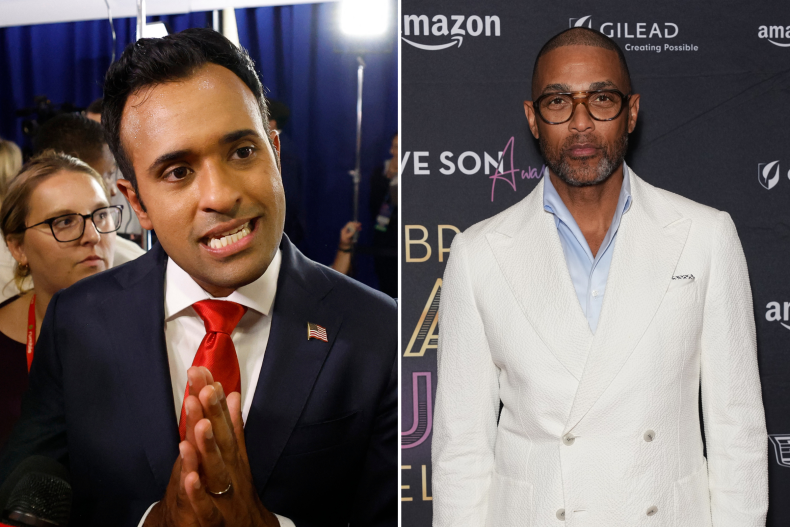 Lemon took the politician to task over his views, in particular saying the NRA (National Rifle Association) played a "big role" in securing freedom for Black people.
"Black people secured their freedoms after the Civil War; it is a historical fact, Don, just study it," Ramaswamy told Lemon, at which point the anchor interrupted him to say, "it's not [fact]."
Ramaswamy argued that the economic policies put in place to help Black people had been "disastrous" for that community.
"You are discounting a whole host of things that happened after the Civil War when it comes to African Americans, including the whole reason that the civil rights movement happened is because Black people did not secure their freedoms after the Civil War," Lemon said.
Lemon referenced a comment Ramaswamy had made at the NRA Leadership Forum held days before their interview and said that the Civil War "was not fought for Black people to have guns."
The anchor also took Ramaswamy to task over trying to explain what the Black experience was like, especially considering Lemon himself is Black.
"When you are in Black skin and you live in this county then you can disagree with me," a frustrated Lemon told him, after telling producers in his earpiece to stop speaking to him so he could concentrate on what Ramaswamy was saying.
"We have to be able to talk about these issues and be open regardless of the color of our skin…" Ramaswamy told Lemon before saying that Black Americans were more equal today than compared to 1865—the end of the Civil War—and 1964 when President Lyndon Johnson signed the Civil Rights Act into law.
Lemon said Ramaswamy was "infuriating" and his "telling of history is wrong." He described the Republican presidential hopeful's claims as "insulting."
Shortly after this debate, CNN fired Lemon, leaving the journalist "stunned."
While no reason was given for the firing, the anchor had found himself at the center of a number of controversies, including allegations of sexism and misogyny.
A Variety report in early April described a number of allegations of sexist behavior by Lemon towards several female colleagues, with some reportedly going as far back as 2008.
Lemon has denied the allegations, saying they were just "anonymous gossip."
In February, he faced public scrutiny when he suggested Republican presidential candidate Nikki Haley "isn't in her prime, sorry" because she was in her 50s. Lemon later apologized for the remarks, calling them "inartful and irrelevant."
Some people have speculated whether it was the debate between Lemon and Ramaswamy that got him fired from CNN.
"It really was one of the more bizarre things I've seen on television," Republican Representative Matt Gaetz said during an April episode of his podcast Firebrand. "So, I don't know if this clip contributed to Don Lemon's firing, but I sure hope it did."