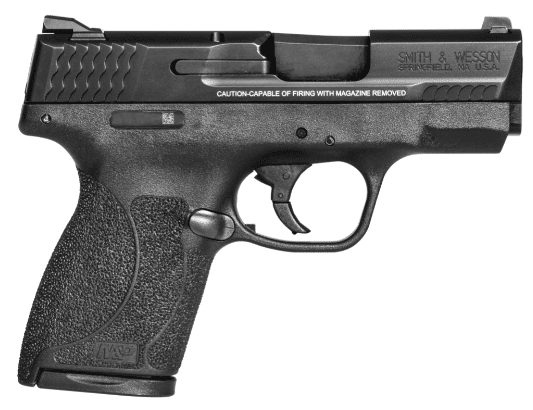 Smith & Wesson's M&P 45 Shield is a new compact, single-stack pistol chambered in .45 ACP (Automatic Colt Pistol). This new addition is almost identical to the original Shield in 9mm and .40. However, the only difference is that it's a bit larger.
The M&P Shield is a favorite pistol among consumers — mostly because of it's used for concealed carry. In fact, it may be one of Smith and Wesson's major contenders.
We've done some research on the new M&P 45 Shield, in addition to comparisons to other brands. Our review is as follows …
Get Great Guns and Ammo Deals!
---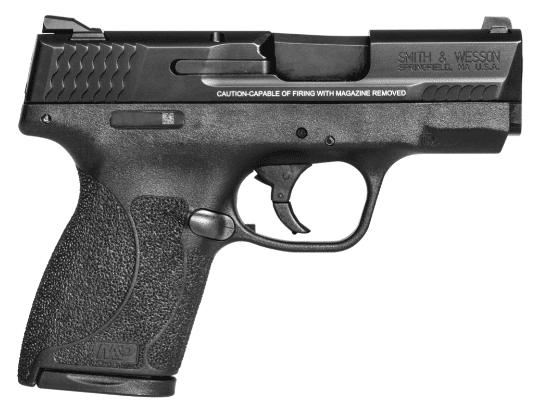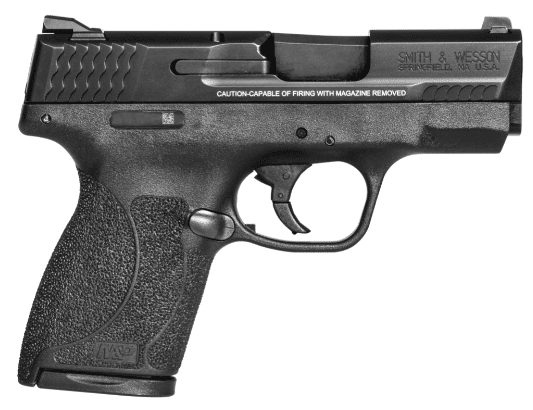 M&P 45 Shield Review
The M&P Shield was not made to replace smaller pistols. It actually belongs to a specific category of carrying pistols. This model is a single stack, compact firearm made for when you need a concealable option for protecting yourself.
This pistol boasts a slick frame which conceals easily. In addition, it also features a significant grip. The M&P 45 Shield is definitely worth your consideration.
M&P 45 Shield Performance
As far as performance, this baby sure makes a statement. This is because of its slight and compact body. Many shooters find that the 45 Shield exceeds their expectations.
In fact, some shooters compare this model to a 9mm Glock 43 and they found it to be a bit less harsh. Shooters also reported that the grip texture was very comfortable and possessed extreme control.
For this review, one of our team members shot a substantial amount. Overall, the 45 Shield ran well and produced zero malfunctions.
Supreme Comfort and Control
The M&P 45 Shield is available with a couple of magazines, with the first one a six-round flush in addition to a seven-round magazine. However, it's grip is not the best for concealed carry.
The texture of the grip is great, as it's more threatening and covers more overall space than a regular M&P Shield grip. Although this frame is slightly bigger and meatier than the regular version it's easier to handle. Moreover, our shooter was comfortable shooting more than 100 rounds.
M&P 45 Shield – Features
The particular model that was used for this review came equipped with a safety — but you can check the M&P website for more information on their thumb safety. Moreover, the slide lock was easy to use when our tester tried it out. In the end, it didn't hinder the tester's shooting.
In addition, it's positioned quite well for someone with hands of average size. The M&P 45 Shield is sleek and smooth, and easy to use. It's pretty amazing.
And, just as the other M&P Shield models, this 45 version features a trigger that is also hinged. For some shooters, the trigger reset could be quite lengthy. Lastly, like the other M&P Shield models, the 45 has 3-dot sights and are good for those with average vision.
Similarities
It was determined that the M&P 45 Shield is very comfortable and quite feasible regarding the strings. After 60 plus rounds, the shooters' hits seemed to drop deeper than the predetermined target.
Moreover, there were no significant issues shooting this version. The M&P 45 Shield was pretty accurate in our testee's hands, as he shot various rounds. It was concluded, that for your money, this is sufficient for defensive-engagement utility.
Positives
The M&P 45 Shield is a remarkable shootable and concealable option. The controls are precisely designed and the capacity is as good as one might anticipate for a smaller weapon.
So, if you are a fan of the M&P Shield, as many shooters are, you will love the 45 Shield. In addition, you'll really be impressed with the features and grip of this tiny pistol.
Negatives
There are not many cons associated with the 45 Shield. It may have a smaller scope, but in essence that makes it perfectly concealable.
---
M&P 45 Shield Review – Summary
Ergonomics
Overall, the MP 45 Shield is a weapon that feels super to hold and blows away the 9mm version. In addition, the oversights are perfectly placed and inconspicuous.
Shootability
This is a highly shootable pistol, although it can get a bit wild versus other models. However, the grip texture performs well.
Accuracy
The M&P 45 Shield is pretty concise, but, the barrel isn't really suited for extreme distances. If you master the trigger, this gun will be your perfect companion.
Concealability
As long as you're right-handed, this gun hides well, is easy to manipulate, and carries all day long in comfort.
Reliability
One failure was reported to lock back on an empty magazine in 500 rounds.
Customization
Not much customization for a left-handed shooter. You can try for more customization online.
Overall
If you prefer to carry a small .45 gun, this one is a great value for your money.
MP 45 Shield Specifications
Caliber: .45 ACP

Width: .99 inches

Length: 6.45 inches

Height: 4.88 inches — with flush magazine

Barrel: 3.3-inch stainless steel Armornite finish

Trigger: give or take 5.5 pounds

Sights: 3-Dot steel

Safety: RH-side thumb safety

Weight: 22.7 ounces (with empty magazine)

Slide: Black, stainless steel Armornite finish

Capacity: 6+1 and 7+1 (extended magazine)
---
M&P 45 Shield Review – Final Thoughts
The MP 45 Shield is an ingenious and flat out great small pistol. In fact, this particular model is a favorite among users who boast huge success stories.
But honestly, what else would you expect from a name like Smith & Wesson? Their M&P line is just like their brand — it's one to be trusted. And, the MP 45 Shield is one that may be unbeatable, if not a competitor for other types on the market. In addition, what's really cool about this is the fact that it's easy to conceal, thin and compact .45.
With a fabulous price tag to boot, the M&P 45 is a no-brainer. It's user-friendly and when you use it on the range, it acts like a full-size handgun. Finally, it can make hits fairly easily. A word of advice — with any carry gun, it's important that you're able to shoot it well and practice!
Recommended Reading