Since the original writing of this article the Bushnell Elite 6500 has been discontinued. While you may be able to find some used ones in the market place, Bushnell has developed a fine alternative to consider.  We also have some other alternatives to the Bushnell Elite 6500 below.
Anyone who wants to purchase a rifle scope fancies the idea of a high power scope with a good long range. However, a majority of high magnification scopes available don't really work well when it comes to limited or low magnification.
Most of them may also have a narrow depth of field, low light transmission, and excessive magnification at the low end (6x or 4x zoom) which is simply too much for a fifty yard shot.
These are some of the concerns you'll have to face with most rifle scopes out there. A good rifle scope is one which that gathers sufficient light and its efficient light transmission compliments the magnification in order to produce the best image possible.
The Bushnell Elite 6500 is famous for producing bright and sharp images at all magnification ranges. If you are looking for a rifle scope that pretty much offers the best of both worlds, the Bushnell Elite 6500 might be your best bet.
In this scope, neither high end or low end magnification is compromised and furthermore, its 2.5x – 16x zoom range is wider than any other scope's magnification range available on the market, regardless of price.
Get Great Guns and Ammo Deals!
---
Things to consider before buying Bushnell Scope
The Bushnell Elite 6500 is perfect for hunters and specifically those who need a versatile and high quality scope that works well in a range of environments, from Georgia's pine forests to the high peaks of the Rockies.
The Elite 6500 has effectively captured a large enough audience by offering sufficient flexibility in terms of magnification. If you are looking for a compact and easy to use rifle scope which you want to use for moderate range, the Elite 6500 would easily satisfy your need.
However, if you know exactly the kind of shooting you are going to do, then you might as well explore other options. For instance, if you are looking for a scope specifically for short-range hunting which uses low magnification, it is always better that you find yourself a much more specialized scope that is specifically built for those demands.
However, if you think you are going to find yourself shooting in a range of circumstances depending on your versatile gun-activity schedule, the Bushnell Elite 6500 should certainly be in your shortlist.
This may not be your best bet if you want a short-ranged scope.

If you are obsessive about the field of view and do not want it compromised for an extended eye-relief, this product is not for you

The knobs aren't target knobs. They can be used for dialing during elevation, but to be fair, they are low-profile knobs. If you think you are going to have to dial in your adjustments quite frequently, then you might want to consider the 2009 version of this scope which has target knobs.

The magnification range that the Elite 6500 offers is excessive. If you don't want to spend extra cash on something you don't need then you might want to check out
[spec-single]
Alternatives for Bushnell Elite 6500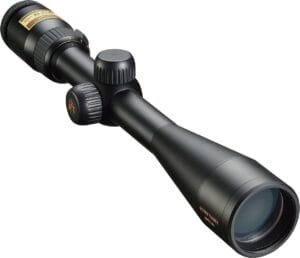 The Nikon M-223 is another moderate range scope. It is designed to easily capture and engage targets that are 600 meters. This is more easy because the optic is designed in a way that it has a bullet drop compensator out to 600 yards.
The BDC places hash marks along the 600 yard distance and then automatically does the elevation compensation for you. The M-223 is specifically designed for .223 and 5.56mm rounds which are not only  lighter but also among the most popular in terms of caliber in the AR series of rifles.
When it comes to long eye relief scopes, there is no scope that comes even close to the Leupold VX-3. It has a 2.5x – 8x magnification power coupled with a rifle sized 32mm objective lens.
Leupold's quality hardly needs an introduction. If you think that Bushnell Elite 6500's 4.0-inches eye relief won't be enough for you, you definitely want to check out the Leupold VX-3. This beauty offers 15 inches of eye relief and comes with a lifetime warranty.
This product is ideal when used for hunting, target shooting, or simply as a scout rifle to stick it behind your truck's seat. Generations of trusted high-quality and performance-oriented manufacturing make the VX-3 the first and last LER scope you will ever need.
Bushnell ELite 6500 – Final Thoughts
Undoubtedly, the Bushnell Elite 6500 provides the greatest magnification range which is why the shooter can never complain that he was stuck with too low of a maximum magnification or too high of the minimum magnification.
If you are a hunter who likes to keep his options open regarding scopes, Elite 6500's accuracy and extended range capabilities perfectly suit your needs. In terms of versatility, the Bushnell Elite 6500 wins by a landslide! In terms of field-of-view, the Elite 6500 faces a slight drawback as compared to its Leupold rival only because it tops out at 25x magnification.
The image quality, compactness and light weightedness, user-friendliness and not to forget the extended eye relief are some of the unique features of the Bushnell Elite 6500. Spending on this product is not an insignificant expenditure. However, if you want a one-scope-army to cater to all your needs, the Elite 6500 returns more excellent value to your investment.
If you like this review, and want to see more Rifle Scope reviews, visit our resource page.
Recommended Reading
Bushnell AR Optics Drop Zone-223