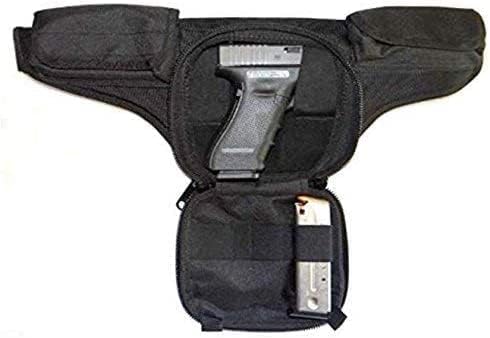 When we think of concealed carry, we will often think of hidden holsters. But the concealed carry fanny pack conceals your firearm in plain sight. What, then, is the best fanny pack for such a feat?
The MEDIUM – DTOM Concealed Carry Fanny Pack is my personal choice. It fits medium sized guns like the Springfield XD compact and sub-compact. Not only does it appear inconspicuous, it also has pockets for your wallet, keys, cell phone, and any other compact items you might need to carry around with you.
Get Great Guns and Ammo Deals!
Pros and Cons of a Concealed Carry Fanny Pack
Fanny pack holsters are, as they sound like, a fanny pack with the main pouch being made for your firearm. Of course, any regular old fanny pack won't do because tossing your gun in it and letting it toss around loose isn't secure or safe.
You want a pack that is made for carrying a gun specifically, which usually comes with security measures and retention. Without these, you run the risk of both damaging your gun and negligent discharge.
There's a bit of a debate on whether the fanny pack says "gun" or not. There's also debate over whether they're even a good carrying option. Some people are adamant that anything aside from holster carry is no good, while there are those who enjoy the comfort of something other than a holster.
Needless to say, there are varying options. While I can't make the decision for you on which side of any debate is right, I will talk about some of the pros and cons of a fanny pack and why they are so.
Concealed Carry Fanny Pack – PROS
Some of the common positive reasons given for them are that they are more comfortable, they protect your gun from all weather conditions and elements, they're easily accessible, and can be worn with any casual clothing type.
Comfort. The comfort of this pack comes from the fact that you don't have a holster digging into your side. You also don't have the stress of your shirt hiking up or moving around, and no extra bulk that may print under your clothing.
However, the more you add into the pack the more it will weigh down and pull away from your body rather than rest against you. If you load it with a wallet, keys, phone, charger, batteries, flashlight, and that extra pack of gum, the bulk increases and the discomfort along with it.
Accessibility. Because it sits right in front of you, there's no struggling with lifting your shirt up and no leaning forward while seated. All you do is open the fanny pack and draw the gun.
Protection. Inside this safe, cozy pouch your gun is protected from rain, snow, dust, and mud. The pocket of the pack is sealed and protects against such elements to help the finish and function of your firearm last longer.
Concealed Carry Fanny Pack – CONS
On the negative side of things, reasoning is given that they are not safe on a range, they obviously say "concealed weapon," drawing your weapon is too slow and complicated, and drawing requires two hands.
The Range. Alongside other students, a fanny pack is not at all safe. The main concern is that one cannot see the trigger finger of whoever is drawing the firearm from the pouch. Though it should be common knowledge to keep your finger off the trigger, beginners might not be thinking about this.
Removal. The process of drawing the gun might be awkward and slow-going for first time users, according to the argument over it. The two-handed issue comes with having to unzip or undo the pouch with one hand while drawing with the other.  It has been stated one can learn to do all of this one handed, but it might not be as efficient and quick as a holster.
Slow to Draw
The pace of drawing is slower than a hip holster, and about the speed as drawing from a shoulder holster.
Obvious. Many people argue that it is obvious you are packing. This comes down to location, however. In certain areas it might be obvious, while in others you will potentially blend in if you wear the right clothing with it.
We don't want to stereotype or categorize, but appearance does matter with this accessory and if you do anything to make it stand out, it will and people might be able to identify it as a concealed carry pouch.
Wearing clothing and colors that are bright, conforming, and unassuming work best, because anything that appears to "macho" or law enforcement/military-like will identify as more than a fanny pack.
Just as much as you have to think about the concealment of your IWB or another hip holster, fanny packs still require some thinking and planning if you want to do it right.
---
Best Concealed Carry Fanny Pack Options
Now let's take a look at the top choices when it comes to available product out there. The purpose of this is to help you find what suits your needs so there are a few different reviews below.
An ambidextrous option for any owner of a medium sized gun. Not only is it comfortable, it also has ample storage space for other miscellaneous items.
DTOM Law Enforcement Concealed Carry Fanny Pack – Features
Slim Fit Concealed Carry Fanny Pack

Works for Right or Left Handed

MEDIUM size CORDURA NYLON Concealed Carry Fanny Pack

Fits up to 40″ waist

Ambidextrous
| Pros | Cons |
| --- | --- |
| Works great with bigger firearms for running | Extra compartment zippers might be cheaper material |
| Not too bulky | Belt material can roll |
| Heavy Duty | Webbing is slightly weak |
This pack is made for compact or subcompact guns, and is great for carrying an extra magazine or so along with it. The Hot-Pull tab meant to aid in a quicker draw is nice, and works well.
5.11 Select Concealed Carry Fanny Pack Features
100% Rugged 1050D Nylon

Small-format covert carry pouch

Front pouch concealment pack with pistol holder

Hot-Pull™ tabs for rapid weapon deployment

Added magazine holders on front flip down

Ambidextrous
| Pros | Cons |
| --- | --- |
| Pull tab works great for quick draw | Too much extra strap for smaller people |
| Can be worn left, right, on hip, or as a sling | Side pockets are too small to hold much (mostly decoys) and not meant to function as more than just the holster |
| Fits great | adjustable belt may slip a little |
Much like the medium version, this DTOM pack works well for the smaller pistols out there. For guns like the Ruger LCP, this pouch is a great choice.
SMALL – DTOM CONCEALED CARRY FANNY PACK – Features
Works for Right or Left Handed

YKK Zippers and Rugged 1000 Denier Cordura Nylon

Works well for Small sized guns

Fits up to 42″ waist
| Pros | Cons |
| --- | --- |
| Sturdy build | Draw is slower |
| Extra compartments are nice | Zipper metal is too noisy |
| | Security strap is not as secure as desired for some |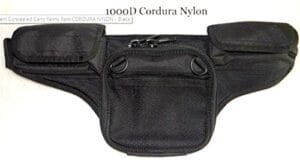 While this pack does not appear like some of the regular fanny packs, it still serves the same purpose and offers a unique look for those who prefer something a little less traditional. While it looks like a smaller square pouch, the muzzle of your gun is tucked into the side to better conceal the fact that you are carrying.
Features
YKK Zippers throughout and 1000 D Cordura Nylon

Rugged CORDURA NYLON

Carry-all fits full-size firearms

Unique Design

Fits 36-46 inch waist
| Pros | Cons |
| --- | --- |
| Fits spare mag too | Not a quick draw |
| Fits shorter muzzled pistols | Pouch is somewhat cumbersome |
| Durable and water resistant | May push against thigh while seated |
| | Magazine may rub against pistol |
For a more stylish option, this military-style fanny pack is perfect for the avid hiker. Rain or shine, this waterproof pack will protect your firearm on any outdoor adventure.
Features
Materials: High density 900D nylon and canvas

Quality ABS buckle

Adjustable, Detachable Strap

Small, Compact, Design

Molle Compatible Tactical Utility / Gadget fanny pack

Extra pockets

Color options
| Pros | Cons |
| --- | --- |
| Sturdy, good material | Putter pockets are small |
| Good for a small pack | Straps/fasteners over zipper that aren't quick release |
| | Too many zippers |
| | Not entirely waterproof |
---
Top Concealed Carry Fanny Pack Holster Pick
Among the above options, my top choice remains the MEDIUM – DTOM Concealed Carry Fanny Pack. As long as your gun is in the correct size category for this pack, it has and does everything that is necessary for security and reliability. While it might not be a super quick draw, with practice you can get quicker with it.
You might enjoy another type of fanny pack holster, whether it's on this list or not. Perhaps your gun isn't compact or subcompact, or maybe you just prefer different features or another style. Whatever your preference, we hope this article helped you narrow down your choices and learn a bit in the process.
Recommended Reading
Best Pocket Concealed Carry Holster
Best Glock 22 Concealment (CCW) Holsters
Best Concealed Carry Holster For The Kahr P380
Leather Iwb Holsters For Concealed Carry
Glock 19 Concealed Carry IWB Holsters