Bullets are fired at muzzle velocities faster than the speed of sound. These same bullets also come in all shapes and sizes. They're even available in three different types — Jacketed, Plated, or Hard Cast — with each type boasting various characteristics.  X-Treme Bullets offers today's gun enthusiasts all three variations. Listed below are the specifics of each Extreme bullet type …
Get Great Guns and Ammo Deals!
---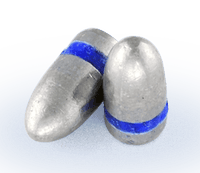 Hard Cast Lead Bullets are first on the list. These cast bullets are made of a lead alloy to increase hardness. Then, they're melted and poured into a mold cast to blend into a bullet.
The next step is to size each bullet to the correct diameter, lubed, and ready to load. These lead bullets are the least expensive to manufacture, and usually the cheapest option for bullets.
However, there are some cons to using cast bullets. For example, the process involves additional exposure to lead, thus increasing the leading in your barrel — especially at higher velocities.
The best part of Jacketed bullets is they solve the main complications associated with lead bullets. Jacketed bullets actually perform at much higher velocities than lead, which results in less smoke.
In addition, jacketed bullets are made by sawing a bullet core from lead wire, using another punch machine to form a jacket cup from copper.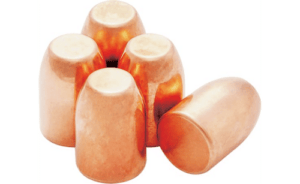 Plated bullets combine all the good things from both jacketed and lead bullets. These bullets also have a similar process of manufacturing as jacketed. And, just like jacketed, plated bullets are inexpensive to manufacture.
The X-Treme creation process begins when the copper anode is attached to a power source which draws an electron from the material and deposits it into the cathode — the lead bullet cores.
This results in positively charged copper and negatively charged lead cores. The copper and lead cores are then submerged in a tank with a solution that breaks down the copper. The copper is now free to flow and build upon the lead cores.
X-Treme Bullets manufactures all of the above three types, so there's plenty of options to choose from the next time you're in the market for new bullets.
---
X-Treme Bullets Review
Ammunition should be reliable and accurate in your choice of firearm. Because why should you waste your time with malfunctions? Consider X-Treme Bullets, as they are the perfect choice for both indoor and outdoor range use. Professional competition shooters choose X-treme bullets because they must be consistent and accurate every time they shoot.
The X-Treme company delivers — and prides themselves on the superior craftsmanship of their popular bullets, and great customer service. But, not just target and competition shooters use X-Treme bullets — hunters use them as well. In addition, the X-Treme Bullets company is rapidly becoming a well-known brand worldwide. Some of them are even compatible with the best muzzleloader guns.
---
The X-Treme Choice for Competition, Hunters & Worldwide
The X-Treme company offers the most popular bullet shapes for both target shooters and hunters. They use hard cast — a tough, time-proven alloy. X-Treme manufactures the highest quality copper plated bullets and hard cast lead bullets at the most competitive prices.
In addition, most of the bullets are designed for use in handguns, but X-Treme also offers several rifle bullets as well. The X-Treme customer base is made up of competition shooters, law enforcement personnel, and commercial loaders.
Another X-Treme advantage of their plated bullets is that they are completely clad in copper. Most traditional jacketed pistol bullets still have an exposed lead base, which can create additional smoke during firing and exposure — especially if you're handloading.
These X-Treme bullets are the ideal choice for target shooting, plinking, and varmint hunting. In fact, these .22-Cal. rifle bullets are squarely made of the finest materials available in the United States. These bullets are so pristine, they're sure to deliver optimum downrange performance with every single shot.
In addition, these X-Treme 55-grain full-metal jacket bullets use state-of-the-art manufacturing technology to encompass the lead core in a copper jacket. Plus, it won't expand upon impact with your target.
Lastly, the X-Treme Bullets .22 Cal. Rifle Bullets feature a groove around the ammunition for a better hold during the crimping process. These bullets are simply one of the best types you can buy on the market today.
Features
Lead core inside a copper jacket that won't expand on impact

Features a cannelure for a better hold during the crimping process

Made of the finest materials in the US for reliable and optimum performance

Check the best price online!
The Copper Plated Pistol Bullets by X-Treme are made of the best materials available to deliver downrange performance with every shot. The X-Treme process starts with a lead billet extruded into wire then swaged into a core.
Next, Cores are copper plated and then restruck once more. And, although this is uncommon in the industry, the restrike will produce more uniform bullets with precise diameters and smoother finishes. Give these bullets a try — you won't regret your decision!
Features
Made of the finest materials

A downrange performance with every shot

Copper-plated cores

Precise diameters

Smoother finishes

Uniform bullets

Check the best price online!
With the X-Treme Bullet and Primed Brass Reloading Kit, you'll receive one of the best kits in the industry. This kit will deliver unmatched performance out of your reloads.
Simply add your favorite powder to the kit — which includes 500 X-Treme Bullets and 500 pieces of new, primed X-Treme Brass. Heads up: recommended load data included.
Features
Includes 500 bullets and 500 primed brass shells

Available in two 9mm bullet sizes

Load data included

Check the best price online!
X-Treme's New Unprimed Pistol Brass guarantees you dependable performance and function out of your reloads. Each extraordinary piece is manufactured from the finest materials.
And just like all X-Treme bullets, this Unprimed Pistol Brass is run through state-of-the-art inspection equipment. This process ensures it will stand up to multiple reloading cycles.
Features
Dependable performance and function

Manufactured from the finest materials

Run through state-of-the-art inspection equipment

Check the best price online!
---
X-Treme Bullets – Final Thoughts
When you're buying bullets, it's always wise to buy in bulk. And if you choose X-Treme, you'll actually receive a discount! X-Treme Bullets offers lower prices for higher quantities.
In addition, the company will frequently offer specials such as 5% off a particular bullet weight, or free shipping on orders up to $1,500. With so many good things and perks that come with X-Treme, purchasing bullets from them is a no-brainer!
Recommended Reading