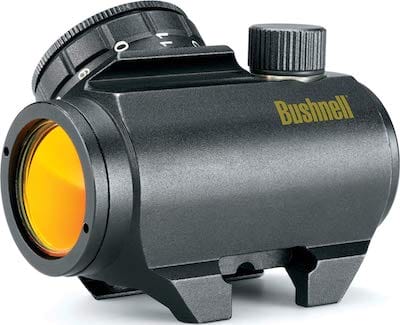 Bushnell has been building optics longer than I've been alive. Generations of sportsmen likely used their budget-friendly rifle optics for hunting. Bushnell has dived into the tactical realm with a series of AR scopes.  Today we are going to look at micro red dot in the AR optics family the TRS 25.
The AR line of optics are varied and range from simple magnified rifle scopes to a red dot or two. The optics themselves have proven to be popular and even capable. One of the biggest benefits is the fact these are affordable optics that walk a fine line.
Optics can be tricky. Many times, when you attach the word affordable to describing an optic it means its crap. The AR line of optics walks the line well. Admittedly they don't offer some of the fancier options more expensive optics do, but they excel at the fundamentals of making a quality optics.
Get Great Guns and Ammo Deals!
---
Bushnell Trophy TRS 25 – Specs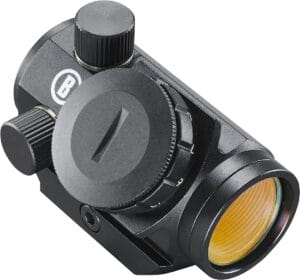 The TRS 25 gains its name from the objective lens size. The 25mm objective lens puts it in an interesting category. It's small, but not a micro optic. At that size its compatible with some magnifiers which is nice. Outside of a small lens size it's also short, and lightweight.
How Much Does the Bushnell TRS 25 Red Dot Weigh?
The TRS 25 weighs a mere 3.7 ounces and is only 2.4 inches long. The optic takes up very little space on the gun, so it's excellent for this picatinny impaired firearms. While AR 15s may have enough picatinny rails for days a lot of guns do not. AKs, MP5s, and other guns don't offer that massive amount of picatinny.
This is especially true of pistol versions of the AKs and ARs. The smaller size of the TRS 25 makes it perfect for these types of weapons. The TRS 25 has unlimited eye relief and can be mounted well forward of the typical scope mount area. The optics are fully multi coated and the coating uses an amber bright design.
What Type of Battery Does the Bushnell TRS 25 Use?
This optic runs on a single CR2032 and has a 3 MOA reticle. The optic is also 100% waterproof, shockproof, and fogproof. The TRS 25 is a round optic with a mere three controls. The off and on adjustment wheel is the same control and the other two controls are for elevation and windage.
This simple design keeps things nice and small and makes the design simple to use for both new and experienced shooters.
---
How to Mount a Bushnell TRS 25
Mounting the optic is easy. It's a simple picatinny rail mount and universal among modern guns. The TRS 25 comes with a low mount, but it adaptable for higher mounts. This optic is designed with the AR in mind and cowtinesses perfect with AR height sights.
With a high rise mount the optic will give a lower 1/3rd cowitness. The built-in mount is perfectly robust for a rifle or carbine platform.
With an AK style rifle or even a pistol you can mount the optic on the gas tube and rock and roll all day. Of course, you'll need the appropriate western mounting system for it to work. The system itself allows for plenty of room to mount magnifiers on most small guns.
---
Zeroing in a Bushnell TRS-25
Once I had the TRS 25 mounted I did a rudimentary bore sight. This makes things easier once I hit the range. A bore sight reduces the rounds I typically need to zero the optic. Bore sighting is a little tricky with a red dot scope and the key is turning the optic on and off quite a bit to avoid confusing with red dot is which.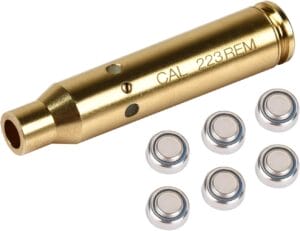 Once that was done I hit the range with a standard NRA target to fine tune the zero. The TRS 25 uses ¼ MOA adjustments. I zeroed the optic at 25 yards and the ¼ MOA adjustments allowed me to quickly zero my AR to the optic. ¼ MOA adjustments are big, but for a red dot it's not a big deal. I chose 25 yards to zero the optic at because it makes the math a bit simpler.
You will need a screwdriver or a brass 223 case to make the adjustments. This is simple, and the clicks are nice and audible. They're also tactile which means you feel every click as you make it.
This is important because when you zero the optic at a gun range. There will be lots of noise from your fellow shooters and you'll be wearing hearing protection. That tactile feedback is invaluable in this situation.
---
Clarity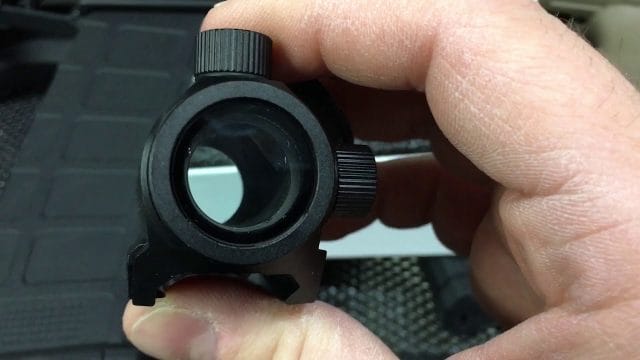 The clarity of the lenses is impressive. The amber coated lens serves to make the image bright and glare free. The lenses are fully multi coated and allows you to see in low light situations decently well. Inside a home for close quarters fighting wouldn't be an issue.
The biggest downside to the TRS 25's clarity is the laser emitter. It takes up a bit of room inside the already small optic. It's not a major hindrance but should be noted.
---
Down With the Dot
The 3 MOA dot is made for use on a rifle. Its small enough to be precise, but larger enough to easily catch the eye. A 3 MOA dot allows the shooter to see human sized targets without distortion out to 200 yards. Red dots can be tricky.
If the red dot is too big it can distort the target and make it impossible to see. 3 MOA is just small enough to be precise, and large enough to be easy to see.
The dot has 11 brightness settings, but none are NVG compatible. If you are shopping for a budget optic, it's unlikely you are spending hundreds or even thousands of dollars for a set of night vision optics. The settings knob is stiff and won't accidentally move. It needs a nice firm grip.
The dot itself odes grow a bit as the brightness is intensified. The brighter the dot gets the more distortion you'll notice around the borders of the dot.
Again, not a major issue unless you are riding the optic at 11 in lower light situations. The biggest potential issue is going to arise from running the gun outdoors on a sunny day and then quickly transitioning to an indoor area.
---
Bushnell TRS 25 – Drills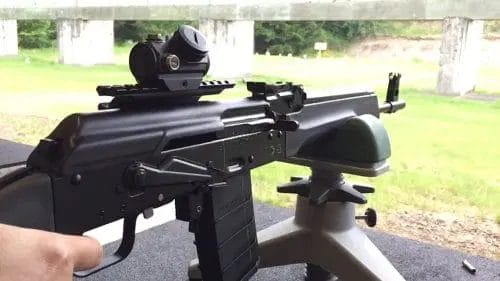 Finally, it comes down to shooting and scooting with the optic. For testing I used the optic for several different tactical drills on my AR 15. This included some of the most famous and some of the most widely used. These basic drills included the following:
Hammer Pair – Two shots fired for one sight picture.

Controlled Pair – Two shots fired to chest, two sight pictures.

Mozambique Drill – Two Shots to the Chest – One to the Head.
Failure to Stop – Two Targets setup 1 meter apart. 22 shots to the chest of Target A and two Shots to the chest of target B. One headshot to target B and one headshot to Target A.
I moved into more advanced drills and tossed in the Viking Tactics 1-5 drill in for a little challenge. This drill uses 3 targets spaced about a yard apart. You stand at least 5 yards away from them. Start at the low ready.
On the buzzer shoot the left-hand target 1 time two shots on the center target, 3 shots on the right target, go to back to the middle and deliver 4 shots and finally end the drill with 5 shots on the left-hand target.
This final drill is perfect for testing a red dot. It forces you to change targets, to be unpredictable, and to regain your point of aim rapidly. This drill is one of the best to show you just what a red dot sight can do for you. The TRS 25 passed with flying colors. Never did I find the optic too small, or underpower to deliver in tactical shooting scenarios.
---
Bushnell TRS 25 – Results
The TRS 25 allowed me to transition between targets rapidly and accurately. The addition of a red dot made it much easier to swap between multiple targets. It takes time to properly align a set of iron sights onto a new target. With a red dot sight, it is as simple as putting a dot on target and pulling the trigger.
The same goes for making those close-range precision shots. A headshot is much simpler with a red dot than a set of iron sights. Move out to 25 yards and run the same drills and you will quickly recognize that a red dot makes a major difference in how fast and accurately you can shoot.
The TRS 25 stayed on target round after round after round. There was no shift in point of aim due to temperature change. I started early the morning and continued well into the afternoon. The optic is also truly fogproof and I had never had any compromise in image quality.
---
Bushnell TRS 25 – Final Thoughts
The TRS 25 is an overall excellent optic when you consider the price involved. This is an exceptionally cheap optic that serves a cash strapped shooter well. It's well made, easy to use and its compatibility with magnifiers makes it an easy choice for budget conscious shooters.
Pair it with Bushnell's excellent warranty and you have a great optic for plinking, competition and even home defense. The TRS 25 isn't an Aimpoint or a Trijicon, but it's not meant to be. It's meant to be a simple and affordable option for your everyday shooter.
Recommended Reading