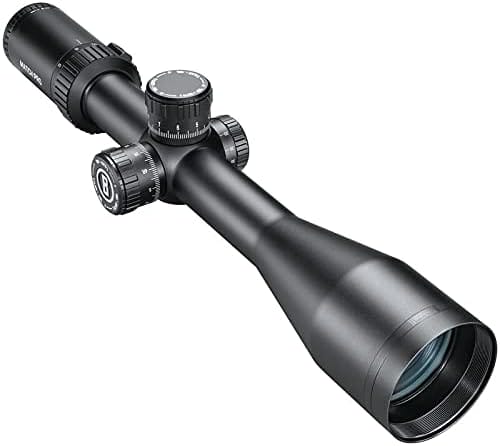 If you want to make accurate shots with your rifle, then having a mil-dot scope will be an absolute necessity.
The 'mil' in the term 'mil-dot' is short for milliradian, which refers to 1/1000th of a circle's total radius. Mil-dot scopes have a reticle that use dots evenly spaces long both axis', with the amount of space in between each dot being equivalent to one mil. You use these dots to aim up or down in order to make a far away shot.
There are many different factors to consider when choosing a high quality mil-dot scope, and we're going to talk about what those factors are in addition to the top five best mil-dot reticle scopes that money can buy you today.
Get Great Guns and Ammo Deals!
---
What You Need To Consider When Purchasing A Mil-Dot Scope
Buying the first mil-dot scope you see without even knowing what to look for will be a huge mistake.
The reason for this is because no two mil-dot scopes are created equally, and some are definitely better than other. Fortunately, knowing what to look for can help you narrow down your choices.
Here are the factors you must consider when purchasing a mil-dot scope:
Mil Dot Scope Build Quality
The first is build quality. Your mil-dot scope should be expected to be put through and still function in a variety of bad conditions. The idea is that your scope should be durable, resilient to weather conditions, and deliver a long lasting performance.
Even if you're only planning on using your scope for target shooting on the range and aren't planning on using it for hunting or tactical use, quality and durability are not traits that you want to sacrifice.
The good news here is that almost all mil-dot scopes manufactured by reputable brands have excellent build quality, so as long as you stick to these brands you'll be on the safe side.
Adjustable
This one should be a no-brainer. If your scope is not adjustable, what point is there to owning one if you want to make long distance shots?
And not only must your scope be adjustable, it needs to be easy to adjust as well. User friendliness is definitely a quality that you will want in any scope.
Additional Mil Dot Scope Features
There are a number of additional features available on scopes these days that would definitely be preferable to have. Only you can decide if these specific features are necessary for you, but some examples of ones that would be nice to have include:
Quick focus abilities

Zero locking

Multi-coated lens

Excellent light transmission
Mil Dot Scope Cost
Last but not least, don't spend money you don't have! If you're on a budget, there's no need to fret. Even though some scopes can cost several thousand dollars, there are several perfectly high quality mil-dot scopes that can be had for less than $500.
---
The Top 4 Best Mil Dot Scopes That Money Can Buy
Here are the top five best mil-dot scopes that money can buy you today, presented in alphabetical order: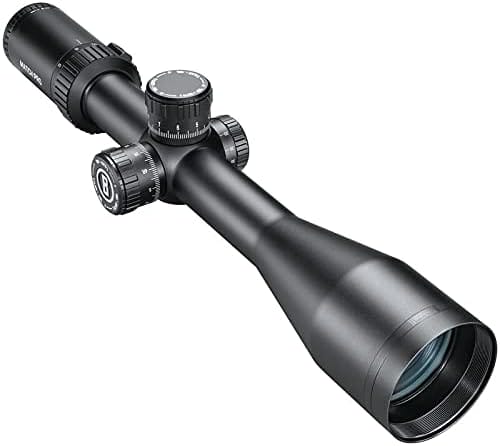 The Bushnell Match PRO 6-24X50 Mil Dot  is an excellent rifle scope for the money. Available for around the $250 mark, this is a very durable mil-dot scope, though it is also fixed magnification. The idea is that this is a scope that any beginner can use with relative ease.
The Bushnell Match PRO 6-24X50 Mil Dot uses a clear lens, with excellent light transmission. You should get about ten to twelve feet of view at one hundred yards. The lens also uses an anti-moisture and anti-fog coating, which is something that you would expect to only be installed on higher priced scopes.
Leupold is definitely one of the most well known brands in the scope and optics industry, to the point that their quality is virtually unquestioned today.
The Mark 3HD 3-9x40mm Mil Dot Rifle Scope is a great option for those who desire a mil-dot scope made by Leupold but don't want to pay a premium price. Available at around the $300 mark, this is a mil-dot scope that can be used for both long range shooting and closer up targets.
Armed with a 40mm lens, the Mark 3HD 3-9x40mm Mil Dot Rifle Scope has a magnification of 3-9x, an anodized aluminum housing construction (design to easily withstand the effects of heavy recoil from your rifle), and a waterproof design. The lens are also coated to limit reflections while the light transmission is excellent.
The entire construction for this scope consists of a single piece, which is a major advantage because it improves accuracy at long distance shooting.
A scope with a price very similar to the Nikon scope we just looked at is the UTG 3-12×44 30mm Compact Scope. In fact, this is one of the most affordable quality mil-dot scopes on the market, being routinely available for between $90 to $100.
Despite the low price, UTG packed a lot of features into this scope. Most notably, it has a 3-12x adjustable zoom with a 30mm lens that is emerald coated with flip open caps for quick deployment.
The reticle has nine dots along the axes, in contrast to many other mil-dot scopes that will utilizes just four dots. The idea behind this is that you will get slightly better accuracy. UTG claims that this scope will deliver highly accurate shots out to two hundred yards or slightly greater.
The last mil-dot scope we will take a look at today is also the most expensive one: the Vortex Optics Viper Mil-Dot Reticle Scope.
Available at the $500 price point, it has a 6.5-20x optic with a mil-dot reticle. This is an excellent scope for taking long range shots and even allows you to make quick and easy windage adjustments.
The objective 50mm lens is quite large and allows you to mount low profile or medium profile scope rings. The premium glass is multi-coated with 95% light transmission. Vortex designed this scope to be fully weatherproof and as a result is an excellent choice for use out in the field. The sealed O-rings protect the scope against moisture and also stop fox.
All in all, the Vortex Viper is a high quality scope though one that also fetches a more premium price. Needless to say, you will get what you pay for.
How to Use Mil Dots on a Rifle Scope
Understand the concept of mils:
A milliradian (mil) is a unit of angular measurement. In the context of scopes, it helps you estimate the size of the target and make the necessary adjustments.
Know the distance between mil dots:
Most scopes have a standard mil-dot reticle, where the distance between each mil dot is equal to one mil. However, some scopes may have variations, so it's important to know the specific measurements of your scope.
Determine the size of your target:
Estimate the height or width of the target in mils. This can be done by comparing the size of the target to the mil dots in your scope. For example, if the target is approximately three mils tall, make a mental note of it.
Calculate the range to the target:
Once you know the size of the target in mils, you can use that information to estimate the distance. This requires knowledge of the average size of the target at various distances or using a reference chart. Each mil represents a certain angular measurement, which can be converted to distance using the formula: distance (in yards) = target size (in inches) ÷ target size (in mils) × 27.77.
Adjust for bullet drop:
If you're shooting at a significant distance, you'll need to compensate for bullet drop. Most scopes have elevation turrets that allow you to adjust the point of impact. The mil dots can be used as a reference for making these adjustments. By knowing the distance to the target and the ballistic trajectory of your specific ammunition, you can determine how many mil dots to hold over or under the target to compensate for bullet drop.
Factor in windage adjustments:
Mil dots can also help you make windage adjustments to account for the effect of wind on the bullet's trajectory. By observing the movement of grass, leaves, or other environmental indicators, you can estimate the wind's speed and direction. Once you have this information, you can make the necessary windage adjustments using the mil dots as a reference.
---
Best Mil Dot Rifle Scopes – Conclusion
All in all, Mil-Dot scopes are among the most versatile optics that you can possibly get. As this article has hopefully shown you, you can also acquire such scopes for a budget price of anywhere from $100 to $500 without sacrificing quality.
There are so many scopes available in the market today that it can be difficult to choose the right one, but choosing one at random is not the wise move to make. Know what to look for and buy the highest quality scope you can within your budget range, and you'll be all set.
Recommended Reading
Essential Guide To Zeiss Rifle Scopes
How To Choose The Best Rifle Scope
Long-range Scope Over 1000 Yards