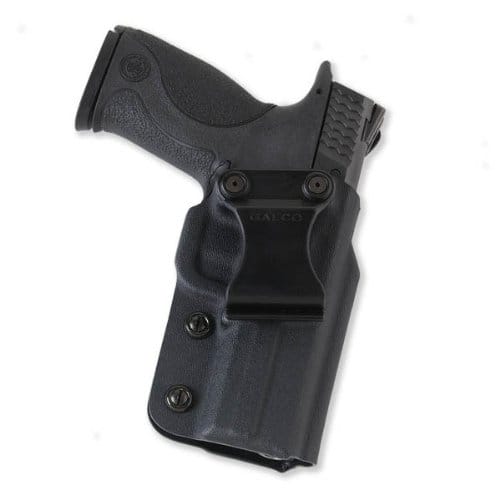 So you just bought a Glock 26? Firstly, congratulations on purchase of the optimum double stack Glock sub-compact. For most, the qualities demanded in a sub-compact can be summed up as, conceal-ability, reliability, ergonomics, though, none of these at the cost of firepower. Now, you need an IWB concealed holster playing to the strengths of your Glock 26?
For Glock shooters who don't want to rely on 6+1, the Glock 26 with it's 10+1 standard capacity is a ticks that box.  But, where to begin looking? Look no further; we've got you covered!
In this article, we consider some of the most popular IWB concealed holsters, including my favorite, Galco Triton Kydex.
As always I have to qualify my favorite by mentioning briefly that this is my favourite, YMMV. Some of the attributes which make the Galco Triton Kydex, my holster of choice are its simplicity of design, secure retention, easy retention release, and comfort.
I prefer this as strong-side-carry in the 4 o'clock position, fitted with the Galco Triton Belt Loops, but, more on that later, for now let's jump in and take a look at the important points to consider when shopping for the Glock 26 IWB concealed holster best suited to your needs!
Get Great Guns and Ammo Deals!
---
Main Points To Consider When Buying a Glock 26 Holster
Cost
This informs all other considerations, and it's understandable that after paying for a new Glock 26, there is the temptation to wonder, 'what's the best cheapest holster I can get away with?'
Construction quality
Many holsters at the bottom end of the scale are a false economy. As a component-part of the system, upon which your life may depend, this is not the time to be wondering what's the cheapest option. Not to be dismissed either, cheaper holster price, often translates into poor comfort.
Comfort
While taking nothing away from perhaps the #1 primary consideration of functionality. A contributory factor to your operating within the optimum range of your ability is a rig that provides the most comfort.
In an ideal world, this would be such that momentarily it's possible to not perceive or be aware of the weight of your handgun while being carried. In other words, the ideal holster forms an extension of your body with the weapon while holstered, the same way as it does when drawn and in the hands.
Weight
This almost goes without saying, but to reiterate the point above, weight plays a big part of comfort and operating in at your best, particularly if the holster is part of your EDC. So while no holster is weightless, my 2 cents worth would be it's certainly a factor deserving due consideration.
FBI Cant vs. Straight Drop
The angle of the holster, (vertical / slightly canted) does affect how quickly you'll be able to draw & bring your weapon into the aim. This is another point which is very personal, and bears on comfort / effectiveness / efficiency / economy of means.
Sorta like this…
While not something which can make up for the necessary hours required training with your weapon, a key factor is learning what cant / o'clock position works best for you, and training until it's second nature. To achieve this, the cant / position need to become a natural extension of your body.
Retention Strap vs. Passive
Cognizant of Glock's safe action trigger™, i.e. no orthodox external safety catch, is there a retention strap? Does it stand clear of the weapon of it's own accord? Or flop around dangerously? Does the holster provide passive retention?
Will the retention allow loosening / tightening, to fine tune this to your comfort? Does the drawing break retention purely by pulling the weapon in-line with the holster's axis, or does it require disengagement by index finger? What works or feels best for you when training to the point of failure, safely?
Belt
Belts which have not been designed specifically for use supporting a sidearm & holster tend to deform. Cheap belts, again, are a false economy, and to be avoided. Whichever holster you select, it's imperative you procure a belt fit-for-purpose.
One approach which helps is to simply limit your search to reputable companies such as Galco (particularly for leather), or something like the zenith belt, from Boxer Tactical or the Instructor's Belt from Blackhawk (for synthetic, incorporating Kydex for support).
Top Choice IWB Concealed Holster for the Glock 26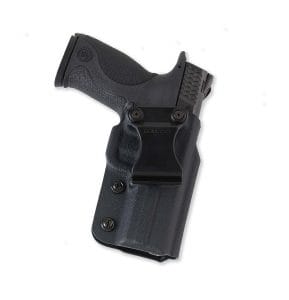 The Galco Triton holster is constructed from Kydex and includes a standard belt clip, as well as a sweat guard ,designed to protect weapon and wearer. As mentioned earlier, I also opted for the Galco Triton Strong-Side Carry Belt Loops.
Personally I did not take to the standard clip, again YMMV, but with the belt loops, for me this rig works as well as we've all come to expect from Galco. Equally, Galco supply an appendix carry / cross draw version of the loops, should that be your preferred mode.
| Pros | Cons |
| --- | --- |
| Excellent concealment, minimizing potential for printing under most casual shirts etc. | Some users find sweat-guard / Kydex material uncomfortable. |
| Of particular importance with Glock's, this holster provides effective coverage of trigger guard assembly. | For shooters preferring a vertical or other angle draw, holster does not allow adjustment of cant. |
| Excellent fit and smooth draw upon breaking retention. | When using holster's standard clip, some cite holster detaching from belt, albeit switching to strong side carry or appendix / cross-draw carry belt loops irons out that particular wrinkle. |
| Butt-forward cant, dependent on preference. | |
| Raised plane 'sweat-guard' to minimize area of contact / allow better air circulation. | |
| Premium quality construction, as expected with all Galco product lines. | |
The Alien Gear Holsters webpage for the Cloak Tuck 3.0 IWB holster proclaims it to be "..the most comfortable concealed carry holster on the planet."
I can't completely attest to this claim, but the composite neoprene, spring steel, ballistic nylon & proprietary thermo elastic polymer Cloak Tuck 3.0 is very comfortable.
Albeit, though claimed to require no breaking-in, we'd suggest more like two weeks use before it really molds to the user for maximum comfort.
| Pros | Cons |
| --- | --- |
| Holster allows adjustment of retention pressure, cant & ride height to provide bespoke fit. | Some may find neoprene slightly irritating against skin, albeit easily dealt with by wearing of undershirt / similar base layer garment. |
| Composite construction ensures excellent comfort combined with hard shell protection of sidearm and trigger guard assembly. | Requires user to apply Loctite / similar type adhesive to lock screws in-place upon deciding on preferred set up. |
| Alien Gear 'triple lock' guarantee allows 'test drive' with full refund within 30 days, lifetime of retention shell swaps to suit switch to any other handgun and lifetime extent of holster defects, damage, to the extent of replacement of holster outright. | For some owners, overall length of the holster may be too long to allow optimal 4 o'clock positioning |
| Neoprene layer ensures minimal break-in period versus e.g. whole-leather construction holsters and optimal comfort in contact with skin. | Similarly, some users find holster surface area too much for their body and experience pinching. |
| Universal shell system allows swap out of shell to suit other handguns while running the same holster. | |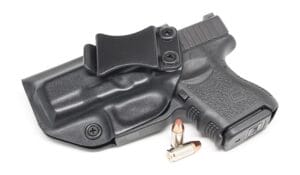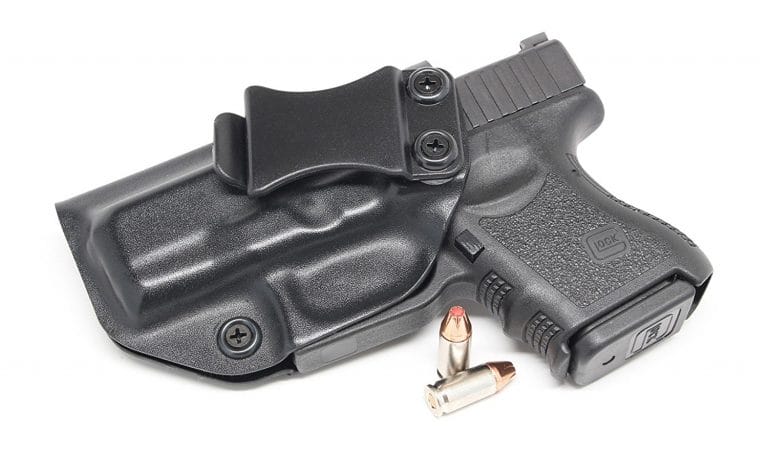 The Concealment Express IWB Kydex holster for the Glock 26 is a Kydex holster with a difference, seemingly combining several irreconcilable qualities, simplicity, precision, and quality at an affordable price.
The holster is formed from a single sheet of Kydex to a high level of precision, as evidenced by the glove-like fit against the pistol, positive-click felt when drawing / holstering the weapon, but yet, retails for a price with it's feet still planted on a terra firma. This holster does a simple job, but taken to a level of excellence.
| Pros | Cons |
| --- | --- |
| Very compact design, allows most positions of IWB in comfort including appendix. | Clip is fabricated from plastic rather than metal, so can less durable under the most demanding conditions. |
| Excellent, adjustable positive click retention, but equally, allows smooth draw action. | Similarly, minimalist kydex construction may be too Spartan for some, where skin contact may be irritated by absence of padded sweat guard. |
| Adjustable angle settings for e.g. 15 degree / 'fbi' cant in 4 o'clock & vertical / 'zero' degree cant in 1 o'clock / appendix carry positions. | Holster rides low to the waistband, and may not be a good match for some users, however worn e.g. in a strong side 4 o'clock carry using the canted setting will offer easier purchase on the grip when drawing. |
| Very competitively priced, (notwithstanding earlier general reservations made regarding lower priced holsters). | |
| Premium quality kydex, comes in black and carbon fiber appearance versions. | |
The DeSantis Glock 26/27 Insider holster is crafted from leather and steel with a strong focus on deep cover / minimal bulk & maximum comfort.
The very particular emphasis for concealment with this holster may not be for everyone, however, for those who need concealment of their Glock 26 to the nth degree, in an IWB carry, this may be just the tool for that situation.
| Pros | Cons |
| --- | --- |
| Premium quality unmolded leather after breaking-in provides bespoke fit for Glock 26 and excellent comfort for EDC / long carry. | Not ready for optimal / field use straight out of the box, genuine leather construction requires full breaking-in beforehand. |
| Durable heavy-duty spring-steel clip located high on holster ensures holstered Glock rides low on waistband and achieves extremely low profile / deep concealment. | No thumb-break / adjustable retention device, retention via leather holster to weapon passive friction only. |
| Minimalist construction design allows for comfortable appendix carry. | For some users, very low profile / deep-concealment ride level may not be a good fit for their shooting style/body type. |
| Typical rugged DeSantis construction, shrugs off treatment that would ruin products of a lesser pedigree. | |
Holster Options for a Glock 26 – Conclusion
In conclusion, what is the best IWB concealed holster for any one shooter requires a lot of trial and error to find the best fit for them and their needs.
Part of the best fit being, literally, best fit for your body geometry, while wearing, when drawing and re-holstering*, (*as evidenced by the number of ND's occurring during this part of the operation).
Another part being the haptic consideration of what material you can tolerate having in contact with your skin for extended periods, or different climatic conditions?
Another part being, in the course of the time you invest in training, does the holster you are running fit in the sense of effectively disappearing, and simply work?
All that said, and taking account of these factors the best IWB concealed holster for Glock 26 for me is the Galco Triton Kydex.
Recommended Reading